Alamogordo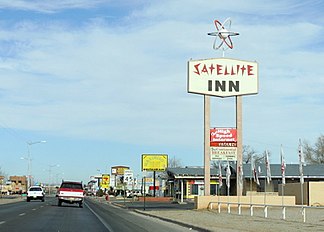 Alamogordo
is a small city in
southeastern
New Mexico
. Originally a small hamlet for ranchers and farmers due to the railroad passing through town (the name is a Spanish word meaning "fat cottonwood"), the town has become associated with military and secretive activities, first gaining notability for being the closest substantial settlement to the first nuclear bomb test in 1945. The town is the county seat for Otero County and supports two major nearby military installations, Holloman Air Force Base and the White Sands Missile Range. Alamogordo has also gained a quirky sort of infamy among video game enthusiasts as the site of the Atari video game burial, when Atari buried thousands of unsold video games, most notably copies of the poorly-received
E.T. the Extra-Terrestrial
.
Get in
By car
U.S. Route 54, 70 and 82 all go through Alamogordo. U.S. 54 meet
El Paso
about 90 miles to the south. U.S. 70 & 84 meet
Las Cruces
and I-25 about 70 miles to the southwest. U.S. 54 North goes through
La Luz
,
Tularosa
and
Carrizozo
where it meets U.S. 380. U.S. 380 west meets up with
San Antonio, NM
and I-25. U.S. 70 heads northeast to
Ruidoso
. Finally, 82 east will meet
Artesia
and U.S. 285 after 110 miles. From there it is 40 miles north to
Roswell
and 35 miles south to
Carlsbad
, two popular tourist towns.
By plane
The closest major airport is El Paso International Airport (
ELP
) 90 miles to the south.

By bus
phone: +1 575 437-3050

address: 3500 White Sands Blvd.

Greyhound provides bus service to Alamagordo.
By train

Although the railroad goes through Alamogordo, no commuter service is available and Union Pacific ceased stopping there in 2006.

Get around
Alamogordo is a small city and one could easily walk most of the city.
There are two taxi services available:
Dollar Cab, +1 575 434-8294
T-N-T Taxi Service, +1 575' 437-2292
Public transportation is provided by Z-Tranz +1 575 439-4900.
See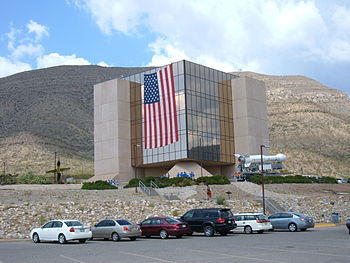 phone: +1 575 439-4290

address: 1321 N White Sands Blvd

The oldest zoo in the Southwest. It was established in 1898 by the railroad. The zoo contains about 300 animals of 90 different species. The zoo has a playground area and shaded picnic tables that are included in the entry fee. Hours 9 am to 5 pm every day except Christmas & New Years Day. Under 2, Free, Age 3 to 11 and 60+, $1.50, Age 12 to 59, $2.50.

Flickinger Center for Performing Arts

phone: +1 575 437-2202

address: 1110 New York Ave

A premier venue for international music, theater, and dance. Most performances are $10-25.

Kids' KingdomA park with a large jungle gym.

New Mexico Museum of Space History

address: Top of Highway 2001

A surprisingly large complex of museums and displays including the International Space Hall of Fame and a piece of moon rock. The museum hosts a well-regarded youth camp in the summer. IMAX movies require a separate admission and combo tickets are available. The parking lot contains the grave of Ham, the first chimp in space.

phone: +1 575 437-2855

The Toy Train Depot has a small-scale train ride departing every 30 minutes from the depot, circling Alameda Park. Hundreds of model train and toy trains are on display inside the 100-year-old depot, including a 1,000 square foot HO layout depicting Alamogordo in the 1940s. The Toy Train Depot houses the smallest scaled working train in the world. Hours are noon to 5 pm Wednesday through Sunday.

Tularosa Basin Historical Museum

phone: +1 575 434-4438

address: 1301 North White Sands Blvd

It is adjacent to the Alameda Park & Zoo and has a large display of articles and photos of the history and early days of the area.
Do
phone: +1 575 437-0290

address: 2351 Hamilton Rd

Desert Lakes Golf Course is a true "desert" beauty with the Sacramento Mountains in the background. This is quickly emerging as one of the finest 18-hole golf courses in southern New Mexico. It recently was renovated to make it a more challenging and beautiful course. Open 7- days per week weather permitting.

address: Hwy 70

Holloman is home to the F-117 Nighthawk and will soon be home to the F-22 Raptor.It has static displays of the F-117 Nighthawk on the third Thursday of each month. Every two years they put on a large air show. The Northrop Grumman Lunar Lander Challenge occurs at Holloman. Put on by X-Prize, teams compete for a chance to will $2 million for completing a series of challenges in a competition designed to find technology for the next generation of lunar landers. Oktoberfest also takes place at Holloman, on the last weekend in September, hosted by the German Air Force.

Sidney Paul Gordon Shooting RangeA public shooting range in nearby La Luz with 50, 200 and 360 yard bays. Shoot all day for $5.

Trinity Site TourDeparts from Tularosa High School Athletic Field. The Trinity site (where the first nuclear bomb was detonated) is open once a year for tours. The tours begin at 6:30 AM and cost $35. They happen on the first Saturday of April. Individual arrival to the site is also possible.

The Tularosa Basin wine festivalEach fall, usually the weekend before the Balloon Fest in Albuquerque.
Buy
There are many shops, gas stations, banks and other amenities located going through Alamagordo along White Sands Blvd (US 70/54). If shopping is your specific goal then you won't want to miss the following area.
address: 3199 N. White Sands Blvd

Historical New York Avenue

address: New York Avenue

The Old Town of Alamagordo. The buildings are all early 20th century and it contains a variety of specialty shops.
Eat
There are plenty of restaurants to suit your tastes around Alamogordo, including Chinese, Mexican, Thai, almost everything. Most restaurants are centered around downtown or White Sands Boulevard.
Typical fast food restaurants like McDonalds, Arby's, Subway, Sonic, Quizno's, Burger King, etc. are available throughout the city.
Stella Vita.Generally considered the best restaurant in town.

MemoriesThis restaurant is in a building that was originally a private home and maintains a cozy feel.

Carolina's

phone: +1 575 434-1219

address: 415 S. White Sands Blvd

Good Mexican food. Don't let the "atmosphere" scare you off.

HI-D-Ho Drive In

phone: +1 575 437-6400

address: 414 South White Sands Blvd

This is the best burger in town, specifically, the Tiger Burger with double meat and great tasting fries.

Casa de SuenosIn nearby Tularosa.
Drink
There are few establishments in the city specifically focused on drinking (that is to say, bars). Besides the Chili's and Applebee's, the two most popular places to drink are:
Jerry's Lounge

phone: +1 575 430-8023

address: 200 S New York Ave

The Western BarIn Cloudcroft remains a popular place to visit and drink for people from Alamogordo, especially on Saturday nights, which feature karaoke.
Note also the following private clubs which have establishments in the city. As private organizations, they are subject to different laws than public restaurants and bars. The VFW, for example, legally allows smoking indoors.
The American Legion

The Veterans of Foreign Wars

The Elk's LodgeNear the Desert Lakes golf course.
Sleep
Go next