Alanya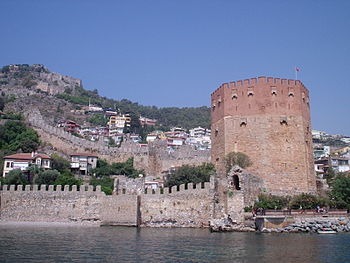 Alanya
is in
Pamphylia
,
Turkey
, situated on the
south coast
. It is a popular tourist destination.
Get in
By plane:
Alanya is 2 hours drive from Antalya (AYT) international airport. Most holidaymakers land there and are bussed to their hotel in Alanya.
There's also the small airport of Gazipaşa, closer but it seldom has international flights.
By train:
the nearest station is
Konya
, with high-speed YHT trains from Istanbul Pendik and Ankara. These are met by connecting buses for Antalya and Alanya, taking about six hours.
By sea:
in summer, a fast-cat ferry operated by
Akgunlerdenizcilik
runs between Alanya and
Kyrenia
("Girne") in North Cyprus. It runs from Alanya Thurs & Sun at noon, from Kyrenia Wed & Sat at 10:00. This is a catamaran
deniz otobüsü
for foot passengers taking about 2 hrs 30.
Get around
Walking is best option in the busy town centre.
For anything beyond a reasonable walk (distance, luggage, heat), there's sure to be a dolmuş going your way. Wait at a bus stop, or flag them down anywhere. The word "dolmuş" literally means "stuffed" and they aim to live up to this. Expect to pay around 2 TL per person for a ride in town.
Also you can rent an electric scooter or a bike.

See
The Citadeloccupies a hilly peninsula surrounded by the sea on three sides, and by the modern parts of the city on the other. Although the signs showing way to 'Castle' (Kale) points to the highest parts of the walls, the walls can be followed starting right at the sea level. Particularly interesting in (or next to) the citadel is the tip of the peninsula formed by a high and narrow extension of rocks, jutting long into the sea. This formation is named Adam Atacağı in Turkish (pronounced aa-daam aa-taa-jaa-a), literally "man thrower", as here was where people condemned to death were pushed into the sea.

The Red TowerThe hexagonal tower of the citadel which is nearest to sea.

Old ShipyardBuilt by the Seljuqs, this structure dates back to 1228. Located very near the Red Tower.

Alanya Archaeological Museum

Damlataş Cave

Caves around the town, accessible by boat trips.

Dim Çayı

Sapadere Kanyonu
Do
There is a lot to do in Alanya and there are plenty of tour companies whole heartedly willing to help you.
Boat trip (try to haggle down to for one hour), should include visits to caves (if the weather permits it) and lunch as well as animation with Eurodance music
Scuba diving (more fish during the high season)
Jeep safari tours
Quad bike tours
Donkey riding
Trip to historic amphitheatre in Aspendos
Paragliding
Trip to Dim Çayı
Buy
Catering for all the European tourists, almost everyone in Alanya accepts euros. You may not even have to exchange your euros at all. When taking money out of the automatic teller machines, make sure they can give you euros as well as lira. It's also very easy to exchange all
Scandinavia
crowns (
krona, krone
, possibly except Icelandic
króna
) in many exchange offices of the town—something not very usual in the rest of
Turkey
—as many holiday-makers in Alanya are Scandinavians.
Alanya is full to the brim of shops, which become very repetitive since they all sell pretty much exactly the same wares. The shops shamelessly sell fake brands and goods, where the expiry date has been long exceeded. A list of the most common items:
Clothing: shoes and T-shirts from Puma, etc. (fake of course!)
Watches: Everything from Seiko to DKNY (fake of course!)
Sunglasses
Bags and wallets
Turkish tea sets
Water pipes and tobacco
Be prepared to
haggle
, the shop owners expect it. This means you need to know the approximate value for the items you would like to buy. You can check the value either by research online in advance or by asking any friendly local. When you haggle, they will offer you an absurdly high price. This means that you can offer a couple of Euros and try to meet somewhere at the price you have decided to be your maximum.
Obviously, you can't haggle in a supermarket, petrol station, etc. Trying to haggle for groceries is generally frowned upon. You will have to haggle in the cocktail bars that are lined up along the beach promenade, if you don't want to pay more for a meal and drinks than in Europe. Many restaurants/bars/etc don't even have prices on their menu.
Eat
Turkish food in general is really tasty. Try:
Lahmacun: These will cost you around 5 TL and are more like a snack than a meal
Baklava: Turkish sweet. The cost depends on the weight (e.g. 25-50 TL for a kilogram)
If you are in an "all inclusive" hotel (which is usually the case), all your meals are provided by the hotel.
Drink
The prices of drinks in the night clubs may be insanely high. Expect a beer to cost from .
Sleep
Many cheap holiday packages, usually originating in Germany or Scandinavia, include "all inclusive" hotels situated on the beach as part of the deal. For example, an "all inclusive" 4-star hotel in Alanya including a flight to
Antalya
from Germany costs around .
Villa Casara

address: Konakli, Alanya

Beautiful new (as of 2015) Turkish villa, which sleeps 8 comfortably, is bright, spacious and comfortable with all modern conveniences. It is set in lovely palm-lined gardens and the 3 balconies enjoy views of the mountains, a swimming pool and a direct view of the sea.

phone: +90 242 511 29 63

address: Şekerhane Mh. Şekerhane

A small 3-star hotel in the center of Alanya.
Go next
To the west, rest of Pamphylia offers many interesting destinations.
To the east, Anamur, Silifke, and the rest of eastern Mediterranean coast (the Cilician coast: Cilician Mountains, Cilician Plains, and Hatay) awaits with its somewhat thinly populated and thinly touristed hilly landscape.
Cyprus, lying to the southeast, is also another option. During the high season (May to September), you can go to Kyrenia in Northern Cyprus by boat. It takes about 3½ hours and costs USD30/person one-way or USD50/person return. Outside the high season, the international port is closed.