Alaska Highway
The
Alaska Highway
is the road connecting
Alaska
with the rest of
North America
. It runs primarily through
Canada
. This itinerary will cover the 2395-km (1488-mi) trip from
Dawson Creek
to
Fairbanks
. This is not a Sunday drive.
==Understand==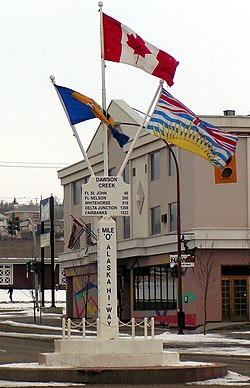 This highway was built during World War II to help the American military transport equipment to and from Alaska.
==Prepare==
Get a copy of
The Milepost
, either in print or eBook form. (Print would be a better idea once you hit the road.) Billing itself as "the Bible of north country travel," this guide book covers the entire northwestern corner of North America in rich detail.
Give your car a thorough mechanical evaluation before you attempt this trip. For winter driving, get winter or all-weather tires and low-weight oil (5W30 or as recommended by your manufacturer). Sign up for roadside service such as
AAA
/
CAA
, but verify that they will cover the entire cost of towing you long distances. Many services will cover only a few hundred dollars, which is not sufficient.
Cell phone coverage is very sparse. Although every Yukon community along the highway has cell service in the vicinity, do not count on using your cell phone in an emergency. You should carry enough emergency supplies to last yourself one or two nights. The nearest tow truck can be 1000 km (650 mi) away. It is even more important to carry emergency supplies in winter to avoid hypothermia and death. At the very least, bring food, water, blankets, a first-aid kit, and spare tires. Wintertime temperatures can dive as low as −40 °C / −40 °F. Bug repellent may be very nice to have in the summer.
Be sure to verify that you have the appropriate entry documents for
Canada
or the
United States
, depending on your direction. Canadian immigration can request that you show proof of enough funds to cover your trip and an emergency. A bank/ATM receipt, a few credit cards, traveler's checks, or cash will suffice. They will refuse entry to Canada if you do not demonstrate enough funding for your trip.
Gas (petrol) stations in this part of Canada are frequently
not
open 24 hours, especially in winter, and most of them do not have a pay-at-the-pump mechanism. Many stations have very long distances between them. You should keep your tank as full as you can and be prepared to wait for a station to open if you arrive in the middle of the night.
The highway may be in various states of repair. Be prepared to wait a while as road crews continue to maintain the road. Winter frost is extremely hard on the roads. Do not be surprised to see deep fissures across the highway.
==Get in==
By car
Getting to the Alaska Highway is no small feat in itself. It starts in Dawson Creek in northern British Columbia. You can get to Dawson Creek either by driving north from southern British Columbia through
Prince George
or by driving northwest from
Edmonton
,
Alberta
.
By plane
Whitehorse
is the largest city along the highway, until you reach Fairbanks at the end. The Whitehorse airport (YXY) is served by
Air Canada
,
Air North
, and
First Air
. Nearly all of the flights are to or from Vancouver, with some schedules to
Fairbanks
or
Juneau
,
Alaska
. There is also summertime nonstop or one-stop service to
Frankfurt
, Germany, via
Condor airlines
.
Dawson Creek
does have a regional airport that is served by
Central Mountain Air
and
Hawkair
. However, it would not be advisable to try and rent a car in Dawson Creek for this long drive. It would be more reasonable to rent a car in
Edmonton
. Another alternative would be to rent an RV for this drive. However, this is usually quite expensive and after the cost of gas, probably more expensive than staying in a hotel every night. However, with the sparse provision of hotels, having an RV can be more convenient.
By bus
Interior Alaska Bus LineLimited bus service is available between Anchorage, and Fairbanks as well as points along these routes. Be sure to reserve in advance and allow some flexibility in your schedule as buses may be rescheduled based on demand.
Drive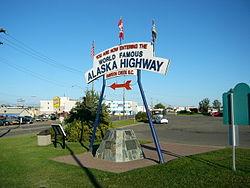 The only real possible way of doing this trip is driving. Many travellers do this trip with a recreational vehicle (RV).
Although Canada generally uses metric, most points along the Alaska Highway are identified by mileage:
- Mile 0
- Mile 47
- Mile 101
- Mile 283
- Mile 437
- Mile 613
- Mile 887
- Mile 985
- Mile 1314
- Mile 1422 (Official end of the highway)
- Mile 1488
Remember that you will have more than 20 hours of sunlight during the summer months and less than 5 hours of sunlight in the middle of winter.
Alternate routes
Highway 37 goes North from
Terrace
(on the
Yellowhead Highway
) and joins the Alaska Highway near the BC-Yukon Border.
Rather than going west from
Whitehorse
, you can go north along the Klondike Highway to the Historic Gold Rush town of
Dawson City
, take the Top of the World Highway to the Alaska border at Poker Creek and then take the Taylor Highway back to the Alaska Highway.
Side trips
At about Mile 837, you can turn south to
Carcross
and go to
Skagway
, famous as gateway to the 1896-1899 Klondike Gold Rush. In summer, the Historic Whitepass & Yukon Route Railway is operational as a historical touristic attraction, connecting Carcross and Skagway.
Another sidetrip that leaves the Alaska highway at the same point is a trip to
Atlin
. Atlin is a small town in
British Columbia
that is only accessible from the Yukon.
==Stay safe==
Follow all advice in the Prepare section.
==Go next==
The
Alaska State Ferry
has service from the
Anchorage
area, south of Fairbanks.