Albany (New York)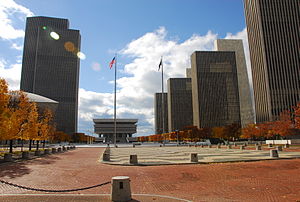 Albany
is the capital of
New York
and the county seat of Albany County. It is home to just under 100,000 residents, most of New York State's key government offices, and seven colleges and universities. Albany is an interesting showcase of several centuries' worth of architectural styles, including the modernistic Empire State Plaza. Before the first European settlement by the Dutch in 1614, Albany and its surroundings were home to the Iroquois Five Nations group of indigenous Americans. Albany is the longest continually chartered city in the United States, the original eastern terminus of the Erie Canal, and was a center for the smuggling of alcohol from Canada during the U.S. Prohibition. Writer and journalist William Kennedy, an Albany native, uses the city and its history as the setting for most of his novels, plays and nonfiction books.
Get in
By plane
phone: +1 518 242-2200

address: 737 Albany Shaker Rd

Classified as an international airport due to a handful of flights from Canada. Several expansion projects since 1995 have transformed this formerly spartan little airport into a very attractive port of departure/arrival. Airlines that operate are American, Delta, Southwest, United, Air Canada, and Cape Air. Getting from the airport to the city is best done by pickup from a friend or by taxi; in 2019, a taxi to downtown Albany costs about $35. See also "By bus" below.
By train
The Albany-Rensselaer station is Amtrak's 10th busiest. It is not in Albany itself but directly across the river in Rensselaer. Taxis from the train station are pricey due to a cab company monopoly, so get a ride if you can. Capital District Transportation Authority (CDTA) bus route 214 connects downtown Albany to the station M-Sa 6AM-11PM, Su 9AM-7PM. An additional bus route 114 connects downtown Albany, the University at Albany, St. Rose College and Crossgates Mall. Trains serving the stations include the Maple Leaf (New York-Albany-Toronto), the Adirondack (New York-Albany-Montreal), Empire Service (New York-Albany-Niagara Falls), the Ethan Allen Express (Rutland-Albany-New York), and the Lake Shore Limited (Chicago-Buffalo-Albany-New York/Boston).
By car
Interstate 90 (I-90), the strip of highway that crosses the upper United States, cuts right through the north side of Albany. There are many exits into Albany from I-90, and a lovely view of the skyline between exits 6 and 7.
Interstate 87 (I-87), which connects New York City and Montreal, intersects with I-90 in Albany. South of Albany, I-87 is a toll road called the Thruway. North of Albany, it is a toll-free highway known locally as the Northway which leads through Montréal (as Québec's autoroute 15) into the Laurentian Mountains.
Taconic Parkway This 4 lane, rural limited-access highway winds from Interstate 287 in Westchester County up to Interstate 90 near the Massachusetts Border. It can be a pleasant road to travel on to Albany, since there are no trucks or toll plazas.
Interstate 88 (I-88), which connects Albany to Binghamton, Scranton, Elmira, and Jamestown, intersects with I-90 in Schenectady, just west of Albany.
By bus
Get around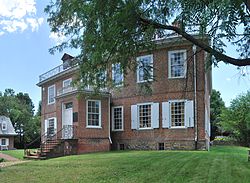 Getting around Albany and the Capital Region entirely depends on where you are staying and what you want to see. If you plan on spending most of your time within the city of Albany, most downtown sights are within walking distance of each other.
By car
Most residents and visitors get around by car. By the standards of larger cities, traffic is light and traffic jams are rare. Finding parking in some neighborhoods, particularly the Center Square area around Lark Street, can be a challenge.
By taxi
Taxi cabs in Albany are
not metered
and go by a
zone fare
within the city limits. Some places are geographically not in the city limits but still may be referred to as "Albany" such as Colonie Center which is in the town of Colonie and Crossgates Mall which is in the town of Guilderland. This may at times leave you open to getting ripped off by the driver. It's best to call the company and ask for the fare prior to getting into the cab.
Yellow Cab

phone: +1 518 434-2222

Offers a flat fee between different areas of the city.

Capitaland Taxi

phone: +1 518 455-8888
By bus (CDTA)
Capital District Transportation Authority

phone: +1 518 482-8822

Many sights outside of downtown and even outside of the city of Albany can be reached by the public bus system, the Capital District Transportation Authority(CDTA). CDTA local fares are $1.50 each way or $3.90 per day with a Navigator card, no matter the distance traveled, and can be paid in $1.50 notes, coins or with a Navigator fare card that can be issued by the transit authority, through participating area retailers, or through the Navigator mobile app at no additional cost. Navigator fares are discounted to $1.30 each way, and after 3 trips, automatically converts to a day pass. There is a bus rapid transit route named BusPlus that runs from Albany to Schenectady 7 days a week. Cash fares for the BusPlus route is $2, while Navigator fares are the same at $1.30 per ride (or $3.90 for the day). CDTA tends to operate M-F 6AM-midnight. Saturday bus service is much more limited, depending on which route is taken (some routes do not run on Saturday). Sunday bus service in Albany is extremely limited is a few routes that run in the city, and between Albany and Schenectady & Albany and Troy. Most places are on bus lines that run about every 20 minutes or less during the day on weekdays and every 30 minutes at night, while on weekends buses run about every 20 minutes or more. It is highly advisable to go the CDTA web site, check Google Maps, and/or get a bus schedule before trying to get a bus that does not run where you want go or when you want to catch it.
See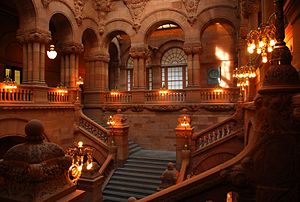 Albany is an architectural haven, from historic buildings to newly built high-rise skyscrapers to churches and temples, Albany has got it all for architectural buffs out there.
Architecture
phone: +1 518 434-5075

address: 24 Eagle St

Designed by renowned architect H.H. Richardson in the Romanesque style he popularized

phone: +1 518 474-2418

address: Madison Ave

The Empire State Plaza is something to behold. It lies between the New York State Capitol building and the New York State Museum. While many critics have found that the Plaza is architecturally intimidating, at best, it can be quite beautiful. Free concerts are often held on the plaza during the summer, ranging from Blues Festivals to Rock concerts. And the Fourth of July fireworks are spectacular.

phone: +1 518 474-2418

Free guided tours, M-F 10AM, noon, 2PM, and 3PM; Sa & Su 11AM, 1PM, and 3PM. Free self-guided audio tours M-F, 9AM-3PM (driver license or passport must be left as collateral for audio player). Plaza Visitor Center, Rm. 106 Concourse, Empire State Plaza. Security screening will confiscate pocket knives and other sharp objects.

New York State Education building

address: 89 Washington Ave

Impressive neo-classical colonnade.

State StreetThe main street that runs to the Albany Waterfront. Though much of the lower portion is decayed and empty, it retains a regal air and is well worth a visit, particularly as revitalization of the area takes hold. State Street is home to may of the stately 19th-century homes that can be seen in Albany and was once home to writer Herman Melville. Nearby lies Pearl Street, which has undergone a renewal, and which caters to the 20-something bar and club scene. During the summer, the Alive at 5 concert series is an open festival on Broadway near the base of State Street. It draws quite a large crowd, and is generally a fun time for all. You can no longer bring your own beer, however—you must purchase it on site.

State University of New York (SUNY) System Administration Building

address: The Plaza on State St

Formerly the Delaware and Hudson Railroad Building

address: 48 Hudson Ave

Built circa 1728, it is the oldest remaining Dutch building in the city.
Museums
Corning Tower Observation Deck

phone: +1 518 474-2418

address: Erastus Corning Tower

The view from the 42nd floor Corning Tower Observation Deck encompasses not only the city of Albany but the foothills of the Adirondacks, the Catskills, and the Berkshire Hills of western Massachusetts. Check-in at the security desk in the concourse under the Corning Tower, photo ID required. Plaza information office

phone: +1 518 431-1943

address: Broadway, Waterfront

Retired World War II US Navy Destroyer Escort, offering tours Wed-Sun during the summer. Recommended ability to climb and descend stairs.

phone: +1 518 474-5877

address: Madison Ave

The largest state museum in all the 50 states, has some really nice collections.

Albany Institute of History and Art

address: Washington Ave

Another nice museum well worth a visit.

phone: +1 518 456-7890

address: 25 Meeting House Rd

Watervliet was the first Shaker community in the United States. Shaker leader Ann Lee is buried here. Guided tours June through October, Sa at 11:30AM and 1:30PM, when available. Other tours available by appointment; two weeks notice required. See other Shaker villages in the northeast United States through the itinerary Touring Shaker country.
Parks and preserves
Washington Park

address: Madison Ave

A delightful, and for the most part safe, park (care should be taken at night). In the park's center is the Park Playhouse, which offers free, good musicals and plays throughout the summer. May offers "Tulip Fest" a nod to Albany's Dutch heritage that consumes Washington Park with (mostly) tulips as well as a craft fair.

Lark StreetA center of Albany youth culture and an interesting place to visit. Lark Street is between Washington Park and the Empire State Plaza and is the main drag for a vibrant residential neighborhood. In September, Lark Street hosts one of Albany's most treasured events, "Larkfest", a popular street fair.

phone: +1 518 456-0655

address: 195 New Karner Rd

Western edge of the city. It's a 3,000-acre inland pine barren maintained by controlled fires (which clear out invasive plant species and cause the native pine cones to release their seeds). Trails through the preserve are open to non-motorized uses year-round (except during burns, of course
Do
Albany for free
Public ConcertsHeld at the Empire State Plaza, Washington park and in the Corning Preserve/Albany Riverfront Park on the Hudson River during the summer.

address: Washington Park

Plays held at the park playhouse during the Summer.

phone: +1 518 426-3501

Held every First Friday of the month, this event aims to bring to a wider audience the local artists and local shops of Albany. Artwork exhibitions, live entertainment and gallery openings bring Albany to life. For transportation; A trolley will stop at participating venues throughout Albany. The Trolley leaves from the Upstate Artists Guild at 5PM and duration of the round trip is approximately 30 minutes. After the First Friday event, live music and original films are played from the Capitol Region Film Makers and people dancing.
Sports
Mohawk Hudson-River BikewayA 86-mile long trail for biking, walking, jogging or skating which starts in the Corning Preserve in downtown Albany, right along the Hudson River, and stretches out to Rotterdam Junction in Schenectady County.

Corning City PreserveTrails for biking, skating, jogging and walking in the 5-mile long park along the Hudson River, with picnic areas and a boat launch.
Albany has one professional sports team, the Tri-City ValleyCats (baseball). The city has lost its teams in arena football, basketball, and ice hockey.
The Valleycats are nearby Troy's minor league baseball team. The team is a Single A team that competes in the New York- Penn League (NYPL). The major league team associated with the Valleycats are the Houston Astros. The Valleycats play at Joseph L. Bruno Stadium. Tickets range in price from $5–15.
The city also boasts an NCAA Division I athletic program:
phone: +1 518 442-DANE

address: 1400 Washington Ave (ticket office)

Sports teams of the University at Albany (locally called UAlbany), competing in 8 men's sports and 10 women's sports, mostly in the America East Conference. The football team plays in FCS, the second level of D-I football, in the Colonial Athletic Association. Most venues are on campus, with the highest-profile ones being Casey Stadium (football) and SEFCU Arena (basketball).
Theatre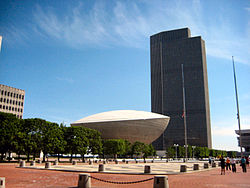 phone: +1 518 462-4531

address: 111 North Pearl St

N. Pearl St.

phone: +1 518 465-3334

address: 19 Clinton Ave

phone: +1 518 473-1845

address: State St

Downtown.

The Times Union Arena

address: S. Pearl St
There are also the Troy Savings Bank Music Hall in
Troy
and the Proctor's Theatre in
Schenectady
Other
Pick Apples!Autumn is always a good time for apple-picking at any one of the orchards in the area

Ice-skatingThe reflecting pool of the Empire State Plaza becomes a skating rink during the winter, which might be an equivalent of the Rockefeller Center rink.

phone: +1 518 270-1901

address: 278 River St., Troy, NY 12180

The Captain JP can accommodate up to 600 passengers and is by far the most lavish vessel in the Capital District. The Capt. JP II has three climate-controlled enclosed decks, along with full service bars and dance floors on each deck. They regularly feature live entertainment on the music cruises and also hold private events.

The Linda - WAMC's Performing Arts Studio

address: 339 Central Ave

The Linda is on Central Avenue in Albany. Visit the venue for many kinds of events or rent out the space for your own event
Events
Buy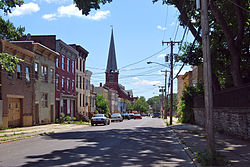 Lark Streethas a few gift shops and other unique stores with an alternative vibe. If you're downtown take a gander and support local shopkeepers by buying a glass pipe, a bustier dress with cherries on it, or a rainbow flag to hang in your front window.

phone: +1 518 813-4959

address: 1475 Western Avenue, Westmere

The most upscale shopping venue in the area. Independent boutiques and brand stores like Crabtree & Evelyn dominate, with a few chain staples; there is a TGI Friday's right next to the Starbucks. Color Me Mine is a neat little DIY craft shop where you can paint your own ceramics.

phone: +1 518 869-9565

address: Westmere

Otherwise referred to as "the mall," it's the biggest shopping center in the region and at one point was among the top ten largest shopping malls in the United States. The best spot to park is by Best Buy, which is in the center of the mall. Flagship stores include Macy's, JC Penney, a Forever 21 superstore, Best Buy, H&M, Borders and the Apple store. Crossgates has a Regal Cinemas complex with 17 standard stadium-seating theaters and one IMAX Experience theater. Because local hooligans, after 4PM on Friday and Saturday you must be 18 or older to enter the mall unsupervised, with the exception of the movies.

Crossgates Commons

address: 161 Washington Avenue Extension

An overflow of chain stores located across Washington Ave Extension from Crossgates Mall. Here you'll find the largest Walmart in the US, which looks unremarkable until you realize there is an entire underground level devoted to groceries and toiletries. Worth a visit if you've never seen a shopping cart escalator.

phone: +1 518 459-9020

Remodelled in an effort to combat its former reputation as a ghost town mall. CC has a new Regal Cinemas complex with 13 stadium-seating theaters. Major stores include Macy's, FYE as well as Boscov's, Sears, LL Bean, Barnes & Noble and Christmas Tree Shops. Eat at PF Chang's or the Cheesecake Factory, which are conveniently adjacent to one another between Sears and LL Bean. Colonie Center draws a more suburban crowd than Crossgates due to Crossgates' better accessibility by public transportation.

Latham Farms Shopping Center

address: 579 Troy Schenectady Rd

Retail part includes Wal-Mart, Dick's sporting goods, Home Depot and restaurant chains.
In the suburbs surrounding Albany, particularly on the drive down Central Ave toward Schenectady, you can find a strip mall wherever you go with chain stores like Target, Marshalls, and Bed Bath & Beyond. Some of the larger ones are
Westgate Plaza
,
Northway Mall
, and
Mohawk Commons
which used to be an indoor mall (Mohawk Mall)
Eat
Downtown area
New Scotland and Pine Hills area
phone: +1 518 453-9191

address: 577 New Scotland Ave

They call themselves the King of Gyros. Anton's is a small Greek takeout hole-in-the-wall across from Saint Peter's Hospital. Delicious and inexpensive! Friendly staff. Try their daily specials.

phone: +1 518 GET-PORK

address: 329 Ontario st

BBQ take-out, has 3 different pulled pork, brisket, ribs and a whole lot of tasty sides

phone: +1 518 427-5963

address: 234 Western Ave

A nice atmosphere, a good, diverse menu, a nice selection of wine and beer and it isn't too expensive.

phone: +1 518 482-2667

address: 100 Watervliet Ave

For health food shopping, has a variety of health-minded dishes and baked goods made daily. Grab a "meal deal" for under $5. Check out the amazing cheese selection.

Cafe Italia

phone: +1 518 459-8029

address: 662 Central Ave

An upscale Italian restaurant.

phone: +1 518 935-2025

address: 1094 Madison Ave

A good bar and restaurant. Many will argue their wings (as opposed to Wings Over) are the best in the city. Great burgers and grilled sandwiches.

phone: +1 518 935-1094

address: 1108 Madison Avenue # 1

This is a wonderful restaurant that serves a brunch that is unparalleled in the capital region. Enjoyable patio dining is available during the warm months. Try their breakfast cocktails (their bloody mary is unmatched.) Part of the menu is on a weekly rotation which features creative takes on eggs benedict.

phone: +1 518 465-8899

address: 272 Delaware Ave

Vietnamese restaurant.

phone: +1 518 694-0520

address: 300 Delaware Ave

An upscale restaurant near the Spectrum Theater. Wonderful food and service, their specials are heavenly. It's never too crowded, the service is always friendly. One of the city's best spots to go out on a date.

phone: +1 518 426-5505

address: 192 North Allen St

Pepper Jack's has a large variety of inexpensive delicious food. College students and professionals alike love this place. Try their breakfast wraps, simply amazing!

phone: +1 518 729-5383

address: 1100 Madison Ave

Restaurant and lounge. Great beer selection and food.

phone: +1 518 462-5812

address: 198 Central Ave

Upscale Italian restaurant featuring superb food.

phone: +1 518 217-2037

address: 160 Quail St

Columbian and Ecuadorian cuisine.

phone: +1 518 482-2358

address: 409 New Scotland Ave

This is an excellent Italian and Greek deli. You can get sandwiches, subs, soups, and even lasagne. There isn't really any place to sit down, so virtually every customer gets take-out.

phone: +1 518 426-7050

address: 315 Central Ave

A well-established Mexican restaurant. Great food, worth a visit.

phone: +1 518 463-3433

address: 125 Southern Blvd

Reasonably priced, but still satisfying and tasty Italian food.
Colonie, Westmere and Latham areas
Drink
Albany's bar scene is alive and well and, due to crackdowns with ID checks, the face of local nightlife has changed a lot. Make sure you have your license, passport or ID handy.
SUNY Albany is no longer considered the #1 party school in the United States, but between its 11,000 students and the College of Saint Rose, you will meet lots of sloppy and belligerent 18-21 year-olds on a typical night out. Muggers and other opportunists capitalize on vulnerable drinkers, so avoid Washington Park after dark.
The most popular and concentrated place to barhop is probably Lark Street, where more than a dozen bars from cocktail lounges and dives are crowded between Ontario Street and Central Avenue. Good bets include:
Pearl Street is another good place to go out. Closer to the large state offices, these bars draw a large after-work crowd, and after the Thursday afternoon waterfront concerts in the summer - Alive at 5 - the streets are cordoned off, made pedestrian-only, and overflow with revelers.
Some places of interest:
For the College Crowd:

Sleep
Downtown area
phone: +1 518 462-6611

address: 40 Lodge St

It is close to the State Capitol, Times Union Center, and a burgeoning downtown area on Pearl Street (Pearl, Jillian's, Skyline, Mad River, the Victory Cafe, McGeary's and the Bayou Cafe are all on or just off of Pearl Street).

Holiday Inn Express Albany - Downtown

phone: +1 518 434-4111

address: 300 Broadway

Guest rooms and public areas are renovated. Shuttle service and hot breakfast daily. Free parking.
New Scotland and Pine Hills area
Morgan State House - Luxury Inn

phone: +1 518 427-6063

address: 393 State St

The Morgan State House is an excellent example of late 19th-century elegance and design. It has been restored to provide the most unique accommodations in the Capital District. Voted "Best in the Capital/Saratoga Region", The Morgan State House is an inn in the European tradition. It is centrally located in downtown Albany, on a quiet, tree-lined residential street overlooking Washington Park and was the longtime home of the artist and suffragette Alice Morgan Wright (1881—1975), who lived here from 1888 (when she was 7 years old) until her death. The house was designed by R.W. Gibson, the architect of the Cathedral of All Saints, for her father, Henry Romeyn Wright, who made a fortune in dry goods during the Civil War. The multiple peaked gables and intricate interior details reflect the Japanese-influenced aesthetic of the 1880s. Alice Morgan Wright was a leading figure in the American suffrage movement and once was jailed in London with Emmeline Pankhurst. In 1921 she helped found the New York League of Women's Voters. An influential artist of the Art Deco style, Wright maintained a studio on the fourth floor of the house, and her works can be found in museums and private collections throughout the country.

phone: +1 518 438-8431

address: 3 Watervliet Avenue Extension

Pet-friendly. Offers full service restaurant, cocktail lounge, continental breakfast, meeting and banquet facilities. Provides extended stay amenities and services. Walking distance to restaurants and attractions.

address: 22 Holland Ave

Downtown/Medical Center.
Colonie, Westmere and Latham areas
phone: +1 518 458-8444

address: 189 Wolf Rd

Comfort Inn Latham - Albany North

phone: +1 518-785-0000

address: 981 New Loudon Rd

phone: +1 518 482-8800

address: 168 Wolf Rd

phone: +1 518 435-1600

address: 1455 Washington Ave

phone: +1 518 785-0931

address: 997 New Loudon Rd., Latham

An Ascend Hotel Collection Member.

phone: +1 518 869-8100

address: 660 Albany Shaker Rd

One of the best places to stay in the Albany area (though it is a bit further away than one might like, near Albany International Airport.) The Desmond's charm is in its embracement of the historical group of Shaker's who once were a big part of the Capital Region. The Desmond often hosts weddings and has two quality restaurants on site, Simpson's and Scrimshaw. Free internet in rooms, free wireless internet in lobby. Entirely non-smoking.

phone: +1 518 458-7250

address: 205 Wolf Rd

Holiday Inn Express Albany Western Ave University

phone: +1 518 438-0001

address: 1442 Western Ave

Holiday Inn Express & Suites Latham

phone: +1 518 783-6161

address: 400 Old Loudon Rd

phone: +1 518 782-9161

address: 7 Rensselaer Avenue, Latham

The hotel is about 20-30 minutes from downtown Albany, and cab fare is about $20 on average. There is a bus stop about 100 feet from the hotel, but it can take almost an hour to get to the city this way, and the hotel doesn't provide bus schedules or seem very knowledgeable about the area buses.

phone: +1 518 456-0811

address: 1632 Central Ave

Offers guests free continental breakfast. Near Albany International Airport.

Quality Inn & Suites Albany Airport

phone: +1 518 785-5891

address: 611 Troy-Schenectady Rd

Features Q Corner Cafe breakfast w/hot items, seasonal outdoor pool, 24 hour fitness center, and three onsite restaurants including the very popular Filet 7 West (providing room service). Complimentary glass of wine or beer each M-Sa evening. Business center, wireless internet access in all areas, voice mail, large work desks and access to copy and fax Services. Banquet and meeting facilities are available. All spacious guest rooms feature irons, ironing boards, coffee makers, hair dryers, microwaves and refrigerators.
Stay safe
Like most cities, Albany has blighted areas with crime problems. Use precautions that one would use in any big city. The areas between Washington Ave. and New Scotland Ave. are generally safe to walk, especially east of Lark Street. However, there have been physical assaults near the SUNY Albany downtown campus. Arbor Hill near Henry Johnson Blvd. is known as one of the most dangerous areas, though it holds no particular interest to travelers. Occasional muggings and armed robberies have been known to happen to drunk suburbanites on Lark, Madison and other bar streets.

Cope
Radio
Radio stations serving the Albany area include:
News/Talk: WAMC 1400 AM/90.3 FM (NPR), WGY 810 AM/103.1 FM (conservative)
Television
Television stations serving Albany include:
WRGB Channel 6: CBS.
WTEN Channel 10: ABC.
WNYT Channel 13: NBC.
WMHT Channel 17: PBS.
Go next
The Albany metro area, the
Capital District
, has many more attractions.
With its impressive industrial heritage, Albany is a part of the
American Industry Tour
between
Boston
and
Chicago
.