Albany (Oregon)
Albany
is the 11th-largest city in the state of
Oregon
. Nicknamed the "Hub of the Valley", it is 69 miles (111 km) south of
Portland
and 44 miles (71 km) north of
Eugene
. The town sits at the confluence of the Willamette River and Calapooia River. Albany's streets are lined with historic homes and a carousel museum. Its location in the Willamette Valley, known for its wine, allows the town to offer locally made wine, as well as cider and beer.
Understand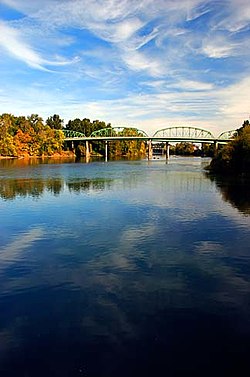 Historically, Albany was populated by the Kalapuya people. Albany was called
Takenah
by the Kalapuya, which describes a deep pool at the confluence of the Calapoola and Willamette rivers. The population, which totaled upwards of 20,000 before European contact, suffered the effects of smallpox brought by the Europeans in 1782-83. Additional damage was done to the community by malaria, which arrived in the area between 1830-33. The majority of the populations of the Kalapuya was killed in the epidemics. By the 1850s, treaties opened the door for Europeans to have complete control of the land that would become Albany.
Abner Hackleman was the first European to settle in the area, in 1845. Eventually, more Europeans came to the area via the
Oregon Trail
, including the Monteith Brothers. These two families, the Monteith and Hackleman's would develop two opposing communities in the area. For example, the Hackleman's identified as Democrats, when the Monteith's were Republicans. The community came at odds during the American Civil War, with the Hacklemans supporting the Confederacy and the Monteiths, the Union. Historic homes today represent the memory of these families. Albany is split into two sides, East and West, represented by the legacy of these families. The Monteiths are identified as the founding family of Albany, however.
In the 1850s the California Gold Rush brought economic prosperity to the area, and in 1852 the first steamboat arrived at Albany. The town was named Albany in the late 1840s, then New Albany in 1850, and back to Albany in 1853. Trains passed through Albany starting in 1871, and the world's largest wooden railroad drawbridge was built in Albany in 1888. A canal, which still exists, runs 18 miles through the south side of Albany, it was built in 1872. Albany used to host the Albany World Championship Timber Carnival, but alas, small crowds and the failing timber economy had it end in 2001.
Today, Albany is called the "rare metals capital of the world," producing lots of metals with a specific focus on zirconium. The area also produces fruit and is also known for it's grass seed production.
Oregon Freeze Dry
is the main employer in the region, launching the green tech industry in the area. Albany hosts the annual
Northwest Air and Art Festival
, wine walks, and other local celebrations. The town is also known for its historic architecture, representing periods ranging from Second Empire to Colonial Revival. The area has been featured on the program
This Old House
and has one of the oldest
Carnegie Libraries
still in use in the country. Albany's sister city is
Albany
,
Australia
.
Visitor Information
phone: +1 541-928-0911

address: 110 3rd Ave SE

The visitor's center is in the heart of historic Albany. They can help you book hotels, tours, restaurants, and help you discover the history and heritage of Albany.
Get in
By car
Albany is located at Exit 233, 234B, and shortly after the city limits at 228 off the I-5 Interstate. The city can also be accessed from U.S. Route 20, Oregon Route 99E or Oregon Route 34 that provide access from the nearby regions. In real time however - driving from Portland to Albany takes about an hour and a half.
If traffic is heavy it could be longer than two hours. Traffic usually bottlenecks around
Tigard
or
Lake Oswego
and is slow going from there to
Portland
.
By train
By plane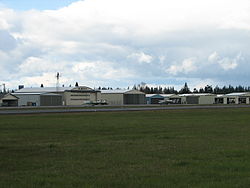 phone: +1 541-917-7605

address: 310 Waverly Dr NE

Small, publicly owned airport. The longest operating airport in the state and the first airport in Oregon to be listed on the National Register of Historic Places.
Corvallis Municipal Airport (CVO) in Corvallis is a publicly owned airport in Corvallis, about 15 miles south of Albany.
Portland International Airport (PDX) 7000 NE Airport Way, Portland. +1 503-460-4234. The closest international airport, this is where you'll most likely fly into if you are not flying a private plane into the smaller public airports above. It is 80.6 miles north of Albany. You can take a train, bus, or rent a car to get to Albany. You can also hire a shared shuttle via Hut Shuttle.
By bus
BoltBus serves Albany from Eugene, Portland, and Seattle. The bus stop is in the parking lot of the Amtrak station.
Get around
A car is helpful, but getting around historic downtown Albany can easily be done by foot.
By bike
phone: +1 541-928-2143

address: 424 W 1st Ave.

Offers bicycle rentals, sales and service. Stop by and rent a bike to cruise around Albany or ride on the scenic bikeway.
By bus
Albany Transit provides bus service to major streets throughout the city. All bus stops have signs, and the main bus stop is located at Albany Station, which is downtown. Single ride tickets are $1 for adults, 50 cents for seniors (60+) and children under the age of 6 ride for free. Albany City Hall and Albany Station sell monthly bus passes. Buses do not run on major holidays.
Linn-Benton Loop is a bus service that travels between Albany and Corvallis. It runs at shorter intervals, but is great if you're heading to Oregon State University. Tickets are $1.50 for adults (18+), and 75 cents for seniors and youth. If you have an OSU, Linn-Benton Community College, Samaritan Health Services or Hewlett-Packard ID card, you ride for free! They do have bicycle racks.
By car
Enterprise, Hertz, and Budget all offer car rental in Albany.
By taxi
Willamette Taxi II Service, +1 541 928-8288
See
Albany Historical Carousel and Museum

phone: +1 541-791-3340

address: 503 1st Ave W

Features a historic carousel and related memorabilia. There is a carving studio, where you can watch carousel animals get carved by craftspeople. There is also a collection of carousel memorabilia and animals, donated by the Dentzel family, a German carousel-making family. Tours can be arranged. Photos welcome.

phone: +1 541-928-0911

address: 518 2nd SW

Thompson's Mills State Heritage Site

phone: +1 541-491-3611

address: 32655 Boston Mill Dr, Shedd, OR
Do
Festivals and events
phone: +1 541-926-4314

address: 3700 Knox Butte Rd E

Mid-July. The region's largest summer event. Get your junk food on, hear live music, and take in the rodeo and more. Oh, and amusement rides, of course!
Arts
phone: +1 541-928-4603

address: 111 1st Ave W

One of the oldest community theater troupes in the state, performances range from musicals such as Spamalot to classics such as The Glass Menagerie. Ticket prices are reasonable, and shows are often in the evening on weekends. Check out the website for details.

phone: +1 541-926-7499

address: 321 SW 2nd Ave

Historic single screen movie theatre showing indie and major films. After 6PM shows are for the 21+ crowd, where the theater serves wine and beer. Join their weekly mailing list online for a free small popcorn.

Russell Tripp Performance Center

phone: +1 541-917-4531

address: 6500 Pacific Blvd SW

Linn-Benson Community College's primary entertainment space. The center features theater, children's theater, music, vocal arts, films, lectures, dance and more.
Outdoors and sports
Ride your bike along the Willamette Valley Scenic BikewayOne of the first scenic bikeways in the country, the Willamette Valley Scenic Bikeway passes right through Albany. You can ride north from Albany to just south of Wilsonville, or south to Eugene, it's very scenic!

Golf anyone? Albany has two golf courses, both 18-hole and open year round:
phone: +1 541-928-8338

address: 905 NW Spring Hill Dr

Public course that opened in 1929.

phone: +1 541-926-6059

address: 155 NW Country Club Ln

Old school-style golf club where a collared shirt is required to play. Rates start as low as $26.
Have some old fashioned fun at Lake Shore Lanes

phone: +1 541-926-4631

address: 5432 Pacific Blvd SW

Albany's only bowling alley, mini-golf center, and arcade. They also have cosmic bowling where a DJ plays pop music and the bowling alley becomes more like a dance club.
Take a walk at Talking Water Gardens

phone: +1 541-791-0058

The first public-private partnership related to engineered wetlands in the region. Consisting of approximately 50 acres, the public can hike and view wildlife for free from sunrise to sunset.
Buy
Shopping centers
phone: +1 541-967-8238

address: 1895 14th Ave SE

address: North Albany Road & Hickory Street NW
Department stores
Fred Meyer

address: 2500 Santiam Hwy

SE
Grocery stores
Albertson

Safeway

Fred Meyer
Eat
Budget
Burgerville USA

address: 2310 Santiam Hwy SE

This is a great fast food restaurant that is native to the northwest. All of its cheese, meat, and other products come from Oregon. For example, Burgerville's cheese comes fresh from the Tillamook cheese factory; its beef comes from northwest cows and is never frozen. They also feature a secret fry and burger sauce and great fresh milkshakes.

Lum Yuen Restaurant

address: 1236 Price Rd SE
Mid-range
phone: +1 541-928-2536

address: 133 5th Ave SE

This is a must visit if you live in or visit Albany. The pizza parlor is in the old electric railway building and features a unique great tasting pizza. The owners name is Tim and he always makes you feel welcome. Go to the website if you would like to print coupons because this is on the higher end of Albany's mid-range price scale. Even so, its worth a try.

Los Dos Amigos

phone: +1 541-928-4820

address: 2133 Santiam Hwy SE

Albany's most popular Mexican restaurant. Two locations. Serves reasonably priced, great tasting food.

Elmer's Breakfast-Lunch-Dinner

address: 2802 Santiam Hwy SE

Great breakfasts.

Izzy's Pizza Restaurant

address: 2115 Pacific Blvd SW

Riley's

phone: +1 541-926-2838

address: 124 Broadalbin St SW

This restaurant is in historic downtown and shares its walls with a pool hall. Its a great atmosphere and a place where you can eat and play pool or just sit in the dining room and enjoy each others company.

Valentino's Pizza

address: North Albany Village, Ray's Shopping Center

The atmosphere is great and the local owners are wonderful. Their food is so fresh and their pizza, pastas and calzone delicious. They have only been around about a year, but don't let that fool you, their food is excellent.
Splurge
Depot Restaurant

address: 822 Lyon St

A small, comfortable seafood restaurant downtown.

address: 442 W 1st Ave

A bistro with a relaxing atmosphere and a seasonal menu.
Drink
Alleyoop Lounge

address: 1245 Clay St SE

Bailey's

address: 831 Elm St

Calapooia Brewing Co

address: 140 Hill St SE

Fog Horn

address: 435 2nd Ave

JP's Lounge

address: 220 2nd Ave SW

Linger Longer

address: 145 Main St

Lucky Larrys Lounge

address: 1295 Commercial Way SE

Ma's Dary Farm

address: 3411 Pacific Blvd

Vault 244 Bistro/Lounge

phone: +1 541-791-9511

address: 244 1st Ave SW

Trendy bistro/lounge.

Wilhelm's Spirits and Eatery

phone: +1 541-926-7001

address: 1520 SE Pacific Blvd

An upscale pub and brewery.
Sleep
Albany isn't known for its remarkable accommodations. You'll most likely get stuck at a chain motel, or, try your hand at camping.
Edelweiss Manor Bed and Breakfast

phone: +1 541-928-0747

address: 1708 Springhill Dr NW

Located in North Albany, Edelweiss Manor is a bed and breakfast located in a historic home from 1908. It's a Four Square Farm House and is on the historic register. There is only one room at the inn. The property has 2.68 acres. Guests can wander the gardens and grounds, and retreat to the Guest Suite. Good for couples, you'll most likely need a car to get to and fro the inn. Organic breakfast is served and they also offer spa services. It's located close to local golf courses. A single night is $150, with an additional night costing $100. Special holiday rates are $250 with additional nights costing $200 each.

Comfort Suites Linn County Fairground and Expo

phone: +1 541-928-2053

address: 100 Opal Ct NE

Rooms are large, clean and have the standard hotel necessities such as a coffee maker, shower and bathtub, TV with cable, etc. Pets welcome for an extra charge. There is also a heated pool, laundry facilities, and a workout gym. Breakfast is additional, and Wi-Fi is free. They also have a shuttle that will pick you up at the airport and bring you back in Portland! Be sure to check for AAA, senior, and military discounts.

Holiday Inn Express & Suites Albany

address: http://www.ihg.com/holidayinnexpress/hotels/us/en/albany/alnkb/hoteldetail

Well maintained standard Holiday Inn Express just off of I-5 and next to the fairgrounds. Free breakfast, free wifi, and all the standard hotel room basics (tv, shower, bathtub, coffee machine). Free newspaper in the morning delivered to your door and suites are offered if you need something bigger. There is an indoor heated pool with a hot tub, a business center for computer and tech needs, a fitness center, and ADA rooms. Be sure to check for AAA, senior, and military discounts.

phone: +1 541-967-8521

address: 33775 Oakville Rd S

Halfway between Albany and Corvallis, this KOA offers parking for RV's, rental cabins, and tent camping. Guests can enjoy the outdoors in this clean and well maintained environment, including a pool, playground, snack bar, mini golf, TVs and free Wi-Fi. Don't forget to sign up for a value card to get special deals and perks each time you stay KOA grounds.
Go next