Alberta Rockies
Alberta Rockies
is a region in western
Alberta
,
Canada
. It is dominated by the
Rocky Mountains
and attracts many visitors with its beauty, outdoor activities and two of Canada's oldest and best known national parks, Banff National Park and Jasper National Park.
Cities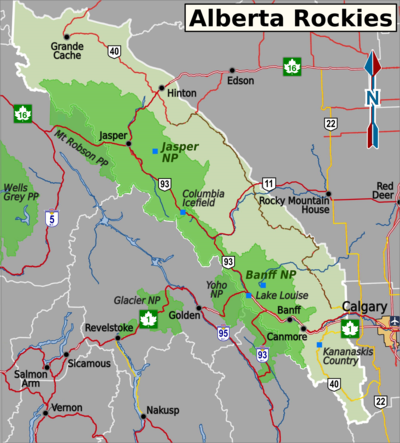 , the oldest and most famous mountain resort town in the Canadian West. A good place to do shopping and fine dining, but expensive and often crowed at peak season.
, being outside the boundaries of Banff National Park, and therefore not subject the the same environmentally-minded restrictions, this town has been able to expand rapidly in recent decades and now rivals Banff as a tourism hub.
, an isolated mining and trapping town, seemingly a different planet from glitzy Banff, but a good base for more adventurous hikes, trail rides and so on.
, mostly an industry town, but with all the services RVers and car campers need before entering the mountains proper.
, the less-crowded alternative to Banff. Just as many lakes and peaks to see, but a fraction of the coach tours.
Other destinations
was Canada's first national park in 1885, and it is also one of the largest. The park sees visits well into the millions annually.
is one of the largest glaciers you'll ever be able to just drive up to the edge of. Namesake of the Icefields Parkway, located halfway between Jasper and Lake Louise.
The largest of Canada's Rocky Mountain Parks, it features broad valleys, rugged mountains, glaciers, forests, alpine meadows and wild rivers along the eastern slopes of the Rockies in western Alberta.
Maintained by the Province of Alberta, the Kananaskis park area consists of a number of provincial parks and reserves.
, the photo that everyone wants is of this post-card perfect lake. Also home to a major resort hotel and a World Cup ski hill.
, wilderness area centred around the hamlet of Nordegg along the David Thompson Highway (Highway 11)
Understand
This is spectacular mountain scenery. It has been discovered by Asian bus tour companies, so to see the best sights you need to get there early in the morning; however do not be put off by this, hike a few hundred metres away for the car-park and you are on your own in the wilderness.
Banff and Banff Park are the most popular destinations followed by Jasper. However do not underestimate Kananaskis Country, it is easy to drive past it but it can actually be one of the better areas for wildlife spotting, particularly grizzly bears.

Get in
By plane
International flights are available to
Calgary
and
Edmonton
airports.
By car
By bus
Brewster Banff Airport Express offers shuttle service from the Calgary airport, downtown Calgary, Edmonton airport, and the West Edmonton Mall.

Rider ExpressBus service along the Trans-Canada Highway from Vancouver to Calgary, twice daily. Service from Vancouver, Surrey, Abbotsford, Chilliwack, Hope, Merritt, Kamloops, Chase, Salmon Arm, Sicamous, Revelstoke, and Golden (British Columbia); Lake Louise, Banff, Canmore, and Calgary (Alberta).

Sun Dog Tours. Edmonton service is to Jasper
By train
Get around
The
Icefields Parkway
(Highway 93) runs north/south through the region.
If you are not in a hurry to reach your destination an alternative to Highway 1 between Banff and Lake Louise is the Bow Valley Parkway (Alberta Highway 1A). The road winds through the woods giving the chance of seeing more wildlife (mainly deer) than the Trans-Canadian. Good quality road surface but a speed limit of 60 km/h. Similarly the 93A between Jasper and the Athabasca Falls provides a slow option with a greater chance of seeing bears.
See
Do
In the winter skiing, in the summer hiking.

Travel topics
Stay safe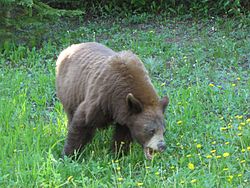 This is bear country so
be careful
. Also be aware that there is a good chance of coming across longhorn sheep, deer and moose on the road.
Go next