Albufera Natural Park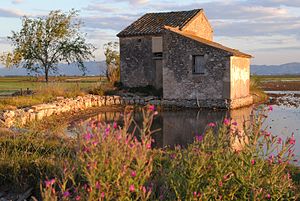 Albufera Natural Park
(Valencian:
Parc Natural de l'Albufera de València
, Spanish:
Parque natural de la Albufera
, or simply
Albufera
), is a large natural park in the
Valencian Community
,
Spain
.
Understand
The natural park encompasses the lake of Albufera (from Arabic: البحيرة al-buhayra – 'small sea'), the villages of Pinedo, El Saler, El Palmar, and Perellonet, and the surrounding wetlands and agricultural area. It draws visitors from Valencia for its beaches, bird watching, and food.

History
Albufera is Spain's largest lake, and was originally a saltwater bay gradually separated from the sea by a large spit, which finally closed off the lagoon in the Roman period.
Fishing has always been the primary human activity in the area. The reclamation of land for growing rice began in the 17th century, which drastically reduced the surface area of the lake from approximately 30,000 to 2,800 hectares. Over time the water also became more diluted, and today is mostly freshwater. In the mid-twentieth century the lake was further threatened by rampant development. Since the establishment of the natural park in 1990 the region is now protected from further development, and there has been progress in reestablishing vital wetland areas.

Landscape
Flora and fauna
The Albufera provides summer breeding habitat for many birds, wintering grounds for others, and for still others is a critical layover spot during migration; in total more than 340 avian species have been identified here. Birds make good use of not only the lagoon itself but also the rice paddies surrounding it.

Climate
Get in
By car
The two-lane motorway
CV-500
hugs the coast, connecting
Valencia
in the north with in the south, before heading southwest toward . From in the south,
CV-502
heads directly north toward El Perellonet.
Traffic heading toward Valencia can get very congested on Sunday evenings; the only possibility to bypass this is to use
CV-401
, which begins just south of El Saler.
By bus
Valencia's
EMT Bus 25
leaves from Carrer Navarro Reverter near Plaça Porta de la Mar. This route alternates between two final destinations; if you want to reach any of the beaches south of El Saler, make sure to get on the bus labeled
El Perellonet
and not
El Palmar
. These buses run every half-hour 07:00-22:15, and a single journey costs (Bonobus and Bono Transbordo cards are accepted). A routemap and timetable can be downloaded
here
.
Alternatively, you can take the yellow
Metrobus
(operated by Autocares Herca) from Gran Vía de les Germanies near the train station, in direction
Perelló
. The trip takes about 30 minutes; the bus runs hourly 07:55-19:15 with a single journey costing .
By bicycle
A paved, dedicated bike trail follows the coast for 10 km from Valencia, beginning at the large near the Centro Comercial El Saler and continuing to El Saler, avoiding traffic for most of the way. In El Saler the trail splits: the main trail stops just south of , and a side trail terminates at El Saler beach.
By taxi
A round-trip taxi ride from Valencia should cost between , depending on how far you go.
By tourist bus
phone: +34 699 982 514
address: Plaça de la Reina, 10
In cooperation with Valencia's official tourism office,
Valencia Bus Turistic
operates the
Albufera Bus Turistic
year-round, which runs three times daily between several points in the city and terminates in El Palmar (schedule available
here
). The service includes a guided commentary in multiple languages, along with a boat ride and optional meal. Tickets can be purchased at any bus stop, tourist information centre, and in many hotels.
Fees and permits
There are no entrance fees or permits. Access to restricted areas for bird watching can be arranged only through a guide.

Get around
All the population centres are very small and are easily navigable by foot. To go further distances, see the alternatives listed above in 'Get in'.

See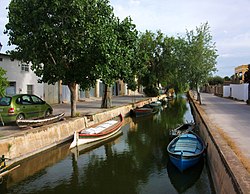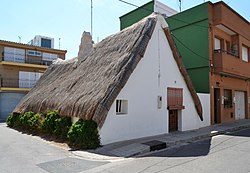 El PalmarWith a name derived from the many palmettos on the island, this village was originally a Moorish farmstead. After the forced deportation of Muslim residents in the mid-13th century, the island was essentially abandoned until the late 18th century when fisherman and their families began to take up permanent residency here. Most modern visitors come here primarily to eat paella (see listings below in 'Eat'), but it is worth taking some extra time to explore the surrounding canals and to see the barracas, traditional thatch-roofed dwellings.
Barraca dels Arandes

address: Carrer de Francisco Monleón

The oldest building in El Palmar dates from the 19th century, and is the only one which still has the original construction of adobe walls, packed clay floor, wooden ceiling, and thatched roof. It is not open to the public, but visitors can appreciate it from the outside.
Muntanyeta dels SantsLiterally 'Mountain of the Saints', this low hill of 27 m altitude is a good spot to view the surrounding landscape of rice paddies and orange groves.
Ermita dels Sants de la Pedra

address: Plaça Numero 48

The 14th-century chapel was modified in the 17th century, and is a good example of Gothic architecture from the Reconquista period. It is dedicated to Saints Abdón and Senén, patron saints of the nearby city of Sueca, and on 29 July it is a pilgrimage destination from Sueca during the festival of Benissants de la Pedra.
Batería republicana de El SalerA Republican battery and artillery site from the Spanish Civil War.
Do
Boat trips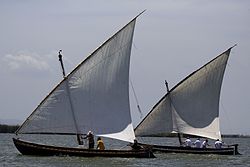 Embarcador de la Gola de Pujol

address: Ctra El Palmar, s/n

Embarcadero de El Palmar
Birdwatching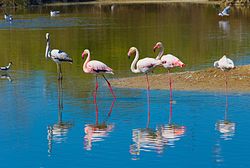 There are several English-speaking guide companies which can enable access to restricted areas, but there are also plenty of opportunities for casual birdwatchers, not only in the lagoon but in the rice paddies.
Centre d'Interpretació Racó de l'Olla

phone: +34 963 868 050

The visitor centre can offer information on bird life in the area, and has an observation tower, two bird observatories, and a nature trail through a smaller lagoon. Ample parking is available nearby, and the nearest is located a short distance to the north.

Mirador de la Gola del Pujol

address: Ctra El Palmar, s/n

This is a good viewing spot for waterbirds especially between the months of October and March, when fixed fishing posts with nets are placed in the water. This spot is particularly popular in the afternoons and on weekends, and there is limited parking available.
Beaches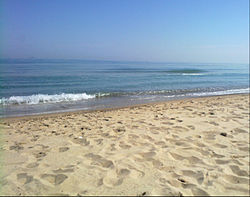 South of is a long stretch of land with a dense pinewood, dunes and marshes that separates the lake from the sea. These beaches are on "protected" land and are the cleanest, most secluded beaches within easy reach of Valencia. Despite being very near the city, due to their protection and lack of the services of an urban or resort beach, they are generally pretty quiet, something not few people might prefer to the more urban beaches. The summer season generally runs from the beginning of June until the beginning of September, and during this period all beaches have lifeguards, first aid stations, and toilets (unlocked daily 10:00-19:30).
Platja de PinedoThe closest beach to Valencia and the most urban, with a number of cafés and snack vendors. Has disabled access and showers, sun loungers are available for rent, and dogs are permitted on the northernmost section of beach.

Platja de l'Arbre del GosA stretch of beach with a more natural setting, and a nudist section. Facilities drinking fountains, showers, and picnic benches.

Platja d'El SalerThe nicest and best-developed beach. Facilities include disabled access and showers, drinking fountains, and picnic tables, and sun loungers are available to rent.

Platja de la GarroferaHas a nudist section. Facilities include disabled access, a walkway, and showers.

Platja de la DevesaUndeveloped, with natural surroundings, this beach can be reached on foot walking for about 5-10 minutes from the parking area. Has a nudist section.

Platja del RecatíAn urban beach with fine sand. Has disabled access and showers.
Festivals and events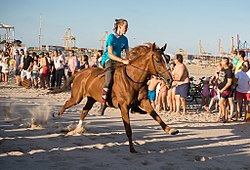 Romería del Cristo

address: El Palmar

This religious festival celebrates the pilgrimage of Cristo de la Salud (Christ of Health). The procession begins at the in front of the parish church, and proceeds to the boat launch. Here, with much music and fanfare, the Christ effigy is placed into a boat and taken out onto the lake, followed by other boats packed with villagers from El Palmar and neighbouring villages of Catarroja and Silla. After being taken around the lake the effigy is returned to the church and there is a mascletà, or gunpowder celebration.
Spectators wishing to book a spot on a boat to follow along should make arrangements at least six weeks in advance, although with a bit of luck it may be possible to find a spot on the same day by asking around; going rates are per passenger.

Corregudes de Joies

phone: +34 963 248 964

address: Platja de Pinedo

This annual event is a series of 500m-long bareback horse races on the beach. Formally organized since 1823, the races date back to the 18th century and were once held in most of the agricultural districts immediately south of Valencia; today they are still held only in the village of Pinedo. They came about as a competition between orchard farmers betting on the strength and speed of their farm horses. Literally meaning 'race of jewels' in Valencian, the 'jewel' is a silk scarf tied to the racer's arm and formerly given to the beloved of the winner. Nowadays the final winner receives all scarves tied to a laurel wreath.
Buy
Mercadillo

address: Plaça de la Sequiota

A weekly street market, good for picking up fresh local produce and other food items.
Eat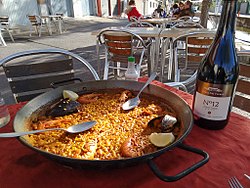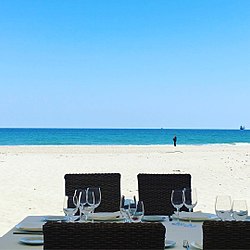 Albufera is known as the birthplace of Valencia's most famous rice dish, paella, which is believed to have developed from its Arabic roots into its current modern form around the mid-19th century. The most traditional version is
paella valenciana
, which includes white and green beans, chicken, rabbit, snails, and occasionally artichokes. Other versions include
paella marisco
, which replaces the meat with seafood and eliminates the green vegetables, and
paella vegetariana
, or vegetarian paella. Other local dishes include
all i pebre
, a stew with peppers, garlic, potatoes and eels, and
espardenyà
, a casserole-style dish incorporating the ingredients of paella valenciana but without the rice.
Most restaurants are clustered in the villages of El Saler and in El Palmar, which has highest concentration, almost all of them specializing in rice dishes and equally reliable. As eating paella in El Palmar is a very popular weekend excursion for Valencians, it's a good idea to choose a place to eat before the 14:00 midday rush when tables quickly disappear.
phone: +34 963 757 970

address: Casa El Llarc, 1

Located in an orange grove on the northern edge of the Albufera, the former farmhouse is now a favourite spot with locals, with a focus on locally-sourced, traditional rice dishes and seafood. Reservations are essential, especially on weekends.

phone: +34 963 247 172

address: Camí dels Muntanyars, 161

phone: +34 961 830 490

address: Paseo Pintor Francisco Lozano, Módulo 3, s/n

On the beach. Reservations are recommended, and can be made online.

phone: +34 961 830 540

address: Paseo de la Dehesa, 3

Also on the beach. Reservations recommended.

phone: +34 692 640 720

address: Plaça de la Sequiota, 11

phone: +34 961 620 100

address: Camino Estell, s/n

In a former farmhouse set by a canal and surrounded by rice paddies, this restaurant is rather more expensive but very highly-regarded by locals. Reservations recommended, especially on weekends.

Restaurante L'Illa

phone: +34 961 620 242

address: Plaça de la Sequiota, 22

phone: +34 961 620 162

address: Carrer dels Redolins, 4

phone: +34 961 620 148

address: Carrer de Francisco Monleón, 29

phone: +34 650 362 480

address: Carrer dels Redolins, 98
Drink
phone: +34 632 018 663

address: Carrera del Riu, 399

A long-established part of the Valencia nightclub scene, with four bars and a dance floor.
Sleep
Lodging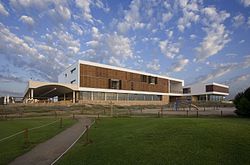 phone: +34 961 611 186

address: Avda de los Pinares, 151

The hotel is on the grounds of a golf course, and has an onsite spa, restaurant, and indoor and outdoor pools. Pets permitted.
Camping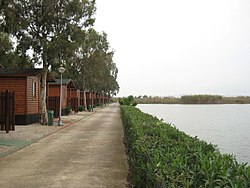 phone: +34 961 830 036

address: Ctra del Riu, 486

Can accommodate tents and caravans, and rents out bungalows and runs a hostel. Facilities include an outdoor pool, onsite bar-restaurant; pets permitted.

phone: +34 961 830 212

address: Carrera del Riu, 552

Has spaces for tents and caravans with/without electricity, and also rents out bungalows. Facilities include an outdoor pool, barbecue equipment, restaurant, and free Wi-Fi.

Devesa Gardens Camping & Bungalows

phone: +34 961 611 136

address: Ctra de El Saler, km 13

Has spots for tents or caravans, and rents out bungalows and cabins. Amenities include a water park, pet boarding kennel, tennis courts, and horse riding facilities. Has an onsite bar and restaurant. Free Wi-Fi, pets permitted.
Backcountry