Albury-Wodonga
Albury-Wodonga
is a twin city straddling the Murray River border of the two south-eastern
Australia
states of
New South Wales
and
Victoria
. Albury is the city on the New South Wales bank of the river, Wodonga the Victorian city on the southern bank. For all practical purposes related to travel, the two cities are one. The cities are a gateway to the gourmet area surrounding Beechworth, the mountain town of Bright and the Rutherglen winery area. They also make a good stopping-off point on the drive between
Melbourne
and
Sydney
.
Understand
Whilst in many senses Albury-Wodonga operates as a single community (sometimes to the dismay of residents), the twin cities possess parallel municipal governments and state government services. The closer proximity of
Melbourne
and the local predominance of Australian Rules Football perhaps give Albury a closer cultural affiliation with Victoria.
Grand plans were made by the Gough Whitlam government in the 1970s to turn Albury-Wodonga into a major inland city and the cities have grown rapidly from sleepy country towns to major regional centres.
The Albury-Wodonga Visitor Information Centre is on Lincoln Causeway (on what was once the Hume Highway) between the two cities. It is open 9AM-5PM daily.
History
The
Wiradjuri
people were probably the tribe of indigenous Australians resident immediately before the advent of Europeans in the area in the 1820s-1830s. European settlement was first gazetted at this popular river crossing in 1839 and after a decade a small settlement was well established.
1851 saw the separation of Victoria from New South Wales as a separate colony with the Murray marking much of the border, and Albury and Wodonga developed as a border town, with customs points between a protectionist Victoria and a free trade favouring New South Wales.
A permanent bridge was built over the Murray river in 1860, with horse drawn coach connections running between the train stations in Wodonga and New South Wales, each running trains on different railway gauges. Even after the rail bridge was built, trains from Victoria ran to Albury, and trains from New South Wales ran to Wodonga, as the governments could not agree on a common interchange station.
Albury eventually emerged as the choice for interchange, but the railway gauges remained incompatible until the 1960s when the standard gauge track was laid to Melbourne allowing the first trains to run from Sydney to Melbourne without a change in Albury. The size of Albury station still reflects this heritage.
Albury was also the focus of attempts to open up the inland trade along the Murray, with paddlesteamers seen as a technology that would open up large tracts of farmland to the market. Although strongly supported by the South Australian government the paddlesteamers were never really a financial success, but the wharves and paddlesteamers in Albury today are at least a tribute to the tenacity of the steamer pioneers.
Get in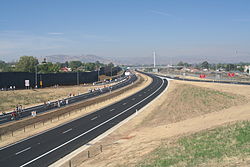 By plane
Albury Airport
(ABX) is served by:
By car
Albury-Wodonga is situated on the
Hume Highway
, the most direct main road between Sydney (6 hours) and Melbourne (3 1/2 hours).
By train
Albury and Wodonga have played a major role in the history of Australian railways, forming the border post and change of railway gauge. Although the standard gauge line was extended to Melbourne to allow direct services in the 1960s, the intermediate stations (such as Wodonga), Wangaratta, etc., were only serviced by the Victorian trains. The Sydney to Melbourne trains would run express from Albury to Melbourne. In 2012 the standard gauge line was completed for the intermediate stations, meaning that the Sydney to Melbourne trains now stop at Wodonga. However, as part of the reconstruction, the Wodonga station was moved around 5 km from the Wodonga town centre. Albury station remains easily accessible to the Albury town centre.
NSW TrainLink run two services a day in each direction between Sydney and Melbourne. These trains stop only at Albury station.
V/Line run three trains a day in each direction from Southern Cross Station in Melbourne. On weekdays they run an additional coach service connecting with the Melbourne train to and from Seymour. The coach service stops in the centre of town in Wodonga, away from the railway station. All V/Line trains stop at Wodonga and terminate in Albury.
Get around

Albury is poorly signed, especially outside of the CBD. It is very easy to get lost without local knowledge. If you do get lost, locals are almost always willing to help you. If possible, use a map or GPS system. Wodonga is much better signed, and it is much less likely that you will get lost there.

See
address: 540 Kiewa Street, Albury, NSW

building houses a museum, library, and gallery exhibition space.

address: Wodonga Place, Albury
Do
Nail Can Hill Walking Track, just west of central Albury.
Cycle along Lake Hume to Tallangatta, on the High Country Rail Trail. You can start from the visitor centre, or from the south of the town.

Albury Swim CenterGreat place to spend a summer's day. 3 pools and a water slide. Kiddy pool is big, and under shade. Slide is 3 stories high and fast. Good coffee and decent pool-food available at the on-site cafe.

address: lake road and springdate road, albury, nsw

Man made reservoir with swimming and boat rental. Great on a hot day.

address: lake road and springdate road, albury, nsw

Hire a kayak and float down the Murray River that winds itself through Albury.
Buy
Both Albury and Wodonga have many large department stores to cater to their growing population. Whether you prefer a large shopping complex with many of the popular chain stores, or the more unique boutique stores, tucked away in a quieter location, you'll definitely fine somewhere to enjoy a browse. Pop into one of the many cafes and coffee shops for a recharge when you need one.

Eat
phone: +61 2 6023 1100

address: 484 Dean St Albury

Fresh pasta made in house, eat in breakfast, lunch and dinner, and easy to cook meals to take home.

Electra Cafe

phone: +61-2-6021-7200

address: Shop 3, 441 Dean Street, Albury

Electra Cafe rather daringly calls itself "halfway between Oxford Street (Sydney) and Brunswick Street (Melbourne)". The coffee doesn't come close to living up to Sydney's standards, let alone Melbourne's, but it's a good place to eat if you want something a bit more novel than most of the country-town milkbar fare at many of the other cafes. The scrambled eggs with pesto on the breakfast menu is worthwhile.

Gallery Cafe Dean Street

phone: +61-2-6041-1099

address: Shop 6, 499 Dean Street, Albury

The Gallery Cafe is a fairly standard country-town cafe. It does freshly squeezed juices and tasty focaccias. The open grills are suited to people who like an enormous amount of cheese.

Deli Bean Cafe

address: 237 Beechworth Road, Wodonga VIC 3690

Best coffee in Wodonga. Nice decor and friendly service too.
Drink
Qfood

phone: +61 260211994

address: 1/555 Dean Street, Albury

Great cafe, local food, locally roasted coffee made professionally, good service, very clean, feels good!
Sleep
phone: +61-2-6040-2999

address: 372 Wagga Road, Lavington

Doubles as the YHA hostel.

address: Wodonga Place - Albury, NSW 2640

located in a beautiful part of Albury close to the Murray River, parks, shops, and sporting facilities. Conference room and facilities, guest laundry, a large swimming pool, barbecue and licensed restaurant. recently-renovated 3-bedroom cottage next door for families wanting self-contained accommodation.

Comfort Inn and Suites Georgian

phone: +61-2-6021-8744

address: 599 Young Street, Albury

The Comfort Inn & Suites Georgian is a comfortable motel sleeping 2-3 adults in most rooms and up to 7 people in the larger Family rooms. The motel has undertaken extensive renovations and has a large range of luxury rooms available. The motel is situated along the old Hume Hwy. which was bypassed in March 2007. The motel is now located just off the Hume Hwy. via the main Albury city centre (Riverina hwy) exit.

phone: +61 2 6021-3344

address: 515 Kiewa Street - Albury, NSW 2640

36 Rooms, a fully licensed à la carte restaurant, fax and photocopying service, high-speed internet, and Conference and Meeting Facilities.

address: Lake Hume Village

If you need a bit more space for the kids, this place offers larger cabin style rooms, a tennis court, swimming pool and mini-golf, just a short walk from the Hume Dam.

address: 550 Kiewa Street, Albury

Serviced Apartment style accommodation in Albury. Featuring self contained studios and 1-3 bedroom apartments.

Wodonga Caravan and Cabin Park

address: 186 Melbourne Road, Wodonga, Victoria, 3690

Wodonga Caravan and Cabin Park is easily accessible from the Hume Freeway when travelling north from Melbourne or south from Sydney.

address: Albury

Rentral house with 5 bedrooms. Spa Bath, In House Movies, Pool table, Tennis Table, Swimming Pool, Pinball Machines.

Comfort Inn & Suites Blazing Stump

address: 4327 Anzac Parade, Wodonga, Victoria 3690

Quest Albury, Serviced Apartments

address: 550 Kiewa Street, Albury NSW 2640

The only 41/2 star in Albury city centre. Offering studio, 1, 2 and 3 bedroom apartments with full kitchen & laundry facilities. Restaurant onsite, day spa, conference facilities, undercover parking.www.questalbury.com.au for great rates. Accommodating nightly, weekly and long term stays.
Go next
The main routes out of Albury-Wodonga are the Hume Freeway (between Sydney and Melbourne), Murray Valley Highway (a scenic route along the Murray River, the Riverina Highway (a route linking Albury and Deniliquin), and the Olympic Highway (links Albury with Wagga Wagga and provides an alternate route to Sydney).
Off the major roads are notable towns of:
Beechworth - Known for its gourmet food and small craft boutiques.
Bright - About an hours drive, in the heart of the high country.
Rutherglen - 30 minutes away, featuring many surrounding wineries known for their reds.