Alençon
Alençon
is a city in
Basse Normandie
on the River Sarthe.
Understand
Alençon is a restored gem. A visit is like travelling through time. Among its centuries-old highlights are the circular wheat market, home to exhibitions beneath its magnificent glass dome; the Halle aux Toiles, now a meeting venue; and the recently restored Jesuit church. Cobbled streets lead you from the town centre to the medieval quarter nearby, passing half timbered houses, Notre Dame Church, the Dukes' castle and the Town Hall.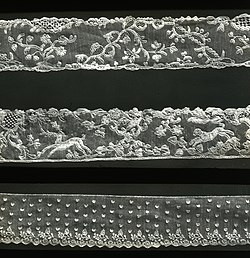 Some may have heard of
Point d'Alençon
a rare needle point lace making technique that originated in Alençon. UNESCO have included the craftsmanship of Alençon needle lace-makingin the
"Representative List of the Cultural Heritage of Humanity"
. Genuine Alençon lace is expensive and a lot of the lower cost offerings are machine made imitations often from China. True Alençon lace is hand made and takes many hours of work to make even a sq cm.
Get in
Alençon is located 170 km to the W of
Paris
, 110 km S of
Caen
and 50 km N of Le Mans, close to the border between Basse Normandie and
Pays de la Loire
.
By car
Alençon is on the N-S A28 motorway
Rouen
to
Tours
. To the N with the A88 & N158 this provides good road links N to
Caen
and the ferry port at
Ouistreham
. The Route Nationale N12 to the W connects the town to
Paris
and to the W to
Mayenne
then on to
Fougères
.
By rail
Alençon has both intercity and local rail services.
address: pl de la résistance 61000 Alençon
Get around
The centre of the town is small enough to walk around. The town has a local bus service operated by
Alto Bus
. Free car parking is available in pl Foch (next to Hôtel de Ville (Town Hall)) and pay and display parking around the town.
See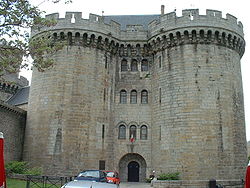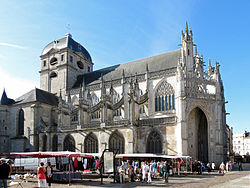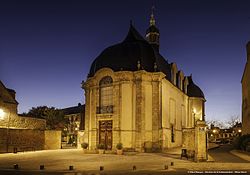 Château des Ducs

Basilica of Notre-Dame d'Alençon

L'Eglise des Jésuites

address: pl Foch, 61014 Alençon

Musée des Beaux-arts et de la Dentelle d'Alençon

phone: +33 2 33 32 40 07

address: Cour Carrée de la Dentelle, 61000 Alençon

The National Lace Workshops is next door to the museum and sells small samples of Alençon lace in the museum shop.

address: 10 rue de la Porte-de-la-Barre, 61000 Alençon
Do
Horse riding
phone: +33 2 33 28 02 73

address: Chedouet, 61170 Les Ventes de Bourse

phone: +33 2 33 26 09 99

address: rt des Bertaux, 61000 Saint Germain du Corbéis
Buy
Marché place de la Magdeleine
Supermarkets
Lidl

address: 1 & 3 rue Nicolas Appert, 6100 Alençon

address: Centre Commercial Carrefour Alençon, 61250 Condé-sur-Sarthe

phone: +33 2 33 81 41 00

address: rte du Mans, 72610 Arconnay
Eat
Drink
Café du Théatre

phone: +33 2 33 26 05 13

address: 78 pl de la Halle au Blé, 61000 Alençon

phone: +33 2 33 82 99 45

address: 10 bis rue de la Cave aux Boeufs, 61000 Alençon

Bar, pub, brasserie, restaurant.

phone: +33 2 33 32 15 07

address: 7 rue de la Halle aux Toiles, 61000 Alençon
Sleep
phone: +33 2 33 29 43 29

9 bedrooms,

phone: +33 2 33 28 64 64

address: 187 av du Général Leclerc,61000 Alençon

Hotel, restaurant.

phone: +33 2 33 29 65 54

address: 1 rue des Alpes mancelles, 61250 Condé sur Sarthe

phone: +33 2 33 80 67 67

address: 3 pl Auguste Poulet Malassis, 61000 Alençon

Pets allowed (charged), Wi-Fi.

Camping Municipal De Guerame

phone: +33 2 33 26 34 95

address: 65 rue De Guerame, 61000 Alencon

Pets allowed. 1 Apr-30 Sept.
Stay healthy
phone: +33 2 33 26 02 48

address: 37 av de Quakenbruck, 61000 Alençon

French, English & Romanian spoken.

phone: +33 2 33 80 26 25

address: 16 pl du Commandant Desmeulles, 61000 Alençon
Connect
La Poste

address: 1 rue de la Halle aux Toiles, 61000 Alençon

La Poste

address: 57 rue Pierre et Marie Curie, 61000 Alençon
Go next