Alexandria (Virginia)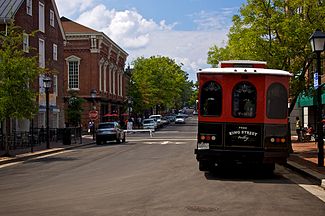 Alexandria
is a city in
Virginia
, just outside of
Washington, D.C.
, in the
United States of America
.
Understand
First surveyed in 1749, Alexandria claims some of the richest history in the D.C. metropolitan area. At various points in her past, Alexandria has been part of the District of Columbia, a regional slave trading market, an occupied city, a washed-up post-industrial hamlet, and a hometown to famous American heroes and rebels. Today, the town serves as an interesting day-trip alternative for weary tourists looking to escape the capital, a treasure trove of early American architecture, a romantic getaway for metro-area residents, and a bedroom community for the white-collar workers that fuel the Federal labor mills to the north. Old Town's cobblestone streets have nearly 4,000 buildings dating as far back as the 1600s, and is filled with shops and good restaurants.
Neighborhoods of interest include:
Old Town was laid out in 1749, making it the oldest section of the city, and is a historic district. Old Town is chiefly known for its historic town houses, art galleries, antique shops, restaurants, and its unique cobblestone streets and red brick sidewalks.
Del Ray is to the northwest of Old Town, much of which was once in the separate town of Potomac. It has a vibrant commercial corridor.
Get in
By plane
Alexandria is accessible from the three Washington, D.C., area airports.
For information on traveling to Alexandria from DC area airports, see the "Get in" section of
Washington DC
.
By train
As an hub for commuters, Alexandria is well served by rail.
Virginia Railway Express (VRE)
provides weekday, daytime rail service to Alexandria station from
Fredericksburg
,
Manassas
and
Washington, D.C
. Intercity trains are provided by
Amtrak
and its
Northeastern Regional
service. Southbound trains originate in
Boston
and stops in
New York City
among several other cities. Northbound trains runs from
Lynchburg
,
Newport News
or
Norfolk
with the last two also stopping in the capital of Virginia,
Richmond
.
Several long distance trains makes a stop in Alexandria, including the
Cardinal
(New York-
Chicago
),
Carolinian
(New York-
Charlotte
),
Crescent
(New York-
New Orleans
),
Palmetto
(New York-
Savannah
) as well as the
Silver Meteor
and
Silver Star
between New York and
Miami
.
is located at 110 Callahan Dr, adjacent to King Street Station, served by the yellow and blue metro lines.
By Metrorail
Metro stations in Alexandria served by the Blue and Yellow lines include:
Braddock Road
,
King Street-Old Town
,
Eisenhower Avenue
,
Van Dorn Street
,
Huntington
.
For more information on riding the metro, see
Washington DC#Get_around
By car
Major roads of note:
Interstate 95/Interstate 495 (the "Capital Beltway"), a major freeway that serves the southern part of Alexandria and circles the Greater Washington D.C. area. The Capital Beltway section just east of Alexandria, known as the Woodrow Wilson Bridge, is the last major crossing point of the Potomac River in the southern part of the metro area. For those traveling from the Virginia side to Old Town Alexandria, failure to make the last exit before entering the bridge, will result in a long, difficult journey across the bridge and appropriate turn-abouts are spread thin on the Maryland side. If traffic is backed up at the Wilson Bridge or the Beltway/Hwy 1 interchange and you still want to get to Old Town, simply exit north at Telegraph Road and proceed up to the Duke Street exit going east. Take Duke Street a mile or so until you get to around Patrick/Henry and then meander your way north a couple of blocks to King Street. No reasonable alternatives exist for those traveling west out of Maryland.
Interstate 395 runs north-south along the western section of Alexandria
U.S. Highway 1 depending on where you are, this is the Jefferson Davis Freeway or Patrick/Henry - a major north-south artery into Washington D.C.
George Washington Memorial Parkway, , known as Washington Street in Alexandria, it runs north-south along the Virginia side of the Potomac River and is an easy and pleasant drive to Mount Vernon.
King Street (State Route 7) - runs east-west from Old Town Alexandria out towards Falls Church, Virginia.
Duke Street (State Route 236) - runs east-west into Old Town Alexandria.
Get around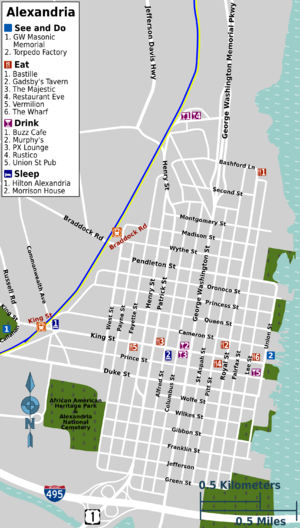 The historic center of Alexandria is known as "Old Town", which is where the most notable restaurant, shopping, architectural, and tourist destinations are located.
By foot
Stroll down
King Street
and visit the side streets of
Old Town
. The main Old Town section begins about a half-mile east of the
King Street-Old Towne Metrorail Station
and provides a combination of restaurants, art and antique shops, souvenir traps, and public buildings. With its French-style open-air cafes, gas lamp-styled lights, red brick sidewalks, and historical, old-style architecture, King Street provides one of the most romantic settings in the DC metro area. More than just a tourist destination or open-air museum, Old Town is a vibrant community of residents who take great pride in their city. The streets north and south of King Street near the river boast nearly 4000 18th- and 19th-century buildings still used as private residences. Unlike many of the planned communities promoted by new urbanism, the streets of Old Town simply ooze a sense of character and authenticity that is not normally seen outside the best cities in Europe.
By trolley
King Street Trolley
operates a free transportation service from the King Street metro station to the waterfront. These black and red rubber tire trolleys are free and will stop at any one of the signs for the trolley stops along King street.
By bus
DASH
also operates many buses that will take you from the King Street Metro station to the historic center.
By car
Getting around Alexandria beyond Old Town and the Duke Street business district is a little more difficult, and will require bus transit or a car.
Two-hour parking is often available a few blocks away from King Street (though it can be harder to find on weekend evenings), but read the parking signs carefully. Some parking is free, some is metered, and some is for locals only. Tires are frequently marked (chalked) by parking enforcement staff; if you exceed 2 hours you
will
get a ticket. If you plan on leaving your car for more than a couple hours it would be wise to pay to park in one of the many parking garages in the city.
By water taxi
A water taxi runs from the waterfront at the end of King Street to both
Georgetown
in
Washington D.C.
and to
National Harbor
in
Maryland
.
By bicycle
For information on bike-sharing programs in the Washington DC area, see
Washington DC#Get_around
.
Big Wheel Bikes
, located near the waterfront just south of King Street, offers bike rental services.
Bicycle trails
The
Mount Vernon Trail
runs through Alexandria (although the Old Town section is streets), goes all of the way to
Mount Vernon
, and connects with the greater D.C. area.
See
The
Alexandria Visitor's Center
is in the old Ramsay House at 221 King Street.
Old Town
*
Alexandria Black History Museum

phone: +1 703 838-4356

address: 902 Wythe St

phone: +1 703 548-1789

address: 614 Oronoco Street

Three houses east of the Lee-Fendall House on Oronoco Street is a state historical marker in front of the boyhood home of American Civil War General Robert E. Lee. Please respect the fact that the home is a private residence.

The Spite House

address: 523 Queen St

Dating from around 1830, this private dwelling is only 7 feet wide and about 33 feet deep. It was built in an alley to prevent people using the alley without permission. Because of its diminutive size, this house has been featured on HGTV, and other similar shows and publications. Please respect the fact that the home is a private residence. There are several other spite houses in Old Town, but they're more difficult to spot than this bright blue house.

Tall Ship ProvidenceA 1976 replica of a Revolutionary-era naval ship that was built for the Bicentennial and appeared in some of the Pirates of the Caribbean movies. Available for tours and cruises.

Cameron StreetAt 508 Cameron is the location of George Washington's town home and office. Washington's original town house burned down in the 1850s and was reconstructed from plans in the 1960s. Also on this block are the homes of Henry "Light Horse Harry" Lee, a famous cavalry officer of the American Revolution and father of Robert E. Lee, and Lord Fairfax. Please respect the fact that all the homes are private residences.

phone: +1 703 838-4565

address: 105 North Union St

A former World War I munitions depot that once housed the Nazi war archives after World War II, the Torpedo Factory has been turned into an artist studio/learning center for local artists.

AthenaeumHistoric building, now an arts center.

phone: +1 703 549-2997

address: 121 North Fairfax St

Former home to a successful local merchant, the house served as the headquarters of British Maj. Gen. Braddock before his ill-fated 1755 campaign in western Pennsylvania. The house also served as the site where several colonial governors met to discuss financing of the French and Indian War, and later, the state of affairs with the British Crown, leading to subsequent meetings at Annapolis, and Philadelphia, where the Declaration of Independence was drafted. Supposedly the only house in town that's not haunted because Carlyle had a cat entombed in a wall.

Ice WellRenovations at this spot uncovered a previously unknown underground ice well. Until the invention of refrigeration, large blocks of ice were brought down the river and kept here for storage. Small blocks of ice were cut and presumably sold to citizens. There is no sign or other marker at the site - just a small staircase and guardrail that from the street, does not appear to go anywhere.

phone: +1 703 549-1450

address: 118 North Washington St

The first church in the city; George Washington, George Mason, and Robert E. Lee were members of this historic church. Although, some three to four hundred headstones disappeared during the Union occupation of the city, the churchyard has headstones dating from 1771. On 1 January 1942, President and Mrs. Franklin D. Roosevelt, along with Winston Churchill, attended a service at Christ Church for a National Day of Prayer in the wake of Pearl Harbor.

phone: +1 703 838-3852

address: 105 S. Fairfax St

A local museum which recreates the apothecary/pharmacy that stood at this location from the late 18th century through the early 20th.

Alexandria City HallIncludes a large public square

Friendship Firehouse MuseumAn 1855 firehouse, now a museum

Captains Row and Gentry RowCaptains Row contains many of the oldest residences in the city, mostly consisting of Federal style houses built by wealthy merchants and sea captains. Complete with cobblestones and charming architectural details, this is probably one of the most picturesque colonial village blocks anywhere. The 200 block of Prince Street is Gentry Row where you will see house after house marked with Historic Alexandria Foundation plaques. Houses along this block were owned by such prominent figures as William Fairfax, one of Alexandria's founding trustees, and Dr. James Craik, surgeon-general during the American Revolution and George Washington's personal physician.

address: 517 Prince Street

An 18th-century home, one of the earliest homes in the city

AppomattoxA bronze statue commemorating Confederate soldiers from Alexandria, Virginia. It has been the object of much controversy, culminating in the Alexandria City Council voting in 2016 unanimously to move the statue to another location; however, the statue cannot legally be moved without permission from the Virginia State Legislature, which has not been forthcoming.

Freedom House MuseumA museum with exhibits about the slave trading firm and the life of a slave

Old Presbyterian Meeting House

phone: +1 703 549-6670

address: 321 S Fairfax St

A memorial service for George Washington was moved from Christ Church to the Meeting House because of bad weather. In the courtyard to the west is the Tomb of the Unknown Soldier from American Revolution.

Wilkes Street TunnelAn 1851 rail tunnel that is open to pedestrians

Contrabands and Freedmen CemeteryA mid-19th cemetery for African Americans that was abandoned and later restored as a memorial

Jones Point ParkA small national park containing a historic lighthouse, the southern boundary stone for the District of Columbia, displays about the site's history as a shipyard during World War I, and great views of the Woodrow Wilson Bridge
Outside of Old Town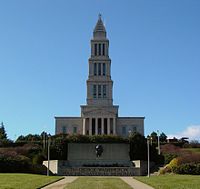 George Washington Masonic National Memorial

phone: +1 703 683-2007

address: 101 Callahan Dr

Designed and built by Freemasons in the 1930s, this monument to George Washington was made to resemble the Lighthouse at Alexandria, one of the seven wonders of the ancient world. Free tours are available daily except on major holidays. The tour takes visitors through a unique series of rooms each designed to illustrate some element of Freemasonry and presents visitors with artifacts from the group's past. At the end, visitors are treated to an outstanding view of Washington D.C. and Old Town Alexandria.

Alexandria National CemeteryPredecessor to the better-known Arlington National Cemetery.

National Inventors Hall of Fame and Museum

address: 600 Dulany Street

Inside the U.S. Patent and Trademark Office headquarters.

Ivy Hill CemeteryFinal resting place of several notable people, including Wernher von Braun.

phone: +1 703 838-4848

address: 4301 West Braddock Road

Fort Ward is the best preserved of the system of Union forts and batteries built to protect Washington, DC during the American Civil War (1861-1865). Fort Ward Museum interprets the site's history and offers exhibits on Civil War topics, education and interpretive programs, tours, lecture and video series, bus tours, and living history activities throughout the year. The Museum and Historic Site also interpret Alexandria, Virginia as an occupied city, the city's role as a vital Union Army crossroads, life within the Defenses of Washington, and the everyday life of Civil War soldiers and civilians.
Do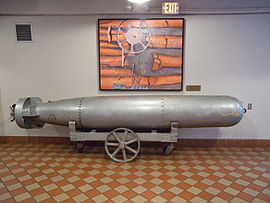 Alexandria Colonial ToursHistoric Ghost Tour of Old Town Alexandria.

Doggie Happy HourKnown as a very dog-friendly community, Hotel Monaco continues the tradition of doggie happy hour. The event draws an interesting mix of locals and tourists who bring their dogs to socialize and have a few cocktails. The season culminates with the doggie hallowe'en contest in late October.

phone: +1 703 960-0767

address: 4001 Eisenhower Avenue

Local park offering fishing, miniature golf, batting cages, and the Great Waves water slides.

Farmers Market

address: Market Square, 301 King St

A favorite of local residents, Alexandria's Farmers' Market has been meeting continuously at the same site for more than 240 years—longer than any other market in the country.

Annual Alexandria Holiday Boat Parade of Lights

address: Alexandria Marina, Behind the Torpedo Factory

Annual festival held in the first week of December at the Alexandria Marina featuring dozens of decorated boats cruising the Potomac River from Old Town Alexandria to DC's Southwest waterfront. Holiday music, Santa Claus and other holiday related festivities will also be present.
Buy
A large concentration of small business, walkable shopping is on King Street in Old Town. There are a little shops up and down Washington Street.
Farmers' markets
The Farmers' Market at the Market Square, 301 King St. Held each Saturday morning from 5:30AM to 10:30AM, year round. A favorite of local residents, Alexandria's Farmers' Market has been meeting continuously at the same site for more than 240 yearslonger than any other market in the country.
Shopping centers
address: 3671 Jefferson Davis Hwy

The largest shopping area within Alexandria city limits is the newer Potomac Yard Center, an open-air power center that includes many big-box stores on US Route 1 just south of Reagan National Airport. Among the major chains with stores here are Barnes & Noble, Best Buy, Old Navy, Staples, Target, and the Sports Authority. Potomac Yard also has a large Regal Cinemas multiplex.

phone: +1 703 278-8752

address: Beauregard Street & Little River Turnpike

Large shopping center includes restaurants, clothing stores, wine/beer store, a grocery store, and other various shops.

Alexandria Commons Shopping Center

Brad-Lee Shopping Center

Foxchase Shopping Center
Eat
Old Town
As a rule of thumb, restaurant prices in Old Town get more expensive as you approach the waterfront. A typical meal for one might run $7-12 near the King Street Metro and $15-30 near the Potomac.
Outside of Old Town
phone: +1 703 519-3776

address: 1201 N Royal St

Country-style French cuisine with all organic, local ingredients, served in a romantic atmosphere are good reasons to wander a little north of Old Town. The cassoulet and the pastries are some of the kitchen's particular specialties.

Hee Been Korean BBQ

phone: +1 703 941-3737

address: 6231 Little River Turnpike

The quality of food here is excellent, you can prepare it yourself at the table on the provided grills or you can ask the cooks to prepare it for you (good for a first try and they don't mind!) and you will be amazed at how much you enjoy it. Standard recommendations are "Kal bi" - thick slices of meat in a tangy-sweet sauce (not like American BBQ, but a similar idea), or "Bul go ki" - thinner slices almost like the way a Philly cheese steak is prepared - but with a sweeter seasoning. Their salmon is excellent and the "Bim bim bop" or Korean fried rice is delicious. (For a treat ask for "Dol Sot bim bim bop" - which is the same dish in a hot stone pot but unmixed, you get to mix it together with as much (or as little) spicy seasoning paste as you want and it's much fun.

House of Dynasty

address: 7550 Telegraph Rd

Try their sesame eggplant. They have a ginger soy sauce for their steamed meat dumplings which you'll want to drink straight. Their house mustard and duck sauce are worth the trip. Their chicken and corn soup is unique and amazing. Some favorite meals: Kung pao anything, sesame chicken (sweet and delicious), crispy prawns and walnuts (you can get the walnuts as an appetizer if you like), Schezuan string beans and their "Banana Delight" for dessert. After appetizers they bring out a small serving of lemon sorbet "to cleanse the pallet" and let you come fresh to the main courses. After dinner they bring out steamed wash cloths to clean up with. The place serves large generous servings at very reasonable prices. You can get out for surprisingly cheap, especially during lunch hours.

Paradiso

phone: +1 703 922-6222

address: 6124 Franconia Rd

Italian. They have a very respectable atmosphere of a high class establishment - but they accept casual dress and are completely welcoming of all - in fact they have a children's play room with Disney videos and toys for families, Sunday mornings they have a brunch with some delicious selections (try their bruschetta) and Karaoke Wednesday, Thursday, and Sunday nights on the bar/patio side.

address: 815 South Washington St

This local favorite features cuisine from the low country region of the American South, with generous portions at reasonable prices.

phone: +1 703 370-3800

address: 4580 Duke St, Alexandria, Va

Caribbean. The drink menu at the sunny tropical-theme restaurant is a case in point.

address: Multiple Locations

Good for some cheap Mexican food.

address: Multiple Locations

These guys make organic pizza. A large pizza is about $25, so it is pricey.
Drink
Straight-up bars or nightclubs are not in the area because Virginia requires liquor be served with food. Therefore, restaurant-and-bar combination places are the norm.
Old Town
Pubs and bars
Coffeehouses
phone: +1 703 600-2899

address: 901 Slaters Ln

The best reason to come may be the long hours when you can sip and surf the free WiFi. The close second runner up, though, are the treats—the brioche breakfast sandwich (think an omelet between rich brioche bread) is the local favorite, but the panini and desserts are also worth ordering. Tired travelers who need to spend some good time online updating Wikivoyage should brave the long walk and just check in here for the full day.

Misha's Coffeehouse and Coffee Roaster

address: 102 South Patrick Street

Old Town Coffee Tea and Spice

address: 215 South Union Street
Outside Old Town
Sleep
In addition to the above, there is a large cluster of reasonably priced motels/hotels on Hwy 1 just outside city limits in the
South Alexandria
section of Fairfax Co., within walking distance of the Huntington Metro. Prices in the area will likely run about half what more posh accommodations on King Street in Old Town would.
Stay safe
Alexandria, particularly Old Town, is a safe city with considerably less crime than its neighbor, Washington, DC. While you are unlikely to be the victim of a crime here, you should take normal precautions that you would in any urban area, such as keeping your car and hotel room locked at all times and not walking alone at night.

Go next