Algeciras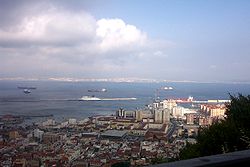 Algeciras
is a city in the
Andalucia
region of southwestern
Spain
.
Understand
Most travellers come to Algeciras for its numerous ferry connections to
Morocco
and don't spend more than a few hours in the city. A shame, given the town's quiet charm.
The north-south coastal road, Avenida de la Marina, is Algeciras's main artery. The
tourist information office
(
Calle Cervantes
), is well signed from this road.
Orientation
Algeciras is on the Western side of Bahia de Algeciras (Algeciras Bay) virtually opposite Gibraltar. Roughly speaking, it is orientated north to south. The Avenida Virgen del Carmen is the main road that runs along the water front. The ferry port is about midway along the Abenida del Carmen - it can't really be missed as dozen of signs are pointing in its direction and there is constant ferry traffic in and out of the port. There is also an elevated heliport right in front of the ferry port.
The main shopping streets, together with the town square and central market, are set back behind the Avenida Virgen del Carmen and are mainly pedestrianised. There is a wide range of shops here, from local food shops and boutiques to the main brands.
The bus and railway stations are close together, about 300m west (and slightly to the south) of the fery port in the main town.
Get in
By train
The Algeciras train station is 300 metres west of the port entrance. Just walk outside the station and straight down Calle Cervantes (the street in front of you) until you reach the Avenida de la Marina. You will see signs from here to the port. From Algeciras there are daily train connections to Madrid. Three a day on the picturesque route to
Ronda
and
Granada
.
By bus
The central bus station is just up the road from the tourist office, heading away from the port. There is a
free shuttle bus
between Algeciras and Tarifa for Tangier-Tarifa ferry ticket holders.
By boat
The ferry terminal is the heart of Algeciras and is well-signed from most roads in the city. Services from the following destinations arrive at the port:
Ceuta—daily services running about every hour from 8 am - 10:15 pm. Fast ferries (40 minutes, ) and normal ferries (90 minutes, ) are available.
Tanger Med—daily services running about every 90 minutes from 7 am - 10:00 pm. Fast ferries (40 minutes+ 20 minute free bus, ) and normal ferries (2.5 hours, about ) are available. Note that Port of Tanger Med is the commercial port of Tangier, about 30 km from Tangier, and is different from Port of Tangier, which is served from Tarifa, Spain. (The French spelling is Tanger, the English is Tangier.)
Tangier - fast ferry (HSC: high speed craft, by FRS or Inter Shipping) between Tangier and Tarifa (not directly to Algeciras) running hourly, ticket 35 to 40 EUR, duration 35 min. Then take free shuttle bus at Tarifa terminal (exit Tarifa terminal building then 20m to your left, blue sign, no timetable)
If you are headed for the bus station, you have to leave the port and walk about 7 minutes up the hill (opposite of the ocean).
Get around
By Bus
Local bus information http://www.algeciras.es/bus. Downloadable PDF of bus routes and frequency http://www.algeciras.es/opencms/export/sites/algeciras/.galleries/publicaciones/editorial/pub-movilidad-2017-lineas-y-paradas-bus.pdf

Do
See the beautiful Plaza Alta and the nearby San Isidro district.
Getares beach and Rinconcillo beach.

Buy
Pasteleria Alhambra

phone: +34 956 65 34 57

address: Calle Jose Santacana 2

Specialist in 'Dulces Arabes' (Moorish sweets) and also sells excellent bread.

phone: +34 956 630 343

address: Calle San Antonio, 4-6

Popular Spanish chain for men, women and children. Also sells home decor.
Eat
You'll find plenty of cheap bars, cafes and restaurants along the Avenida de la Marina, Calle Alfonso Once and around Plaza Alta. They stay open long into the night. Often not closing until the early hours.
Lizarran

phone: +34 956 7208434

address: Edificio Plaza Mayor

Part of a chain, but very popular with the locals. The plaza itself is a soulless modern development, but this place is often very busy - after you've found a table waiters bring you a constant and varied choice of tapas. There is also a view (just) of Gibraltar.
Drink
Enea Club y Copas

Elite

Cairo

address: Calle Alfonso Once

Cafe Teatro

address: Calle Trafalgar
Sleep
If you're stuck in Algeciras after the last ferry or bus has left town, you'll find plenty of
budget accommodation
options in the neighbourhood around Avenida de la Marina. In the busy season, you can expect to get a double for a night.
The Hotel AC on the eastern edge of the city centre is a fantastic hotel with very friendly staff. Rates can be as low as per night.
There are a couple of basic hotels opposite the ferry port entrance:
Hotel Al Mar ( per night single, twin)
Hotel Alboran , Calle de los Álamos s/n, Tel.: +34 956632870, Fax.: +34 956632320, reservasalgeciras@hotelesalboran.com,
Hotel Reina Cristina, Paseo de la conferencia, s/n, Telefon +34956602622, Fax +34956603323, E-Mail: reservas@reinacristina.es, res.reinacristina@hotelesglobales.com
Stay safe

Avoid going to neighbourhoods like Saladillo, Bajadilla or La Piñera. Even though it's full of friendly gypsy people, you might get in trouble if you look foreign.