Alghero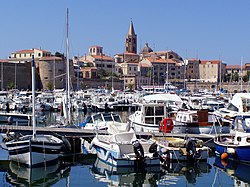 Alghero
is a beautiful town at the North-Western shore of
Sardinia
,
Italy
.
Understand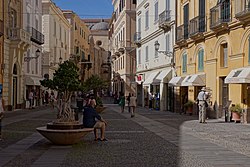 Alghero
,
Catalan
: L'Alguer , It is best known for its beautiful beaches, very good food at reasonable prices, and also for its Catalan origin; in fact, it was known in the past as
la Barceloneta sarda
, little Sardinian Barcelona. This historic town is one of the most popular destinations for Sardinia's visitors.
At its atmospheric narrow lanes you'll find numerous bars and cafés. Its restaurants are renowned for excellent seafood. The surrounding area brings many delights for those who venture out of the city. These include the famous beaches at La Pelosa - Stintino, the eerily abandoned mining town of Argentiera and the ancient palace complex at Nuraghe di Palmavera.
Tourist information
phone: +39 079 97 90 54

address: Largo San Francesco
Get in
By plane
Aeroporto di AlgheroThe airport (aka Alghero Riviera del Corallo ) is the third busiest in Sardinia. It is serviced by several airlines including: Alitalia, EasyJet, Ryanair.
Connections by
regional buses
to Alghero (every hour, 20-minute trip), Sassari (9/day, 30-minute trip), Bosa, Nuoro, Macomer, Oristano, Cagliari. In Jun-Sep there are also buses to Stintino, Santa Teresa Gallura. Tickets could be bought at the ARST ticket vending machine.
By car
Alghero is easily accessible by road from Sassari, passing by the airport near Fertilia. Another way to get to Alghero is from Bosa, by the sea-side road, which is quite small and steep but has beautiful views.
By train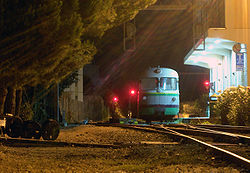 The railway station is about fifteen minutes walking distance from the centre of town and marina.
Stazione di Alghero Sant'AgostinoAlghero station runs trains operated by ARST (former Ferrovie della Sardenia), not to be confused with Ferrovie dello Stato (Trenitalia). These are two separate companies, and you will have to take one of the many daily 35-minute trains from Alghero to Sassari in order to catch a connecting train operated by Trenitalia to another destination such as Cagliari. Tickets must be purchased separately at their respective stations.
By bus
By taxi
Alghero Radio Taxi

phone: +39 079 9892928
See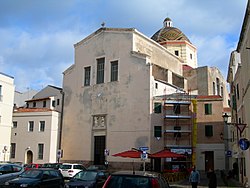 Religious architecture:
address: Piazza Duomo, 2

Dating back to the 16th century, it is one of the landmarks of the town. Its neo-classical façade was added in the 19th century.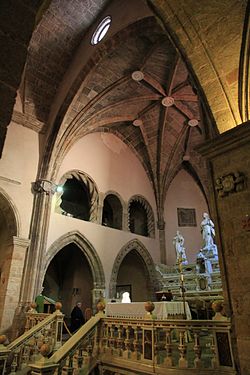 Chiesa di San Francesco15th-century church in Gothic-Catalan style.

Chiesa San MicheleThe church itself is dating back to the XVI century. Its polychrome tiled dome is one of the symbols of the town. It's quite remarkable though that the dome has received this colourful decoration only in 1950s (designed by Antonio Simon Mossa and Filippo Figari)

Parrocchia di Nostra Signora della Mercede
Secular architecture:
Forte della Maddalena16th-century fort.

address: Piazza Teatro, 1

The town theatre opened in 1862. This building is unique as its supporting structure is made of wood.

Palazzo d'AlbisA notable 16th century Gothic building. In 1541 the Emperor Carlos V stayed there.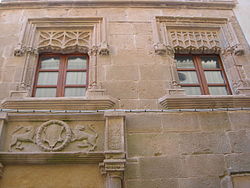 Palazzo Machin

Palazzo Serra18th-century Baroque building.

Palazzo Lavagna19th-century Neoclassical building.

Palazzo Civico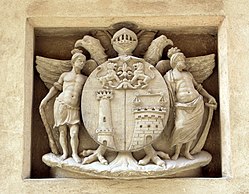 Palazzo Peretti15th-century Gothic-Catalan palazzo.

Palazzo Carcassona

Palazzo SimonBuilt in 1865.

Torre di San GiovanniA 16th-century massive defensive tower.
Liberty villas along the Lungomare Dante and the Lungomare Valencia:
Villa Mosca

address: Lungomare Dante

Now a hotel.

Villa las Tronas

address: Lungomare Valencia

Yet another villa, now a hotel.
Do
Museums
Museo Archeologico della Città

phone: +390799734045

address: Via Carlo Alberto, 72

phone: +390799897502

address: Via XX Settembre n. 8

The Museum of Coral in the Libery villa.

phone: +39 079 973 3041

address: Piazza Duomo
Beaches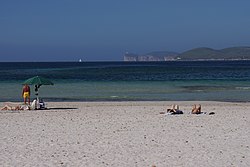 The coastal road south of Alghero is beautiful, an unspoilt and protected panorama of sparkling sea, lush vegetation, and rocky mountains. It leads to Bosa, a small medieval town, which has a distinctive and living historic center and many points of interest. Bosa is an ideal spot for a relaxing holiday, as it is friendly and has a character and economy which is not based solely on tourism.
Near Alghero, accessible by car, is the spectacular Capo Caccia/Porte Conte Bay, well worth a visit.
Scuba diving - The area with the Marine Reserve Capo Caccia/Isola Piana is one of the best dive destinations in Europe.
Caving
Climbing
Mountain Biking
Bird watching
Hunting
Archeology
Botany
Buy
Alghero is famous for its red coral jewelery and silverware. Tourists should be aware of potential environmental damage to coral reefs before buying red coral jewellery.

Eat
As in most parts of Italy food in Alghero is an important thing. The town's fishing port provides seafood fresh from the sea. Make sure that you try Catalan lobster, lobster salad with raw tomatoes and onion. Ricci (sea urchins) are also very popular in Alghero with a festival being held in their honor around February during the "Sagra del Bogamarì".
Basically, anywhere in town is good, as long as you avoid the tourist restaurants with "il menu turistico".
address: Via Don De Roma, 3

A good restaurant where you can try typical dishes. The same management for 30 years.

Embarcadero

address: Localita Portoconte

A very good restaurant in Portoconte, which serves fish dishes, meat dishes, and pizzas. It has a very nice view of the bay.
Drink
Take in the beautiful views at cafe Latino located on the battlements overlooking the harbour. There are also lots of late night bars on the Lungomare Valencia that get going at around about midnight. Local drinks are limoncello, mirto and some local wines that they serve in all restaurants.
Also you should not miss the Bar La Perla in Viale Sardegna. It serves great cappuccino.

Sleep
There are a whole number of possibilities for accommodation in Alghero from bed and breakfasts to Agroturismos(farm stays) and hotels. You can pick up a list of B&Bs at the friendly Tourist Information office.
In the offseason, rates range from for one person. Expect prices to double in July and August.
Aigua Alghero B&B and Rent a Car

phone: +39 340 0777688, +39 3395912476 (English contact)

address: old town alghero ambrogio machin 22

Typical Latin architecture.

B&B Ramblas

phone: +39 347 1813100

address: Lido San Giovanni Via Garibaldi, 79/M

B&B Alghero

Hotel Angedras Alghero

phone: +39 079 9735034

address: via Frank, 2

Three star hotel in a quiet residential street close to the old town, has stylish modern rooms. Hotel shuttle bus to the beach, internet point, high-speed Wi-Fi internet connection, restaurant (on the Bastions in Alghero's Old Town, with sea view).

Villa Las Tronas Hotel & Spa

phone: +39 079 981818

address: Lungomare Valencia, 1

Once the residence of Italian royalty during their holidays in Sardinia, Las Tronas conserves the historic atmosphere of the aristocratic buen retiro, renewing the tradition and charm of the ancient residence. A spectacular position, on the sea-shore. A peaceful, exclusive oasis on a private headland.

El Faro Hotel

phone: +39 079 942 010

address: Porto Conte, 52, Alghero

Luxury seafront hotel in Porto Conte Bay. The 5-star hotel has the shape of an ocean liner, with its stern laid down on the rocks, enriched by Spanish-style arches and balconies.

phone: +39 079977343

address: Strada Provinciale 105

Restaurant, bar, swimming pool. The hotel has a small private beach with some rocks.

phone: +39 079 986 555

address: Via Carrabuffas

Hotel is in a converted 18th-century country mansion. Outside the hustle of the city center but only a 10-minute drive to the historic center and beaches. Offers a tranquil setting with pool, tennis courts, and full spa. Breakfast included with dinner service available. Kind staff will help book excursions including the horses next door that roam the outskirts of the property.
Go next
Capo Caccia
See Neptune's Grotto, which includes the "Goat's Staircase" and under water the limestone cliffs continue creating the most vaste underwater marine cave system, Nereo Cave is the bigger and famous with its huge halls and tunnels.
phone: +39 079 979054

Guided tours (1/2 hour) are in Italian, English and German.
Tourist agencies organise boat excursions to the other caves: Grotte Navisarda and Attilio Regolo.
Complesso nuragico di Palmavera

phone: +39 329 4385947

a complex nuraghe, that consists of several towers joined together. The nuraghe and the surrounding village were built in various phase during the Bronze Age and the Iron Age.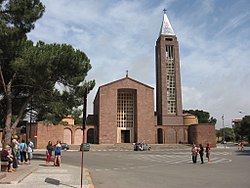 FertiliaFertilia is small town in a few kilometres north-east of Alghero. It was built by the Fascist government of Italy in the 1930s, after the draining of the marshes which covered the area. It was planned by the architect Arturo Miraglia and the town still bears some elements of the rationalist style.
Other destinations
Sassari is a capital of a province -- a good destination for a pleasant half day trip
Bosa -- a quaint old town further on the South