Algiers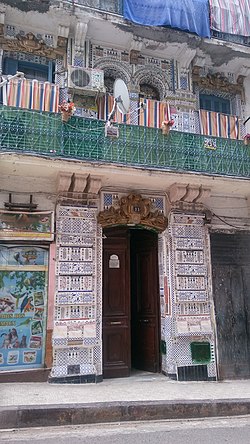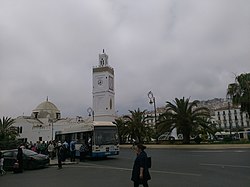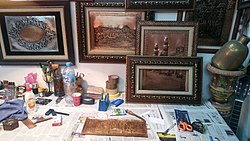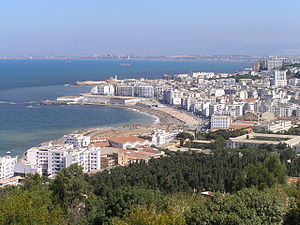 Algiers (الجزائر)
is the capital of
Algeria
in North Africa.
Understand

Algiers is a port city on a bay in the Mediterranean first settled over 1,000 years ago. It is a large city with a population of over 3 million.
While downtown Algiers looks modern, the capital is struggling to keep up with rapid growth. The standard of living for many of its population is poor. Algiers has also been marred by violence in the past decade. A civil war which started in 1991 destroyed much of the country. Since then things (in Algiers at least) have returned to normal. Substantial reconstruction of the infrastructure has taken place and is still ongoing.
Algiers is known locally as El-Djazaïr and the residents speak Berber, Arabic and French.
Algiers is not considered a popular tourist destination and the US State Department does warn against travel to certain other parts of the country. In Algiers, most of the interesting sights are in the old part of the city known as the Casbah or Medina. The travelers that do make it to Algiers are impressed with the very friendly and hospitable people. The many old French buildings, the promenade along the seafront and the food also get good ratings.

Get in
By plane
The airport is the home base of the flag-carrier
Air Algerie
.
Air Algerie serves the most important Algerian cities (such as Oran, Annaba, Tammanrasset, Skikda, Tlemcen, Constantine) several times daily. There also many connections to African capitals such as Bamako, Cairo, Abidjan, Dakar, Tunis and Ouagadougo.
Air Algerie operates from Hall 1. Hall 2 is reserved for the international airlines.
International airlines
Air France (Marseilles, Paris-Charles de Gaulle)
Alitalia (Milan-Malpensa, Rome-Fiumicino)
British Airways (London-Gatwick)
EgyptAir (Cairo)
Iberia (Madrid)
Jetairfly (Brussels, Seasonal)
Libyan Airlines (Tripoli)
Lufthansa (Frankfurt)
Middle East Airlines (Beirut)
Qatar Airways (Doha)
Royal Air Maroc (Casablanca, Oudja)
Saudi Arabian Airlines (Jeddah)
Syrian Arab Airlines (Aleppo, Damascus)
TAP Portugal (Lisbon)
Tunisair (Tunis)
Turkish Airlines (Istanbul)
Airport transfer
TaxiTaxis can be found outside of the Hall 2; as they have no meters, a price should be settled in advance. The ride to the centre of Algiers takes around 20min and costs about 1000 - 1500 DA. From the center to the airport is cheaper, about 600 DA.

BusThe bus operates every 30 min in the daytime to the centre. It costs DA25 paid to the bus driver.
By train
Algiers Central Train Station is located near the city centre. The station offers regular services to major Algerian cities such as Oran, Annaba, and Constantine.
SNTF
(the national Algerian train company) has purchased air-conditioned trains and launched new routes.
By car
Being the capital of the country most, if not all major roadways in Algeria begin and end in Algiers. So getting into Algiers is quite easy. However, the infrastructure of Algerian roadways is not highly regarded so arriving by road might not be the most desirable option. There are a number of road projects around the country that are aimed at improving the infrastructure, most notably the East-West highway running from Annaba in the east to Oran in the west, of course coming through Algiers.
Be careful about traffic jams, especially in downtown Algiers. There are almost no traffic lights. Lights are replaced by policemen. There are police and military checkpoints almost in every municipality. Slowing down is highly recommended. Utilization of mobile phones when driving is strictly prohibited. Be sure to have your seat belts on.
By bus
La Gare Routiere, Algiers's central bus terminus, in the commune of Hussein Dey (about 7-10min drive from downtown), offers a plethora of bus services to most major Algerian cities and towns. It is a very cheap and efficient way to get to/from a pair of Algerian cities. Most of the coaches used are modern and air-conditioned so the rides are, more often than not, comfortable. However, there are a few old coaches still in service, so try to avoid those, for the ride won't be as pleasant.
For long distances such as Algiers-Tammanrasset or Algiers-Annaba travelling by plane is recommended due the long duration.
By boat
There are regular ferry services to Algiers from Marseille, Palermo and Alicante.
Algerie Ferries
has the most destinations, but there are numerous other shipping companies. The ferry terminal is located right in the centre of the city, next to the railway station.
Get around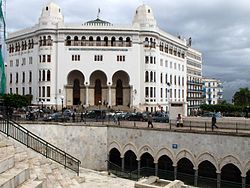 Algiers' public transport system is lacking, but there was a major improvement with the opening of the metro. There are buses operating within the city centre and to the suburbs.
By metro
After more than three decades of construction (or lack of it) the first segment of the Algiers Metro finally opened on 1 November 2011. Line 1 has ten stations from Tafourah Grande Poste just south of Gare d'Alger, the central railway station, in the city centre to Haï El Badr, with stops along several of the most important places in the city.
Tickets can be purchased at the station, either from a ticket machine (multiple languages - but appear to only take coins, not including 200s) or from an attendant.
A single trip ticket costs DA150 Dinar, or a 10-trip ticket can be purchased for DA400.
| | | | Stations | |
| --- | --- | --- | --- | --- |
| | ● | | Tafourah - Grande Poste | - |
| | ● | | Khelifa Boukhalfa | - |
| | ● | | 1er Mai | - |
| | ● | | Aïssat Idir | - |
| | ● | | Hamma | - |
| | ● | | Jardin d'essais | - |
| | ● | | Les Fusillés | - |
| | ● | | Cité Amirouche | - |
| | ● | | Cité Mer et Soleil | - |
| | ● | | Haï El Badr | - |
| | ● | | Bachdjerrah Tennis | - |
| | ● | | Bachdjerrah Centre | - |
| | ● | | El harrach Gare | - |
| | ● | | El harrach Centre | } |
By taxi
Taxis are a fast and cheap way to get around in Algiers. They can be found at taxi stands but negotiate the price
before
riding. A tip is not expected but can be given if the service was really good.
By bus
Buses operate within the city centre and to the suburbs: tickets are purchased on the bus for 20 dinar. Typically, a man with a bundle of tickets approaches you when you board.
See
Great Mosque of AlgiersBuilt in 1097 and added upon by the French in the 1840s.

Martyrs' MemorialAn iconic concrete monument commemorating the Algerian war for independence. In the basement, there is an exhibition about the independence way, basically an exhibition of various kinds of arms the FLN used (50 DA).

La Grande PosteA masterpiece of neo-Moorish architecture built in 1910 by the French.

Palais des Raïs
Casbah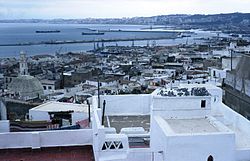 The
Casbah
is the ancient city, dating to the 17th century. It has been declared a
UNESCO
World Heritage Site.
Ketchaoua MosqueBuilt in 1794 by the Dey Baba Hassan.

El Djedid MosqueBuilt in 1660 during the Turk reign.
Buy

Unofficially exchanging money can be done in the Square Port Said and in Abane Ramdane Street. It's an incredibly common practice and feels very safe. The exchange rate is typically 40%-50% better than the official rate. People are most interested in exchanging euro. As of January 2018, you will get about 205 DA for 1 EUR.

Eat
There are several restaurants in the Bois des Arcades area. This is the hill 500 m southeast of the big Martyrs memorial. Particularly good views over Algiers and the coast can be found from here. The hill is also a woodland, so is a nice area for walking too.
Al Boustan Restaurant

address: Bois des Arcades Riadh El Feth

Panoramic restaurant overlooking Algiers. The restaurant is modern and very smart. An outdoor terrace offers the best views of Algiers and the coast. Food is excellent.
Drink
In recent years, Algeria has resumed the production of wines. Algeria was famous for the production of particularly fine red wines. The new production is also of very high quality and will be appreciated by wine aficionados. It is rarely found on the international market. Locally produced beer is good quality. Alcohol is readily available in hotels, good restaurants and shops.

Sleep
Budget
A good place to look for a hotel is Rue Abane Ramdane, which is very central in Algiers. There are several hotels with prices starting from approx. 2000 DA - 2500 DA for the cheapest category.
Central Touring Hotel

address: 9, rue Abane Ramdane

Has some kind of atmosphere, though for a cheap price. There are various categories of rooms, with shared toilets / showers, private showers only or private toilet + shower.

address: 31, Rue Amar El Kama ex (rue de chartres)

Located in the Casbah, quite run-down inside. It offers online booking, but prices are much cheaper if you just come and pay in cash (especially if you change money the unofficial way). Noteworthy is that this hotel can send you an official booking confirmation which the Algerian consulates will (hopefully) accept for visa application.
Mid-range
phone: +213 21 98 80 20

address: Route de l'université

phone: +213 21631009

address: rue Lieutenant Salah Boulhart (ex-Drouillet)

Town centre hotel. Old and charming, but reasonably comfortable. Good value for town centre. Wireless internet throughout is fast.
Splurge
phone: +213 21 21 96 96

phone: +213 21 37 77 77

address: Boite Postal 62

Beachfront resort.

Sofitel Algiers Hamma Garden Hotel

phone: +213 21 68 52 10

address: 172 Rue Hassiba Ben Bouali
Cope
Embassies
Argentina

phone: +213 21 54-8665, +213 21 69-1269

address: 5 Chemin Mohamed Drareni, Hydra

Belgium

phone: +213 21-922446

address: 22, Chemin Youcef Tayebi, 16030 El Biar

phone: +213 21 924437

address: 55, bis Chemin Cheikh Bachir El Ibrahimi, El Biar

Canada

phone: +213 21 91 49 51

address: 18 Mustapha Khalef St, Ben Aknoun, BP 103

phone: +213 21-692724

address: 34 Boulevard Des Martyrs, BP 103

Croatia

phone: +213 21 48 49 07

address: 26. Bis, Rue Hadj Ahmed Mohamed – HYDRA

phone: +213 21 230056

address: 3, Chemin du Ziryab, Telemly, Ben Aknoun, BP 103

Denmark

phone: +213 21 548 228

address: 12 Ave Emile Marquis, Lot. Djenane El-Malik, BP 103

phone: +213 21 692646

address: 8 Chemin Gaddouche, Hydra

phone: +213 21-692 925

address: 10 Rue des Cedrest El Mouradia BP 103

phone: +213 21 69 24 88

address: 25 Chemin Gaddouche, Hydra 1600, BP 103

Germany

phone: +213 21 74 19 41

address: 165, Chemin Sfindja (ex Laperlier), Algiers, BP 103

phone: +213 21-92 12 28

address: 60, Blv Colonel Bougara, 16030 El Biar, Alger, Algiers, BP 103

Hungary

phone: +213 21-923288

address: 18, Avenue des Freres Oughlis BP 68 El-Mouradia, BP 103

Indonesia, 17 Chemin Abdelkader Gadouche,Hydra B.P 62 El-Mouradia +213672531636

phone: +213 21 9259 86

address: 18, Rue Mohammed Ouidir Amellal, 16030 El Biar, BP 103

phone: +213 21 60 68 12

address: Lottisement Zergoug, Villa No. 9, Hydra, BP 103

phone: +213 21 69 12 18

address: 7, Rue des Freres Benhafid, 16035 Hydra

United Kingdom of Great Britain and Northern Ireland

phone: +213 770 085 000

address: 3 Chemin Capitaine Hocine Slimane

phone: +213 770-08-2000

address: 3 05 Chemin Cheikh Bachir Ibrahimi El-Biar 16030