Alicante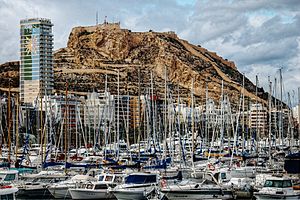 Alicante
(
Valencian
:
Alacant
) is a popular tourist city in the
Valencian Community
of
Spain
. It is the capital of
Alicante province
.
Understand
The city is believed to have been founded by the Carthaginian general Hamilcar Barca, who established the fortified settlement of Akra Leuka (Greek: Ἄκρα Λευκή, meaning 'White Mountain' or 'White Point'), where Alicante stands today. It was later conquered by the Romans who renamed it
Lucentum
. In mediaeval times, Alicante became a major Mediterranean trading station, exporting rice, wine, olive oil, oranges and wool. The city has become a hub of tourism directed to the beaches of the Costa Blanca.
phone: +34 965 200 000

address: Rambla Méndez Núñez, 41

The primary tourist office is open year round, and has free maps and brochures.
Tourist Info Alicante Ayuntamiento

phone: +34 965 149 219

address: Plaza del Ayuntamiento, 1

Tourist info Alicante Platja del San Juan

address: Avda de Niza, s/n

Tourist Info Alicante Renfe

phone: +34 965 125 633

address: Avda de Salamanca, s/n

Tourist info Alicante Aeropuerto

phone: +34 966 919 367

address: Aeropuerto El Altet
Get in
By plane
Aeropuerto de Alicante-ElcheOne terminal is in service, known as Terminal N or the new terminal. Terminals T1 and T2 that were used before the construction of the new terminal are no longer in service.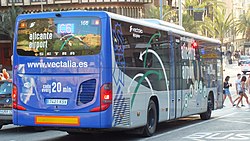 Bus C6
(tel. +34 902 106 992, email: alcoyana.ali@subus.es) connects the airport with the city, departing every 20 minutes from a bus stop at the departure level (level +2) of new terminal. Don't get confused between the departure level (level +2) and the bus level (level -2); the latter is used by charter buses. The city bus takes about 20 minutes to the city centre, where it follows a circular route. It stops near the Alicante bus station, at Plaza Puerta del Mar, near the Archaeological Museum, next to the central market, at Plaza Luceros, and on its way back to the airport near the train station. A one-way ride costs €3.85 (2019). The buses run from 6:00 until 23:00; a complete schedule is available
here
.
A taxi to the city will cost €20-25. Cabs can be caught at the arrival level (level 0) of the new terminal. A dozen car rental agencies including
Avis
,
Budget
,
Hertz
and
Europcar
are on the arrival floor of the new terminal.
By train
phone: +34 902 432 343

address: Avda de Salamanca, 1

Renfe runs a number of trains per day from Madrid and Barcelona. A ride from Madrid by high-speed AVE trains should take between two and two and a half hours. From Valencia the trip takes just under two hours, and from Barcelona on conventional rail it takes up to five hours. Renfe regional train (Cercanías) line C1 can get you from Elche to Alicante in half an hour, and from Murcia in under 1½ hours.
Facilities at the station include a tourist information office, storage lockers, a café, bookshop, and car rental office, as well as bicycle rental.
By tram
phone: +34 900 720 472

address: Plaza de los Luceros, s/n (main station)

Tram Alicante (el Trenet) operates a light rail train connecting all major settlements along the coast between Alicante and Dénia, with the exception of Xábia. Benidorm is a changeover point for destinations further north. For travelers with smartphones, there is a helpful official app (iPhone and Android) with a route planner and timetables. A single journey costs €1.35-7.15, depending on distance. Guide dogs and small pets in carriers are permitted.
The tram service along the coast is enjoyable and reasonably priced. When going from Alicante to Benidorm, sit on the right side of the tram to get a sea view. The ticket price between Alicante and Benidorm is €3.75 (2013). In case you don't want to practise Spanish (why? You're in Spain!), get a ticket from automatic vending machines, which are equipped with an English-language interface. If you plan to return the same working day, get a round-trip ticket right away with small discount. As always, keep the ticket until the end of journey. On some stations (including all stations in Alicante) you will need the ticket to exit from the system.
By bus
phone: +34 965 130 700

address: Muelle de Poniente, s/n

ALSA has many lines, including to Valencia, Barcelona and Granada; a complete listing of all connections can be found here. Free Wi-Fi is available throughout the bus station. Public city buses lines 6 and 24 both start and terminate at this location.
Travellers should always be attentive, as this station is well-known for baggage thieves.
By boat
Port de AlacantServices the many cruise ships which stop here as well as ferries to Algeria.
phone: +34 965 141 509

address: C/ Jorge Juan, 6

The local agent for Algerie Ferrie, which operates bi-weekly ferries to/from Oran and Algiers.
By private transfers
Private transfers rates are regulated and most tourists find them affordable if they need discretion vehicles with quality service, security and legality.
phone: +44 20 3769-0198, +34 968 976 386

address: C/ Ramon Gaya, 3
Get around
If you stay in the old town, most areas of interest are within walking distance.
By tram and bus
Public transportation is provided by trams (described
above
) and buses. Visitors intending to use both systems may want to consider purchasing a rechargeable
Bono Móbilis Multiviaje
card, which costs €8.70 for 10 rides plus €2 for the plastic card (2016); discounted youth and senior Móbilis cards are also available.
The card can be purchased at the main
TAM Office
(C/ Díaz Moreu 6, tel. +34 965 140 936, M-F 09:00-19:00, Sa 10:00-13:00), at the central bus station (M-F 08:30-14:00, 17:00-19:00), and at a
number of shops
throughout the city.
Subus Alicante
operates an expansive network of bus routes, with bus stops at key locations including the train station, airport, shopping centres, and major sights. On most routes, buses run from 06:30-22:30, with extended hours on weekends. There are also a number of night routes. A single ride costs €1.45 (2016), payable in cash directly to the driver on entry; drivers can give change for bills €20 or less. Maps and schedules for all routes can be downloaded
here
. For travelers with a smartphone,
Alicante Bus
is a helpful app (iOS and Android) with a route planner and schedules.
By taxi
Taxi rates are regulated and most tourists find them affordable. A number of taxi stands (
paradas de taxi
) are in various places, including by the bus station, the train station, and the Explanada de España.
phone: +34 965 240 707, +34 699 780 601 (mobile)

address: Portal de Elche, s/n

Available 24 hours, charges set rates for certain destinations.

phone: +34 965 101 611, +34 965 252 511, +34 671 101 611 (Whatsapp)

address: C/ Alcalde Lorenzo Carbonell, 35

Taxis can be reserved by phone, Whatsapp, or online.

RadioTaxi

phone: +34 965 910 123

Taxi Area

phone: +34 965 910 591
See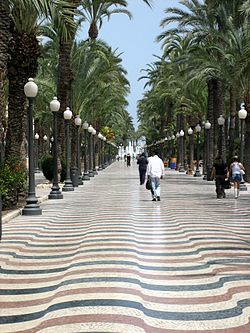 The old town of Alicante is roughly the triangular area enclosed by the Rambla de Méndez Núnez, the Explanada de Espanya, and Mount Benacantil. Largely tourist-friendly, the old, narrow streets make for an enjoyable wander provided you don't get yourself lost. Here you'll find the town hall, cathedral, an old covent, and several art museums.
Historic sites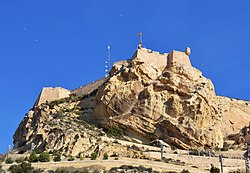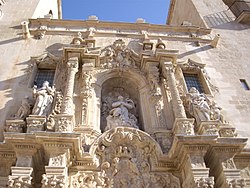 Castell de la Santa BàrbaraOn top of Mount Benacantil at a height of 166 metres, there is one of the largest medieval fortresses in Spain, built in the ninth century by Muslims. An amazing view of town and harbour. If you feel fit, the walk from Plaza de Carmen is a sight in itself, through some narrow winding streets. The castle can also be reached by car, but parking slots are scarce.
phone: +34 965 152 969

address: Calle Vázquez de Mella s/n

Showcases archaeological finds from the city and the region.

LiftThere is a lift in the core of Mount Benacantil itself, which runs from the ground level and stops at two levels in the castle. It may not be easy to spot the entrance! The easiest route is to follow Postiguet beach to the footbridge, then cross the road and pick your way West along the pavement until you see the sign for the castle and the tunnel entrance. The ticket machine for the lift is near the end of the tunnel. Insert your money, press the large green "A" button, then "Ticket", and your ticket will be printed. Maps are provided. Travelling between the two castle levels is free.
Basílica de Santa MariaBegun during the 14th century on top of the remains of an old Moorish mosque, construction was completed in the 16th century, and incorporates Gothic and Baroque stylistic elements in its structure. The main entrance to the church is especially notable for its elaborate Baroque decorative elements; inside the Gothic choir and Rococo altar are noteworthy, along with the Baroque organ from 1653. The exterior still bears traces of bombardment by French forces in the 18th century.
Lucentum Archaeological Site

phone: +34 965 149 000

address: C/ de Zeus, s/n

This site, which covers over 7 acres, is the location of the original Roman city which later became Alicante. Although excavation is ongoing, it is open to visitors. Notable features are remains of the defensive walls, Roman baths, and forum, as well as part of the old Muslim cemetery.
Castell de Sant FerranBuilt at the beginning of the 19th century, the fortress is now the centrepiece of a city park.
Museums and galleries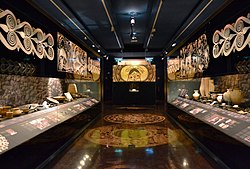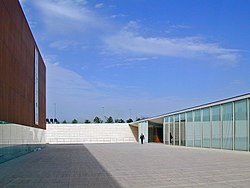 Do
Performing arts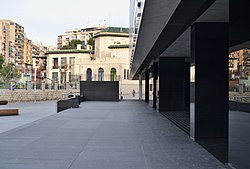 phone: +34 965 203 100 (info), +34 965 202 380 (box office)

address: Plaça de Ruperto Chapí, s/n

Alicante's main theatre was built in the mid-19th century, and partially destroyed and rebuilt during the Spanish Civil War. Today it is the city's main venue for not only plays but also musicals, dance, and musical performances.

Auditori de la Diputació d'Alacant

phone: +34 965 919 100

address: Paseo Campoamor, s/n

A venue for classical music performances, by both Spanish and international musicians. The building was designed by Alicante-born architect Juan Antonio García Solera.
Festivals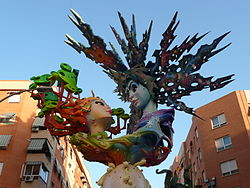 EpifaníaAs in the rest of Spain, in the Epiphany (January the 6th) there is a parade in remembrance of the Three Wise Men that adored Child Jesus, where every child participates (it is the equivalent to Santa Claus in the Spanish culture).

CarnavalFeatures parades of people in disguises and open air concerts (yes, weather allows it!).

Setmana SantaHas parades of religious brotherhoods with their images of Jesus Christ and Holy Mary.

Romiatge de Santa FaçA massive pilgrimage/walk to the (Spanish: Monasterio de la Santa Faz), where a relic with and image of Jesus is on display.

Fogueres de Sant JoanThe most important festival in the city, with preparations beginning a week beforehand. Throughout Alicante, enormous monuments (up to and above 3 stories tall) are constructed and burned at the end of the festival during the night of 24th to 25th, after the shooting off of the very large "Palmera" firework from the top of the Castillo de Alicant. The explosion takes the shape of palm tree leaves (hence the name, Palmera). This is the symbol that begins the burning of the Hogueras monuments, which lasts into the later hours of the night. After that, a week of night fireworks continues in the beach. During the festival you won't have to go far to find music, drinks, and dancing, that all usually lasts until the early mornings.

Moros i CristiansOne of the many Moorish and Christian festivals in the province, here the tradition began in the 20th century. Different neighbourhoods in the city celebrate at different times of year. In the Villafranqueza it is celebrated in March, in the Barrio de San Blas the second week of June, El Rebolledo in mid-July, in Altozano during the second week of August, and in the Barrio de Miguel Hernández the third week of August.

Gay PrideIt is usually hold in July. During this week Alicante fills up with artistic and cultural activities. The last day a manifesto is read in Plaza Mayor del Ayuntamiento where afterwards music is played and people drink and dance.
Cinemas
phone: +34 965 220 192

address: Centro Comercial Plaza Mar 2

A modern cineplex which shows the latest blockbusters, with both dubbed and original language versions (VOS: versión original subtitulada).

address: Avinguda de Alcalde Lorenzo Carbonell, 66

Another cineplex which shows current films in both dubbed and original language versions.
Beaches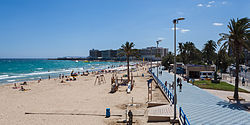 In the heart of the city there is (
Playa de Postiguet
). The sandy beach is popular during the day and fairly busy during the evening when it's illuminated by sodium street lights. These give the beach and breaking waves a surreal effect. Beach goers should take precautions however even during the day, as unattended bags and purses are popular targets for thieves.
With a bit of traveling by bus
22
or tram (
L3
, stop 'Costa Blanca'), you can reach the spacious 7 km long (
Playa de San Juan
), which is considered to be one of the finest in Spain.
The less crowded (
Playa del Saladar/Urbanova
, bus
27
) is south of the port, along the road from Alicante to Cartagena. (
Playa de los Arenales
) is a bit further still, has sand dunes, and is even less crowded. This beach can be accessed by an
hourly bus
from the main bus station.
Learn
phone: +34 923 277 200

address: Passeig Esplanada d'Espanya, 15

A great Spanish school where you can take 4–6 hours of courses a day. All courses including beginner courses are taught entirely in Spanish.

phone: +34 965 903 793

address: Cra de San Vicente-Alicante s/n, Edificio Germán Bernácer

Operated by the University of Alicante, it offers a variety of courses, including intensive Spanish classes for foreigners.

Estudia EspañaOffers a selection of quality, affordable private Spanish language schools in Alicante. Courses for all levels and budgets all year round.
Buy
Indoor markets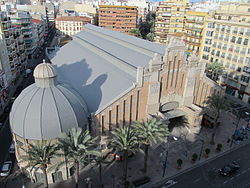 Mercat Central

phone: +34 965 140 763

address: Avda Alfonso X El Sábio, 10

The two levels sell all the fresh meat, seafood, cheeses, fruit and vegetables anyone could need. If you exit the market through the back, you'll find the flower sellers in a small outdoor square.

Mercat Babel

phone: +34 965 103 452

address: Carrer Asil, s/n

A standard food market selling local produce and fish. On Th and Sa mornings there is also an outdoor market along the adjacent streets where you can pick up various other household goods, clothings, etc.

Mercat Benalúa

phone: +34 965 130 225

address: Carrer Pérez Medina, 2

A standard food market, with an nearby outdoor street market on Th and Sa mornings.

Mercat Carolinas

phone: +34 965 253 961

address: Carrer San Mateo, s/n

A standard food market, with an nearby outdoor street market on Th and Sa mornings.
Street markets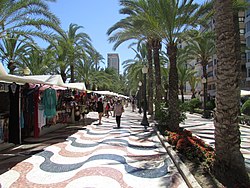 Passeig Esplanada d'Espanya marketMarket stalls along the promenade selling beads, clothes, flags etc.

Mercado de Filatelia y Numismática

phone: +34 965 149 325

address: Plaça de Ajuntament, s/n

A weekly market for stamps and old coins.

Mercado el Rinconet

address: C/ Balsas Nuevas, 7

A large second-hand market where you can find all sorts of antiques, musical instruments, and other odds and ends.

Mercado Artesano

phone: +34 965 149 325

address: Plaza de la Santísima Faz, s/n

A good place to find handmade jewelry, belts, handbags, and other crafts.
Eat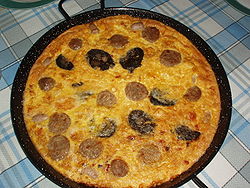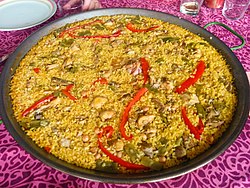 As with the rest of Spain, breakfast is usually light, usually some sort of bread (e.g. toast) or piece of bakery. Traditionally, a hearty meal in the early afternoon is followed by a
siesta
as the heat builds. Many restaurants are then closed between 16:00-21:00. A light meal is taken once the sun goes down, often in the local tapería if you are a visitor. Many restaurants don't open before 21:00 for dinner, so bear this in mind when planning your dinner schedule.
As elsewhere in the region, seafood and rice dominates, with
paella
in the frontline. In almost every restaurant, you will find a
menú del día
('menu of the day') or a similar special for €10, a three- or four-course meal with or without a drink. This is an excellent way to economise if you want to splash out later.
In tourist areas, you'll have no problem finding UK fare served at earlier times, if you find yourself intimidated by the local cuisine. Restaurants of all price ranges are clustered around Carrer Castaños (near the theatre), Calle San Francisco and Calle Mayor (near the cathedral).
Budget
Mid-range
Splurge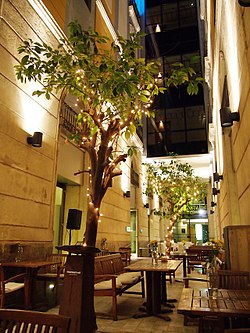 phone: +52 965 207 598

address: Muella de Levante, 6

A long-established and respected restaurant, known especially for paella and other rice dishes, and for seafood. This place is very busy and reservations are recommended.

phone: +34 965 126 640

address: Avda Julio Guillen Tato, 1

Michelin-starred chef María José San Román focuses on contemporary and avant-garde cuisine, relying on local products. The minimalist dining area is decorated with wood, aluminum, and granite. Reservations can be made online.

One One

phone: +34 96 520 6399

address: C/ de Valdés, 9

A cozy restaurant that offers innovative and original cuisine. Has a good wine cellar.

phone: +34 965 143 250

address: Parque de La Ereta, s/n

Creative cuisine offered in two tasting menus, with great views of the sea and city.
Drink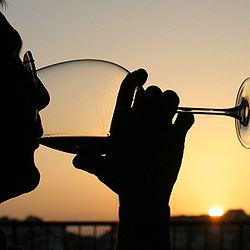 El botellón
, literally, 'the large bottle', is a custom among young people in Spain, in which they buy 2-litre bottles of soft drinks and mix into them hard liquor, and then stand or sit around drinking in parking lots and other public places. This is to avoid the high cost of drinks in some bars and clubs. There are many organizations which organise and advertise the party scene of the Barrio, such as
BarrioLife
.
The
Barrio
(aka
Casco Antiguo
) is the centre of nightlife in Alicante, with bars like , , , and ; there is never a dull night in this small Spanish city. Drinks are cheap, and shots are sometimes free.
Another focal point is the eastern rim of the marina, called
Puerto
, in and around the , where things start and end later – a typical night can end at around 07:00 or 08:00. As this part of town has a bad reputation at night, most nightclubs here hire their own security who also act as bouncers. Especially at dawn party goers should take care, as theft is common.
Sleep
Budget
phone: +34 965 209 500

address: C/ Navas, 30

Has nonsmoking rooms and free Wi-Fi.

phone: +34 654 22 03 17

address: Carrer del Tucuman, 28

Amenities include, singles, doubles, and shared dormitories for short and long term stays, guest kitchen, free breakfast, roof top terrace, free internet and Wi-Fi, and large common room to meet other travelers. It's clean, safe, and is the only true backpackers hostel in the city.
Mid-range
Splurge
Connect
The city provides free Wi-Fi to everyone in a number places across the city centre, including the (Plaza del Ayuntamiento), (Plaza de los Luceros), (Plaza de la Montañeta), the Castell de la Santa Bàrbara (Santa Barbara Castle), and at Platja del Postiguet (Postiguet Beach).

Cope
Alicante is generally a safe city, but visitors should take precautions in the port area, which should be avoided at night and dawn.
phone: +34 965 216 022

address: Rambla Méndez Núñez, 28-32, 6ª planta
Go next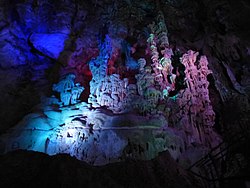 Tabarca – there are several companies near the port which offer boat trips, from 45-minute excursions on a catamaran to all-day trips to the island. Prices vary.

Coves del Canelobre

phone: +34 965 699 250

A large cave network with impressive stalacites and stalagmites. The inner aspect of the main cave, with one of the highest vaults of Spain, is very similar to the one of a cathedral. Visitors are able to admire the diverse and capricious forms that have been taking rocks: candelabra, animals and multitude of spectacular forms. Sometimes, their superb acoustic and environmental conditions take advantage of for spectacles in which music is privileged protagonist. Entrance requires you join in on a tour which is mainly in Spanish, although some information is provided in English.