Almería
Almeria
is a city in
Andalucia
, also called "the Hollywood of Spain".
Understand
The word Almeria is an Arabic word which means
mirror of the sea
. Like many Andalusian cities, Almeria kept its Arabic name after it had been recaptured by the Spanish. It is an averagely sized city by the Mediterranean Sea with a population of around 200,000. In its region lies the
Natural Resort (Parque Natural) area of Cabo de Gata
.
Climate
Almeria has a Hot Arid climate (
BWh
). Almeria's winters are very mild, around 18°C (65°F). Summers are long and hot and often reach and exceed 40°C (104°F) in the shade during July and August.
Get in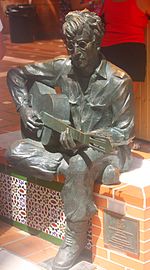 By plane
Almeria airport
lies to the east of the city, and serves domestic flights, as well as those from elsewhere in Europe.
Iberia
offers connections to Madrid, Barcelona, Sevilla, Palma de Mallorca (also served by
Air Europa
) and Melilla, while
British Airways
flies London Gatwick, and
TAP
to Porto (seasonal). Various other European low cost airlines, including
EasyJet
,
Jet2
and
Ryanair
offer a mix or year round and seasonal flights to a host of cities thoroughout Europe. Car hire is available at the airport, and it is also served by municipal bus route #30, which runs to the the city centre, as well as the bus/train station.
By train
Almeria's train station is located on the Plaza de la Estación immediately south-east of the city centre (10-15 min walk), by El Cable. Train service to Almeria is quite limited for a city of the size, due being isolated at the end of a long branch line.
RENFE
operate a Talgo service to Madrid Charmatin, as well as a regional service to Sevilla via Granada and Cordoba.
The route to Madrid is quite slow (almost 7 hours), but incredibly scenic, as the train winds along a serpentine route though the desert, revealing a landscape like nothing else in Europe, with barren mountains, and tiny, remote arroyos (wadis) where a few cactus and palms survive on underground moisture. The train also offers a spectacular view as it approaches Guadix, a town in the desert backed by a massive cliff, into which numerous cave buildings have been carved. After a few hours the train breaks through the mountains and beyond the desert into the flat tableland of the Meseta, from where it sprints towards Madrid in a dead straight line.
Services running north-east along the coast to Murcia and beyond were cancelled in the 1980s, with the closure of the Almanzora line south of Alemendricos. Plans exist to re-open the route as a high-speed or semi-high-speed line, and construction was already underway (including a massive 7.5-km tunnel at Sorbas) when the project was suspended indefinitely due to the 2007-2008 financial crisis.
By bus
The bus station is combined with the train station, and is immediately south-east of the city centre, near to the Cable. Buses arrive from Jaén, Málaga, Granada and a variety of other cities all day. Less frequent long distance buses run points along the coast to Barcelona, and up to Madrid. Additional options are available if routing through Granada, which is quick and simple. Note that the bus station only serves long-distance buses. Some municipal buses stop outside, but don't start or terminate from here.
By boat
Ferries connect Almería to Melilla, a Spanish city on the North Africa coast, to Nador in Morocco (accross the bay from Melilla), as well as Ghazaouet and Oran in Algeria. All ferries carry cars as well as passengers. A fast-ferry also operates to Melilla, and offers a significant time saving, with a crossing time of just 3.5 hr.
Get around
Despite the mountainous terrain surrounding the city, Almeria itself is mostly flat, and getting round on foot is easy and pleasant, due to the dry conditions and shaded streets. There is also a comprehensive, if not terribly frequent, network of municipal buses, operated by
Surbus
. Fares are affordable, and routes and timetables can be found on the company website.
See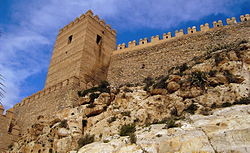 Casa de los Marqueses de Torrealta
Cathedral of Santa María de la Encarnación
John Lennon Monument
Las Claras Convent
Museo del Aceite de Oliva
Palace of the Marquees of Cabra
Palace of the Viscounts of the Castillo de Almansa

phone: +34 600 14 29 82

Massive Arabic hilltop fortress that dominates the city. Originally beautifully decorated with intricate stucco work that rivaled that of the Alhambra, sadly much of this with destroyed or removed during periods of abandonment. Nonetheless the surviving structures are beautiful, and a sympathetic restoration has created beautiful, shaded gardens and fountains that make the site a haven of tranquility, with fantastic views over the city. It's worth remembering that one doesn't get views without climbing - the site is on top of a rocky outcrop and is itself spread over multiple terraces. Bring your pedometer and feel virtuous. The site is frequently used for exhibitions and shows. Check the website to find out what's on.
Do
Visit the great beaches of Las Salinas and La Almadrava de Monteleva.

Natural Park of Cabo de Gata Nijar

address: Almeria

Just outside Almeria one will find an important natural reserve. The Natural Park of Cabo de Gata Nijar. It is a volcano area with virgin beaches and isolated coves. The traveller should not miss to visit this park.

Film studiosFilm studios in the Tabernaz desert were used to film many spaghetti westerns and also parts of 'Indiana Jones and the Last Crusade' and 'Game of Thrones'. Some sets can be visited.
Buy
Círculo Mercantil
Mercado Central - the central market.
Eat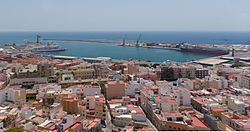 There are numerous tapas bars located around the town, offering a choice of meat, fish and seafood as well as some typical tortillas and potato dishes. Tapas bars are typically visited by the locals before the night fiesta.
Budget
Paseo Maritimo zoneThe pedestrian street by the sea offers a great number of bars de tapa, where breakfast, coffee, juices beers and tapas can be enjoyed with the view of the sea and the beautiful sunsets.

Calle MayorCalle Mayor is a tapas-bar located between the Rambla and the paseo de Almeria near the center. If has a variety of tapas, often different than the most common choices found in most of the tapas bars in the city, some of the choices being vegetarian. The price for a caña of beer (a smaller glass than the tubo's)and a tapa is only one euro in the evenings.

46For a different selection of tapas, 46 is an Italian tapas bar, with a variety of lasagna and pastas as an additional choice to the common tapas. Price of a tubo of beer and tapa is €2.
Mid-range
Splurge
Drink
Most of the bars are located in the area known by the locals as cuatro calles (the four streets) in the very centre of the city and just under the Cathedral plaza. Depending on the day, a litre of beer could cost as little as €2 in some bars.

Sleep
Budget
Mid-range
phone: +34 95 0182500

address: Jardín de Medina
Splurge
Stay safe
Almeria is generally a peaceful town. Robberies or crime is highly unlikely although the locals might advise to keep away from the gypsy neighbourhoods at night.

Go next