Almora
Almora
is a hill station in
Uttarakhand
State. Almora was the seat of power of the Chand Dynasty who ruled the land of Kumaon for almost one thousand years. An interesting fact about the discovery of Almora is that unlike other hill stations, it was not discovered and developed by the British. The Katyuri Dynasty ruled the region around Almora from the 9th century AD, till it made way for the Chand dynasty. Raja Balo Kalyan Chand made Almora as his new capital in 1560 AD, when he transferred his capital from Champawat to Almora. The Chands occupied Almora till the 19th century AD. There is an interesting local legend about the discovery of Almora. Raja Kalyan Chand, the ruler of the Chand Dynasty was riding on the horseshoe shaped ridge in the pursuit of a prey. The hunted quarry protected its life by taking refuge behind the thick bushes of Kilmora, a local wild barberry bush, and revealed the place to the king. The story might not be corroborated by any literary or archaeological evidences but continues to be told by the locals. The Gorkhas captured Almora in 1790 AD and finally British took it over from the Gorkhas after the Gorkha wars of 1814-1815.
Jawaharlal Nehru served a term of imprisonment in the jail at Almora during the British rule. He left behind an elaborate account of the pleasures of solitude and the varied moods of nature in his various letters written from this place to his daughter.
Understand
Almora, a town of about 60,000, is situated in the Kumaon mountains of the
Himalayas
in eastern Uttarakhand. Most of the town is situated on a crescent shaped mountain ridge about 5 km long, and most of it is above 1,800 m. The rivers Kosi and Suyal flow around Almora providing a natural barrier. Unlike Shimla, Ranikhet and Nainital, which were developed by the English, Almora is a hill station totally developed by the Kumaoni Indians.
The town is typical of crowded hill towns in northern India, but the natural beauty around it is astounding. Almora is also called a town of temples. Situated in the centre of the town is the temple of Goddess Nanda Devi. The mountain is visible from the nearby areas as well.
Almora is an agricultural base and also a trade centre.
Get in
Almora can be reached by three different routes. The most common of it is via
Nainital
. Almora lies 90 km north of the nearest railway station at
Kathgodam
.
By train
The town is served by the Kathgodam station, which is located approximately 35 km away. Taxis charge ₹600 to Almora. You can also share a cab at ₹125 per person. Most hotels will arrange for pick up on prior request, ₹700-₹1000. The station handles 46 express trains per week.
Shatabadi Express(12040) daily-EC, CC-Dep New Delhi 0620 hrs, Arrival Kathgodam 1120 hrs
Bagh Exp (daily) - Dep. Howrah 2145 Arr. 0935 - 2 nights
Dehradun Kathgodam Exp (Wed, Sun) - Dep. 2230 Arr. 0725 - 1 night
Ranikhet Exp (daily) - Dep. Delhi Jn 2245 Arr. 0500 - 1 night
Sampark Kranti Exp (daily) - Dep. Delhi Jn 1600 Arr. 2245 - 7 hours
By road
There are daily bus services from
Delhi
. The buses leave from ISBT Anand Vihar and are run by Uttarakhand Roadways.
Driving to Almora takes 10 to 12 hours. From Delhi, it's highway driving throughout. NH 24 connects Delhi to Rampur via Hapur. At Rampur, turn and head north on NH 87 all the way up to Almora. En-route halts include the Wonderland, Rwy crossing, Moradabad and The Kaichi temple, Kaichi.
By plane
Contrary to popular belief, flying into Almora is the fastest way to reach the hill station. Almora is served by PantNagar Airport (
PGH
), located about 4 hours away. It is served only by Jagson airlines. It is one of the least busy airports in the country, handling only 6 scheduled flights a week.
JA 101 - Dep. Delhi 1315 Arr. PantNagar 1415 (Mon, Wed, Fri)
JA 102 - Dep. Delhi 1445 Arr. PantNagar 1545 (Mon, Wed, Fri)
Fare - ₹2250/$ 90 for adults, ₹1400/$ 55 for children.
Taxi fare is around ₹1200-₹1500.

See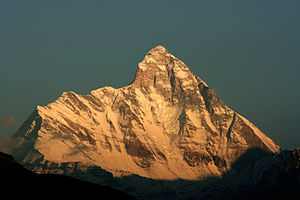 Binsar temple The Bineshwar temple is a large temple complex situated 8 km from Almora. In addition, there is a good view from the nearby Binsar Top.

Temples NearbyThere are many temples in and around Almora. One can visit Chitai Temple, 8 km from city, and a group of temples in Jageshwar (20 km from Almora).
Kasar Devi
, 8 km from the city, has great views.
Do
Walk the famous bazaar - still with glimpses of the old Kumaouni culture

Buy
Copperware
Woolen garments.

Himalaya Woollens

address: Fair View

Local hand woven tweeds that you can also see being made.
Eat
Bal Mithai, a famous milk sweet of Almora. Also Choklate (not chocolate), a condensed milk sweet with fudge-like consistency and Singauri, again a kind of milk sweet wrapped in a green Malu leaf, which gives it its acclaimed flavour.

Drink
Lots of 'adrak' (ginger) tea - the popular local drink - is offered to welcome guests and also to keep warm.

Sleep
Budget
Hotels include the upscale
Club Mahindra
and the relatively down-to-earth
KMVN
(Kumaon Mandal Vikas Nigam) Tourist Rest House.
Ayush Guest House

phone: +91 9719376490

address: Paparsali Badi, Almora

phone: +91 94120 92267

address: Near Taxi Stand Link Road Almora

phone: +91 9410158598, +91 5962251019

address: Kasardevi

The jungal house is home to Kishan and his wife Prema.They live here with their 2 sons Rakhshit & Vishal. They are a typical kumaoni family,living in the central block of the house. They have build the extra room for guests. 4 rooms.
Mid-range
Splurge
Binsar Resort.
Kalmatia Sangam - just outside of Almora.
Khali Estate.
Sitala Estate .
Go next
Binsar is a wildlife sanctuary 25 km from Almora. Taxis can be taken at the Almora taxi stand. The sanctuary has one resort (Club Mahindra Resort) and a forest guesthouse with an attached restaurant. Binsar has a beautifully lazy feel around it. There are jungle walkaways and one can see lots of birds everywhere. In the winter Binsar can be very cold and heavy woolens are required.