Along the Yellow River
The Yellow River (黄河 Huang He) is one of
China
's great rivers and a historic transport route. It is not as important a tourist route as the
Yangtze
further south, but might be of interest to some.
The Yellow River is not tame. Only parts of it are navigable; other sections have quite a rapid current. It has had many disastrous floods; irrigation and flood control projects have been going on in the area for several thousand years and have never achieved complete success.
Understand
Chinese civilization first developed along the Yellow River; the
Shang Dynasty
ruled a region around the river from 1700 BCE. The
Zhou Dynasty
, 1027-221 BCE, expanded the empire into other regions like the lower
Yangtze
(Chang Jiang) basin.
The provinces of
Hebei
and
Henan
take their names from this river. "He" is "river, "bei" and "nan" are "north" and "south" respectively.
Cities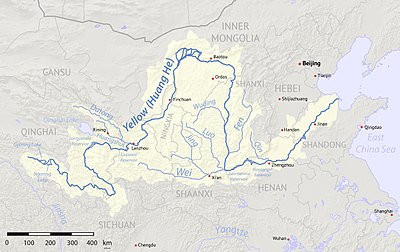 The river rises in
Qinghai
in the foothills of the Himalayas and runs north to
Inner Mongolia
. There it runs in a big arc, with the
Great Wall
following it for some distance, before turning east toward the sea.
Cities on its route, listed from source to coast:
the capital, Hohhot, is near the river but not on it
Of course there are many smaller towns as well.
Over the centuries the river has changed its course several times; the last change in 1853 moved the mouth the length of
Shandong
province. Today the part of the river below Jinan runs northeast and reaches the sea north of the Shandong peninsula; until 1853 it ran southeast and reached the sea on the other side of the peninsula, well south of
Qingdao
.
Prepare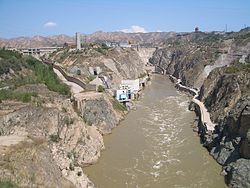 Much of the area is not touristy. If you do not speak Chinese, you will need a least a phrasebook, preferably a bilingual guide. If possible, learn some Chinese before setting out.
Get in
Go
There are trains throughout the area. All the trains to western China (
Xinjiang
,
Qinghai
,
Gansu
) go through
Lanzhou
, which lies on the banks of the Yellow River. The Beijing-Lanzhou "north route" follows the Yellow River for half of its way. The train from
Beijing
to
Tibet
via
Qinghai
passes through several of the cities along the river. There are also boats along some parts of the river.
However, for flexibility if you want to follow the Yellow River, you would need to travel largely by road. Rich travelers might rent a car and driver, see
Driving in China
. Others would use buses, varied perhaps with train or boat for some sections.
Stay safe
Go next
From the inland end of this route, you could turn west onto the
Silk Road
(
Lanzhou
is on the main route), turn southeast to reach
Xi'an
, or go a little west to
Golmud
which is a jumping off point for
Tibet
.
At the coast end,
Beijing
is nearby to the north. Going south,
Shanghai
via
Suzhou
would be the obvious route but there are many other choices.