Alps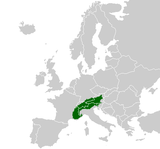 The
Alps
are a range of mountains in
Europe
caused by uplift in the European Plate as it is impacted by the African Plate moving north; they stretch from
Italy
through
France
,
Switzerland
,
Liechtenstein
,
Germany
,
Austria
, and into
Slovenia
.
The highest peaks in Europe outside of the Caucasus Mountains are located in the Alps.
Mont Blanc
(4,810 meters), Dufourspitze (4,634 m) and the world-famous
Matterhorn
(4,478 m) are well known alpine four-thousanders.
Many areas of the Alps are covered by eternal snow and ice. The largest glaciers are located in the Valais and Bernese Alps of Switzerland. The Aletsch Glacier with its 23 km length and 900 m depth is now a
UNESCO World Heritage site
.
Switzerland, Austria, Slovenia and Liechtenstein are often referred to as the alpine countries because much of their territories are geographically and culturally dominated by the alps. The regional provinces of
Bavaria
, (Germany) and
South Tyrol
(Italy) also offer a distinctly Alpine flair.
Regions
A region which is one of the most recognizable symbols of Switzerland. The region covers around 65% of Switzerland's surface area (41,285 km²), making Switzerland one of the most alpine countries. The highest point of the Swiss Alps is Monte Rosa which rises to above sea level. The region also is notable for containing around 1,800 glaciers, which includes also the longest glacier in the Alps - the Aletsch Glacier.
Austrian Alps
The highest point of the Austrian Alps is Mount Großglockner which rises to above sea level.
The region is also noted for its stunning beauty, including many alpine lakes, the largest being
Lake Geneva (Lac Leman)
, Lac d'Annecy and Lac de Bourget; these lakes are year-round attractions for their beauty and access to numerous water sports. This region is also home to famous resorts towns
Chamonix
,
St. Gervais
,
Albertville
(1992 Olympic Winter Games),
Grenoble
(1968 Olympic Winter Games), and
Annecy
with its old city and lake. The highest point of the Alps is found here:
Mont Blanc
, which rises to above sea level.
Italian Alps
The highest point of the Italian Alps is Mount Gran Paradiso which rises to above sea level.
The region, which only composes less than 3% of Germany's total area, is considered one of the most beautiful landscapes of Germany and ranks as one of the most scenic places in all of Central Europe.
A large part of the Julian Alps is included in Triglav National Park. The highest point of the Julian Alps is Mount Triglav which rises to above sea level.
Other destinations
Ski resorts
The Alps are home to some of the largest and most well known ski areas in the world. Much like the mountains themselves they can be found across multiple countries, in some cases making it possible to ski into another nation.
Major ski areas are:

Austria
Germany
France
Italy
Switzerland
Understand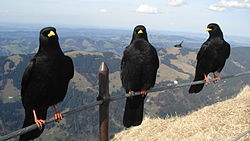 This mountain range is so notable that the name
Alps
has also been given to other mountain ranges, most notably the
Southern Alps
in
New Zealand
and the
Japan Alps
in
Japan
.
Tourism (and the economy in general) is very much geared towards skiing, snowboarding, and other
winter sports
throughout most of the Alps. In ski resorts some of the hotels and other facilities may close. There is now an increase in summer time sports, such as mountain biking, golf, parapenting and whitewater kayaking, which is fuelling growth of the Alps as a year-round tourist destination. The Alps have always been popular as a mountaineering and hiking destination, but clearly this is nowhere near as lucrative for the locals, as the tourist invasion during the winter season.
While agriculture used to play a huge role in the daily lives of people in the Alps, it has been reduced to folklore and subsidized remnants. While
cheese
and other products are still produced in similar ways to bygone eras, the sturdy cow-herder on his "alm" or "alp" watching the animals during the summer is only an afterthought and not the centerpiece of life up there as it once was
Talk
The Alps skirt, straddle, or wholly encompass 7 European countries:
France
,
Italy
,
Switzerland
,
Liechtenstein
,
Austria
,
Germany
, and
Slovenia
. In addition to the standard dialects of the national languages there is a myriad of local dialects – often differing drastically from valley to valley. However in most major towns or tourist destinations some English will be spoken. In general language borders follow national borders, but this is not always the case. German is the official language in Germany, Austria and Liechtenstein and a large portion of central, northern and eastern Switzerland. It is also spoken in Italy's South Tyrol. French is spoken in southern and western Switzerland, France and along the French border in Italy as well. Slovenian, in addition to Slovenia, is spoken by a minority in north-eastern Italy around Trieste and the Italian-Slovenian frontier. Lastly, some people in France near the city of Nice are Italian speakers. Romansh, the fourth official language of Switzerland, is now spoken only in small parts of Switzerland and you will get by just as well with German in those areas.
Get in
By plane
Major international airports in or near the Alps include the airports of
Geneva
(
GVA
), Zürich(ZRH), Basel (BSL), Milan(MXP), Munich(MUC), Innsbruck, Vienna (VIE) and Salzburg.

By train
While the Alps are rather centrally located within Europe, they have been a barrier to all types of travel for millennia. The 19th century brought with it a number of still impressive technological feats "taming" the Alps. While there are efforts to replace some tunnels and bridges with newer, shorter and faster routes, some passes are still used by trains today. The adjacent railways all offer various international tickets into and out of the Alps, most notably Deutsche Bahn, SNCF and ÖBB (Österreichische Bundesbahnen). While the Swiss national railways enjoy a very good reputation, they are rather new to the international business, though there are cooperations with SNCF and DB. For most international tickets special offers are available if you book early and/or avoid peak periods like weekends or holidays.

By bus
Long distance buses are still mostly a new concept west of the former "iron curtain" and thus getting into the Alps from outside the area can be difficult and expensive. There are of course Intercity buses in Germany serving hubs like Vienna, Zürich or Salzburg and during the ski season chartered buses clog the streets with ski-groups, but other than that options can be sparse. Intercity buses in France have also become available in recent years. In Switzerland the "Postauto" has long been a mainstay on mountain roads and a crucial link to the rest of the country for those places not served by any railway.

Get around
By car
Driving is often a practical way for getting around, especially on the countryside. The roads often get very congested in July and August when people from further north head to the beaches of the Mediterranean. The same goes for the ski resorts in winter (though minus the travel trailers). In the winter many mountain roads are closed to traffic and copious amounts of snowfall may mess up the traffic. Due to the high costs associated with tunnel building, some railway-only tunnels have trains carrying cars and their passengers running through them. Depending on your itinerary, taking such a train can save you a lengthy detour, time, money or a combination of all three. Sometimes making use of these offers lets you avoid toll roads. Switzerland, Austria and Slovenia have a flat-rate toll system where you pay once for a certain amount of time (in Switzerland the shortest possible period is one year, in Austria it is ten days with the next shortest being one month, in Slovenia it's one week) to use all normal highways, though there are roads that cost extra (and can in theory be used even by those not paying the general toll). In Italy and France there are distance-based tolls, and in Germany there is (as of 2016) no toll for passenger cars. Trying to avoid toll roads is not only difficult and making your trip longer than it has to be but usually not worth it in terms of money either.
By train
Like elsewhere in Europe, train may be the best kind of public transport. If you like rail travel through scenic landscapes, the Alpine countries are certainly worth considering.
However in some cases train travel may take longer than you expect as the terrain forces all travel to take long detours. For instance, considering the straight-line distance from
Geneva
to
Turin
, a train ride between those cities takes ridiculously long. Some major routes are upgraded with new tunnels and bridges for that reason, but construction is expensive so some routes will still be circuitous for the time being.
Switzerland in particular has an excellent rail network with very good on time performance and one of the densest networks in the world. However, there are surprisingly few
high speed lines
and prices can be expensive as one in four Swiss people has a half-fare travelcard, reducing prices 50% and fares are calculated accordingly. Add the general wealth of Switzerland to the equation and you will have to shell out quite some money for good service.
By bus
Smaller places, especially in Switzerland, are often connected by (post) buses to larger towns.
By plane
Flying
may
be an option if you want to get between the largest cities and time is important. Unlike Norway with a similar terrain, airports in the Alps are more of points for getting into the region rather than getting around.
Alpine pearls
Alpine Pearls
is a consortium of 22 tourism municipalities in 6 alpine countries. The tourism association's objective is to support and promote Soft Mobility: that is offering the possibility for guests to arrive without a car at the holiday destination and to have easy access to public transportation on site and numerous offers of environmentally friendly holiday programmes. The cooperation's members fulfill strict quality criteria like town centers with reduced traffic, transfer services, environmentally friendly leisure time facilities, the guarantee of mobility without car and ecological minimum standards. The individual member municipalities (referred to as Pearls) benefit from the exchange of experiences among each other.
See
Beautiful alpine scenery.
The Jungfraujoch and the highest railway in Europe, Jungfraubahn, leading up to it. There's almost 3 km of altitude difference between Interlaken and the summit station. View on the largest glacier in the Alps.
The view from the Aguille du Midi near Chamonix or its counterpart the Helbronner point in Italy.
On the Gornergrat train, from Zermatt, you can view over 29 four-thousanders (mountain peaks above 4,000 meters).
Do
The best things to do in the Alps will vary from region to region, but in general mountain sports would be the thing to do!
Climb mountains or go hiking.
Go mountain biking. In many places you can take bikes up the ski lifts during the summer.
Go whitewater kayaking or rafting.
Go paragliding
Eat
The cuisine in this region developed to rely on dairy and imported dry ingredients when fresh food was scarce during the winters. Melted cheese fondues of many types are available, as are muesli and chocolates.
Cheese
is a local specialty available in myriad varieties.
Drink
A typical alpine thing to drink is liquor with herbs and spices that grow in the area

Stay safe
Because the Alps have few major metropolitan areas, violent crime is relatively low in this expansive region. In the larger towns and cities normal levels of crime will exist but these are nothing that can not be accounted for with a little common sense. Most commonly crime is relegated to the level of petty theft, pick-pockets, etc.
Venturing out of town for outdoor activities, especially in winter, there are dangers related to
cold weather
and
mountaineering
. Know what you are doing. Especially note the danger of
avalanches
.
Go next