Altötting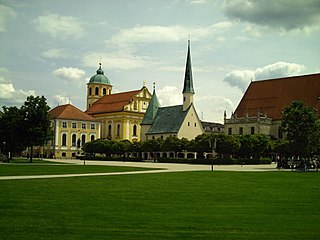 Altötting
is one of the most important and most visited Catholic pilgrimage destination in
Europe
. The city is in
Upper Bavaria
, close to the
Austrian
border.
Understand

First mentioned in the 8th century (although the first settlements probably date back more than 3000 years), Altötting's ascension as a Catholic pilgrimage destination began in the 9th century with the construction of a first monastery by King Carloman of Bavaria.

Get in
By plane
There are two airports that are suitable for a trip to Regensburg:
Munich International Airport (MUC

), one of the busiest airports in Europe, is located 80 km (50 mi) to the west of the city with many international connections.

Salzburg International Airport (SZG

) is situated 60 km (35 mi) to the south of Altötting and has mostly domestic (Austrian) and a few European connections.
By train
Altötting station is conveniently located just south of the city center, but due to its very small size lacks most amenities of a modern train station. There are hourly connections to
Munich
(90 min) and
Landshut
(75 min), and a bihourly connection to
Salzburg
(105 min). With all connections there is a change of trains in Mühldorf am Inn.
By car
With its rather remote location close to the Austrian border, Altötting isn't so well connected to the German highway network. The most important ones are autobahn A 94 to Munich and federal highway B 20 to Salzburg.
On foot
Altötting, given its importance for German Catholics, is a major destination of pilgrimage. These pilgrimages are mostly organised and go for 120-200 km and 3-5 days.
Get around

Given the city's small size, Altötting is easily navigable on foot. Furthermore, basically all main attractions are located around the central town square.

See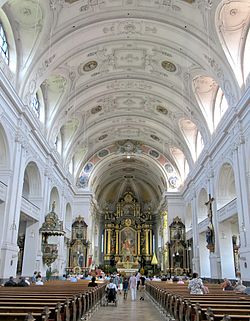 address: Bruder-Konrad-Platz

The basilika is the largest church in Altötting, with space for up to 8,000 people. The services, that conclude the pilgrimage, are held in this Neo-baroque building.

Conventual Parish Church St. Philipp and Jacob

address: Kapellplatz

The first church at the location dates back to 876, but today's structure was completed in 1511, as the huge number of pilgrims demanded for a bigger church. St. Philipp and Jacob is a Gothic hall church.

Jerusalem Panorama Crucifixion of Christ

phone: +49 8671 6934

address: Gebhard-Fugel-Weg 10

The largest historic panorama in Germany shows the crucifixion scene on a 12 metres high and 95 metres long oil on canvas painting, that surrounds the whole interior of the structure.

phone: +49 8671 9242015

address: Kapellplatz 4

The museum, opened in 2009, is focused on the history of pilgrimage in Altötting. The most valuable exhibit is a gold and enamel altar from 1404, the so called Goldenes Rössl.

Shrine of Our Lady of Altötting

address: Kapellplatz

The shrine and the Black Madonna, that is housed in the shrine, are the destination of every pilgrimage to Altötting since 1489. The chapel itself dates back to the 8th century. Three bodies and 28 hearts are buried in the structure, mostly of the royal Bavarian Wittelsbach dynasty. Three Catholic popes visited the shrine: Pius VI in 1782, John Paul II in 1980, and Benedict XVI (who was born in the nearby town of Marktl) in 2006.
Do
City Festival

address: Kapellplatz

The annual city funfair is taking place at the end of July around the central Kapellplatz square.

address: Dultplatz

The Parish Fair is an annual one week long fun fair and traditional Bavarian beer festival.
Buy

Around the central Kapellplatz square are numerous shops for devotional objects, such as Black Madonnas in several sizes, rosaries, figures of saints and angles, icons, candles, crosses, and the like. There are also some bookstores on religious matters.

Eat
phone: +49 8671 5422

address: Mühldorfer Straße 1

The restaurant with sun terrace is conveniently located at the central square and serves traditional Bavarian food.

phone: +49 8671 96140

address: Graming 79

A little outside of Altötting proper, this traditional restaurant serves Bavarian food and brews its own wheat beer.

phone: +49 8671 6868

address: Kapellplatz 12

The Bavarian restaurant with sun terrace right at the city's central square is one of the most popular places for visitors.
Sleep
phone: +49 8671 5040

address: Kapellplatz 2

The hotel is one of the most traditional lodging establishments, first mentioned in 1280. The present-day building was designed by Italian architect Enrico Zuccalli (who also desigend parts of Munich's Nymphenburg Palace) in 1688 and today is the place to stay for bishops and presidents (and everybody else who can afford it), should they visit the city.
Connect
McDonald's Restaurant

phone: +49 8671 969843

address: Mühldorfer Straße 67

The restuarant of this well-known burger chain offers free wifi on its premises.
Go next