Alta
Alta
is the largest city in the county of
Finnmark
, in
Northern Norway
.
Understand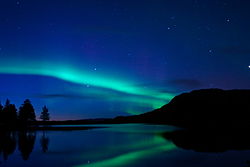 Alta is also known as "the
Aurora Borealis
city".
The tourist information seems to move around on a daily basis, so the first thing you might do is wind up traveling all over Alta looking for it. As of June 2012, the information center is in the Nordly hotel, on the left, just as you enter town from the South. (You may notice other information signs as you travel through Alta, but almost all of them point to centers that have closed.)
Fun facts
Jafet Lindeberg and others with experience from the copper mines in Kåfjord started gold digging in Alaska, and triggered the gold rush at Nome. Lindeberg emerged as one of the richest men in USA and was nicknamed "King of Alaska". Lindeberg and his associates originally came to Alaska as herdsmen for the live reindeer exported from Alta. The reindeer export was an attempt to create a new business for the inuits. A number of emigrants of Sami origin also traveled to Alaska along with several hundred reindeer. Among them Samuel Balto that gave name to Balto the husky. Later the Lomen family of Minnesota (who had emigrated from
Valdres
) established a large reindeer industry and arranged "reindeer processions" in the streets of US cities as a marketing trick. These reindeer processions may have reinforced the image of St Clause traveling by reindeer.
Get in
By plane
By car
Fastest from south Scandinavia to Alta: E4 to Luleå, then E10 and 392 and 403 past Pajala to the border to Finland, then E8 and road 93/E45.
Get around
By bus
Search
here
for bus connections.
By foot
Alta is not a large city, but distances inside it are larger than might be expected. E6 is 12 km long inside the densely populated area.
See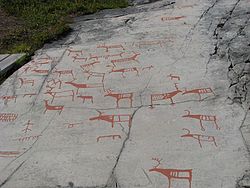 Prehistoric rock carvings - UNESCO World Heritage SiteRock art is found in five separate areas in Alta, the largest being at Hjemmeluft/Jiepmaluokta, where Alta Museum is situated. This is the only area available to the public. In the summer season, groups are offered guided tours to the rock carvings. In the winter, the rock carvings are covered with snow, and not available to the public. The rock carvings in Alta were made by hunters and fishers in the Late Stone Age/Early Metal Age, between 6200 and 2000 years ago.
Do
phone: +47 997 94 256

address: Klekkeriet – Kulturnæringshus, Vesterhaugveien 1, Bossekop – Alta

Local organizer of Aurora Borealis hunting expeditions. Also offers: cross country skiing, snowshoeing,canoeing and mountain biking guided tours.
Buy
phone: +47 41 75 63 30

address: Altaveien 19

Giftshop for the Alta Museum. Great selection of books and homewares from the region, and a decent selection of Sami handicrafts.

phone: +47 906 05 586

address: Sentrumsparken 4

Unassuming luggage shop with a good selection of Sami knives and other Sami products inside, with prices slightly cheaper than the museum shop. Also stocks a wide selection of keyrings, magnets, trolls and other trinkets.
Sleep
Search sites such as
booking.com
find around 5 places for accommodation in or near Alta.
;Cheap
phone: +47 48241169

address: Kvenvikmoen, 9518 Alta

This hostel is about 14km from Alta, so it is hard to get to without a car. A public bus passes it once in the morning on the way to Alta, and there is one bus back in the afternoon.
;Mid range
Best Western Nordlys Alta

phone: +47 78457200

address: Bekkefaret 3
;High end
Rica Alta

phone: +47 78482700

address: Løkkeveien 61

phone: +47 78494000

address: Labyrinten 6, 9510 Alta