Altai Krai
Altai Krai
(
Russian
: Алта́йский край
uhl-TIGH-skee krigh
) is in a region
Western Siberia
. It is located immediately west of the semi-autonomous
Altai Republic
. Both regions are named after the stunningly beautiful
Altai mountains
and are home to the Altai people, an ethnically Turkic group living in the region for over 10,000 years. During Soviet times, Altai (both Krai and Republic) were very popular tourist destinations, particularly for adventure tourists interested in fishing, hunting, mountaineering and related mountain sports. In beauty, the Altai Krai is comparable to the
Kenai Peninsula
in
Alaska
or the Swiss
Alps
.
Altai Krai borders
Novosibirsk Oblast
to the north,
Kemerovo Oblast
to the northeast, the
Altai Republic
to the southeast, and
Kazakhstan
to the south and west.
Cities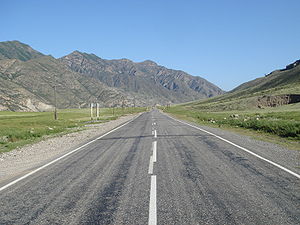 - the capital of the region.
- the gate to Mountainous Altai.
Smaller towns
- locally renowned resort and health center.
- the birthplace of Vasily Shukshin, Russian writer and actor.
Understand
Climate

The winters in Altai are severe, with temperatures in the -30 (Celsius) not uncommon. In the summer months,
Altai enjoys a continental mountain climate with hot dry air and cool nights.

Get in
From Mongolia: there is a bus from Tsagaannuur,Mongolia to Astana,Kazakhstan that passes through Altai Krai and the Altai Republic. The roads in Altai are excellent (as of July 2009) and travel by road is the preferred and most scenic option.
From Kazakhstan: the return leg of the above bus.
Barnaul Gherman Titov International Airport (BAX

)
See
Itineraries
Chuysky Highway (Чуйский тракт) is a road from Novosibirsk to Mongolia, that goes through Berdsk, Biysk and down south to Altai Republic, where the landscape changes from steppes plain to scenic mountains covered with snow. The highway is very popular among motorist and cyclists.
Do
A variety of adventure resorts exist in Altai Krai. In Russian, these camps are affectionately known as Bazi Otdiha (Rest Bases). At most camps, the traveler can expect to rent horses, indulge in a banya, or rent fishing or river equipment. The bases are inexpensive and welcoming of Western-style backpackers. They offer campsites and can serve as a valuable resource for information about particular sites/passes and mountain locations.