Altamonte Springs
Altamonte Springs
is a northern suburb of
Orlando
in
Seminole County
,
Florida
.
Understand
The city's name is believed to come from the Spanish term for "high mountain." The population was about 42,000 and rising as of 2013.
The city began its rise in growth and status in Metro Orlando in the early 1970s with the construction of the Altamonte Mall which was originally anchored by Sears, Burdines, Jordan Marsh and Robinson's of Florida. It was the metropolitan areas first two level shopping mall. The Interstate Mall across the highway also opened anchored by Montgomery Wards department store and AMC Interstate Six Theaters. Luxury modern apartment complexes were soon lining Wymore Rd., Lake Orienta and Palm Springs Dr. Many new homes subdivisions began sprouting up along Montgomery Rd., Maitland Ave and Palm Springs Dr. and the beautiful wooded areas surrounding Sanlando Springs, Wekiva Springs and the Wekiva River. Growth boomed through the 1970s and 1980s into the 1990s before leveling off around the new Millennium. Growth picked up again at a steady pace in the mid-2010s as the city became more established and considered a more "close in" location to Downtown Orlando and the booming offices of Maitland Center.

Get in
As in most of Florida, the easiest way to get in is by car.

Get around
The easiest way to get around is also by car.
By train
SunRail, +1-855-RAIL-411 (7245-411). It is limited to a north-south route through the center of the area, with a southern end in Poinciana, and northern end in DeBary. Bus connection is provided from Orlando International Airport to the Sand Lake Road station by Links 11, 42 and 111; and from Orlando-Sanford International Airport to the Sanford station by Link 46E.
The Altamonte Springs SunRail station is at 2741 S Ronald Reagan Blvd.
Base one-way fare is $2, with an addition of $1 for each county line crossed. A round-trip ticket is slightly cheaper.
There is no service on weekends and some federal holidays.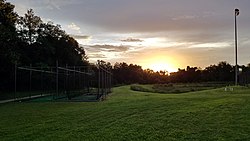 See
Parks
address: 274 Cranes Roost Blvd

A 37-acre lakeside park features one mile of continuous lighted boardwalk and covered pavilions, various ornamental plants, huge shade trees, park benches, floating stage, 900-seat amphitheater, handicapped accessible restrooms and ranger station. Many of the City's major events take place here.

address: 830 Magnolia Drive

Eastmonte Park is one of the City's premier parks and is home to the Altamonte Baseball Academy, racquetball and tennis programs and Special Needs activities. The park features great amenities including: 3 picnic pavilions, 4 indoor air-conditioned racquetball courts, 5 lighted baseball fields; 3 with artificial turf infields, batting cages and pitching lanes, playground area with handicap accessible features, lighted tennis court, bambino buddy ball field, outdoor basketball court.
Hermit's Trail, Hermit's trail and Highway 436 - This small neighborhood park offers both active and passive recreation options including an equipped playground, and picnic pavilion.
Lake Lotus Nature Park, The park is a 150-acre nature preserve in west Altamonte Springs. Open Thursday-Sunday 8:30AM-5:30PM
Lake Orienta Public Boat Ramp and Recreational Area, A 1.5-acre picnic/recreation area with access to lake Orienta, which boasts 135 acres of lake that allows for fishing, skiing, and other water sports.

address: 985 Merrill Park Dr, Altamonte Springs, FL 32714

Softball fields, beach volleyball courts, picnic pavilions, playground, exercise trail.

phone: +1 407-665-2100

address: 401 W. Highland Street Altamonte Springs 32714

Near Cranes Roost Park and adjacent to the Seminole Wekiva Trail, a large park with tennis and racquetball courts, full-court basketball, playground, pavilions, and hiking trails. Tennis and Racquetball court usage incurs a fee. One of the hiking trails runs along the backside of Seminole Softball Complex.
Sunshine Park, Located near Lake Orienta Elementary on Oakland Drive it's a one half-acre park with walkways and benches.
Turnbull Avenue Park, A neighborhood park with picnic tables and playground equipment.

Westmonte Park

address: 225 Newburyport Ave
**Closed for renovation until Spring 2019** Outdoor pool and deck, multi-purpose room, therapeutic pool, senior activity room, playground, 100-person pavilion, 2 tennis courts, 3 pickleball courts, basketball courts, 4 bocce courts, multi-purpose field.
Do
Trails
Seminole Wekiva Trail

address: 371 San Sebastian Prado, Altamonte Springs, FL 32714

A nearly 14-mile paved trail built on the former Orange Belt Railway. The trail has more tree-lined than open sections and passes near several parks. It starts at 436 near 434 and runs mostly North to Lake Mary where it joins the Cross Seminole Trail at the pedestrian bridge over Interstate 4 in Lake Mary. There are several trailheads along the route with differing amenities including restrooms and water fountains. A local artist and carpenter, Jeff Sonksen, started a project named, Paint the Trail. It is an impressive collection of trail side paintings. Heading North on trail, look for the paintings just south of E.E. Williamson Rd. Several locations on the trail have paintings.
Buy
Scan Design- contemporary furniture
Uptown Altamonte
West Town Corners
Eat
Budget
There are a lot of chain restaurants.
Mid-range
Taste of India, State Road 434
"Murano's", Cranes Roost Park, Uptown Altamonte
Bubbalous Bodacious Barbecue, E. Altamonte Ave. (SR 436)
Splurge
Seasons 52

address: 463 E. Altamonte Drive.
Drink
Cool Wave Frozen Drink

phone: +1 407-865-7405
Sleep
Days Inn

address: 150 South Westmonte Drive

Quality Inn

address: 235 S Wymore Rd

Howard Johnson Plaza Altamonte

address: 230 W. State Road 436

The Howard Johnson Plaza Altamonte formerly the Magnuson Grand Hotel Orlando is a short drive to Disney World, Sea World, Universal Studios, Amway Arena, Orlando Space Center and other local attractions.
Budget
Mid-range
Splurge