Altiplano (Bolivia)
The Bolivian
Altiplano
is the area of the Andes above about 3,500 m in
Bolivia
. The altiplano stretches into neighbouring
Peru
and
Argentina
.
Other destinations
– Bolivia's première ski resort, located right by one of the country's highest mountains.
– A popular commercial hiking destination from La Paz. Though, with 6,080 m still 500 m short of Bolivia's highest mountain Nevada Sajama, which can also be climbed.
– Popular for organised jungle trekking.
– The underrated gem of Bolivia, impressive and challenging trails in an often quiet and altiplano surrounding.
– Definitely the highlight of Bolivia, and even though very touristy, still worth doing a tour here, especially the 3-4 day tour towards the Chilean border.
– An archaeological site just 1.5 hr from La Paz, but a little overpriced.
– "Death Road", infamous for being the most dangerous road in the world, in the Yungas Region, the notoriety of this road from La Paz to Coroico has turned it into a popular destination for international tourists, especially bicyclists. Bolivia has finally finished the alternate paved route, so there is far less traffic on this road, and is at least a little safer for that.

See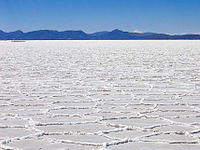 One of the highlights of this region is the
Salar de Uyuni
: 200 square miles of flat dazzling white salt at an altitude of 3700 metres. There are many tours of this salt flat from
Uyuni
- or for a four-day tour choose the one from
Tupiza
near the
Argentine
border. There are many fascinating islands on the lake with giant cactii growing everywhere. On longer tours, you can see the highland lagunas in the southeast near the border with
Chile
. Best known are the Laguna Colorada and the Laguna Verde, as well as the Árbol de Piedra.
Stay safe
During the Bolivian winter time (in June and July) the temperatures can drop really low so bring good winter clothes and a sleeping bag suitable for temperatures below 0 degrees.