Alto Paraíso de Goiás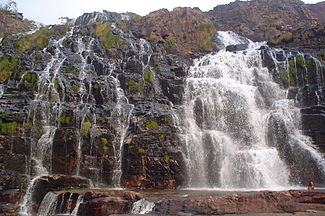 Alto Paraíso de Goiás
, often shortened to
Alto Paraiso
(Highland Paradise), is a city in the
Brazilian
state of
Goias
. It is the main gateway to the
Chapada dos Veadeiros
region.
Understand
Alto Paraíso is home to some 40 mystical/ philosophical/ religious communities (Daimists, Oshoists, Hare Krishna, Kardecists, Protestants, Buddhists and others). It is believed that the huge geological layer of quartz crystal underground makes this a region of the Planet that was chosen to receive enlightened beings, creators of the Age of Aquarius, and emanate positive vibrations. The parallel 14, which crosses
Machu Picchu
in
Peru
, also does so on Alto Paraíso, more precisely upon the Zen Garden (there is a small monument, full of stones and flowers, on the highway en route to
Cavalcante
), a beautiful scenery and stage to fantastic stories involving UFOs and ETs. On the road to São Jorge is the impressive Morro da Baleia (Mount Whale), a close second in mystic beauties and mysteries. Within the municipality are several of the best and most beautiful waterfalls in the country, especially in this sense the rivers Preto, São Miguel and Couros, tributaries of the mighty river Tocantins in Amazon Basin.
Get in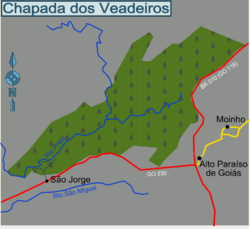 By plane
Most air travelers arriving at the
Brasilia
airport. There is a small domestic airport here, for small planes, but there are no regular air services.
By bus
The companies that make the route Brasilia-Chapada are Real Expresso e Santo Antônio.
By car
From Brasilia, take the BR-020 toward Salvador (for those arriving by plane: Airport> South Eixão> North Eixão> Bragueto Bridge> Torto Roundabout> Posto Colorado> Sobradinho) and turn left into the BR-010 (GO-118) after Planaltina (the roundabout is well signposted). Total distance from Brasilia is 230 km.
From Goiânia, pass Brasilia and follow the above route.
Get around

The city itself is very small and easy, a Main Avenue (Avenida Ary Valadão Filho) starts on the road and cuts through the whole of it. The Bus Station is two blocks to the right of Main Avenue and all the "buy", "eat", "drink", "stay safe" and half "sleep" options are either at Main Avenue, (at most) two blocks away of it, or close to Bus Station. It´s that simple.
There are a lot of waterfall options around Alto Paraiso (Loquinhas are the closest and coziest, Crystal River is close too, there is a hiking trail to Sertão Zen, a little harder, Couros and Macaco rivers require a 4WD vehicle), but the best ones are around Vila São Jorge (St. George Village) 36 km west, the gateway to the National Park. There are vans and little difficulty to hitchhike. The road is very scenic, half of it is paved already, but the dirt part can get a little annoying during the rainy season (October-April).

See
City Portal - Stone arches welcome the visitor, at the entrance of APG.
Mirante do Pouso Alto- Monument on Pouso Alto hill, highest point of Goiás state - 1.676 m.
Jardim Zen (Zen Garden) - Monument marking Parallel 14, ahead on the highway
Little Stonehenge - beside the City Portal, parallel to the road, curious arrangement of granite blocks, worth a pic.
Waterfalls
Loquinhas

phone: +55 61 9662-2115

seven emerald pools. Easy for children and elders. Slave-built stone wall, ecologic treks, 780m of wood wakways beside córrego Passatempo, easing the walk and preserving the environment.

Rio Cristal

phone: +55 62 9668-0159, +55 62 9659-2624

address: Rodovia GO 118

several falls and pools, easy access, bar and restaurant.
Sertão Zen - 8 km of hard trek, going along good bouldering and climbing options, cozy fall with stunning abyss view at the end. Better hire a guide.
Portal da Chapada- Rodovia GO-239, km 8 - at Fazenda São Bento, after 3 km of dirt road, and 1 km walking, another Chapada wonder, on rio dos Couros, Almécegas I - The Fall. Following the dirt road a little more, Almécegas II - The Pool, a few meters walking. São Bento waterfall is a gorgeous natural pool, where water polo matches are held, very easy access for children.
Anjos e Arcanjos - Moinho a 10 km - medium difficulty trek, the falls are worth it. It's customary to jump (35 m) from one to the other.
Vale da Lua (Moon Valley)- Rodovia GO-239, km 30 - on Rio São Miguel, an unbelievable moonlike landscape, not for swimming, just bathing. Extra caution on the rainy season, as this place has already claimed the lives of many careless unlucky fellows.
Vale do Rio Macaco (Monkey River Valley, 50 km) Waterfalls and canyons complex. Arduous trekking on rugged terrain. Great for canyoning. 4WD vehicle and hired guide recommended.
Cataratas dos Couros (28 km) On Fazenda Boa Esperança, sequence of 4 lovely falls on Rio dos Couros, 4WD vehicle and hired guide also recommended.
Poço Encantado - rodovia GO 118, on the way to Cavalcante, 35 km from APG - beautiful fall with spacious and calm pool, very recommended for children.
There are a lot more; local people will be happy to talk about it.
Do
There is a New Age quality about Alto Paraiso, lots of people come there looking for Positive Vibration and alternative stuff. As a rule of thumb, "quiet" people stay here and "party" people stay at São Jorge.

Buy
Crystal souvenirs, hippie clothing and pinga de arnica (pinga: strong liquor, arnica: spicy vegetable with medicinal properties)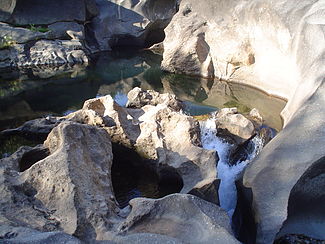 Eat
Avalon

phone: +55 62 3446-1046

address: Av. Ary Valadão Filho, 1350

Fondues, pasta, lasagnas, fishes and steaks; organic and vegetarian options;good wine selection.

Cravo & Canela

phone: +55 62 3446-1376

address: Av. Ary Valadão Filho, 1363, Q 62, lt 03

Coffee, vegetarian snacks, broths and desserts. Jewels, bijoux, ayurivedic massage, and musical instruments.

Restaurante Goiano

phone: +55 62 3446-1880

address: Rua dos Buritis/Palipalan

Traditional Goiano food, feijoada, salads. They deliver.

Nativus

phone: +55 62 3446-1036

address: Av. Ary Valadão Filho, esquina com GO-118

Self service.

Jambalaya

phone: +55 62 8438-5352

Self-service.

JatôSelf-service.

Massas da Mamma

phone: +55 62 3446-1362

Italian food.

Oca Lila

phone: +55 62 3446-1006

address: Av. João Bernardes Rabelo, 449

Buffet lunch. Pizzas, calzones, focaccias, caldos, sandwiches, beer, wines and live music at night. Accepts Visa and Mastercard.

Pizzaria 2000

phone: +55 62 3446-1814

address: Av. Principal

Pizzas, beer, live music and belly dancing.

Rancho do ValdomiroVery scenic location at foot of Morro da Baleia. Owner famous for sympathy. Cachaças, licores, doces and artesanal cheeses.

Sem Fronteiras

phone: +55 62 3446-1435

address: R. São José Operário Q 51 lt 17 nº 251, Paraizinho

Mexican, Italian and Goiano options.
Drink
Alquimia

address: Av. Ary Valadão Filho, 875, centro

Beer and live music. Local musicians are above average and favor playing rock, blues, reggae and esoteric stuff.

Ocacultural workshop by day and shows/parties venue by night. Jan 2013: closed for reform.
Sleep
phone: +55 62 3446-1225

address: R. Joaquim de Almeida, 15 - Center

Indoors pool, sauna, WiFi, colonial breakfast, rooms have TV and frigobar, suites have cable TV and DVD.

phone: +55 62 3446-1319

address: R. Gumercindo Barbosa, 233

Big garden with trees, rooms, single and double chalets

phone: +55 62 3446-1494

address: Rua 3, Quadra 4, Lotes 13/15, Estância Paraíso

Private garden, hammock, fire corner, wi-fi, colonial breakfast, rooms with bathroom and minibar (the latter on demand). Website in English, Spanish and Portuguese.

phone: +55 62 3446-2113

address: R. Joaquim Costa, 234

10 rooms, double & triple. Meditation temple and therapy facilities. Therapy groups welcome.

Hotel Europa

phone: +55 62 3446-1558

address: R. 01 Qd. 107 lt 01

Big structure, sober style, family oriented.

phone: +55 62 3446-2062

address: R. 11, qd. 11, lt 4/5 Estância Paraíso

Built on Feng Shui principles, seven suites, ample meditation room, WiFi, fireplace, outdoors coal oven, soccer lawn, big garden. Visa accepted.
Go next
If you don´t enter Alto Paraiso and keep on the road going north, you´ll end at
Cavalcante
(87 km) with another hundred waterfalls (try looking for Rei do Prata). If you go through Main Avenue all the way, you´ll end at Vila do Moinho (Mill Village, 10 km), home to Anjos e Arcanjos (Angels & Archangels waterfall). Both are worth the trip and both trips have very beautiful landscapes.