Alton Towers
Alton Towers
, the largest theme park in the
United Kingdom
, is in
Staffordshire
,
England
.
Understand
Alton Towers, which is owned by Merlin Entertainments, is generally considered by roller-coaster enthusiasts to hold its own with any such park in the world.
Nemesis and Oblivion (you get the picture) are white-knuckle rides to match anything in Europe and most rides in the USA. The park is very well themed and is built in a number of zones, namely Tower Street, Mutiny Bay, Katanga Canyon, Gloomy Wood, X-Sector, Forbidden Valley, Dark Forest, Cloud Cuckoo Land, and CBeebies Land. The ruins of this stately home are even used in a ride - Hex.
Alton Towers is well signposted from the major motorways and is easily accessible from the major cities in England. Those visitors who wish to overnight can stay at one of the park's two hotels - the Alton Towers Hotel and the newer Splash Landings Hotel, which is also associated with a spectacular water park.
History
Get in
By car
Alton Towers is accessible both the M6 and M1 motorways. As it is a major tourist attraction it is very well signposted. Be prepared to drive the last few miles on narrow country lanes.
By train and bus
The public transport links to Alton Towers are infrequent Alton Towers, but good options exist seasonally from
Stoke on Trent
,
Uttoxeter
and
Derby
.
You will need to be at either: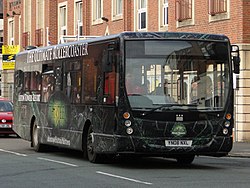 Derby train station or Nottingham bus station to catch the
X52 bus
to Alton Towers. There is only one bus per day April-August so make sure you don't miss it. As of 2019 the prices of the X52 are:
from Nottingham: (one-way/return) adult £10/15, child £6/9
from Derby: (one-way/return) adult £8/12, child £5/7
Stoke-on-Trent train station, then catch the 30 bus to the Towers.
Uttoxetter train station, then catch the 32A bus to the Towers. This bus has an average frequency of about once every two hours and is a local service, servicing all the little villages around Alton Towers. These buses have gained a reputation with the locals as being a bad service and there is little need to use them as getting to Uttoxetter requires changing or passing through at either Derby or Stoke.
Get around
By foot

The best way to get around the park is on foot. You can get a free park map from staff at the entrances or at various information points scattered throughout the park. The park is quite large and is very hilly so be prepared to walk long distances between rides.

By monorail

There is also a monorail between the hotels and car-park and the park entrance. This is quicker than the 10 minute walk between the two but can have large queues during peak times.

By cable car

Also you can use the cable car (skyride) to get between the park entrance and the pirate themed area known as Mutiny Bay, Forbidden Valley which is an alien themed area and fountain square, for the towers, Cloud Cuckoo Land (one of the two children's areas of the park) and the Dark Forest. It is advisable to use the skyride when traversing the valley between Forbidden Valley and Fountain Square as it is a very long and steep route through the parks gardens.

See
The maze

The GardensOverlooked by many visitors, the gardens at Alton Towers were an attraction long before the modern resort. Providing a quieter, more serene attraction. Perfect for picnics.
Do
Thrill rides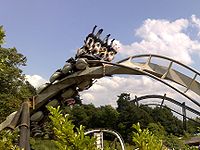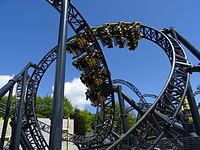 There are 10 main thrill (or 'white knuckle') rides which are designed to provide maximum excitement and fear to riders.
Family rides
Other rides worth a go are the following:
CBeebies Land
Section within the park aimed at younger visitors.
Other activities
WaterparkA fantastic indoor water park.

Extraordinary GolfA crazy golf course.

phone: +44 871 702 7043

If you wish to get pampered by the spa then a booking in advance via either phone or the website.
Buy
Various ride photos.
Towers Trading

address: Towers Street

Home to one of the UK's biggest gift shops, stocking every single bit of Alton Towers merchandise under the sun!

Top Dog Days2 for 1 vouchers and discounted tickets for entrance to Alton Towers
Eat
There is a number of full service
restaurants
, fast food outlets and stands throughout the park including a Pizza-Pasta buffet an American BBQ and a Mexican restaurant. This is all as well as various stands serving curry, chilli, filled jacket potatoes, etc., together with traditional English dishes such as fish and chips. If you wish to bring your own food into the park, there is a picnic area beside Mutiny Bay and lockers are located throughout the park.
Drink
Cafes and vending machines distributing soft drinks, water and juices are plentiful throughout the park.
The Rehydrator

address: X-Sector

The Courtyard Tavern

address: Mutiny Bay

Woodcutters Bar & Grill

address: The Towers

Serves alcoholic drinks in the theme park.
Sleep
Alton Towers has two on-site hotels for overnight stays.
phone: +44 871 222 1100

A four-star quirky English escape with direct access to Alton Towers Theme Park via. the Woodland Walk, or just a few minutes walk to the Alton Towers Monorail.

phone: +44 1538 704600

Home of Alton Towers Water-park. A Caribbean-themed three-star hotel just a minutes walk from the Alron Towers Monorail.
There are many hotels and restaurants in the surrounding
Derbyshire
and
Staffordshire
area.
Ashbourne
, a historic marketplace town, is nearby and has a number of hotels and B&Bs.
Cope
Facilities include:
There are 7 baby changing facilities located within the toilets around the theme park. Should you forget any essentials such as nappies, bottles and dummies (pacifiers), these are stocked at the Towers Trading Store.
There is a First Aid Centre between the Towers Family Restaurant and the Skyride Station on Towers Street.
There are several cash points located around the park, but the only free ATM services are on Towers Street.
Designated smoking areas are provided across the resort, including at Alton Towers Hotel and Splash Landings Hotel. Smoking is no longer permitted outside of these areas, including the use of e-cigarettes.
Stay safe

All rides, have posted safety instructions which should be observed. Staff members are well trained in first aid. Major incidents are incredibly rare, the operators considering it a professional responsibility to ensure a safe experience, despite the thrills.
In summer the place becomes overcrowded, so beware of pickpockets.

Go next