Altrincham
Altrincham
is in the Metropolitan Borough of Trafford in
Greater Manchester
and lies within the historic County boundaries of
Cheshire
. The town has rather subsumed the neighbouring boroughs of Hale, Timperley, Broadheath, Hale Barns and Bowdon. Once a busy shopping / market town, Altrincham has reinvented itself as a eating and drinking venue based around the Old Market Hall which is now a thriving hub for families and revelers enjoying the wide range of food and drink available.
In the Sunday Times Best Places to Live 2018 survey, Altrincham was voted the best place for the North West of England; it was also voted Best High Street in 2018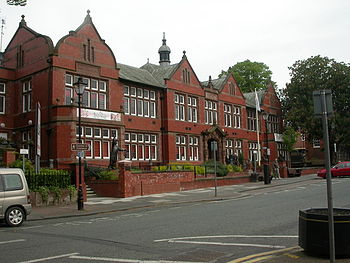 Get in
Altrincham Interchange is the main transport hub for Altrincham: it has the tram, train and bus stations, and the main taxi rank.
By tram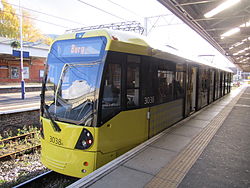 Altrincham is served by the excellent Metrolink tram system from
Manchester
city centre and other destinations in Greater Manchester.
Timperley, Navigation Road and Altrincham are all tram stops within Altrincham borough; Altrincham is the tram terminus.
A 12-minute services operates to both Bury via Manchester City Centre/Victoria Station (M-F 7:00AM–8:00PM) and Piccadilly Station(M-Th 5:49AM-11:37PM; F & Sa 5:49AM-12:37AM; Su 6:49AM-11:37PM) for mainline trains; this gives a 6-minute service to Manchester city centre.
If travelling on a weekend and particularly a Sunday, check that there are not alterations to the service, as part of the Metrolink expansion/improvement works.
Metrolink tickets
must
be purchased from machines on the platform
before
you travel.
By train
If travelling from Manchester Piccadilly it can be more convenient to take the train rather than the tram, prices are similar, travel times are similar; the advantage is that you are on the same level if changing trains. The disadvantage is that trains only leave every hour as opposed to every 12 minutes of the tram (6 minutes if you change trams at St Peter's Square). The Altrincham train usually leaves Piccadilly from Platform 5 and is the Chester (via Northwich) train.
Altrincham's main station is
Altrincham
which is also a Metrolink terminus, but and
Navigation Road
stations are on the same line and also offers train services to
Manchester
,
Stockport
,
Knutsford
,
Northwich
and
Chester
.
If travelling from London on Virgin Trains, all their trains stop at Stockport; it can be easier to alight at Stockport and catch an Altrincham train from there. As has been stated though, check the timetable as they are normally only one train per hour.
The train from Manchester Piccadilly to Altrincham continues to the Roman town of
Chester
and passes through the Cheshire countryside and various towns and villages on the way, including Delamere. It is good value for money, though not a particularly luxurious train.
Tickets can be bought from the conductor on the train but it is recommended that you purchase at the ticket office on platform 1 at Altrincham or the ticket machines at Navigation Road and Hale as the new franchise holder is getting 'tough' on ticketless passengers. If there are two of you travelling together, ask for 'Duo' tickets where the second passenger travels half price. Single tickets are nearly as expensive as a return.
By plane
Manchester Airport
(
MAN
) is only about 5 miles (8 km) away. Buses (Arriva No. 18) are available to Altrincham from the airport however taxis are often the best choice. It is possible to travel into Manchester by train and then to Altrincham by either tram or train. Alternatively you can travel by tram from the Airport to Cornbrook and then onto Altrincham by tram from there (this is not a fast journey and will take about 90 minutes).

By bus
Altrincham Bus Station is part of Altrincham Interchange and is adjacent to the railway station on Stamford New Road.
Buses from Manchester are available, though invariably take longer than the tram or train.
Buses are also available to many other destinations including Manchester Airport, the Trafford Centre, Knutsford and Warrington via Lymm.

By car
The nearest motorway is the M56, which passes within a few miles of the town; you can use Junction 7 (Bowdon) and then the historic A56 (which prior to being diverted was once the Roman road from Chester to Manchester) or Junction 6 (Hale Barnes) and use Hale Road. Both these will take you into Altrincham town centre.
However, when travelling from London and the south the M6 (junction 19) is about to the southwest of Altrincham.
Travelling to Altrincham from Manchester City Centre the most direct route is along the A56 through Stretford and Sale.
Car parks are well signed, most require a nominal payment.

By taxi
The main taxi rank is in front of the Altrincham Interchange by the clock tower on Stamford New Road.

By boat
If you fancy a novel way of accessing the town why not cruise in a narrow boat along the Bridgewater Canal which passes through Broadheath on its way from Manchester to Runcorn.

Get around
The town centre is best explored on foot, if you are travelling to the outlying areas then either local buses or the tram or train.
Bike & Go: On Altrincham Station on Platform 4 is a short-term bike hire facility.
Cycle Hub: Near to Platform 1 at Altrincham station at the west end of the station is a Cycle Hub facility that allows you to leave your bike and take other modes of transport. Access is via a season ticket from Transport for Greater Manchester.
See
phone: +44 161 941-1025

address: WA14 4SJ

A National Trust-owned property. The historic house and grounds of Dunham Massey are a short distance from the town and it is perfectly possible to walk to them. The grounds contain a large amount of open space and deer, and the house is often open to visitors, as is the historic water mill. The banner image at the top of this page is of Dunham Massey Hall.

phone: +44 1625 374400

address: Knutsford, Cheshire, WA16 6QN

A joint Cheshire County Council and National Trust property. NT Members still have to pay for parking. Similar to Dunham Massey, although Tatton Park contains a petting zoo with farm animals and a Children's play area in addition. Tatton Park is also home to an annual Royal Horticultural Society flower show (usually in late July) and plays host to a series of summer evening concerts each year, which vary from classical to pop.

Frank Sidebottom Statue

address: Stockport Road, Timperley

A statue of the papier mâché headed comedian was unveiled in 2013 in Timperley Village. Often dressed up by the locals to match the season. Expect a Santa outfit on him at Xmas.

address: New Street, Altrincham

Home of the Arts for the Community in Altrincham.

Bee Bop a Raver

address: c/w Barrington Road & Woodlands Road

Outside Myersons Solicitors is one of The Bee in the City sculptures which were in Manchester in the summer of 2018.

Bravest Little Street in England

address: Regent Rd

The families that lived on Chapel St. in 1914 sent 161 men to fight in the trenches of World War I. King George V called Chapel Street in Altrincham the 'bravest little street in England' for providing so many volunteers. Out of the 161 that were sent, 29 of the recruits failed to return to their loved ones in the cul-de-sac which was demolished in 1960 to make way for flats. The plaque reads: 'Chapel Street Altrincham. From just 60 houses 161 men volunteered in the Great War 1914-18. 29 were killed. Recognised and praised by King George V'.
Other Blue Plaques in Altrincham are:
Helen Allingham (Victorian water colour artist) at 16 Market Street, Altrincham
Ronald Gow (dramatist) on the old Barclays Bank, Stamford New Road
Altrincham Market Site as part of the Altrincham Charter (granted in 1290) celebrations
George Massey (set up the first gas-making plant in Altrincham) Old Market Tavern, Altrincham
Marie Margaret Netherwood on Ashfield Road
Do
phone: +44 161 928-1677

address: Barrington Rd

"Discover a world of entertainment and drama" at Altrincham's refurbished playhouse and theatre. Drama, musicals, concerts and pantomime.

Goose GreenAn evening (or afternoon) in the Goose Green area is recommended. This compact historic area has recently been given a facelift and is home to various restaurants and bars; on warm evenings the clientèle use the open air facilities to drink (and smoke) outside. Look out for the statue of a goose in the passageway from Stamford New Road. Altrincham Cinema is a short distance away and many cinema-goers stop for a drink before and after the film.

phone: +44 161 928-1045

address: Moss Ln

Altrincham FC play a short distance from the town centre at the Moss Lane ground. The ground is still predominately terraced. Admission is £13 for an adult to stand, £8 for a concession, £5 for a 12-16 and £2 for an under 12.

phone: +44 8700 852929 (premium rate number from most mobiles and non-BT landlines)

address: Oakfield Rd, Station Site, WA15 8EW

Silver Blades Altrincham is open 7 days a week including bank holidays and is home for all ice disciplines including general public skating, figure skating, ice dancing, speed skating and ice hockey.

phone: +44 8712 240 240 (premium rate number from most mobiles and non-BT landlines)

address: Denmark St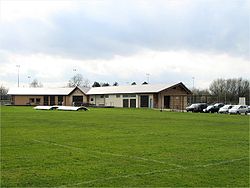 Buy
Once a major retail centre hosting higher-end retailers and independents, the retail scene in Altrincham Town Centre had deteriorated but is undergoing a major revival. It has concentrated on being a food and drink town with some retail outlets; there are a few independent stores (some listed below) and the usual high street favourites can be found at the north end of George Street in Altrincham (Marks and Spencer, Waterstones, Next, W H Smiths, Boots and Rackhams). The Market is thriving and well worth a visit. Hale village also has a good selection of independent retailers.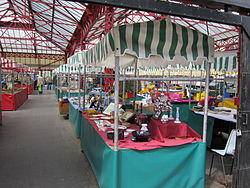 Eat
Altrincham has established itself as an excellent venue for food with an ever growing diversity of restaurants and food related shops. Also look out for Altrincham Food Fortnight with special events around the town, usually in the second half of June.
Altrincham Fish Bar

address: 41 Greenwood St

Traditional fish and chip shop, with formica tables in the dining room, maritime kitsch and some quite curt service!

phone: +44 161 928 2303

address: 18 Regent Road, Altrincham, Cheshire. WA14 1RP

Italian food.

phone: +44 161 928 8817

address: 9-11 Old Market Place, Altrincham, WA14 4NP

Italian restaurant in Old Market Place.

Greenhouse Vegetarian Restaurant

phone: +44 161 929-4141

address: 41-43 Oxford Rd

The only vegetarian restaurant in Altrincham. It serves fresh, made-daily salads and hot meals.

Masala Bangladeshi Take Away

address: Church St, WA14 4DW

Try the traditional dish "Bangla Achari".

phone: +44 161 928-9500

address: 214/215 Ashley Rd, Hale

Taste Buds

address: 2 Lloyd St

The place to go for a cheap, quality doner kebab or a chicken burger after a night out. Takeaway only.

Thai Chilli Club

phone: +44 161 926-9197

address: 12 Ashley Rd

Excellent lunchtime offers.

Joanne's Fish & Chips

address: 50 Borough Road, WA15 9RA

A fish & chip shop since 1901. Pensioner portions £2.30 excellent value. Open Tu & F lunch and M-F tea time (dinner).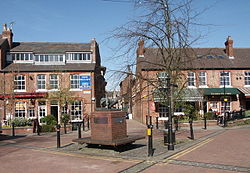 phone: +44 161 926-8001

address: 23 Oxford Road

Popular venue specialising in traditional Lebanese and Syrian food. Booking is essential at weekends.

phone: +44 161 929 7706

address: 22 Shaw's Rd, Altrincham WA14 1QU

Popular restaurant, booking essential.

phone: +44 161 414 0196

address: 4a Moss Lane, WA14 1BA

Excellent setting for good Italian food. Main meals are chicken and pizza.
Drink
Cheshire Midland

address: Ashley Rd, Hale

The place to go for a cheap pint, but avoid in the summer and Christmas season as it's extremely busy due to the influx of students.

Costa Coffee

phone: +44 161 928 3145

address: 33-35 George St., Altrincham WA14 1RJ

phone: +44 161 929-0663

address: 18 Goose Green

This bar serves well-priced and excellent-tasting beers from the local Dunham Massey Brewing Company. Be careful though, some are strong! In the Good Beer Guide and been awarded Trafford & Hulme Pub of the Year 2012 and 2013.

phone: +44 161 283 6743

address: 41 Deansgate Lane, Timperley

Spruced up local pub with a selection of real ales from Theakstone's brewery. Good reasonably priced home-made meals

Mort Subite

address: 39 Greenwood St

Belgian bar.

phone: +44 161 927-7062

address: Old Market Pl

A selection of over twelve local cask ales plus Belgian beers,traditional ciders, wines and an excellent range of whiskeys. Live bands on most Friday, Saturday and Sunday nights. On Thursday night they have an open acoustic night which is open to all and has been going for over three years. Wednesday night is Jimmys' quiz night just a £1 to enter and free food at the end of the quiz. As well as good food every day they also show all lot of the MCFC and MUFC matches. The building used to be the Town Hall and then a police station. It was also the first building in Altrincham to have gas lighting. Have a look for the blue plaque.

Old Packet House

phone: +44 161 929-1331

address: Navigation Rd, WA14 1LJ

Good beer and food. Holds the Cask Marque Award for serving great quality real ale. A great place to talk to the landlord about motorbikes and skiing.

address: 18 Shaws Rd

Always has at least 2 real ales on, one local usually from the Tatton Brewery; plus more exotic lagers and beers many from foreign shores. In the Good Beer Guide. Food is pie, mash and peas!

The Quarry Bank Inn

phone: +44 161 903-9483

address: 151 Bloomsbury Lane, Timperley, WA15 6NY

Best pub in Timperley Village serves Hydes ales. Food available, popular for its lunchtime menu. Still has a bowling green attached.

phone: +44 161 941-5367

address: 128 – 130 Ashley Road, Hale

A traditional pub with excellent real ales and a great atmosphere. Unchanged from the 1930s. Serves lunch M-F noon-2PM. This pub still has individual rooms, so you can escape into your own corner if required. Sky Sports. Watch out for the Coronation Street star! This is the venue for the Altrincham Festival pub quiz, usually in the second week of July.

phone: +44 161 928-2914

address: Park Lane, Little Bollington, Altrincham, WA14 4TJ

Country pub and restaurant close to the National Trust's Dunham Park, hence on weekends in the summer it can be very busy. The pub is dog friendly and serves real ale including one or two ales from the local Dunham Massey Brewery.

phone: +44 161 928 0586

address: 80 Stamford New Road, Altrincham, WA14 1BS

Breakfast is served from 9AM and brunch is served throughout the day. Home-made cakes and china cups rule here!
Sleep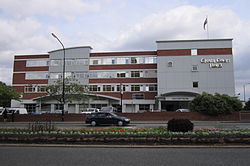 See also Manchester Airport for hotels just east of Altrincham, especially those at M56 junction 6 with Wilmslow Rd.

phone: +44 161 927-7272

address: Church St, WA14 4DP

140-bed Best Western Hotel on the north side of the town

Mercure Altrincham Bowdon Hotel

phone: +44 161 928-7121

address: Langham Rd, Bowdon

A 3-star hotel about a mile from Altrincham town centre quite close to Hale Village.

phone: +44 871 984 6509 (premium rate number from most mobiles and non-BT landlines)

address: Grafton Tower, Stamford New Rd, WA14 1DQ

phone: +44 871 221 0191 (premium rate number from most mobiles and non-BT landlines)

address: Ashley Road, Hale

phone: +44 161 903-1300

address: Wicker Ln, Hale Barns

Lodge that adjoins the village pub, handy for the airport and M56.

Bollin Hotel

phone: +44 161 928-2390

address: 58 Manchester Rd
Connect
Altrincham Information Centre

phone: +44 161 912-5931

address: 18a Stamford New Rd

Altrincham TodayNews and stories about happenings and developments in Altrincham.

Altrincham UnlimitedWeb resource for what's on, and what to do in Altrincham.
Go next