Amanohashidate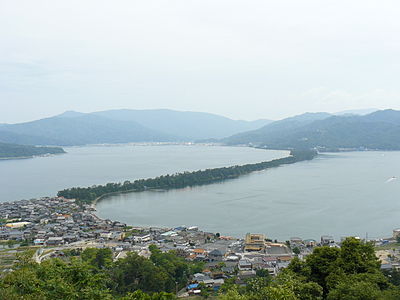 Amanohashidate
(天橋立), the meaning of which is roughly
bridge in heaven
, is a 3.6-km-long, pine tree covered sand bar. It spans across Miyazu Bay on the Tango Peninsula, northern
Kyoto Prefecture
. It is ranked as one of
Japan's three most scenic views
.
Understand
Coin lockers are available in the train station behind the tourism office and after the left exit. If they are busy, the gift shop
Surumeya
(旬彩するめや) located across the street 75 m on the right of the station can keep your luggage.
Tourist office
Amanohashidate tourist office
Get in
By train
Direct
Hashidate
(はしだて) limited expresses run four times a day and connect
Kyoto
Station to Amanohashidate in 2 hours (¥4500). At other times, you can take the
Kinosaki
(きのさき) limited express from Kyoto to
Fukuchiyama
(福知山) and change to the
Tango Relay
limited express to Amanohashidate. You can manage the trip with local trains for as little as ¥2260, but this will take over three hours and require several transfers.
From
Osaka
, take the
Kounotori
(こうのとり) limited express to Fukuchiyama, and transfer to either the
Hashidate
or
Tango Relay
(2 hr 15 min, ¥5380).
If you have a Japan Rail Pass and travel on the
Hashidate
or
Tango Relay
you must pay a surcharge of ¥1520 each way, as part of the trip uses the private Kita-Kinki Tango Miyafuku Line (北近畿タンゴ宮福線).
The Amanohashidate station is on a spur line off of the main line to Miyazu. Don't be surprised as the train stops completely in Miyazu, changes direction, and then turns onto a separate line toward Amanohashidate.
By bus
Tankai Bus makes three daily round-trip runs to Amanohashidate from
Kyoto
(2 hours, ¥2800), and from Hankyu Umeda and the Shin-Osaka bullet train station in
Osaka
(3 hours, ¥2650).
Get around
The small villages on the north and south sides of the land bridge are easily walkable by foot, as distances are short. In the village of Monju (文珠) on the south side of the land bridge, the train station is only a few hundred feet from numerous ryokan, noodle shops, dried fish shops, and tourist shops.
One can rent a bicycle at one of the many bicycle rental shops around Amanohashidate to ride across the land bridge and bike to surrounding local tourist spots.
If you prefer motorized transport, small motorboats transport passengers between the north and south sides of Amanohashidate. The boats are inexpensive and take 5–10 minutes to travel the length of the land bridge. On the south side of Amanohashidate, the boats dock near the Shinto shrine.

See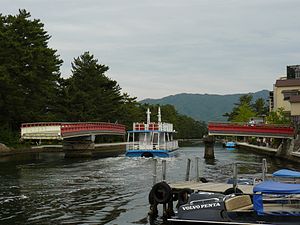 About the only thing to see in Amanohashidate is, well, Amanohashidate itself. The land bridge is best viewed from the hillside on either the south or north side of it. On the south side, there is a chair lift and cog wheel-type train that one can ride up to a viewing area, where there is a small amusement park. On the north side, there is an electric train/trolley and a chair lift (which offers a better view) that take visitors up to a viewing area, where there is a small coffee and snack shop. Purchase tickets at the bottom of the lifts. They are well-marked and easy to locate.
The canonical way to view Amanohashidate is to turn your back to it, then bend over and look at it upside down from between your legs — this is supposed to make the bridge appear as if it floats to heaven, and bring good luck.
The rotating bridge on the south side of Amanohashidate is unique, although it is by no means a must-see. Rather than raising like a traditional drawbridge, the middle section of this bridge rotates 90 degrees to allow boats to pass through. The bridge is located near the Shinto shrine and boats that transport visitors to the north side of Amanohashidate
Do
Swim on the sandbar in the summertime while eating dried squid.
Stay overnight so you can get up early (6am in October) and watch the cormorants & mist lift with the sunrise to reveal the pristine sandy bar that is the Bridge/Passage to Heaven.
Plus if you're quite lucky - you might meet a sumo wrestler! Be judicious about your hotel or ryokan, there are some with outdoor tubs on a second floor balcony and some with no view at all.
Chie-no-yu (知恵の湯): This is a small hot spring spot located just next to the Amanohashidate train station. Men and women are separated.
Price: ¥700/per person. Open: M Tu Th F 14:00-21:00, Sa Su holidays 12:00-21:00, closed: every Monday (except public holidays).
If you want to just try a bit of Japanese Onsen, you can try Ashiyu (足湯), a hot spring you can just soak your feet in, which is located outside of this place and is free to try! You can hire a towel from them cheaply.

Buy
Dried seafood, chirimen fabric, sake flasks made from a dried squid.
Rice vinegar made by Iio-jozo (飯尾醸造). This vinegar company has more than 100 years of history and their vinegar is organic. They even farm the rice which is used to make the vinegar. They also have other flavours of vinegar, like a fig vinegar, pomegranate vinegar, black bean vinegar etc.

Eat
Seafood.
In the summer, don't miss the melon ice from the little snack shop on the northern slope's viewing area.
Cafe du Pin (カフェ・ド・ピン): This cafe is beside Amanohashidate, so you can see Amanohashidate (not overview) through big wide windows when you drinking or eating. They not only serve drinks and sweets, but also cater casual lunches (like a curry or sandwiches). Open 09:00-18:00.

Drink
There are some local wineries.

Sleep
Abundant ryokan serving local seafood. Ask at the Amanohashidate train station's tourist information stand for information or to make a reservation. Prices range between ¥10,000 and 25,000 per person per night.