Amarillo
Amarillo
, which means "yellow" in Spanish, is the center of the
Texas Panhandle
at the edge of the Great Plains.
Understand
Amarillo offers a true Western heritage, a unique geographical area with wide open spaces and breathtaking sunrises and sunsets. Amarillo is also gateway to
Palo Duro Canyon
, America's second largest canyon. With its relatively mild climate, the city is rated as having some of the cleanest air in the country.
Indians, conquistadors, buffalo hunters, settlers, cowboys, adventurers, lawmen, gunfighters, and the railroad all contributed in many ways to the development and growth of the area. That heritage is still felt here, where "cowboy" is still an honorable profession. Here you can enjoy the very best of the Old and New West!
Founded in 1887, the city charter was adopted in 1913. Amarillo is one of the first cities in the nation to use the City Commissioner-City Manager form of government. Now home to approximately 198,000 residents, the city features excellent accommodations, a spacious convention/civic center, symphony, ballet, little theater, opera, and is the home of Amarillo College.
Though it is on the very northern tip of the
Llano Estacado Plateau
, Amarillo has closer ties with the
High Plains
region, serving as the economic, industrial, transportation, and cultural hub of the region.
Get in
By plane
Tribute to a fallen comrade
Richard Douglas Husband (1957-2003), an Amarillo native and the namesake of the city's airport, was the commander of the space shuttle
Columbia
which disintegrated in the skies over Texas on 1 February 2003, killing him and his six crewmates.
By car
Amarillo is located on:
Get around

The N-S avenues in central Amarillo are named for the presidents of the United States in order of when they served, from Washington just west of downtown through Cleveland to the east. Most of the E-W avenues are numbered, from N 24th through S 58th.
Old Route 66 crosses east to west through Amarillo, named Amarillo Boulevard. It passes just to the north of the airport, downtown, and the medical center, connecting US-60 on the east side with I-40 on the west side.
Loop 335 has been designated, but has not yet been developed into a limited access loop as in other cities. It comprises Soncy Road on the west (near Westgate Mall), St. Francis Avenue on the north, Hollywood Road on the south, and Lakeside Drive on the east (near the airport).

See
address: 2200 S. Van Buren

Gallery of Asian art plus a rotating selection of exhibits. On the third Thursday of each month is a special event with live music, hands-on art activities, film and free coffee. Admission is free anytime.
Cadillac RanchBuilt as an eccentric roadside attraction by the art collective Ant Farm on the now decommissioned Route 66, it was moved and can now be found via a frontage road for I-40 just outside of Amarillo. You can see it from I-40; it will be on the southern side of the road. Park along the side of the road and walk about 100 yards to see ten old Cadillacs upended and half-buried in a cow pasture. Visitors are encouraged to spray-paint the cars; there are spray paint cans in a hole at the end of the formation. Surprisingly compelling.

Dynamite MuseumAnother art project. This one consists of pseudo-road signs, scattered among commercial and residential parts of Amarillo. They feature sayings and pictures that are seeming non-sequiturs.

Ozymandias on the PlainsJust off the freeway south of town, this sculpture of two legs and the accompanying plaque is a takeoff on a poem by Percy Bysshe Shelley.

phone: +1 806 352-6513

address: 1400 Streit Drive (Harrington Medical Center Complex)

The American Quarter Horse Hall of Fame & Museum

phone: +1 806-376-5181

address: 2601 East I-40

A hidden gem of Western art. Beautiful, larger-than-life bronze statues. Visitors can spend time reflecting outside at the newly renovated Wall of Honor Plaza, honoring and memorializing the horses. From the east, a light sculpture displays a herd of running American Quarter Horses; from the west, granite bricks preserve and pay tribute to the people and horses meaningful to generous donors. The Hegel Stables section of the museum houses a variety of interactive exhibits. Take a look at the inner workings with an X-ray-style exhibit. In the Experienced Eye Theater, different disciplines are shown. Following the historical timeline, journey through the news-worthy events happening concurrently as the Hall of Fame inductees were influencing history. Glass cases house artifacts, attire, tack, photos and many more interesting pieces from each inductee's life.

phone: +1 806 335-9159

address: 10001 American Dr
Do
Buy
Westgate MallOff the Coulter or Soncy exits from I-40 on the west side of town. A lot of shopping strips surround the mall.

Historic Route 66 DistrictArt, street fairs, theaters, and lots of shopping; this downtown district offers a look into old Route 66 along with lots of boutiques and stores to browse through.

Cavender's Boot City

phone: +1 806 358-1400

address: 7920 I-40 W. at Coulter Dr.

Pick up authentic West Texas attire at this famous Texas retail chain, which offers boots, hats, belt buckles, jeans, jewelry, and a variety of other Western apparel.
Eat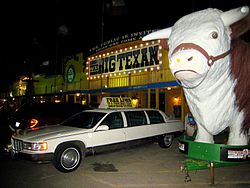 phone: +1 806-355-0141

address: 3325 Bell St

Voted Best Bakery in Amarillo, great sandwiches, salads, and soups, too.

phone: +1 806-372-6000

address: 7700 I-40 at Lakeside

Open daily. A Route 66 icon, the Big Texan was moved when I-40 came barreling through town. Known nationwide for its 72-oz steak dinner offered free to anyone who can eat the entire meal in one hour. More than 35,000 people have taken the challenge and 7,000 have succeeded. Country/Western performances every Tues.

Calico County

phone: +1 806-358-7664

address: 2410 Paramount

Home-style cooking just like Mom's! Chicken fried steak, meat loaf, catfish, all veggie plates, chicken and dumplings.

Abuelo's Mexican Food

phone: +1 806 354-8294

address: 3501 45th St

Voted Best Mexican food in Amarillo for several years.
Drink
The main nightlife district in Amarillo is South Polk Street downtown, between 7th and 8th avenues
R&R Bar

phone: +1 806 342-9000

address: 701 S Georgia St

LGBT friendly, they serve strong cocktails and have a great selection of music.

Crush Wine Bar & Deli

phone: +1 806 418-2011

address: 701 S Polk St

A chic wine bar and deli that is cozy and friendly enough to spend hours of time eating and drinking

Golden Light Cafe

phone: +1 806-374-9237

address: 2908 W. 6th Ave

Known as a Route 66 landmark, go here for great hamburgers and country western music.

Bodegas

phone: +1 806-378-5790

address: 709 S. Polk St

Stylish wine and jazz club.

Route 66 Roadhouse

phone: +1 806-355-7399

address: 609 S. Independence st

Best choice for live music, it features pool tables and dartboards.

Butlers

phone: +1 806 376-8180

address: 703 S Polk St

Music venue known for its martinis and other mixed drinks
Sleep
Many new motels have been built recently along Interstate 40 on the city's west side.
Go next
Vega
, 28 miles west, and some nearby ghost towns have a number of well-preserved Route 66 sites.