Ambergris Caye
Ambergris Caye
is the largest of several hundred islands in the northernmost waters of
Belize
,
Central America
. This simple island is a top destination in Belize for tourists worldwide,and its lack of high-rise hotels or big city public transportation gives the island a relaxed, laid-back feel.
The July/August 2008 issue of
Islands Magazine
featured a list of the Top 10 islands around the world that are most desirable to call home. Here's an excerpt on why Ambergris Caye made the list:
"The budget-friendly properties available a few flip-flop steps away from the beach, an exuberant expat community and the vibrant streets of San Pedro earned this Central American island a place on our list. It's pretty easy to move here, too, since immigration policies are friendly, the locals speak English and it takes about two hours to reach Belize from Florida. Once there, life on Ambergris Caye entails lazing the days away on star-white beaches, spending afternoons snorkeling the world's second-largest barrier reef and enjoying nights at beachfront barbecues with newfound friends."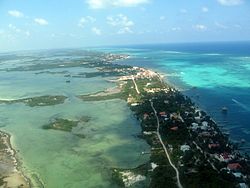 Get in
By plane
You can head to the airport in
Belize City
and book a flight which will take about 20 minutes. You can also fly to Ambergris from the Phillip Goldson International Airport. There is also air service from Corozal, Belmopan and Caye Caulker, Belize.
John Greif II AirportA modest airfield near the center of the island.
By boat
San Pedro Belize Express
has departures, 14 first class boats and first class service to get you to and from Ambergris Caye.
From Mexico and the Yucatán Peninsula
Chetumal, Quintana Roo
The connecting hub from Mexico to Belize is Chetumal, Quintana Roo. From Chetumal, take the San Pedro Belize Express water taxi from Muelle Fiscal (Municipal Pier). The boat leaves Chetumal en route to Ambergris Caye every day at 3PM and ticket cost is US$60, one way.
From Belize City
San Pedro Belize Express has daily runs to Ambergris Caye from Belize City. Departure times are 9AM, 11AM, 12PM, 3PM, 4:00PM, 5:30PM. Tickets are one way US$15/BZ$30, round trip US$27.50/BZ$55.
From Caye Caulker
San Pedro Belize Express has daily runs to Ambergris Caye from Caye Caulker. Departure times are 7AM (Connection to Chetumal), 9:45AM, 11:45PM, 12:45AM, 1:45PM, 3:45PM, 4:45PM, 6:15PM. Tickets are one way US$10/BZ$20, round trip US$17.50 US/BZ$35.
From San Ignacio
To get to Ambergris Caye from San Ignacio, take the bus or plane from San Ignacio, a cab to the water taxi and the water taxi from Belize City. Shuttles are also available.
Get around
There are three main north-south streets, and several that link them, running east-west. Barrier Reef Drive is closest to the two- and three-story apartment buildings that face onto the beaches.
Only some of the roads are paved with cobblestones, and in the rainy season, many can fall into poor condition from traffic and rain erosion, and provide numerous potholes which are sufficient to slow the bicycle and golf cart traffic. There relatively few automobiles licensed on the island, and they are not needed because you can get to most places walking, by bike, golf cart, or water taxi.
Golf carts are the dominant form of transportation, and can be rented by the hour or day. As of January 2016, around BZ$10 a day is a reasonable rate for golf carts. Advertised rates may be intentionally overpriced, so a polite haggle may result in a better offer. Pricing may also relate to the condition of the golf cart. For travelling throughout the island, good tires and working headlights and taillights are a must. There is a BZ$5 toll for crossing the bridge north of San Pedro, but the bridge is often unattended in the later hours.
Bikes can also be rented throughout the island, but are less preferable for travelers staying further away from San Pedro.
Water taxis may be offered by beachside resorts. Dive shops in particular may offer water transport free of charge with a paid diving excursion.
Walking is the most common way of getting around within San Pedro. There's a great deal of quality hotels in town, and many resorts are less than a mile away.

See
Wherever you are staying, you will be able to book tours that go all over Belize and even into
Guatemala
. Ambergris Caye is a great place to relax, and you can see a lot of what Belize has to offer with the trips that you can book wherever you are staying.
Do
The beaches are coral sand beaches and you may need watershoes or sport sandals. There are many piers (every 330 feet/100 metres or so) where a tourist can rent a boat for diving, deep-sea fishing, or sailboating to other islands.
Snorkeling
and
diving
are a must if you are going to be in town for a couple of days. The spectacular Mesoamerican Barrier Reef, the longest in the Western hemisphere, offers superb coral reefs and marine wildlife. Several marine reserves are also close by. The bigger and more reknown diving locations include the
Turneffe Atoll
and the
Great Blue Hole
a UNESCO World Heritage Site. Both require a large group, around 8 to 10 divers, in order to make the day trip. Dive shops often coordinate with other shops to ensure enough divers are able to attend, and midweek (not the weekends!) are the most common days for large diving excursions.
Hol Chan Marine Reserve, 4 miles (6.4 km) south of San Pedro, Ambergris Caye, tel: 226-2247 (E-Mail: hcmr@btl.net), . Has been protected for longer than the local reef, and so it usually has more mature marine life (i.e. bigger fish) as well as more people, though it's never terribly crowded.
Bacalar Chico Reserve on the border with Mexico.
Do not miss the Coral Gardens in front of Caye Caulker, Shark Ray Alley, or a fishing expedition to Mexico Rocks.
On weekends, there are very entertaining
pick up soccer matches
at the small stadium near the airport.
If you visit the island during early July, take the water taxi to nearby
Caye Caulker for the annual Lobsterfest
. Great spiny lobster and coconut rice!
Drink rum on the beach!
Buy

San Pedro,Ambergris Caye, is a bustling town with several small and one large Gringo style supermarkets where you can buy pretty much anything. However, imported items can be very expensive,so if you enjoy American snack foods, pack them and take them with you. Fresh fruit and vegetables are readily available. There are several bakeries and butchers shops that sell all sorts of meats.

Eat
All food on Ambergris Caye is inexpensive. Eating "street food" or catching and cooking your own are also part the adventure that awaits you on this island.
Elvi's This is one of the top 3 places to eat on the island. Their black bean soup is incredible, the lobster is like nothing you'll find anywhere else and the service is great. Two people can have a very nice meal with appetizers, desserts and drinks for less than US$100, very inexpensive for a fine meal whilst on vacation.
Papi's Diner "To Go the food delivery service in Ambergris Caye. Delicious, made to order dinner meals are their speciality. Great, local, inexpensive food. Try their Tropical Chicken or Crispy Chicken Burgers among the many other items available. For orders or more information, kindly call (626) 9207.
Caramba's, in San Pedro, off of Pescador Street. The food is great, cheap, and plentiful. The seafood is always same-day fresh, and the bar staff is highly entertaining. Don't let the flashy exterior fool you, it's one of the cheaper options in town.
Estelle's. Breakfast by the sea. BZ$15 for the breakfast combo. Try the fry jacks and bloody mary.
Waraguma is a hole in the wall on middle street (closer to the southern end) with good burritios.
Local Central American cuisine.
El Papusaria is across the street from Waraguma and specializes in papusas, a cheap and filling Salvadoran street food. At BZ$2.50 each you can easily have dinner and a drink for under BZ$10. Undoubtedly the best calorie to dollar ratio in San Pedro. Papusas are made fresh on the street after 5PM.
El Patio. Just around the corner from Waraguma on the way to the beach. Good food and a great atmosphere. Sand floor and beach furniture. A varied menu with options for all. Not as expensive as the Blue Water Grill.
My Secret Deli is an unassuming lunch spot popular with locals and expats. The prices are about average at around BZ$15 per plate, but the portions are huge. On Caribena between middle and back street just north of Caramba's.
Blue Water Grill. Spectacular restaurant right on the beach. Fabulous food and drinks. If you want to treat yourself, this is the place.

Portofino Restaurant

phone: +501 226 5096

A free boat ride takes you to the Portofino Restaurant, on north of San Pedro. European specialties, ranging from Italian to Mediterranean, and 'Nouvelle Cuisine'. Portofino Restaurant has a full vegetarian menu available. Call +501 226 5096 for reservations and boat transfer.
Drink
The water in San Pedro is safe to drink, but on the mainland and smaller islands, use bottled water to be safe.
Many piers have bars where you might order a rum drink with a parasol in it. For a nice laid back bar on the beach try
BC's
. The
Tacklebox
makes a mean mojito.
The
local beer is Belikin
, which can be bought everywhere.
Rojo LoungeWonderful, relaxed upscale restaurant directly on the beach with its own pool.

Wet WilliesOne of the best bars on the island. At the end of a pier just north of downtown San Pedro.

Green Parrot Beach Bar

phone: +501 226 5096

6 miles (9.5 km) north of San Pedro, the Green Parrot Beach Bar at Portofino Beach Resort, is ideal for enjoying some cold drinks. From ice cold beers, to exotic cocktails, the Green Parrot Beach Bar has a full drink menu of local and imported spirits, delicious smoothies, ice cold beers and a comprehensive wine list. Bar service also extends to the beach and pool area, so ask their bartender for a beach towel, relax on one of their lounge chairs, and enjoy the Caribbean views while you enjoy the refreshing drinks and personalized service!
The Sand Bar is a great option for cheap drinks on the beach. BZ$3 local rum drinks on Thursdays, and BZ$20 handmade thin crust pizzas. Just east of the roundabout north of town, across the beach from Wet Willies.
Palapa Bar is a two-storey, open air bar built at the end of a dock with the best ocean view on the island. About 1 mile (1.6 km) north of the bridge, it's the place to go if you want to spend the afternoon staring at the sea. Drinks can also be delivered via bucket to one of the many innertubes floating by the dock.

Pirate's Treasure Restaurant and BarExcellent dive bar and restaurant popular among locals, about 1/2 mile (1 km) north of San Pedro. Known for their lion fish dishes.
Sleep
You should call ahead to make reservations, but can usually find accommodations even without them.
SunBreeze HotelAn oceanfront hotel at the South Side of the heart of San Pedro. It has a freshwater pool, art gallery, massage studio, dive shop, bar and a restaurant (Blue Water Grill). They offer a great variety of packages for scuba diving and other activities. A great place for a family vacation in Belize.

SunBreeze Suites. Is a cozy 20-suite hotel with entrance on the Main Street and bar & grill on the beach side. It is within walking distance from restaurants, bars, discos and minutes from the San Pedro Airport. They are affiliated with PADI Dive operator, so they can help you if you are looking for scuba diving in the cayes.
Xanadu Hotel. By far the best pool on the island, and the owners treat you like family (a good thing in this case). Stay in any of the rooms in the hurricane proof huts, all have views of the ocean or the tropical garden pool. Easy walk to town, or take one of the complimentary bikes. The staff can arrange diving, snorkeling, or fishing trips.
Conch Shell Hotel. A clean, quiet, friendly hotel. It's basic – no air conditioning or TV – but the ocean breezes blow right in, it's on the beach, and it cost only US$25 per night in July (it doubles in the high season). You'll be right in town so everything is nearby. It is at the foot of the dock of the main water taxi between Ambergris Caye and Belize City.

Las Terrazas ResortLas Terrazas Belize Resort is an oceanfront resort, a member of the Preferred Hotel Group and on 4.8 acres of private beachfront property.

Mata Chica Resort. A more intimate, relaxing atmosphere, on the northern part of the island. Accessible by boat from San Pedro, this small resort offers a limited number of thatched casitas right on the beach. This is a great place if you are looking to get away from it all for a few days.
You can rent fully furnished and stocked homes by the week or more, for less than what it costs to get a hotel room for the same amount of time.
phone: +1 415 373 6429

address: South Coconut Drive

Peaceful 12-condo resort just south of San Pedro with 1-, 2- and 3-bedroom condos, the largest sleeping up to 8 guests. All condos have central AC, fans, Wi-Fi (which extends throughout the resort) and cable TV. The resort has a pool, pier with palapa, outdoor dining/grill area, 200 feet(60 m) of white sandy beach and complimentary bikes & kayaks.

Sapphire Beach ResortAlong the beach near the Blue Hole.

address: Coconut Drive

Beautiful resort south of San Pedro. One of the nicest on the island.
Caribbean Villas. On the far southern edge of San Pedro, offering multi-bedroom villas and single bedrooms nestle right up to one the few swimmable beaches on Ambergris Caye. A thatched bar right on the beach and a free breakfast (fruit,cinnamon buns, coffee and OJ) complete the experience.
A small pool and two hot tubs. Tour operators are familiar with the CV and can pick you up in the morning right on the dock. The CV office also arranges tours. Prices are listed in the office or in the info book in each room. The villas have kitchens so you can cook your own food instead of paying the outrageous restaurant prices. There is also a small bird sanctuary behind the villas that shield you from the noisy street. Grocery stores and restaurants are a short stroll away.
There are no TVs in the room and the free WiFi is spotty.
MC and Visa accepted, but not American Express.
North of San Pedro,
Portofino
Beach Resort, info@portofinobelize.com Tel: +501 226 5096, sits on a stretch of white sandy beach, away from the hustle and bustle of San Pedro Town. The resort offers various types of accommodation, each offering amazing views of the Caribbean Sea and the barrier reef. Each room has a porch with chairs and hammocks. To the rear of the property lies the lagoon, home to an assortment of rare tropical birds and the occasional crocodile.
Decorated with local artwork and custom made furniture, each room showcases the exotic woods native to Belize. Complete with air-conditioning, ceiling fans, cable TV, DVD/CD player, mini refrigerator, hair dryer, bathroom amenities, potable bottled water and free wireless internet. Facilities include a gorgeous swimming pool, a full service restaurant, beach bar, and on-site dive shop. Guests can use complimentary kayaks, canoes, snorkeling gear, movies and books. Activities include guided snorkeling tours, scuba diving and instruction, day trips to archaeological sites, caving, sailing and fishing, to mention a few.
phone: +501 226 2207

address: North Ambergris Caye

You can choose between thatched cabanas that lie on the 1,100 feet (300 m) of white sandy beaches or enjoy the full amenities offered at the villas and condos. Captain Morgan's Retreat has on site the only casino available in Ambergris Caye.

Grand Caribe Belize Resort and Condominiums

phone: +501 226 4726

Every condo in this resort has breathtaking views of the Caribbean Sea and the Barrier Reef, which lies about 1/2 mile off shore.
Go next