Ambon
Ambon
is an island in the
Maluku
region of
Indonesia
.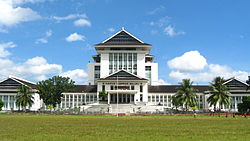 Understand

Ambon, the provincial capital of Maluku, is built on a hillside overlooking the bay. It has a number of interesting historical and cultural sites, among them the remnants of forts built by the Dutch East Indies Company during the heyday of the spice trade. The ruins of the Portuguese fort at Hila are almost entirely hidden beneath the contorted roots of a giant banyan tree. The ANZAC War Cemetery near Ambon town is the site of services held every year on April 25, to commemorate the Allied soldiers who died in region during World War II. The museum Siwa Lima has a fine collection of local arts and crafts. Ambon is at the Maluku end of the annual yacht race between Darwin, Australia and Ambon. The race usually takes place in July and August.

Get in
By plane
By ferry
Alternatively there are boats from various parts of Indonesia. Schedules change frequently, but any travel agent in Jakarta or a major Indonesian city can arrange this.
Get around

Bemos (public transport minivans, locally called angkutan or angkot) with pre-ordained routes take people around the island. There are no fixed stops, just flag one down in the street. Look at the sign on top of the bus to make sure it's the route you want. Each costs 2,000Rp pay when you get out. Sitting up front is fine, if it's empty and you'd rather not squish into the back. To stop where you want to get out, say "minggir".
Becaks (bicycle rickshaw) are good for shorter distances downtown.
There are many ojeks (passenger motorcycles) around the island.
Taxis are also available for hire and can be found mostly in major hotels.
A map of the city is available on the second floor of the bookstore Dian Pertiwi, at the corner of Jl. P. Diponegoro and Jl. Said Perintah, by the tall white Trikora monument.
If you want to going to city from the airport you can use the DAMRI bus, it's located on the right side of the arrival hall and will only cost you Rp. 25,000 — cheaper than taking a taxi which can cost you approximately Rp. 150,000/trip. the DAMRI bus stops on the Merdeka Court on the heart of Ambon City.

See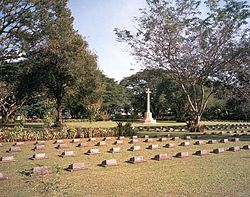 Commonwealth war graves

Liang Beach

Martha Christina Tiahahu statue

Merah Putih BridgeThe bridge spans over Ambon Bay, connecting Rumah Tiga (Poka) on the north side, with Hative Kecil/Galala on the south side. This bridge is the longest bridge in the eastern region of Indonesia.

Namalatu beach area

Natsepa Beach

Pintu Kota

Siwa Lima Museum

Tulehu Hotwater

Waii eels
Do
Snorkeling / Diving on Latuhalat or Liang beach. Just ask your Hotel/Inn how to get there.
Eat Nasi Kuning(Yellow Rice) on morning, noon, night time. It's every time Ambonese meal. Be careful it's spicy
Asmat Souvenir

address: Jl Sam Ratulangi

Book exchange, money changer, tourist information, souvenir shop and great conversations. Pak Wisar speaks fluent English, and will help you in any way he can.
Eat
Various seafood, Batu cake (which translates "rock cake"; best to be had with tea or coffee).
Kohu-kohu is a delicious local specialty: green salad with tuna, shredded coconut and lime.
phone: +62 911 312525

address: Jl. Said Perintah No. 47A

Serves traditional Malukan food and drink, and is a great spot to chill with a big open front. Very popular with locals. Cafe has WiFi, albeit slow. The owner, June, speaks English. Cafe also provides beer, coffee, baked goods and light meals. It is double the size of what it used to be.

Citra Supermarket Canteen

phone: +62 911-353345

address: Tulukabessy St

Affordable and delicious Indonesian and Chinese food. Also serves non-halal food.

D'Ocean Seafood(Was : Restoran Tantui Seafood)

address: Jalan Tantui

Lots of seafood—yellow soup fish, rica-rica, Balado shrimp, black pepper crab, black pepper lobster, bitter melon with fish, papaya flower. Local speciality fish in almond sauce is a favourite.

Imperial Resto

phone: +62 911 315333

address: Jln. Diponegoro no. 53

Clean and comfortable environment to have lunch or dinner, offering best fresh seafood in town, with speciality menu: Ambon traditional food (papeda, fish yellow soup with walnut), Hong Kong-style steamed fish, sweet and sour fish, black pepper beef, fresh crab in "Sze Chuan" style. All food is halal.
Sleep
Most people only transit in Ambon on their way to the
Banda Islands
or
Kei Islands
, even though the countryside has plenty of charm.
You basically have 3 options:
Sleeping in the city (Kota Ambon). Though relaxed for an Indonesian city, it has little to show, and is relatively far from both the airport and Telehu harbour, and thus may not be the best option, unless you have some shopping or administrative things to do.
Beach cottages around Natsepa (east of Kota Ambon) or Hila (north of Pulau Ambon).
Homestay near the airport: much better than it sounds, as the airport is far from being busy, and located near nice villages (Laha).

phone: +62 911 362555

address: JL. Natsepa No 36 Suli Salahutu

Imperial Inn

phone: +62 911 355047

address: W.R. Soepratman Gang Kedondong

Decent inn with various types of room and the price is also affordable. Has free internet access in every room.

phone: +62 911 341445

address: Jl. W.R Supratman No.1

A family-owned hotel.

Mutiara Hotel

phone: +62 911 362717

address: Jl. Raya Waitatiri

Friendly atmosphere, spa, large garden with pool, scenic sunset view overlooking the Bay, great for families with children. Also has a world class diving center, diving Ambon Bay and the coral sites on the south-east of Ambon
Stay safe
Ambon has been wracked by ethnic and religious violence since 1999. While tensions between the main Muslim and Christian factions have been slowly waning, there were still scuffles in spring 2004 and caution is advised. In 2007 there were minor bomb blasts in March and April.

Go next
By ship
Traveling by boat requires patience and a relaxed schedule. Delays and breakdowns are just part of the experience.
Pelni
serves
Banda
(100,000 Rp) and
Tual
(350,000 Rp) with the mighty ship
Ciremai
, and the less mighty but still big
Kelimutu
.
Current schedules can be had from the near the Ambon City Park (look for the big statue of the guy with the Machete). The ticket office (loket) is easy to miss in the back of the big glass-front Pelni building.
Boat services to nearby islands such as
Saparua
or
Banda Neira
can be booked at . Inquire early to the timetable as scheduled departments may change or even canceled.
By plane
"NBA" has weekly flights to Banda Islands on Wednesdays. There are rumours of flights on Saturdays during the high season, but it's unclear when high season actually occurs.
"Wings Express" (subsidy of Lionair) has daily flights to Kei Islands.