Amboy
Amboy
is a
ghost town
in the
Mojave Desert
region of
California
. It has between four and eight inhabitants; what remains of the town is owned by a private preservationist.
Get in/Get around
Amboy is located on the Santa Fe Railroad line between
Kingman
, Arizona and
Barstow
, California. It was founded as one of an alphabetical series of railway outposts in the steam locomotive era but trains no longer stop — not even to deliver water to this tiny desert point. A few cinema stars have used private aircraft to reach a private landing strip in the area, as the town's deserted and remote location has been used in movie location shooting.
Most travellers, however, will arrive by car on what was once
Route 66
. The modern Interstate highway which bypassed US 66 does not go through (or near) Amboy, a key factor leading to the town's demise.
See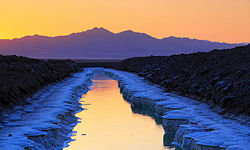 While much of the town has been demolished, a few buildings (such as the former Amboy School, closed since 1999, and an abandoned church) still stand.
A shoe tree once stood along Route 66 in Amboy, but collapsed under their weight in 2010 and is no more. There was a subsequent attempt to decorate a "lingerie bush" with various undergarments.
Do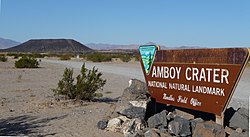 Amboy CraterThe hike to the crater and back to the highway can take 2–3 hours.
Buy
address: 87520 National Trail Hwy, 92304

The only working fuel station in the area. This site was a busy automotive garage and eatery in Route 66's heyday. When the Interstate highway bypassed the town, the repair garage and motel closed. Fuel is still available (but expensive, given the remote location) and the next station is many miles across the desert. The café had continued operation for several years but difficulties getting potable water to the site forced its closure.
Eat and drink
There is no restaurant in Amboy. Snacks and canned or bottled drinks are available at Roy's, but the café's kitchen is closed.

Sleep
The motel at Roy's, while still standing, is no longer functional, in poor and deteriorating condition.

Connect
A US post office appears to have operated in the town until 2011; there is no Internet at this site.
address: 87525 National Trails Highway, Amboy 92304-9800
Stay safe
The hike into Amboy Crater can be brutally hot and debilitating, crossing open desert with no shade as mid-day summer temperatures enter the range. Black volcanic rock radiates heat during the afternoon, making temperatures unbearable. Hiking in open desert mid-day, the hottest time, is dangerous in summer. One litre of water per person per hour (or more) may be needed for survival; as soon as you've used 40% of your potable water, turn back lest you run dry during the return trip.
Inexperienced and unprepared hikers
have died here
.
Go next