Ames
Ames
is a pleasant college town in
Central
Iowa
, sitting astride the Skunk River roughly 30 miles north of
Des Moines
. Life in Ames follows the ebb and flow of the academic year at Iowa State University, which is the city's primary draw. Named after Massachusetts congressman and transcontinental railroad supporter Oakes Ames, the city was founded as a stop along one of the primary rail links to the first transcontinental railroad. The railroad is still a daily part of life in Ames, with nearly 70 Union Pacific long-haul freight trains passing through town each day.
Get in
By car
Traveling from the north (e.g.,
Minneapolis
, 2.5-hr drive) or from the south (
Des Moines
, 30 minutes), take
I-35
to exit 113 and drive west along 13th Street into town. Or take US 30 (exit 111) west to South Duff or University Boulevard and go north into town. Traveling from the east (
Chicago
, 5.5 hours) or from the west (
Omaha
, 2 hours), take
I-80
to I-35, and then I-35 north and as above. US 30 also reaches Ames direct from Omaha and Chicago.
By bus
Burlington Trailways
and
Jefferson Lines
both serve the , +1 515 232-2404, at 129 Hayward Avenue, a block south of the Iowa State University campus in the Campustown neighborhood. Jefferson Lines directly connects Ames to destinations north and south along I-35, while Trailways directly links Ames to Des Moines and destinations east along US 30.
By plane
There is no commercial aviation to Ames; the nearest major airport is located in
Des Moines
. Shuttle service is available to/from Ames;
Executive Express
offers a relatively frequent scheduled service. If flying via charter or general aviation, one can use the
Ames Municipal Airport
on the southern edge of town, south of Airport Rd; from there automobile is the best bet into town - a Hertz rental car location is available at the airport.
Get around
Lincoln Way
is the main east-west thoroughfare of the city, passing just south of
Downtown
(the historic center of town, north of the train tracks between Grand and Duff Avenues) and continuing west to
Campustown
(the neighborhood immediately south of the ISU campus) along the southern edge of the central campus of ISU. Similarly, 13th Street runs from I-35 across the northern edges of the downtown area and the university campus. Main north-south roads include Duff Avenue (south of Lincoln Way) and Grand Avenue (north of Lincoln Way) which together carry U.S. Hwy 69 through Ames, University Boulevard and North/South Dakota Avenues.
The city-university partnership
CyRide
provides bus service in Ames. Service hours can be limited (particularly during weekends and school breaks), but the system does a decent job covering the city and is very reliable. Fare is $1.25 ($0.60 for children/seniors).
Ames is very bicycle friendly, with a moderately extensive paved
trail system
for walking and biking. Apart from ISU itself, there are generally three main pedestrian-friendly concentrations of shops and restaurants: Downtown along Main St between Clark and Duff Avenues, Campustown along Welch Ave south of Lincoln Way, and the much newer Somerset neighborhood directly north of the ISU campus along Stange Ave north of 24th St. Not quite so pedestrian friendly is the two miles of big box stores and strip malls along Duff Avenue between US 30 on the south and Lincoln Way on the north.
See
The Downtown district, along Main Street between Grand and Duff Avenues (just north of Lincoln Way and the train tracks), is the historic center of town and makes for a pleasant stroll. The district has most of Ames' civic functions, such as the city hall, the library, and the main post office. Main Street is lined with charming old brick buildings holding small shops and restaurants and often hosts events such as a local farmers' market. At the east end of Downtown on Duff Avenue, in the shadow of Ames' power plant, is , a pleasant square that regularly holds concerts in the summer months.
phone: +1 515 232-2148

address: 416 Douglas Ave

A small museum run by the local historical society with exhibits and displays on Ames history. Books, historic postcards, and self-guided walking tour brochures are available for purchase here.
Iowa State University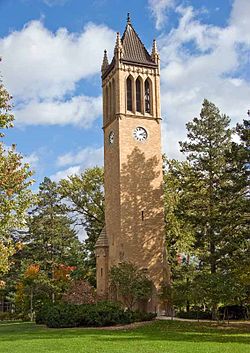 Occupying nearly 500 acres in the middle of town is the scenic main campus of the Iowa State University, with its many lovely green spaces and a large collection of public art scattered throughout. Architecture varies, from gorgeous classically-designed buildings in the middle of the campus to more modern brutalist-style buildings around the edges. A large lawn occupies the very center of the campus, with a small lake at the southern end.
phone: +1 515 294-3342

address: 2nd floor of the Scheman Building, ISU campus

Holding fine and decorative art items from around the world, including European decorative arts and American prints, paintings and sculpture, with an emphasis on Iowan artists.

CampanileOverlooking the central lawn is this classically-designed clock and bell tower, frequently used as an icon for the university.

phone: +1 515 294-9500

address: Morrill Hall, ISU campus

Located in one of the oldest buildings on campus, this museums holds a series of changing contemporary art exhibitions. A small sculpture garden with changing exhibits is located behind the building.

phone: +1 515 294-3342

address: in the center of the ISU campus

The oldest building on campus, the Farm House was the center of life for the model farm that was the entirety of the university during its founding years. Today it is operated as a historical museum with period furnishings.
The main library on campus, , is notable for holding a set of murals painted by Grant Wood (creator of the famous American Gothic painting). Located down a quiet side hall and an adjacent study room, the murals depict agrarian life and the home and agricultural-based education ISU is noted for.

phone: +1 515 294-2710

address: 1407 University Blvd

Originally created to provide staff and students of the university a place to relax and enjoy nature, this is a large botanical garden with indoor and outdoor displays. Among the highlights are a lovely rose garden, a conservatory, and a popular butterfly garden.
Do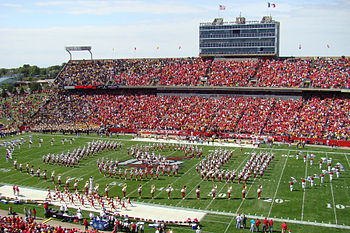 ISU Cyclones, +1-888-478-2925. ISU's football and basketball teams are the biggest draws, but ISU is also a national power in wrestling and the university fields teams in several other sports in the Big 12 Conference, at the NCAA Division I level. The sports complex is just southeast of the main campus; the football team plays at on University Blvd just south of Lincoln Way, while the basketball, wrestling, volleyball, and gymnastic teams play at , at Lincoln Way & University Blvd.
Next to the stadium complex are Iowa State's two performing art centers, the and the , both of which play host to a variety of concerts and plays.

phone: +1 515 239-5360

address: 5205 Grand Ave

Just north of town is this small lake that makes for a pleasant fishing and picnicking spot. A biking/hiking trail circles the lake, and a ramp for small boats is also available.
Buy
ISU Cyclones' licensed paraphernalia (sweaters and such) are available from several retailers around town, but perhaps most notably at the
Iowa State University Book Store
in the Memorial Union on campus facing Lincoln Way. Other specialty shopping can be found along Main Street in Downtown, which is lined with a number of small boutiques and stores.
Most of the big-box chain stores in town are along Duff Avenue on the south side of town, between Lincoln Way and U.S. Highway 30. There's also a Wal-Mart and some strip malls along North Grand Avenue on the north side of town, as well as Ames' only indoor mall, the small between 24th and 30th Streets.
Eat
Dining-wise, Ames is mostly a pizza-and-beer kind of town, perhaps reflecting the tastes of the local student population. However, there are some standouts:
phone: +1 515 233-4136

address: 547 Main Street

Pricey but popular steakhouse with semi-formal atmosphere, which has made it something of an Ames standby with so few formal restaurants to go around. Patio and bar.

phone: +1 515 292-0100

address: 2616 Northridge Pkwy

Very popular restaurant with farm-to-table cuisine, vegetarian options, casual but chic atmosphere. Great desserts and wine list.

Downtown Deli

phone: +1 515 232-3626

address: 328 Main St

Very bare-bones, but a nice local choice for sandwiches.

The Great Plains Sauce and Dough Company

phone: +1 515 232-4263

address: 129 Main St

Pizza is hearty, but popular because of the crust. Has honey as a dipping sauce.

phone: +1 515 232-8940

address: 1404 S Duff Ave

A huge and very popular Western-themed restaurant that has long been an Ames staple and is great for kids, parties, and large groups. American and Iowan fare, featuring pulled pork/beef sandwiches and a dessert menu boasting over 50 selections. Huge seating area, though there is often a wait to get a table on the weekends; however, the wait passes quickly and the waiting area has enough interesting decor and distractions like a TV and cheap candy to keep you occupied. Very popular with families. Diabetics beware.

phone: +1 515 292-2321

address: 2402 Lincoln Way

Pizza place offering some unusual toppings, Iowa State student favorite. Eat in or delivery.

phone: +1 515 232-0200

address: 402 Main St

Thai cuisine with a nice ambiance.

phone: +1 515 292-5258

address: 303 Welch Ave

A coffee shop/art gallery that is a popular student hangout and serves good cappuccinos and mochas, along with decent sandwiches and teas. Service takes a while, though.

phone: +1 515 292-4788

address: 2410 Chamberlain St

A small Thai restaurant with friendly atmosphere.

West Street Deli

phone: +1 515 268-4605

address: 2810 West St

A pleasant and rather unassuming deli on a quiet side of campus. Excellent sandwiches.
Drink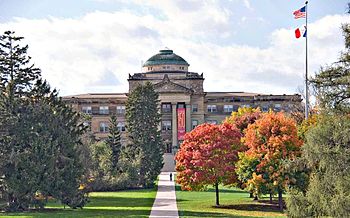 Alcohol purchases end at 2AM.
Cy's Roost

phone: +1 515 268-9199

address: 121 Welch Ave

For the big game.

Mickey's Irish Pub

phone: +1 515 292-7378

address: 109 Welch Ave

Frat-bar with dance floor in the basement but not considered a club.

Paddy's Irish Pub

address: 124 Welch Ave

Relaxed dive bar with mostly standing room only (on the weekends) and overly loud music for dancing. Two-Fer-Tuesdays and dollar burgers on Wednesdays.

Sips

phone: +1 515 292-6887

address: 124 Welch Ave

Dance club.

phone: +1 515 292-2334

address: 207 Welch Ave

One of the longest-standing bars in town. The atmosphere is more traditional than the more "hip" and "modern" bars around town. Has regular bar food as well as pizza from the Pizza Pit upstairs.

phone: +1 515 612-4949

address: 132 Main St

Dive bar on Main Street in downtown, three miles from campus.
Sleep
Most lodging in Ames is of the chain variety and is generally located either along I-35 or US Hwy 30. A collection of motels is located at the southeast corner of town off the Dayton Ave/US Hwy 30 interchange. There's also a couple of motels off the 13th St/I-35 interchange (exit 113) on the east side of town and south of the University Blvd/US 30 interchange on the south side of town.
phone: +1 515 292-8600

address: 2100 Green Hills Dr

One of the more reputed hotels in Ames. Heated indoor pool, fitness center, whirlpool and sauna, free parking, free wireless internet, room service, on-site restaurant, meeting/conference space.

phone: +1 515 292-2474

address: 405 Hayward Ave

A small bed and breakfast in an old fraternity house that's well furnished with friendly service. In a nice neighborhood and very convenient to Campustown.
Connect
Free wi-fi is available for guests on the ISU campus, although it requires you to register with the server when you open your internet browser.
phone: +1 515 239-5646

address: 515 Douglas Avenue

Free wi-fi for anyone with their own device and computers available for guest use.
Go next
Story City is about a 15 minute drive north on I-35 or US Hwy 69 and has an antique carousel.
Boone, about 20 miles to the west on US Hwy 30, is home to a scenic railroad. South of Boone is Ledges State Park, a scenic area with cliffs and bluffs along the Des Moines River.
Des Moines, the capitol and largest city of Iowa, is 30 miles to the south on I-35 and has a number of attractions.