Amherst (Nova Scotia)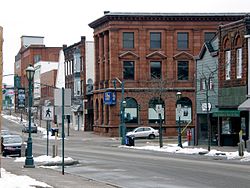 Amherst
is a city of 9,400 people (2016) in
Cumberland County
,
Nova Scotia
. Amherst is the county seat and largest population centre in the Cumberland region.
Understand
Nova Scotia Welcome Centre

phone: +1 902 667-8429

address: 90 Cumberland Loop
History
The Micmac name for the area was
Nemcheboogwek
, meaning 'going up rising ground', in reference to the higher land to the east of the Tantramar Marshes. The Acadians who settled here as early as 1672 called the village
Les Planches
. The village was renamed "Amherst" in honour of Lord Amherst, the commander-in-chief of the British Army in North America during the Seven Years' War."
The town was settled in 1764 by immigrants from Yorkshire following the expulsion of the Acadians. The original settlement was 3 km (1.9 mi) southwest of the present town on the shore of the Bay of Fundy. These settlers were joined by United Empire Loyalists who fled the American colonies during the American Revolution. A mill was built on the current townsite, and the residents moved there to be closer to work.
During the 19th century, Amherst became an important regional centre for shipbuilding and other services to outlying communities. An indication of the town's importance in Canadian history is seen with its four Fathers of Confederation: Edward B. Chandler, Robert B. Dickey, Jonathan McCully, and Sir Charles Tupper.
During the late 19th century, local industrialists and entrepreneurs constructed many fine Victorian and Edwardian homes along Victoria Street East, leading toward the farming hamlet of East Amherst.
Amherst experienced unprecedented industrialization in the late 1870s after the Intercolonial Railway of Canada constructed its main line from Halifax to Quebec through the town in 1872. The location of the railway line away from the Bay of Fundy coast further consolidated the town at its present location as industry and commercial activity centred around this important transportation link. The economic boom created by the arrival of the Intercolonial Railway lasted through World War I and numerous foundries, factories and mills opened.
In 1908, the manufacturing output of Amherst's industries was not exceeded by any centre in the Maritime Provinces. Many of the fine old buildings along Victoria Street are considered industrial artifacts because they were constructed during a period of tremendous industry growth. Local contractors employed local craftsmen, who used local materials. Notice the emphasis on sandstone and brick, both locally produced and delightful detail which reflects the skilled craftsmanship prevalent in the 19th century.
The town's industrial economy began a slow decline during the 1910s. A prisoner-of-war and enemy alien camp was set up at Malleable Iron Foundry in Amherst from April 1915 to September 1919, and Russian revolutionary Leon Trotsky was incarcerated there for one month after he was arrested in Halifax in April 1917. Trotsky was transferred to the isolated Kapuskasing Internment Camp in northern Ontario until his release and expulsion after Soviet Russia signed the Treaty of Brest-Litovsk, ending their involvement in the war.
The eventual closure of companies such as Robb Engineering & Manufacturing (purchased by Canada Car and Foundry and then closed) and Amherst Pianos, among others led to a resignation of lost dreams as the town was overtaken by other newer manufacturing centres in central Canada during the 20th century.
Get in
Amherst is just off the
Trans-Canada Highway 104
, a few kilometers south of the provincial border with
New Brunswick
. The city is accessed through the following highway exits: LaPlanche St
(if coming from the west), Victoria St or Albion St. You can also enter Amherst from the
Sunrise Trail
(Route 6) to the east, which links to Victoria Street.
The town is served 3 times a week by
Via Rail
's Halifax-to-Montreal train
The Ocean
.
Get around

The main streets in Amherst are Albion St, Church St and Victoria St. Church St intersects with Victoria St and Albion St, and both Victoria and Albion St intersect with Highway 104, so you can usually find your way around if you know these three streets. Albion St, where most of the restaurants and shops are, represents up-town. Church St and Victoria St (downtown) have most of the artisan shops, diners and history.

See
phone: +1 902 664-7223

address: 150 Church St

Grove Cottage (c 1838) was the family home of Senator R.B. Dickey, one of the Fathera of Confederation. The museum presents the natural and human history of Cumberland County with emphasis on its industrial and social history from pre-colonial times to the early 20th century. An art gallery, an extensive archives, a collection of genealogy material, and research room.

phone: +1 902 667-2001

address: 66 Victoria Street East

circa 1898

address: Southampton Road

Waterfowl and many other marshbirds are very abundant in the sanctuary, and the majority of waterfowl species found in the Atlantic Provinces can be found within this site. A 2.5-km interpretive hike circles Laytons Lake. The species that nest within the Amherst Point Migratory Bird Sanctuary include: American black duck, northern pintail, green-winged teal, blue-winged teal, American wigeon, northern shoveler, ring-necked duck, and pied-billed grebe, and American bittern, and sora.
Do
Tidnish Suspension Bridge

address: Ketchum Trail, Tidnish

Off of Route 366 coming from Amherst, turn right just before the river bridge onto a dirt road that says "no exit". Look closely for the sign on the left side.
==Buy==
phone: +1 902 664-7407

address: 129 Victoria Street East

Formerly "Dayles Department Store", now home to an assortment of boutiques.

Farmers' market

address: 9 Electric Street

Crafts, prepared food, produce, plants

address: 300 LaPlanche Street

Piles of discount new and used clothing and other merchandise. Dig through to find brand name treasures.
The local mall and Walmart are on Robert Angus and the John Black Rd (which are the same street).
The Amherst Centre Mall is home to Coles, Northern Reflections, Marks Work Wearhouse, Eclipse, Charm Diamond Centres, and the Amherst Artisan Gallery.
Eat
phone: +1 902 660-3111

address: 49 Victoria Street East

Pub food including burgers, salads and wraps, seafood, and some international dishes.

phone: +1 902-661-4800

address: 5091 Highway 366

Regionally inspired cuisine. Dinners are 4-course prix fixe. Reservations are required.

Flutterbye Jamaican Caribbean Cuisine

phone: +1 902-661-8866

address: 9 Laplanche St

Bambinos Pizzeria

phone: +1 902 667-7171

address: 12 Prince Arthur Street

Pizza, burgers, subs, donairs, wraps. Eat in, take out or delivery.
Drink
phone: +1 902 614 8983

address: 46 Anson Avenue, Unit 3

Stop in to sample their variety of beers, especially the Mean Joe Bean Coffee Blonde Ale, and to play with the brewery's bilingual dog, who responds to commands in English et en français.
Sleep
phone: +1 902 667-7676

address: 175 East Victoria St

Traditional hot breakfast, secure parking or pick up from the Amherst train station.

phone: +1 902 667-0404

address: 143 Albion St S

Free hot breakfast, pet-friendly hotel ($10/pet/stay).

address: 40 Lord Amherst Dr

Free Wi-Fi, free breakfast, free parking, pet friendly, indoor pool.

phone: +1 902 667-9769

address: 158 Victoria St E

Includes breakfast buffet.
Nearby
Joggins
phone: +1 902 251-2727

address: Joggins Fossil Centre, 100 Main St, Joggins

Fossil records dating from 310 million years ago. Joggins Fossil Centre open seasonally, guided tours from half-hour to four hours of the cliffs.
Go next