Amherstburg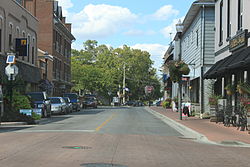 Amherstburg
is a town of about 22,000 people (2016) near the mouth of the Detroit River in
Essex County
.
Understand
Amherstburg is a city of trade and services to support regional agriculture. It has also become known for several wineries in the area.
Local industry includes Diageo, a whiskey distillery that produces the Crown Royal Canadian whiskey, Windsor Mold's Precision Plastics, one of Ontario's largest full-service suppliers of industrial plastics and thermoplastic, and Honeywell Performance Materials and Technology. Marathon Oil has a coke storage site near the river.
History
Across the Detroit River from what developed as the state of Michigan in the United States, the town was permanently established in 1796 as a British military fort overlooking the river's mouth at Lake Erie. Fort Malden was occupied as a garrison. The town was developed by Loyalists who were granted land by the Crown in
Upper Canada
in compensation for losses in the Thirteen Colonies, or as payment for service in the military, after the British lost the
American Revolution
War. This enabled the Crown to increase population in Upper Canada and develop it. The new settlers built many of their houses in the French style of a century before, giving the new town a historic character. French-speaking colonists also settled here, some who were descendants of the Petite Côte settlement along the river to the north. St. Jean was their Catholic church.
During the days of the
Underground Railroad
before the
American Civil War
, fugitive African-American slaves often crossed the river to escape to freedom in Canada, after the Crown abolished slavery.
Detroit
abolitionists William Lambert and especially George DeBaptiste were key to helping the slaves escape. DeBaptiste owned a lake steamboat which was used to offload fugitives in town while docked ostensibly to load lumber. They used Fort Malden as an entry point to Canada.
When the fort was no longer needed for military purposes, the government adapted it for use as a "lunatic asylum". Its main building was later used as a Port of Entry Money Order office and Post Office savings bank. The town is named after Jeffery Amherst, 1st Baron Amherst, commander of the British forces and first British Governor General of the Province of Quebec (1760).
Get in
Between Amherstburg and Windsor (the nearest local metropolis), there is no regularly scheduled bus line.
Amherstburg Taxi and South Shore Taxi occasionally operate a "shared ride service" from Amherstburg to the Devonshire Mall in Windsor.
Small boats are welcome to call at any one of three local marinas that serve Lake Erie and the Detroit River.

Get around
Amherstburg Ferry Company operates private ferry service to Bob-Lo Island community.
Amherstburg Taxi, +1 519-736-1761
See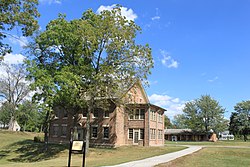 Fort Malden National Historic Site

phone: +1 519-736-6947

address: 100 Laird Ave S

The location of an historic meeting between Major General Sir Isaac Brock and Shawnee Chief Tecumseh, the British stronghold on the Detroit frontier during the War of 1812 and the Rebellions of 1837-38, and the site of the longest American occupation on Canadian soil.

phone: +1 519-736-5416

A citadel on the former site of Fort Amherstburg (1795), a British border fortification.

phone: +1 519-736-5433

address: 277 King Street

This explores the history of African-American refugees in western Ontario, who sought freedom from slavery and made their homes here.

Park House MuseumThe story of Amherstburg and its people.

Amherstburg Navy Yard National Historic Site

address: Dalhousie Street

Beautiful gardens, manicured lawns and sculpture depicting the War of 1812.

Gibson GalleryAn art gallery in a former Michigan Central Railroad Station (c. 1896), which has been fully restored. The gallery operates year-round, featuring exhibits by local artists, the permanent collection of the Art Gallery of Windsor, travelling exhibits from Ontario museums and galleries, and student art/photography exhibits.

Gordon House

address: 268 Dalhousie St

Built in 1798 as a residence overlooking the Detroit River. Since being restored, it houses a marine exhibit.

Bois Blanc IslandAbandoned amusement park rides. Once a popular day trip from Detroit, hosts amazing views.
Do
Holiday Beach Conservation Area

phone: +1 519-736-3772

address: 6952 County Rd 50

One of the best fall birding sites in North America for viewing migratory birds. The 2.2 km² (546-acre) nature reserve contains over 610 m (2,000 feet) of beaches, picnic areas, a 2-km (1.2-mi) trail along the edge of Big Creek Marsh. Holiday Beach is considered a premiere spot to view the fall migration of raptors (birds of prey). A 'Festival of Hawks' event takes place in September.
===Events===
Buy
address: at the Malden Community and Cultural Center, 7860 County Road 20 at the end of Howard Avenue on County Rd 20

Produce and products sold are from within a 50-km radius.
Eat
Drink
Sleep
Bondy House Bed & Breakfast

phone: +1 519-736-9433

address: 199 Dalhousie St

Guests can choose from theme bedrooms and an executive suite with private balcony overlooking the parks and Detroit River. Each of the of guest bedrooms has its own theme reflecting the history of Amherstburg.

Honor's Country House Bed and Breakfast

phone: +1 519-736-7737

address: 4441 Concession 4 South

Rooms come with a private bathroom fitted with a shower. Free WiFi throughout the property. Shared kitchen available.