Amparo
Amparo
is a city in
Campinas Region
of
São Paulo state
. It is the largest city of the
Circuito das Águas Paulista
(Paulista Water Circuit), a cluster of mineral spring towns over the Mantiqueira mountain range. Amparo contains a large and well-preserved historical heritage from the São Paulo state coffee farming era (late 19th century).
Understand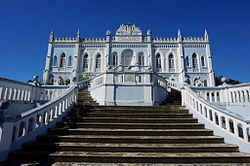 The settlement of
Nossa Senhora do Amparo
was founded in 1829. After 1850, it prospered with the coffee farming, and got a boost with the inauguration of the train station from the Mogiana company. The Great Depression of 1929 also brought the decline of coffee farming in the state of São Paulo, and Amparo suffered from economic stagnation. After 1940, the city started recovering with industrialization and later, tourism. Química Amparo (Ypê), a manufacturer of cleaning products founded in 1950, is still the main employer of the city.
Amparo remains as one of the cities of the state with most preserved heritage from the coffee farming era. Other attractions of the city are its mineral springs, rural tourism, eno- and ecotourism.
Get in
By bus
The intercity bus terminal is in the historic center, near the Municipal Market, making intercity buses an attractive option to get in the city. Buses from
Campinas
are operated by
Expresso Metropolis
and from
São Paulo
by
Rápido Fênix
. Buses are not that frequent so reserving in advance is a good idea.
By car
From Campinas: Take Rod. D. Pedro (SP-065) towards Jacareí and then take Rod. Campinas-Mogi Mirim (SP-340) towards Jaguariúna. In Jaguariúna, take Rod. João Beira (SP-095) towards Pedreira and Amparo.
Get around

It is possible explore the city center on foot, although the area is relatively large and contains ladders. You can cycle alongside the Camanducaia river, but for exploring the city, be prepared for the ladders and brick roads. A car is recommended if you plan to explore the countryside of municipality.

See
Historical heritage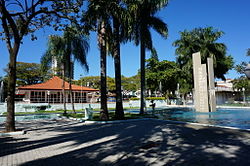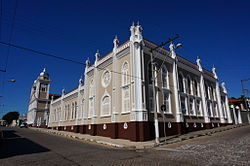 Amparo's city center contains a large collection of houses and constructions from the coffee-farming era (late 19th and early 20th centuries). The most remarkable constructions are:
Museu Histórico e Pedagógico Bernardino de Campos

phone: +55 19 3807-2742

address: Rua Luiz Leite, 7

Small palace constructed in 1885 to be home of a local ariscrat, Colonel Luíz de Souza Leite. It later became the Amparo's city hall and the city council hall. It is now a museum with 15,000 pieces, mostly from the 19th century, and is considered to be the most relevant museum of the Circuito das Águas.

Praça Monsenhor João Batista Lisboa

address: Center

Amparo's main square, containing some buildings of interest:
Igreja Matriz de Nossa Senhora do AmparoAmparo's central church, in neoclassic style, inaugurated in 1878.

Biblioteca Municipal Carlos FerreiraThe municipal library, founded in 1900 and containing about 23,000 volumes.

Sociedade Italiana

address: Praça Monsenhor João Batista Lisboa

Building constructed in 1901 by the Italian community. It was the city hall of Amparo until 2008.
Igreja de Nossa Senhora do Rosário

address: Largo do Rosário - Centro

Church constructed in 1831, maintaining its original characteristics.
Santa Casa Ana Cintra

address: Rua Ana Cintra, 332

Hospital constructed in 1890 by a Campinas aristocrat.
Hospital da Beneficência Portuguesa de Amparo

address: Av. Bernardino de Campos, 207

The palace built in 1892, now a hospital, is one of the most beautiful constructions of the city.
Largo da Estação

address: Praça Pádua Salles

Square containing the tourist information center and a couple of places of interest, including:
Old Amparo train stationThe old train station that was operated by Companhia Mogiana and inaugurated in 1875. The last train departed to Monte Alegre do Sul in 2 January 1967.

Pinacoteca Dr. Constâncio CintraArt museum founded in 1975, containing about 400 works.
Igreja de São Benedito

address: R. São Benedito, 117 - Centro

Church founded in 1885, annex to a cloister founded in 1912.
Etec João Belarmino

address: R. Sete de Setembro, 299 - Centro

Technical school founded in 1911 to train factory works, which retains its original function.
EEPG Luiz Leite

address: Rua Capitão Alceu Vieira, 76 – Centro

Public school founded in 1894.
Mercado Municipal

address: Praça Dr. Araújo

The city's municipal market, founded in 1912 and reopened in 2013 after a restoration process. Contains a restaurant and a chopperia.
Patronato Jesus Crucificado

address: Rua Barão de Campinas, 307 - Centro

Old house of the Baron of Campinas, constructed in 1878. Also where Emperor Pedro II of Brazil stayed for 2 days. It is now a school for small children.
Parks and nature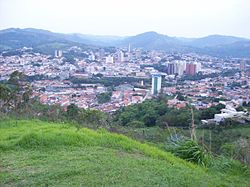 Parque Turístico do Cristo Redentor

address: Rodovia Amparo-Itapira

Park with a statue of the Redeemer Christ and a panoramic view of the city.
Do
Events
Festival de Inverno

address: Praça Pádua Salles (Largo da Estação)

The annual Winter Festival consists of shows are scheduled for the whole month of July. All kinds of bands are invited to the city, from sertanejo (a Brazilian form of country music) to heavy metal. Ballet and plays are often part of it. Although the event is more oriented toward city residents, it's a touristic event and July might be the best time to visit Amparo.
Buy

Amparo's main shopping street is R. Treze de Maio, with shops mainly oriented to locals, not tourists. Locally made handcrafts are sold at Centro de Artesanato in the old train station.

Eat
Farol

phone: +55 19 3817-1227

address: Rua Treze de Maio 336

Gordão Lanches

phone: +55 19 3808-1800

address: R. Dr. Osvaldo Cruz, 14

Pizzeria.

Ney Lanches

phone: +55 19 3817-3672

address: R. Manoel Heitor, 136

Ponto 8

phone: +55 19 3807-8014

address: Pç Monsenhor João Batista Lisboa, no number

Restaurante Guarany

phone: +55 19 3808-8989

address: Rua Comendador Guimarães, 500

Rovigo

phone: +55 19 3807-9890

address: R. 15 de Novembro, 45

Pizzaria.

Tucão Lanches

phone: +55 19 3808-1261

address: Rua Dr Plínio Amaral, 85

phone: +55 19 3817-2161

address: Av. Bernardino de Campos, 1340

Pizzeria.
Drink
Anexo Pub

Bar Quintal

Botequim do Rosário

Matriz Chopperia

phone: +55 19 3808-3389

address: Rua Treze de Maio, 17 - Centro

Dance club, one of the largest of the Paulista Water Circuit.

address: Av. Dr. Carlos Burgos, 1630 - Centro

Large bar with live Brazilian music (various styles).
Sleep
Alpes Chalés

Ancona Canter Hotel

Bougainville Hotel Fazenda

Chalés & Cia.

Grande Hotel Amparo

Hotel Fazenda Vanguarda

Hotel Resort Canto da Floresta

Hotel Sant'Ana

Maranim Plaza Hotel

Pousada Coisas da Terra e do Céu

Pousada Dois Lagos

Pousada Fazenda São Joaquim

Pousada Sierra
Stay safe

Amparo is a safe city, with violent crime being far less common than petty crime. The roads around the city are quite dark during the night, so drive carefully in this situation.

Go next
Monte Alegre do Sul - Small town founded by Italian immigrants, with a charming historic center and renowned cachaça brewers