Amphawa
Amphawa
(Thai: อัมพวา) is a village
West of Bangkok
, close to
Samut Songkhram
.
Understand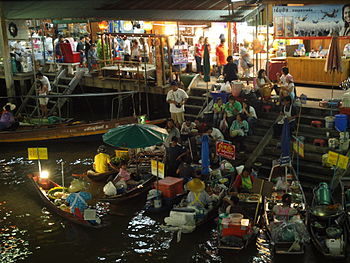 The canal-side way of life in Amphawa takes place along the waterfront walkways of Amphawa Canal, a small tributary of the Mae Khlong River. Every weekend Thais flock to the
Amphawa Floating Market
, as big queues emerge along the canal's bridges and walkways. While commercially developed, the old wooden houses and shopfronts retain some of their original charm.
In the Ayutthaya Period, Amphawa was called Khwaeng Bang Chang, a small community that flourished in agriculture and trade. Sources have confirmed the existence of a market here since the reign of King Prasat Thong in the mid-17th century. In 1766, King Rama II was born in Amphawa, his mother's hometown, as his father was ruling the town of
Ratchaburi
. At his probable birthplace is now the King Rama II Memorial Park.
Get in

Most visitors come to Amphawa on a day-trip from Bangkok. You can take the fast mini van from Victory Monument to Damnoen Saduak and get off at Amphawa. A bus from the Southern Bus Terminal might be a safer option but you have to take the bus to Samut Songkhram first and switch onto a songthaew or bus heading for Amphawa. Ask the locals, as buses are only signed in Thai and songthaews don't have any signs at all. The ride will take about 15 minutes and it is obvious where to get off.

Get around

It's only a small village and so everything is within walking distance. The floating market is immensely popular and consequently there are enormous queues, especially at the pedestrian bridges over the canal. You can also hire a boat to get up and down the canal, and so participate in the floating market.

See
Nearly everyone comes for the
Amphawa Floating Market
, opened on weekends (F-Su) only. It gives an impression of the canalside way of live, where farmers in traditional clothing sell their produce. Unlike
Damnoen Saduak
, this is an afternoon market, so you can easily combine the two into a single trip. It starts to get going around noon, but is at its best around 15:00.
Chuchai Buri Sri AmphawaThe name means "the city of Chuchai in the glory of Amphawa. It is a billion baht entertainment complex 500 m from the floating market that features an 18-room hotel, shopping centre, restaurant, and Hindu shine. The building is an outrageous mix of Thai traditional and neoclassical, reminiscent of high society during the late-19th and early-20th centuries. It was built by a wealthy Thai gemstone dealer and designer, Chuchai Chairitthilert, who was bewitched by Amphawa. The five storey building was opened in March 2016.

King Rama II Memorial Park

phone: +66 3-475-1367

Built in honour of King Rama II at the place believed to be his birthplace. It's a botanical garden with traditional Thai stilt houses. Some of the attractions here are the teak mansion museum displaying 18th century artifacts, the traditional plays and the Thai dessert cooking demonstation.
Do
A popular activity is to take a boat ride through the canals. You can even hire a river taxi and get all the way to
Damnoen Saduak
. You can alo rent a bike and ride through the orchards.
Buy

Many shops have congregated around the floating market's walkways. Most of them are souvenir stores that cater to middle class Bangkokians daytripping here. You can buy t-shirts, notebooks, dresses, handicrafts, traditional hats, bags, flip-flops, cups, pens and many other small objects. Retro products seem to be particularly popular — expect miniature cars from the 1960s and albums of bands such as The Beatles.

Eat

Eating is a major activity on the floating market — there are many merchants in boats preparing delicious food right in front of you. Seafood is popular, especially shrimp, squid and clams are sold in large quantities. Thais buy many different kinds of food at different merchants and share these together. Fresh farm products cost around 120 baht for each meal. Some boat merchants prepare different varieties of pad thai and other noodles, which cost 20 baht each.

Drink
There are some cafes along the walkway. Most of them are in a kind of wooden retro style.
ChanchalaTypical Amphawan coffee shop, as is shown by the wooden interior and retro feel. Drinks must be ordered from the cafe, but you can freely choose food from one of the boat vendors.
Sleep

Amphawa is immensely popular among Thai visitors from Bangkok, so expect all the hotels to be sold out on weekends. If you want a room during this time, it is necessary to book at least a week in advance. If you haven't done this and still want to stay over, you might want to try a homestay in and around the floating market.

Go next
You'll probably get out the same way as you got in: from
Bangkok
and
Samut Songkhram
. It is possible, however, to combine Amphawa with a visit to the floating market at
Damnoen Saduak
which takes place in the morning. There are some other floating markets around as well, including the
Tha Kha Floating Market
.