Anacapri
Anacapri
is one of two towns in
Capri
. It's the second town of Capri with no sea views, but a fun place nonetheless.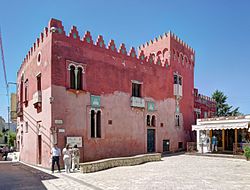 Get around
Walking is sufficient.

See
Villa San Michele is the 19th century mansion of Axel Munthe, a Capri personality, €5, open daily 09:00-17:00 The Villa is the life work of Axel Munthe who restored the ancient villa and built up his collection of antiquities in the Villa. To really enjoy this gem get yourself a copy of "the Story of San Michele" by Axel Munthe. It is a mystical and wondrous story that will be reread many times.
The St. Michael's Church has a beautiful tiled floor depiction of Adam & Eve, €1, open daily 09:00-16:45, in town centr7e.
Capri Diorama in a courtyard near the Tourist Information office, is a large, painted model of the island. Avoid it between 14:00 & 15:00, when cruise ship crowds deluge it, on Via G. Orlandi, €3, open daily 09:00-19:30, closed November to march. Telephone: 081-837-1169.
Grotto Azzurra (Blue Grotto): See main Capri article.
The Monte Solaro Chairlift goes up to the high summit of Mt. Solaro, with a commanding view at the top of the entire Naples Bay. It takes 15 minutes up or down, €9 round-trip, €7 one way (you can hike for 40 minutes down from the summit), open daily in summer 09:30-17:00, last run down at 17:30, November to March last run at 15:30.
The Faro Lighthouse, reached by bus from Anacapri (2 an hour) is a great place to enjoy the sunset, along with its beach pool, and restaurants.
Do
Tourist Information

phone: +39 081-837-1524

The office is on the pedestrian street near Piazza Vittorio, open Monday to Saturday 09:00-15:00, closed Sunday, often closed November to Easter.
Eat
There are many roadside vendors and small restaurants.

Drink
Cafe MichelangeloA good spot for people watching - also does good light meals/lunches.

Cafe NautilusThe best coffee in Anacapri.

The Green Lantern BarCocktails on the terrace and a fabulous view of the Bay of Naples.
Sleep
Bellavista, Casa Caprille, Villa Capri,Senaria, Loreley, La Porta, Due Pini Residence, Il Mulino, Da Gelsolmina Migliera

Go next