Anchorage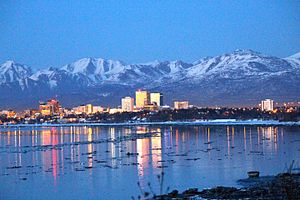 Anchorage
is the largest city in
Alaska
, in the
Southcentral
region. Anchorage is a cosmopolitan port city with a population of over 300,000. It is a consolidated city-borough referred to as a municipality. The urbanized city is defined by Muldoon Road to the east, Rabbit Creek Road to the south, and Cook Inlet to the north and west. Several small suburbs are within the Municipality of Anchorage while physically outside what most Anchorageites would call the "Anchorage" proper area. These include
Eagle River
and Chugiak to the north and
Girdwood
to the south.
Understand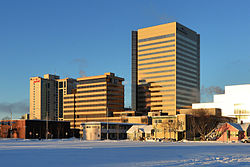 Let's be clear, if you are looking for the "real Alaska" this is not it, but you can see it from here. Anchorage is a city a real city with freeways, traffic, giant malls, tall buildings, crime and
most
other things one expects to find in an American city. It is an important hub and the gateway to other marvelous areas including the
Alaskan Interior
and the
Kenai Peninsula
, but is not really a tourist destination. While it is not the administrative capital of Alaska, it is the economic capital. There are good places to eat and plenty of shopping, but the city is just that, a city. A great place to gear up for a trip, but it's not particularly "Alaskan" except for the weather and its spectacular setting.
Climate
Alaska is well known for its winters—but most visitors come in the summer, when the days are long and the temperatures are moderate.
Many people consider the period between May and early September to be the best time to visit Anchorage. The month of June usually has the best combination of long days, good weather, and warm afternoons.
As you would expect in the high northern latitudes, the longest days come around the summer solstice, 21 June, and they get quite short around the winter solstice, 21 December. In the summer, Anchorage gets up to 19.5 hours of sunlight, beginning by 4am, the sun sets just before midnight especially early in the season. Under clear skies, the sky wouldn't get completely pitch black in June. At the start of winter however, the area only gets 5 hours of sunlight each day - it only gets bright from as late as 9:30AM and the usually cloudy winter days further exacerbate the amount of sunlight, it is dark at 4PM.
The Anchorage-area climate, including the Kenai Peninsula and Prince William Sound, often sees summer temperatures in the mid-70s F (24°C). Winter temperatures may fall into the -20s and -30s (-30s°C) for a short spell.
Visitor information
Get in
By plane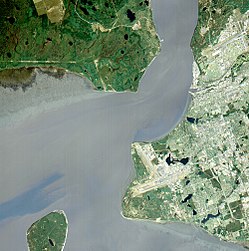 Anchorage is served by many major American airlines. Air travel is the cheapest and fastest form of transportation in and out of the state. Non-stop flights are available from
Seattle Tacoma Airport
,
Portland
,
San Francisco Airport
,
Minneapolis
,
Chicago O'Hare
, and
Phoenix
, and more locations in the summer. Many arriving and departing out-of-state flights are late-night "red-eyes," but there are often many daytime flights to and from Seattle. Anchorage recently completed extensive remodeling and construction at (
ANC
) (named in 2000 for the late long-time Alaska senator) to help accommodate the upsurge in tourism (unofficial sources estimated the numbers for 2004 at some four million tourists arriving in Alaska between May and September). Anchorage is the fourth busiest airport for freight due to its location along "great circle" routes between Asia and the lower 48.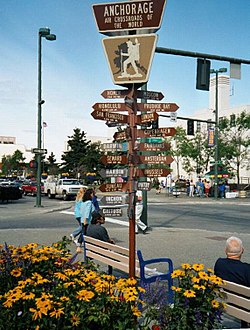 The South Terminal (domestic) serves Air Canada, Alaska Airlines, American Airlines, Condor (departures), Delta Air Lines, Frontier Airlines, JetBlue, Sun Country, United Airlines and Virgin America. All regional intrastate carriers also use the South Terminal. The North Terminal (international) serves Condor (arrivals), Japan Airlines, Korean Air, Icelandair, and Yakutia Airlines. A shuttle bus runs approximately every 15 minutes between the North and South terminals. There are two visitor information centers in the Airportː one in the South (Domestic) Terminal, C Concourse, in the Baggage Claim Area, +1 907 266-2437, open daily; and one in the North (International) Terminal, +1 907 266-2657, open mid-May through mid-September. The main visitor center is in downtown Anchorage at 4th Avenue and F Street.
The airport is 5 miles (8 km) southwest of downtown Anchorage. Taxis, shuttles, and rental cars are available. Route #40 of the Anchorage People Mover bus system serves the airport's North and South terminals once every 15 minutes on weekdays and 30 minutes evenings and weekends, connecting it with the downtown Transit Center (6th Avenue between H and G Streets).

By car
Anchorage is also accessible from the Contiguous United States (locally referred to as "the Lower 48") and Canada via road. The Alaska Highway starts in northern British Columbia and terminates in Fairbanks. You can get to Anchorage via either the Parks Highway from Fairbanks or the Glenn Highway from Tok (the first major Alaskan town after crossing the Canadian border). The Seward Highway serves traffic entering Anchorage from the Kenai Peninsula to the south and its Alaska Marine Highway System terminals. Whittier has a ferry that goes directly to Juneau with a connection to Bellingham, Washington. The ferry ride takes 5 days.
In 2017 the Alaska Department of Transportation announced a 4-year, 2-phase Milepost 75-90 Rehabilitation Project to make major safety improvements to a busy crash-prone section of the Seward Highway from Girdwood to beyond the Portage curve toward Turnagain Pass. In July 2015 a tour bus crash at Milepost 79 (Portage Glacier Road and Alaska Wildlife Conservation Center) killed one man and critically injured several others, causing a 10-hour traffic jam. During the summer months, up to 15,000 vehicles use this 15-mile stretch of Seward Highway daily. Although the project is not yet fully funded, construction on Seward Highway was scheduled to begin 2018.
Make sure to pick up a copy of The Milepost, which is widely regarded as the premier road guide for western Canada and Alaska. Most roads in these regions have small white posts every mile or so indicating the number of miles from the start of the road. The Milepost has extremely detailed route descriptions of all of the roads, pointing out everything from scenic viewpoints and campgrounds down to the names of small creeks the roads pass over. If you're flying in to Anchorage and then driving around the state, wait and pick up a copy of The Milepost at one of the local Costcos or WalMarts—the price there is around half of list price.

By boat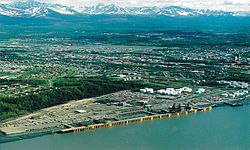 Because of the shallow conditions of the inlet and powerful tides, as much as 30 ft (9 m), only one large cruise ship, from Holland America Line, regularly calls in the summer on the Port of Anchorage, 2 mi (3.2 km) north of downtown. Since the port is mainly a cargo port, cruise passengers can not just walk through the port; instead, passengers are shuttled from the dock to the downtown mall. Beginning in 2017, the Port of Anchorage is undertaking an extensive 7-year port modernization program to upgrade its aging infrastructure, support larger deeper draft vessels, and future proof the port for another 75 years.
The vast majority of large cruise ships (over 200 calls each summer) stop at one of two deep water ports much further away from Anchorage: Seward, 127 mi (204 km) south on the Kenai Peninsula; or Whittier, 65 mi (104 km) southeast (mainly Princess). Whittier is also the closest harbor to Anchorage served by the Alaska Marine Highway. Many cruise lines provide transportation from their terminals in Whittier or Seward to Anchorage and may even include tours or your return air travel out of the state.

By train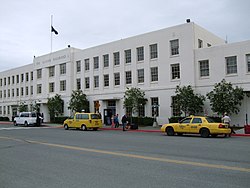 The Alaska Railroad runs from Seward through Anchorage, Denali, and Fairbanks to North Pole, with spurs to Whittier and formerly Palmer. The railroad is famous for its summertime passenger services; but it also plays a vital part in moving Alaska's natural resources — primarily coal — to ports in Anchorage, Whittier and Seward as well as fuel and gravel for use in Anchorage. Their cargo trains connect to the lower 48 through the Port of Seattle by barge, but there are no passenger connections to Canada (Via Rail) or to the lower 48 (Amtrak).
The Alaska Railroad Depot in Anchorage is downtown at 411 West 1st Ave, phone: +1 907 265-2494; +1-800-544-0552

Get around
While not nearly comparable to the size of major world cities (the city is several thousand square miles, but most of it is uninhabited and mountainous), the developed part of the Municipality of Anchorage is fairly spread out and not very walkable—with the exception of the compact downtown area.
Most of Anchorage is built on a grid system laid out by the railroad: numbered streets run east-west, starting at First Avenue in the extreme north of the city (at the Port and train depot) and ending up in the mid-hundreds at the south edge of town. Lettered streets run north-south, starting at A Street in the middle of downtown and going up to the west; east of A Street, the street names begin with sequential letters and are named after Alaskan cities and towns (
Barrow
,
Cordova
, Denali, etc.) This makes finding yourself on a map fairly easy, although the system gets less coherent outside of the downtown area. The Seward Highway becomes Gambell and Ingra streets, while the Glenn Highway becomes 5th and 6th Avenues.
You'll often hear Anchorageites use the following terms when describing areas of town. These areas used to be separate communities that merged as the city grew.
Downtown: the historic core of the city at the northwestern tip next to the waterfront, roughly north of 10th Avenue and west of Gambell Street. Home to most of the tourist activities, gift stores, hotels, and the railroad depot
Midtown: the largely commercial area immediately south of Downtown roughly between 15th Avenue and Tudor Road (becoming more industrial south towards Dimond Boulevard)
South Anchorage: Dimond Boulevard and south. Largely suburban and residential with some major commercial development west of the Seward Highway.
West Anchorage: the area along the water southwest of Downtown, encompassing the historic Bootlegger's Cove and Turnagain residential areas, the famous Earthquake Park and the airport.
Spenard: smashed between Midtown and West Anchorage and spilling over and overlapping the boundaries a bit, it used to be a separate city and catered to the racier aspects of Anchorage living. It's still a bit of a red-light district, especially along Spenard Road. Be careful at night. (The airport is at the extreme west end of the Anchorage peninsula and abuts the southwestern edge of Spenard.)
East Anchorage: everything east of the Seward Highway and north of Tudor Road. Mostly residential; little of interest to the tourist except for the universities, hospitals, and (at the extreme northeastern corner) the Alaska Native Heritage Center.
Hillside: part of South Anchorage, it's everything east of the Seward Highway and south of Abbott Road. Completely residential, and many homes there are on the ritzier side (worth $350,000-$1.5M, where the average home is about $220,000). Anchorageites think of the Hillside like Angelenos do of Beverly Hills — if you own a home there, you must be doing well, even if the trees (or your snowmachine trailer) block your view of the lesser people below. Above the Hillside homes is the immense Chugach State Park, popular for easily accessible hiking. (The most-hiked mountain in Alaska, Flattop Mountain, is fairly easily accessed via the Glen Alps parking area at the top of Upper Huffman Road.)
Eagle River, Chugiak, Peters Creek: suburbs north of the city. They provide access to Chugach State Park, especially Crow Creek Pass and Eklutna Lake.
Indian, Bird, Girdwood: small communities south of the city along the Seward Highway as it skims the north shore of Turnagain Arm. Very small, tourist-service oriented.
By foot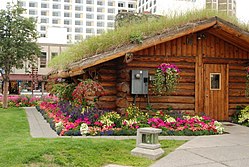 The area that can be explored by walking is the relatively compact downtown area. To plan your visit, drop in the unique Visitor Information Center, an authentic sod-roofed log cabin, at 4th Avenue and F Street, +1 907 257-2363, to pick up maps and brochures of the many points of interests and events (e.g., SUMMER MUSIC CONCERTS) within walking distance. In summer, downtown Anchorage, alive with flowers and alit with thousands of lights at night, is very popular and often crowded with tourists and those awaiting departure for, or arriving from, cruises. To extend your walking range, take advantage of the various free shuttles from downtown in the summer. Or rent a car or bike, or use the People Mover bus system, which has its Downtown Transit Center at 6th Avenue between H and G Streets.
By car
Anchorage's Ted Stevens International Airport is served by all of the major national rental car chains as well as a number of independents. A few companies have off-airport locations and may even offer courtesy shuttles (though these shuttles will not pick up from the airport). Renting from these locations avoids the 11-12% airport concession recovery fee and $4.81 per day airport facility fee. If you're renting for more than a few days, it might be worth the hassle to rent your vehicle at an off-airport location, which usually involves taxi rides or shuffling between hotel and rental car courtesy shuttles. Check with each agency or search off-airport rental cars using an online travel agency to see what cost savings may be available.
If you're arriving in the summer, plan ahead, as most rental companies are pretty much sold out from mid-June through the end of August. In the summer, cars are often not available without reservations, and even if they are, be prepared to pay top-dollar for them, especially four-wheel-drive vehicles. Renting a car in Alaska can be more expensive than pretty much anywhere else in the
United States
, ranging up to (and occasionally even over) $200 per day for a large vehicle sufficient to carry multiple passengers and outdoor gear during the peak season. In the dead of winter, however, you can sometimes grab a vehicle for under $10 per day.
Some of the major car rental companies serving the Anchorage area are:
Most airport rental agencies are open from about 5:30AM or 6AM to about 2AM (3AM at the latest) in the peak summer season. With the number of red-eye flights serving Anchorage, it's especially important to be sure your flight doesn't arrive after your rental agency closes. None of the major chains is open 24 hours, so the only option for after-hours arrivals is a cab or hotel shuttle to an area hotel or to sleep on a bench until the agencies open.
Two main taxi companies serve the Anchorage area: Alaska Yellow Cab (+1 907-222-2222) and Checker Cab (+1 907-276-1234). The airport maintains a taxi stand on the arrivals level. As of late 2007, the municipality-set rate for all taxis is $2 are the flag drop and $2.50 per mile; time based rate $.50 per minute. The average fare to downtown runs about $20 one-way.
Many hotels also offer courtesy shuttle vans that stop at the airport near the taxi stand. Several courtesy phone banks are inside the baggage claim areas.
Drivers tend to be aggressive in Anchorage year round, and many of the roads are heavily damaged by severe winter conditions and the use of studded tires. If you are visiting in winter and not used to driving in winter conditions, be very cautious, do not pass, keep excessive following distance, and allow plenty of time to stop. If it's snowing, no matter what time of the day, have your headlights on (the Seward Highway south of Anchorage requires headlights to be on at all times). Keep in mind that a roadway covered with
black ice
may look completely dry but provide no traction whatsoever.
By bus
If you're determined to save money or are traveling the
USA without a car
, you can use the
PeopleMover
,
Anchorage's bus system
. Fares are $2/trip, exact fare only, or a $5/day pass. PeopleMover now has an app for payment of the bus fare as an alternative. For more information, call the
PeopleMover Ride Line
at +1 907-343-6543.
By bike
Anchorage features an extremely well-developed bike trail system, with over 200 miles (320 km) of developed trails (120 of which are paved) winding their way throughout the city's parks and three green belts. The popular Tony Knowles Coastal Trail parallels the waterfront from Downtown to Kincaid Park near the airport. Several companies offer bike rentals and trail tours. In the winter, many of the trails are groomed and used as ski trails.
See
phone: +1 907-929-9200

address: 625 C Street

The Anchorage Museum, the largest in Alaska, tells the multi-faceted story of the North, weaving together social, political, cultural, scientific, historic and artistic threads. With its major expansion in 2008-2009, it has become a must see. The museum features an extensive exhibit on the first peoples of Alaska, Alaskan history, a Discovery Center for hands-on exploration of the history and science of the North for all ages, and part of a Smithsonian Arctic Studies Center. A expansion features new gallery space for the museum's art collection and exploration of art of the North.

phone: +1 907 330-8000

address: 8800 Heritage Center Dr

Culture Pass Joint Ticket (admission to Alaska Native Heritage Center and Anchorage Museum) $29.95 (free shuttle from downtown and between both museums) summer only. This is much more than just a static museum of glass display cases. The various native Alaskan cultures are all represented in this center. A large stage holds native dance performances as well as other types of events for visitors. Behind the center, a short trail around the lake takes you to several stations that show aspects of life in each of the native Alaskan cultures with native guides with short demonstrations and happily answering questions. Back inside, many items such as artwork, kayaks and ulu knives are on display. A small theater runs various films and there is a gift shop (with a second location in downtown Anchorage).

Alaska Center for the Performing Arts

phone: +1 907 263-2900

address: 621 W 6th Ave

The Alaska Center for the Performing Arts, a performance venue (concert hall) opened in 1988, consists of three theaters and entertains over 200,000 patrons annually. Together with the newly developed Dena'ina Center (7th and F) and the Egan Convention Center (5th and F), these three facilities linked by covered walkways form a civic center in the heart of downtown Anchorage.

Anchorage Summer Music Concerts

address: downtown Anchorage

The Anchorage Downtown Partnership hosts three weekly concert series in the summer (check locally for programming): Music for Little Ones, Mondays noon-1PM in Peratovich Park (WiFi access) at 4th Avenue & E Street; Music in the Park, Wednesdays noon-1PM in Peratovich Park (WiFi access) at 4th Avenue & E Street; Live After Five, Thursdays at 5:30-7:30PM in Town Square Park at E Street between 5th and 6th Avenues, featuring good eats and a beer & wine garden.

phone: +1 907 279-5050

address: 245 West 5th Ave, Suite 113

The state's only collection of historical law enforcement memoribilia from not only Alaska but also the world.

phone: +1 907 677-8802

address: 333 W 4th Ave, Suite 227

Veteran museum with large exhibits covering World War II and the Cold War, with the oldest starting with the Civil War.

address: 320 L Street, Anchorage

Small park featuring a bronze statue of Captain Cook standing on a wooden deck gazing out on Cook Inlet, which he explored in 1778 aboard HMS Resolution. The park was dedicated in 1978 and named for his ship. The park's interpretive display, powerful mounted telescope, and commanding vantage point make this a rewarding stop.

Alaska Heritage Museum at Wells Fargo

phone: +1 907 265-2834

address: 301 W Northern Lights Blvd

Largest private collection of its kind in Alaska. Includes Alaskan Native artifacts and Alaskan fine art.

phone: +1 907 346-2133

address: 4731 O'Malley Rd

A small, but charming zoo about 20 minutes from Downtown Anchorage. Visitors can see animals native to the Northern climates, such as Bald Eagles, Moose, Musk Oxen, Grizzlies, and a Polar Bear. A few animals have been rescued from the wild after sustaining life-threatening injuries that wouldn't enable them to survive on their own. Wednesdays feature zoo storytelling and animal encounters. No pets, balloons, firearms or any kind of smoking on zoo grounds. During the summer, there is a free shuttle that runs from downtown (4th Avenue and F Street) to the zoo and back.

Alaska Wildlife Conservation Center

phone: +1 907 783-2025

AWCC provides refuge for orphaned, injured or ill animals. With the purchase of an admission ticket, you can choose between driving the 1.5-mile loop or enjoy your time and walk through the grounds. Resident animals include brown bear, black bear, moose, musk ox, caribou, wolves, birds, porcupine, wood bison, elk and more. Also daily animal programs featuring some of the resident animals. Popular stop for tours between Anchorage and Seward/Whittier.

phone: +1 907 929-9870

address: 420 M St

phone: +1 907 248-5325

address: 4721 Aircraft Dr
Do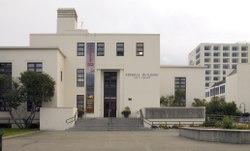 Wildlife viewing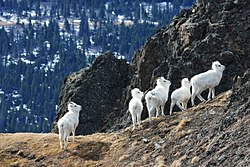 The
Anchorage area
is home to moose, brown and black bears, Dall sheep, and many migratory bird species. A visitor should be able to find moose fairly easily by driving any neighborhood on Anchorage's Hillside (actually the foothills of the Chugach mountains). It is not uncommon to hear of bears being spotted in residential areas, but visitors who hope to see wild bears should plan excursions to either
Denali National Park
or
Katmai National Park
. Dall sheep, a species similar to the big-horn sheep found in the American Rockies, can often be spotted by driving down the Seward Highway south of Anchorage. A good way to spot sheep is to notice congregations of other tourists photographing them. A good place to view waterfowl and eagles is the
Potter Marsh boardwalk
, immediately south of Anchorage on the Seward Highway.
Hiking and biking
One of the best places to hike or bike to get to know Anchorage would have to be the
Tony Knowles Coastal Trail
. Awesome views. Starting from downtown, it's a well maintained 14-mile paved track around the coast, with housing developments and forests on one side, and the ocean of Cook Inlet on the other. You can come back via an inland loop right around the airport. This has some on-road sections, but takes you past Lake Hood, a busy and interesting seaplane base. It's a very popular track for bikers and joggers during the summer months.
For a more challenging hike, drive east on O'Malley Road (south Anchorage) and follow signs for
Glen Alps trailhead in Chugach State Park
. There is a $5 day parking fee at the trail head (parking is free if you stay 30 minutes or less). If you don't have a car, a shuttle provides round-trip transportation between downtown and the trailhead for $22,
Flattop Mountain Shuttle
. From this launching point, there are numerous hiking options for all levels in the
Flattop Mountain Trail system
. The shortest hike is to the Anchorage overlook, a 5-minute walk north of the parking lot, which offers the best view of the city of Anchorage. There is also a mountain biking trail to the east of the parking lot leading up towards Powerline Pass. To the south of the parking lot is the trail leading to the Blueberry Loop, a saddle at the base of Flattop Mountain, and a steep trail off this Loop up to Flattop peak. Climbing Flattop Mountain is Anchorage's most popular day hike, 1.7 miles one way with an elevation gain of 1300 feet, which would take 1 to 3 hr depending on your hiking ability. There is a bit of scrambling over rocks at the end to reach the top of Flattop. Be aware of climbers above you as they can dislodge rocks. Summit is often cold and windy, so bring appropriate clothing. All the trails are well maintained and there is little risk of being lost in the immediate area, however, for the maximum experience it's a good idea to bring water and plan your hike with a great guide, such as "55 Ways to the Wilderness", Southcentral Alaska or Chugach State Park editions, available online or at any local Alaskan bookseller. This is a great place to see moose in the summer. In the fall, Flattop Mountain is covered with wild blueberries.
Downtown Bicycle Rental, IncYou can get great pricing on bike rentals and excellent suggestions and advice on bicycle and hiking routes in and around Anchorage.
Ski and snowboard
The Nordic Skiing Association of AnchorageMaintains and provide information on numerous nordic (cross-country) ski trails around town.

Alyeska ResortIn Girdwood about 40 mi (64 km) south of Anchorage on the Seward Highway is Alaska's largest alpine (downhill) ski resort. Alyeska often has the highest annual snowfall of any ski area in North America and has a wide array of intermediate and expert terrain. Beginner terrain is fairly limited, but Alyeska has a fairly good ski and snowboard instruction program so it is not a bad place to learn.

Hilltop Ski AreaIn south Anchorage about 15 minutes from downtown. It is a fairly small area in the Chugach foothills with one chairlift and a surface lift and exclusively beginner terrain.

Alpenglow at Arctic ValleyA volunteer operated resort with two chairlifts and a T-bar. While the terrain is not as steep as some of the expert-only terrain at Alyeska, it is not for beginners and the snow is often windblown and hard. Alpenglow offers free lift tickets for volunteers, and thus is a great option for ski bums and budget travelers.

Hillberg Ski AreaOn Elmendorf Airforce Base to the north of downtown Anchorage, and is open to the public: civilians who don't have authorization to enter the base must be signed in and escorted by someone who does. Hillberg has only beginner terrain, but tends to have shorter lift lines than Hilltop making it a better option for people who can get access.

Chugach Powder GuidesOffers helicopter and snow-cat skiing in the Chugach mountains with a professional guide for advanced intermediate to expert skiers and boarders.

Tordrillo Mountain Lodge. Located in the Tordrillo Mountain Range about 75 miles west-northwest of Anchorage. The Tordrillo Mountain Lodge offers Winter & Summer heli skiing and heli snowboarding opportunities for novices and pros.
Rugby
Anchorage has three men's rugby teams that play from April to September. Want to pick up a game while you are here or join a team? Check the websites:
Bird Creek Barbarians
or
Anchorage Thunderbirds RFC
.
Buy
Almost anything that can be bought in Alaska can be bought in Anchorage. Ulu knives, hand-carved wood and ivory artwork, mukluk books, and knitted
qiviut
hats and scarves (made of wool from musk oxen) are all traditional Alaskan goods. Check for "Made in Alaska" labels. There are also myriad touristy gift stores downtown. Quality and selection varies.
address: 320 W 5th Ave, Anchorage, AK 99501-2353

Usually considered Alaska's nicest mall, it is anchored on the west side (E St) by JCPenneys and attached (on the 2nd and 3rd levels via skywalk across 6th Ave near C St) to the only Nordstrom store in Alaska. A large airy food court is on the northeast corner of its top 4th level. Two parking garages are connected to the mallː the old JCPenney's garage across 6th Ave, via Penney's; and the 5th Avenue Mall Garage diagonally across C St with its new (2016) Rooftop Park.

Anchorage Market and FestivalSa Su (mid May-mid Sep) at 3rd Ave and E St (10AM-6PM), W (Jul-Aug) in the Northway Mall parking lot (11AM-5PM), Several hundred vendors offer all sorts of items in this large open air market. Items include fresh produce, fresh local seafood, prepared food, arts and crafts, souvenirs, etc. Some items could be found anywhere in the lower 48 but many items are truly Alaskan. Free.

phone: +1 907 929-7108

address: 800 E Dimond Blvd

The largest enclosed mall, over 8 blocks, in the State of Alaska. It is anchored by Best Buy; it also features an ice rink, movie theaters, bowling alley, and health club.

Northern Lights Center

address: Northern Lights Boulevard and Minnesota Drive

Strip mall anchored by Anchorage's only REI store and local independent book store, Title Wave Books.

phone: +1 907 276-3119

address: 211 West Ship Creek Avenue in Anchorage

Tour the factory, see the knives being made, and watch a demonstration about how to use them. From June to August, you can ride their free trolley from downtown to and from the factory.

House of Harley-Davidson Anchorage

phone: +1 907 248-5300

address: 5335 Spenard Rd

While closer to the airport than downtown, you can call (+1 907-229-9120) for a free shuttle from downtown during the summer Thu-Sun.

address: 3090 Mountain View Dr

phone: +1 833 263-5136

address: 1142 North Muldoon Dr
Eat
Budget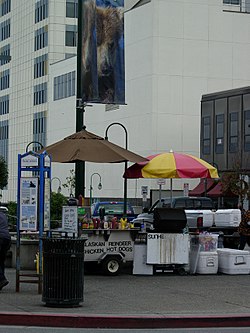 M.A.'s Gourmet Dogs"The Downtown Hotdog Guy". Highly popular hotdog cart in the center of downtown Anchorage; loved by locals and tourists! For under $7 get a dog, chips, and drink. Recommend the reindeer sausage with onions!

Kriner's Diner

phone: +1 907 929-8257

address: 2409 C St

The newest diner, best eats (in giant proportions) for little money ($4 $15 per person), from Ted's Big Breakfast to Jenne's Reindeer Sandwich to the homemade Giant Cinnamon Rolls, you can't go wrong. Its home cooking, the Alaskan way.

Yak and Yeti

phone: +1 907 743-8078

address: 3301 Spenard Rd

Remarkably good Himalayan and Indian cuisine in Spenard. Five minutes from the airport.

Hula Hands

phone: +1 907 278-4852

address: 4630 Mountain View Dr

Good, cheap Hawaiian and Tongan food. Another location on Fireweed.

Arctic Roadrunner

phone: +1 907 561-1245

address: 5300 Old Seward Hwy

Second location at 2477 Arctic Blvd, +1 907 279-7311. An Alaskan institution and consistently voted Anchorage's best burger. Kitschy Alaskana on the walls, including plaques and portraits of longtime Alaskans and longtime Arctic Roadrunner customers. Also try the halibut burger and homemade onion ring pieces. Cash only; "no checks since 1972."

City DinerRun by local celebrity "Chef Al" Levinsohn, famous for his other restaurant in town (Kincaid Grill). City Diner has some of the best sandwiches in town; the monte cristo is to die for and the sliders are amazing.

Gwennie'sAn Alaskan institution; must be seen to be understood. Down home Americana meets Alaska (think sourdough pancakes and reindeer sausage). Extremely touristy but also popular with the locals for good prices and big portions. Old-time Alaskan rusty things hanging on the walls.

Taco King/Burrito King

phone: +1 907 276-7387,+1 907 868-761,+1 907 336-5601,+1 907 569-2900

address: 113 W Northern Lights Blvd #D, 3561 E Tudor Rd, 1330 Huffman Rd #C, 111 W 38th Ave

Possibly the best (and fastest) Mexican food in Anchorage (not saying a whole lot, but it holds its own against places closer to the border) and with insanely great (for Alaska) prices if you get the right thing.

The Lucky Wishbone

phone: +1 907 272-3454

address: 1033 E 5th Ave

An Anchorage standard famous for their pan-fried chicken but also serving one of the better burgers in town. Try their shakes too.

Tommy's Burger StopRoutinely voted the best burgers and philly sandwiches in Anchorage.

White Spot Cafe

phone: +1 907 279-3954

address: 109 W 4th Ave

The place is not much more than a small kitchen and a counter with room for 10 patrons. Arguably better burgers and definitely better halibut sandwiches than Arctic Roadrunner. Study the menu carefully before daring to order, or Sheri will put you in your place. The food is way worth the attitude, though.

Big Al's Wings and Wings

phone: +1 907 522-3388

address: 3807 Spenard Rd

Wings and Things downtown, serving unique "Anchorage-style" wings, was a local institution for more than 20 years. Its sudden closure in August 2007 left a void in the hearts of tens of thousands of loyal customers. Big Al's, started by a former frequent Wings and Things customer and employing former Wings and Things employees, does a darn good job at attempting to fill the void. The chili powder-based dry rub and succulent, juicy wings are addicting. The other items on the menu don't disappoint, either—like the wings, the Philly cheesesteak is a unique and delicious twist on an otherwise familiar American staple.
Mid-range
Splurge
In Girdwood (45 minutes south):
phone: +1 907 783-2822

address: Mile 3 Crow Creek Rd

The Double Musky has Alaska's best Cajun cuisine with a local seafood slant. They have a "rustic yet formal" (but still no dress code) atmosphere. It is a great place to take a date, not just for the great food but also for the beautiful drive south along the coast. Also very warming after a day at the local Alyeska Ski Area.
Drink
Anchorage has many, many bars. Bars must close by 2:30AM M-F, 3AM Sa & Su under municipal law. Bars can stay open until 5AM in the cities of
Palmer
and
Wasilla
, about 45 minutes north. Anchorage also probably has more micro-breweries per capita than anywhere else (except maybe Portland, OR). All bars and restaurants in Anchorage are non-smoking. Also see "Bear Tooth Theatrepub", "Glacier BrewHouse", and "Moose's Tooth" under "Eat."
First Tap Thursday - On the first Thursday of each month, Bear Tooth Theatrepub celebrates a new Broken Tooth Brewing draft beer with live music.

phone: +1 907 276-8808

address: 626 D St

This is a fashionable and friendly "martini-and-cigar" type of place. Good place to sit outside on the lawn in the summer, or to go upstairs to the Paradise Room for a fancy place to have a drink (although the upstairs is often booked for private gatherings). It's popular with well-dressed young people and businesspeople (during the daytime). The evening crowd is generally younger and the bar is embracing a larger hip-hop crowd. Usually busiest after midnight.

phone: +1 907 279-1692

address: 1071 W 25th Ave

This is the largest bar within about 1,400 miles (2200 km). It's a huge spot that is always busy on weekends. The outside facade is deceptively small - there is a map on their website to navigate through all 10+ bars. There is usually at least one band playing every night (and usually a cover charge). Popular place to pick up dates, if you can hear above the noise.

phone: +1 907 277-5322

address: 426 G St

A quintessential "dive bar," Darwin's is popular with the locals. If you're interested in avoiding the generic tourist watering holes, Darwin's will wet your whistle. It's just a basic corner bar.

Humpy's Great Alaskan Alehouse

phone: +1 907 276-BEER

address: 610 W 6th Ave

Humpy's has dozens of beers on tap and a great pub food selection (esp. seafood) until midnight. It's popular with just about everyone. Beer-battered halibut—yum!

phone: +1 907 277-7727

address: 717 W 3rd Avenue

Popular micro-brewery on the edge of downtown Anchorage. Good micro beers and decent pub food. Often have live entertainment. A treat is to sit out on the second floor landing on a sunny afternoon with excellent views of Cook Inlet and the Port of Anchorage. Sometimes you can see military aircraft doing training runs into Elmendorf Air Force Base.
Sleep
Since about year 2000, major hotel developers from the Lower 48 have been building new hotels along C Street from International Airport Road to just north of Tudor Road, with two more to open in 2017, making this half-mile stretch of C Street a new "hotel row" in Midtown (about 3 mi south of downtown and 3 mi east of ANC).
Budget
Mid-range
Splurge
phone: +1 907 279-8000

address: 820 W 7th Ave

phone: +1 907 276-6000

address: 4th & K

Dimond Center Hotel

phone: +1 907 770-5000

address: 700 E Dimond Blvd

3 stars
Stay safe

As with any American city of similar size, keep your eyes open and your wits about you. Crime is relatively low in most parts of Anchorage that you're likely to visit, but it is not unknown.
Certain areas in the northeast of the city (Mountain View, north of the Glenn Highway and east of Merrill Field airport) and central (Fairview, 6th to 15th Avenue, east of Ingra) have higher crime than other spots. 
As in all other cities these crimes receive a disproportionate amount of attention from local media. These tragic events, however, are typically not random so they will probably not impact your visit. You are more likely to be a victim of crimes of opportunity, however most violent crimes in Anchorage are usually domestic disputes.
Also, areas around the airport like Spenard are known for increased drug activity and prostitution. In earlier times, the downtown area around 4th Avenue was like that, but a concerted effort over the last eight years has mostly cleaned it up. 
A constant problem is car break-ins at parking lots. Do not make leave any valuables visible.
The trails close to and around the university are unsafe when it is dark. During the colder months there are increased attacks on females going to and from the housing and library.  
Also, stay a good distance away from moose. Although they may appear harmless, they can and will protect their young ones from people, and can charge if they feel cornered or threatened. Never approach them, as they are best viewed from a distance.  
Still, if you follow precautions like everywhere else, you will be safe.

Cope
Consulates
phone: +1 907 276-1221

address: 425 G St Ste 610

phone: +1 907 440-5473

address: 406 G Street, Suite 207
Go next
There are only two roads out of Anchorage, the Seward Highway which goes south to the Kenai Peninsula and ends/starts at
Seward
, and the Glenn Highway which goes northeast to
Glennallen
and continues as the Tok Cutoff to Tok where it ends at the Alaska Highway. The Glenn Highway junctions with the George Parks Highway about 35 miles north of Anchorage, continuing northwest to
Denali National Park
and Fairbanks. Driving from Anchorage to Fairbanks usually takes 6–8 hours (356 miles) and driving from Anchorage to Seattle, WA usually takes at least 3 days.
The
Alaska Railroad
offers daily service between Anchorage/
Seward
, Anchorage/Whittier, and Anchorage/Fairbanks during the summer. The Anchorage/Fairbanks run (Aurora) offers flag drop service between
Talkeetna
and Hurricane - it is the only railroad in the U.S. that will pick you up if you flag the train from the side of the tracks.
There are numerous small plane flying services which have scheduled flights to small villages, or the capacity to charter flights to different villages. For travel to villages outside of the south central region, it is usually cheaper to take a regular commercial flight to the appropriate regional hub (
Bethel
,
Unalakleet
, Dillingham,
Unalaska
, Kotzebue,
Nome
,
Barrow
, Fairbanks, or Juneau) and arrange to fly from there to your destination.
Alaska Car & Van Rentals

address: 854 E 36th Ave

A mom and pop rental company that offers low rates by not being at the airport. The only caveat is you must have your own car insurance. They are centrally located not far from downtown or the airport. They offer pickup and lower rates to military, NRA members and AAA members.