Andalusia
Andalusia
(
Spanish
:
Andalucía
) is the southern part of
Spain
. It has a heritage back to the
Roman Empire
, and a diverse scenery of deserts, beaches along the
Costa del Sol
and
Costa de la Luz
and the
Sierra Nevada
range, with Iberia's tallest mountains, and Europe's southernmost ski resorts.
Andalusia encompasses an area of 87,268 km 2 with 8.4 million inhabitants. To the south in the Province of
Cadiz
at the very tip of Spain lies the British overseas territory of
Gibraltar
where it is separate from
North Africa
by just a few miles.
Provinces
Andalusia is divided into eight provinces, each having the same name as its respective provincial capital city.
Cities
— the heart of flamenco, the capital and largest city of Andalusia
— lots of medieval remains and fortresses
— the oldest continuously-inhabited city in the Iberian Peninsula and possibly of all of southwestern Europe
— used to be the capital of an Islamic caliphate in the Middle Ages
— home to the magnificent La Alhambra Palace
— a maritime port town with the oldest football club of Spain
— the world's capital of olive oil and a booming cultural tourism destination
— a large harbour city right on the Costa del Sol
— wealthy resort town on the Costa del Sol
Other destinations
— a beautiful town with an impressive bridge along the deep gorge
and — beautiful Renaissance monumental towns included into UNESCO's World Heritage List
— an old spa village above a gorge
— 53,649 hectares of Natural Park
— sunny beaches and beautiful villages along Spain's southern coast
— a small village painted Smurf blue for 2011 movie Smurfs II.
— a mountainous district south of the Sierra Nevada
— area north-east of Malaga, recently 'discovered'
— the highest mountains in the Iberian Peninsula, excelling for skiing and hiking
Understand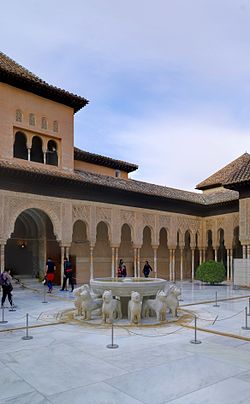 Andalusia has a rich Moorish heritage, including many fantastic examples of Moorish architecture which were built during the eight centuries when Andalusia was the centre of the Arab population in the Iberian peninsular. The Moorish rule effectively ended in 1492AD when the Christians recaptured
Granada
.
Nowadays, the region is a very popular tourist destination with a lot of British and German package holidayers coming to stay in the concrete resorts on the Costa del Sol. But if you stay away from the concrete resorts you will find lots of culture, amazing scenery and great food.
Talk
Like most of the rest of Spain, Andalusia's main language is
Spanish
.
Get in
Major airports: Seville(Sevilla), Malaga, Almeria, Jerez de la Frontera.
By car
The main road routes into Andalusia are
By plane
Malaga
has the third biggest international airport in Spain, which a lot of discount airlines fly to. From Malaga, the A-7 E-15 motorway runs westwards along the coast to
Gibraltar
and eastwards to
Almeria
and beyond. To head north from Malaga, the A-45 motorway runs to
Cordoba
.
There are also airports in
Sevilla
,
Jerez de la Frontera
,
Granada
and
Almeria
By train
Spain's railway network is not as developed as those of many other European countries, but
Algeciras
,
Almeria
,
Cadiz
,
Granada
,
Huelva
,
Jaén
,
Malaga
,
Cordoba
and
Sevilla
are all served by regular train services. Spain's
highspeed
AVE network connects Malaga, Cordoba and Sevilla to Madrid. Some of the other smaller towns are served by less frequent services, see individual city guides for further details. For more info, see the
RENFE website
.
Get around

Bus services around Andalusia are provided by

See
Moorish architecture in Granada, including the Alhambra.
Lake Negratin is situated at the foothills of Mount Jabalcón. As one of Europes largest lakes, it really is worth seeing not least for the most magnificent lunar-landscape that surrounds it. The rock formations and the colours it produces during different times of the day can be likened to those of the Grand Canyon. There is a manmade beach where you can laze the day away, a number of restaurants dotted round the lake and on a nice day you can swim or take out a pedalo boat, which might lead you to pink flamingos and various other wildlife.
Seron is nestled on the lower slopes of the Sierra de los Filabres and is a picturesque town that cascades down the hillside. Dominated by its Castle, which sits at the very top, Seron is famous for its ham and provides a more traditional experience of Andalusian life. It is a beautiful location to start your exploration of the Filabres, or visit at the right time of year and you might find yourself submerged in a vibrant fiesta.
Las Menas, an old mining village abandoned thirty years ago, makes an interesting stop in the Sierra de los Filabres. You can investigate old ruins crumbling amidst the most breathtaking countryside, stop for coffee and cake at the hotel and even camp for the night.
Do
Andaventur Granada Adventure CompanyOutdoor sports in the Sierra Nevada National park and Granada province, Tandem paraglider flights, Canyoning, Hiking, Ski, Rock Climbing, Horse riding.

Long clean beaches on the Costa del Sol and the Costa de la Luz.
Walking and hiking in the Sierra Nevada

phone: +34 952 742 962, +44 1492 641430

High quality rock climbing and scrambling courses in Andalusia. Courses based in Malaga province both on the coast and also inland near to the El Chorro gorge.
Windsurfing and Kiting in Tarifa Spains southern tip
Horse riding and Spain go hand-in-hand and with such spectacular mountain ranges at your disposal as the Sierra Nevada and Alpujarra Hills; you have a feast of beautiful Andalusian trekking land to indulge in astride your faithful friend. There are several stables situated in these areas and all offer the option to ride for an hour, a day or even as long as 7 nights. Accommodation and food are included in prices and the whole experience offers a unique way to see this amazing part of Spain. Prices vary from 25 to 1200 EUROS and there are so many options to choose from that you will undoubtedly find something to suit your level and requirements.
Flamenco is the all-Andlusian art with a history stretching back over 3,000 years. The Museo del Baile Flamenco (Flamenco Dance Museum) is the ideal place to learn more about this phenomenon. Shows are offered on Friday and Saturday nights at 19:30, too.
Events
Stay safe
When in Granada, it is advisable to avoid women who are offering plants (usually heather). They will offer you a plant for free, and then when you accept it will read your palm and then demand money. If you refuse to give it to them, they may start screaming at you and it is a situation that you will generally want to avoid having to occur. Aside from this, the area is generally very safe, but one should still take the usual precautions, especially in Malaga, Seville, etc.

Go next