Andean Northwest (Argentina)
The
Andean Northwest
is a region in the northwest of
Argentina
bordered in the north by
Bolivia
, in the east by the
Chaco
region, in the southeast by the
Pampas
region, in the south by the
Cuyo
region, and in the west by
Chile
.
Provinces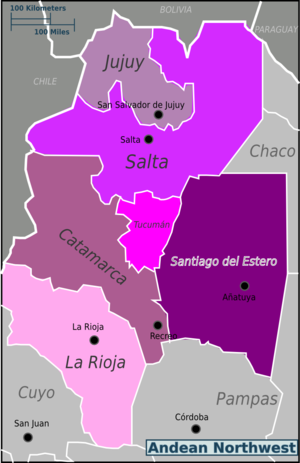 The following provinces are considered part of the Andean Northwest:
Cities
Large cities
Towns
Pueblos
Understand

If you start your Argentine tour in Buenos Aires and think the rest of the country is either similar or uninhabited, you're in for a surprise. The northwestern provinces of Argentina, including Salta and Jujuy, are more like parts of Argentina's Andean neighbors Peru and Bolivia in terms of terrain, culture, and way of life. There tends to be more domestic than foreign tourism to this part of Argentina. Due to this you may find many unexpected amenities (as well as transplanted porteños looking for renewal) in the small pueblos along the quebrada, or mountain chain, which is said to have "siete colores", which describes the stratified layers of minerals in the mountains which appear to be red, orange, pink, green, etc. The winters are dry, warm during the day and cool during the evening.

Get in
Salta, Tucuman and Jujuy have airports with connections to
Buenos Aires
and
Cordoba
.
There are excellent connections on long-distance buses with the rest of the country.
See
Enjoy the breathtaking scenery and the great view of the starry sky behind the silhouettes of the cactus.
Do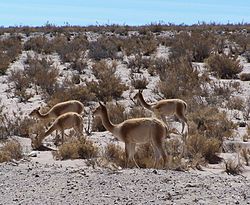 Pet a llama.
Stay in a small mountain pueblo.
Take a private tour with an English-speaking guide. Poncho Tours offers tailor-made trips to suit you and your interests while exploring this beautiful area. http://www.ponchotours.com/
Eat
Be sure to try empanadas salteñas.
Also try locro. This is a corn, pumpkin and pork meat stew.
Stay safe

All the activities classified as Active Tourism or Alternative Tourism within the province of Salta are strictly regulated and controlled by the Secretary of Tourism of the Province and by ADOPTAS ("Asociación de Operadores y Prestadores de Turismo Alternativo de Salta" – Association of Alternative Tourism Operators and Agencies of Salta). Some may require a previous medical examination or physical training. Before engaging any of these services you should ask a responsible operator about the physical requirements and see your doctor in order to carry out the correspondent examination. If you wish to perform any of these activities, ask about the equipment or clothing needed for such activity.