Anderson Island
Anderson Island
is the southernmost island in
Puget Sound
near the Key Peninsula which is a sub peninsula of the
Kitsap Peninsula
.
Understand
Anderson Island lies just south of McNeil Island. To the northwest, Key Peninsula lies across Drayton Passage. The south basin of Puget Sound separates the island from the mainland to the southeast, while to the southwest the Nisqually Reach of Puget Sound separates the island from the mainland.
The Island Sounder, published by the Anderson Island Association, is the island's monthly newsletter. The News Tribune from Tacoma is available to subscribers.

Get in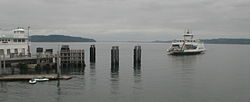 By ferry
The Steilacoom / Anderson Island /
Ketron Island
run is the only run belonging to Pierce County. The ferry Steilacoom II was put into service in January 2007 to work side by side with the aging ferry Christine Anderson. The ferry runs many times per day starting at 5:45 in the morning to 10:30PM on Fridays, Saturdays and Sundays (8PM other nights).
By boat
Oro Bay Yacht ClubReciprocity with over 60 clubs. Check their website to see the car ferry lines and the location of the ferry.
Get around
There are many small roads meandering through Anderson Island making it a classical Puget Sound island to explore by either car or bike. The main road running north/south through the island is the Eckenstam Johnson Road.

See
Andy's Wildlife ParkThis park encompasses 170 acres of wetlands, tidal estuary and a forest. There is an extensive trail system for hikers that is best utilized in the summer months due to wet conditions. The 2-mile looped nature trail begins and ends at a parking lot on Eckenstam-Johnson Road and includes two small bridges. There is a picnic area with at table on the bank of Schoolhouse Creek near the parking area. There is also a portable toilet at the trailhead.

Andrew Anderson Marine ParkThe core of the park was the gift of Andrew Anderson (1895-1975), a true visionary concerned with the preservation of the way of life we cherish on our island. The partially looped trail winds through a heavily wooded area with many native plants and trees. It includes enormous Douglas firs, featuring gorgeous views and ends at a beautiful tidal inlet that is a salmon nursery area and includes a 3/4 mile public beach with driftwood, shells, rocks and aquatic life.

phone: +1 360 902-8844

10-acre marine park with 2,600 feet of saltwater shoreline. There are 2 mooring buoys on the west side and 1 on the east side of this remote island accessible only by boat between Anderson Island and McNeal Island, there are also trails and camping spots and the area is known for the many seals that come to sunbath. The park was named after Harry Eagle, a member of the Wilkes Expedition.
Do
phone: +1 253 884-2135

address: 9306 Otso Point Road

Established in 1896 by Mr. Johnson for cutting cordwood for the steamers. Volunteers have restored most of the original 14 buildings on the site, including the farmhouse, water tower, huge barn, and two impressive 'Shoup' chicken houses, which were the state-of-the-art in the 1920s.
Buy
Island Nursery & Landscape

phone: +1 253 884-3509

address: 10204 Eckenstam Johnson Rd

great place for plants and gardening supplies
Eat
phone: +1 253 884-3344

address: 11019 Country Club Dr

Overlooks Lake Josephine with Mt. Rainier in the distance. You're likely to spot bald eagles and other waterfowl flying over the lake. The restaurant touts its food, beverages and service. Food is produced from local ingredients and micro-brews are served. Reservations are required for parties of 8 or more.
Drink
Nisqually Reach Coffee Co

phone: +1 253 884-1644

address: 10006 Eckenstam Johnson Rd

Great Atmosphere & Good Coffee

Anderson Island Vineyards and Winery

phone: +1 360 480-0789

address: 9817 Otso Point Road

Family owned and operated estate vineyard and winery making only wines from our own vineyard. Tasting room and picnic area open most spring and summer weekends. Please call if have any questions about visiting.
Sleep
There are many bed and breakfasts on the island, making it a relaxing get away. Be sure to check out AirBNB, VRBO or some of the B&Bs below
phone: +1 360 480-0789

address: 9817 Otso Point Road

Self catering accommodation in the same building as our winery and tasting room. We have a 2 day minimum with NO cleaning charge. See listing on VRBO (our preferred) or AIRBNB to check calendar and make reservation.
Connect
Pierce County Library-Anderson Island

phone: +1 253 884-4040

address: 11319 Yoman Rd

small island library with free wifi.

phone: +1 253-884-4040

address: 12207 Lake Josephine Blvd

Anderson Island residents and visitors are serviced by the all volunteer fire department. The department is equipped with two engines, two ambulances, two water tenders, one brush truck and three marine watercraft. Emergency transportation from the island can be achieved by ambulance on a regular ferryboat run, fireboat to Steilacoom after hours or depending on severity of the medical emergency and also serviced by Airlift Northwest helicopter support. Water emergencies, whether on one of the two fresh water lakes or in Puget Sound, Anderson Island Marine Division stands ready to respond.
Go next
Anderson Island is on the
Steilacoom
/ Anderson Island /
Ketron Island
run and Eagle Island State Park is just a short boat ride away. The Key Peninsula which is a sub peninsula of the
Kitsap Peninsula
is also close by boat to the west.