Andes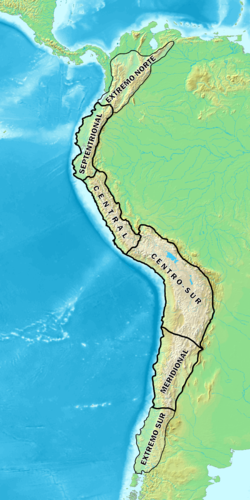 The
Andes
are a vast mountain chain in
South America
. They extend from
Chile
to
Venezuela
through
Colombia
,
Argentina
,
Bolivia
,
Peru
and
Ecuador
.
Talk
Almost everyone you encounter will be able to communicate in
Spanish
.
Quechua
and
Aymara
are also major languages in the region, and there are some lesser-known tribal language.
English
is spoken by most people in the tourism industry, at least in major destinations.
See
Aconcagua, the highest peak of the Andes, rises to 6,962m above sea level, making the Andes the highest mountain range outside Asia. Climbing expeditions for Aconcagua usually set out from the Argentinian city of Mendoza
Ojos del Salado in Northern Chile is a comparatively easy to climb peak, still 6,893m. In fact it is so gradual that it's a place of choice for height records for motor vehicles (although the summit hasn't been reached in such a way yet) and possibly the highest summit you can reach by only hiking.
Do
Many ski centers operate in the Andes during the winter months.
Hike the Inca Trail.
Stay healthy
Obviously, the Andes include some high-altitude destinations. To avoid headaches and potentially worse symptoms, it's a good idea to acclimate to the altitude slowly; see
altitude sickness
for more details.
Go next