Andijan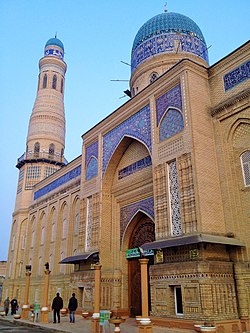 Andijan
is a city in the
Ferghana Valley
,
Uzbekistan
.
By taxi
AvtovakzalMost taxis to other other cities will depart from a large parking lot near the Yangi Bozor area that is referred to locally as the "Avtovokzal". Groups of taxi drivers going to the same city will stand in one area calling out for passengers. There are also buses and "Damas" minibuses travelling between cities at cheaper prices, but they might not have storage room for luggage. Drivers will usually drop you off at whatever spot you ask them to in the destination city. The average rates to different destinations are as follows:

To Tashkent - 70,000-85,000 so'm (Oct 2019)
To Fergana - 20,000-25,000 so'm (Oct 2019)
To Kokand - 30,000-35,000 so'm (Oct 2019)
By plane
Uzbekistan Airways
operates flights from
By bus
You can get to Andijan from any other city of
Ferghana Valley
by taxies or minibuses. The main bus station is close to the . There is now a train service connecting Andijan with Tashkent, avoiding Tajikistan.
See
Babur Literary Museum

Jomi Mosque
Sleep

Oriental hotel.

Stay safe
Andijan was the site of what many have termed a massacre in May of 2005. The story is complicated, but in brief, an armed raid on a local prison, followed by the occupation of a government building where local government officials were held hostage, led to a gathering of several thousand people in the town square. At some point, firing began and the end result was the death of what most believe to be hundreds of innocents, shot down by government troops. The official government version of these events was that the entire event was triggered by Islamic extremists and that only 187 people died - virtually all "extremists", government officials and troops. Eyewitnesses to the tragedy, however, (and there are many who fled the country and have been granted asylum in various countries) say that hundreds of innocent citizens, including women and children, were gunned down in the streets as they tried to flee.
Much of what took place at that time in Andijan may never be fully known. The government of Uzbekistan has refused demands from the west for an impartial investigation and, in fact, has intimated that the "extremists" who triggered the event were financed by the West.
Andijan is accessible for tourists as any other place in Ferghana Valley. The only special precautions would be not discussing the events of 2005 and respect the religion, as
Ferghana Valley
. especially Andijan, is the islamic region. Dressing should be modest.
Go next
Osh (Kyrgyzstan) 70 km away through Dostyk/Dustlyk border crossing. Public transport and shared taxis available on both sides.