Andorra la Vella
Andorra la Vella
is the capital of
Andorra
. At an altitude of 1023 m it is Europe's highest capital, and the only one located over 1 km above the sea level.
Understand
Tourist Office of Andorra la Vella

phone: +376 750 100
Get in
There is no train station or airport in the co-principality.
By bus
Bus companies operating international lines via Andorra la Vella:
phone: +376 803 789

address: Estació Nacional d'Autobusos d' Andorra, C/ de la Cúria

Operates from Andorra la Vella to Toulouse (€36 one-way, €64 roundtrip), Barcelona (€33 one-way, €56 roundtrip) and Girona from Estació Nacional d'Autobusos d' Andorra station.

AlsaOperates between Andorra and Spain.

MontmantellOperates between Andorra and Lleida. Also operates twice daily bus to L'Hospitalet-près-l'Andorre train station in France.
Within Andorra,
Interurbanaoperates seven bus routes and all of the lines either start at or has stops in Andorra la Vella.
Get around
You should be able to walk around most of Andorra la Vella. The town is really in two parts. There is the newer section at the north end of the town that is very commercial with lots of shops. The other half is the older half, down across the river and to the south and west. This also has shops, places to eat and the historic part.
If you stay in either of these areas, you can easily cover on foot, but walking from the end of one half to the other will take a good half hour or more, so it may be worth taking the local bus which is cheap. Be sure to read the timetable and routes carefully on the bus stop.

See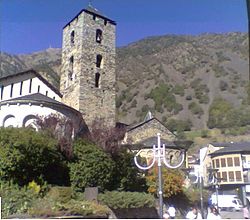 phone: +376 730 003

address: Plaça Príncep Benlloch

Dated from the 12th century. It is in the old part of the Andorra la Vella. Free-guided tours otherwise the church is open to tourists outside of mass hours.

Church of Sant Andreu

phone: +376 827 117

address: Sant Andreu St.

Romanesque church dated from the 12th century. It is obligatory to reserve by phone.

Casa de la Vall

address: Carrer de la Vall

Dating from the 16th century, it was the former seat of the Consell General (Andorran Parliament). Access is by guided tour only. Tours are on the half hour and last about a half hour. Reservations are required for the tour, so it's best to stop by and reserve a tour in the morning and return during your tour time.
Bridge of la Margineda

address: Santa Coloma

This bridge dates from medieval times but is still in perfect condition. Nearby there is a metallic sculpture made by the Valencian sculptor Andreu Alfaro.
Rec del Solà and Rec de l'ObacPaved ways with handrails illuminated in the night. They are 2.5 km long. Starting point: Collegi Sant Ermengol road and Tarragona avenue, respectively.
The town squareThis is a surprisingly peaceful place with a panoramic view of the Valley of Andorra.

Parliament building and old townThe parliament building is a relatively modern building and you can walk around up the hill behind it and go onto the roof where there is a type of mini park. On a nice day, there is a great view out over the valley across and looking south towards Santa Coloma. From here you can head back up the hill slightly to the right and visit the old church of St Esteve. Behind it is an interesting little area filled with narrow streets which is clearly the original location of the settlement.

Park CentralPark with small pond.

phone: +376 823 000

address: c/ Prat de la Creu 74-76, baixos

This visitor center has useful information on the leisure activities offered in the Madriu-Perafita-Claror valley, as well as facts on the tasks carried out to manage the valley and promote the values that have made it a UNESCO Human Heritage site.

address: Pl. de la Rotonda

Formed by different specimens of sedimentary, magnificent, metamorphic rocks and high-quality fossils from Andorra, it is accompanied by a panel with explanations.
Do
phone: +376 800 999

address: Parc de la Mola, 10

You can visit the spa/sauna/swimming complex Caldea at the nearby Escaldes-Engordany. It is located at the top of the town in the large glass spire structure.
Madriu-Perafita-Claror Valley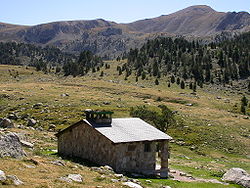 The cultural landscape of
Madriu-Perafita-Claror Valley
, which was inscribed in the
World heritage list
in 2006, can only be accessed on foot. It offers great hiking and climbing possibilities in summer and in winter ski mountaineering or walking with snowshoes is an option.
One entrance to the valley is a short bus ride or just over an hour walk from the oldest part of Andorra la Vella. See Escaldes-Engordany for details.
Buy
The best bargains can be obtained in electronic goods and jewellery. High cost items tend to be cheaper than anywhere else because of the low tax.
The great thing about the electronic goods like digital cameras is that there are a huge range of shops and a huge stock range, so you really get to see all the different makes and models.
Some of the larger shops seem to stock a lot of brand label clothing. Don't miss out on the Via Moda Group, a chain of stores under different names, especially during sales.
There are loads of ski gear shops. Shop around.
address: Avinguda Meritxell 11

Department store with several floors. There are various family friendly restaurants, a large electronic goods floor, designer label floors, and a supermarket notable for interesting Andorran and Spanish specialty foods and red wines.

address: Avinguda Tarragona 26

Supermarket sells electronic, clothes and food.

phone: +376 827 726

address: Carrer de la Vall, 18

Small bookshop and cafe that sells a wide range of books in Catalan and many international languages including children's books. They also sell beer including Alpha Brewery beers in bottles.
Eat
There are reasonably priced restaurants, although many of them tend to be Italian restaurants serving pizza and pasta. You find almost nothing open after 22:30.
El Vesuvio
in nearby La Massana serves Italian and Moroccan food until 24:00.
Bar Restaurant Nou

address: Avinguda Doctor Mitjavila

Fresc Co

address: Avinguda Doctor Mitjavila

L'Escenari de pizzes

address: Avinguda Doctor Mitjavila

Lizzaran

address: 86 Avinguda Meritxell

El Japo

address: 65 Avinguda Meritxell

El Refugi Alpí

address: 73 Avinguda Meritxell

La Mossegada

address: 73 Avinguda Meritxell

La Piazza

address: Carrer de l'Aigüeta

L'arroseria

address: Carrer de la Vall

L'Alternativa

address: 8 Plaça Guillemó
Drink
Drink and spirits especially are very good value in the supermarkets. Especially at the Hiper Andorra.
phone: +376 816352

address: Carrer La Vall nº 3

Small beer-tasting shop
Sleep
There are no four- or five-star international chain hotels. The only well-known chain hotels are Novotel, Holiday Inn and Ibis. The remaining hotels are almost always independently operated.
Husa Centric HotelLocated centrally in the main shopping area. This is part of the Husa chain in Spain.

phone: +376 880 880

address: Avinguda Doctor Mitjavila

Located in the heart of the capital, this hotel offers some fantastic views of the Pyrenees.

Pension la Rosa

phone: +376 821 810

address: Antic Carrer Major 18, just south of Avenue Princep Benloch, Andorra la Vella
Budget
phone: +376 876 200

address: Princep Benlloch 45

Cheap price, no air-conditioner, breakfast buffet is either included in the booking or available for €4.50/person.
Mid-range
Hotel Ibis Andorra

phone: +376 873 601

address: Avenue Meritxell 58
Splurge
Novotel Andorra

phone: +376 873 603

address: Prat de la Creu s n

phone: +376 874 444

address: Carrer Prat de la Creu, 88

phone: +376 824 800

address: Carrer Dr. Nequi, 12

Nice 4-star hotel in the center of the town. Andorra Center is part of the Best Hotels chain.
See nearby
Escaldes-Engordany
since it's very close.
Connect
The stretch of Avinguda Meritxell in downtown Andorra la Vella and Avinguda Carlemany that continues Av. Meritxell in the adjacent Escaldes-Engordany has free public WiFi.

Cope
Oficina Nacional de Turismo

address: Carrer del Doctor Vilanova 13

Information for tourists; they give also the maps of Andorra.
Embassies
Belgium

phone: +376 386-598

address: Carrer Bonaventura Riberaygua 39-4-3

France

phone: +376 73 67 30

address: Carrer Sobrevia 7-BP 155

Portugal

phone: +376 805305

San Marino

phone: +376 860532

address: Ave Princep Benlloch, 62-72

Spain

phone: +376 80 00 30

address: Prat de la Creu, 34

Switzerland

phone: +376 874444

address: Crowne Plaza Andorra, Carrer Prat de la Creu 88-89
Go next
Andorra la Vella is not a bad location if you want to go skiing because you can get either the local bus or the "Snow" bus up to most of the ski resorts. Most hotels during the ski season should have details.
The old town is worth visiting. It is up on the hill to the West and South of the main modern part of the town. It is quite old and quaint. You should cover it in about 2 or 3 hours.