Ang Thong National Marine Park
Ang Thong National Marine Park
is a fascinating archipelago of 42 or so islands in the
Central Gulf Coast
of
Southern Thailand
. It is northwest of
Ko Samui
.
Understand
Most of the islands are close to each other making a breathtaking panorama sailing around the park. All the islands are of different sizes and shapes. Most of them are covered with tropical forests and named after their distinguishing geography, a kind of descriptive appellation, such as
Sleeping Cow Island
and
Three Pillars Island
.
History
Landscape
Ang Thong, translates as
golden bowl
, occupies almost 250 km² and includes 50 km² of limestone islands and karst topography which rise from the sea as dramatic rock cliffs and bizarre rock formations. Caves, hidden lagoons, and white sand beaches are there to be explored and snorkelling among the shallow coral gardens makes for a popular and fascinating day trip.
Ang Thong National Marine Park is a protected nature area consisting of over 40 islands, and is famous for its natural beauty. All of the islands are uninhabited and undeveloped except for one. This island, Ko Paluay, is inhabited by sea-gypsies who still earn a living from fishing.
===Flora and fauna===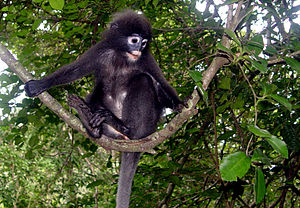 The woods in the park can be classified as dry evergreen forest, beach forest, and limestone forest. Dry evergreen forests are found on larger islands like Wuatalab, Paluay and Samsao.
Beach forests are lighter woods found in small stretches along the beaches.
Limestone forests are found on limestone mountains with thin soil layer, meaning that plants are smaller.
Larger animals do not thrive on these islands as they are small and dominated mostly by steep limestone mountains, with only few lightly to moderately slanted plains. Sixteen species of mammals like otters, langurs, crab-eating monkeys, hogs, silver haired bats, dolphins, and whales are found.
Other fauna include at least 54 species of birds, including Little herons, Brahminy kites, common sandpipers, oriental pied hornbills, drongoes and hill mynas. 14 species of reptiles are found, such as ground lizards, iguanas, green turtles, hawksbill turtles, pythons, and cobras.
Only five species of amphibia are found: common Asian toads, tiger frogs, rugose frogs, grass frogs, and tree frogs.
The waters of the national park are home to butterfly fish, angel fish, parrot fish, blue-spotted fantail rays, blacktip reef sharks, snappers, groupers, sea slugs, blue swimming crabs, sea fans, sea whips, giant clams, oysters, and coral. The park is also a breeding ground for mackerel.
Climate
Get in
Access to the Marine Park is controlled, but there are several Samui-based boat rental and kayak operators who are licensed carriers, catering to both independent visitors and organised kayaking/camping trips. There are also boats based on
Ko Pha Ngan
and
Ko Tao
that run liveaboard cruises to Ang Thong.
You can go to the park by slow, time-consuming ferries with many other people in big group (40-50 people, only from Ko Samui) or in a smaller group (maximum 25 people) via speedboats so that you can enjoy more of the park.
Tours from Ko Pha Ngan cost 1,800 baht plus a 200 baht entrance fee. Tours include pick-up from accommodation, a light breakfast, speedboat transfer to the park with snorkelling stops, a visit to Emerald Lake viewpoint, a buffet lunch on another island with a beautiful viewpoint and tough hiking (if you want to go to the top without breaks at three lower viewpoints and you are really fit you can be on top in 30 min. Lower viewpoints with worse views are less challenging). After all that, relax on another island on a deserted beach where you can kayak (200 baht per person) and transfer back to Ko Pha Ngan.
If you want to avoid crowds and money is not a problem or you are travelling with friends in a big group, you can do a private tour for 15,000 baht for a maximum of 10 persons (price from same travel agency. It may be possible to bargain, or cheaper at other places) on the speedboat and you can depart/arrive at any time.
Fees and permits
Entrance fee to the marine park: Normally not included in the tour fee unless otherwise specified, 200 baht/foreigner, 100 baht for foreign children under 12 years. Price for locals, 40 baht.

Get around

The most common transport from Ko Samui are tour boats taking 40-50 people, with lunch on board. These require you to transfer to a longtail boat to get to the shore of whatever island you are visiting, which can be tricky and requires a modicum of fitness.
You can take speedboat tours which also provide a snorkelling program and fewer people. It gets you to the archipelago faster. The best way is to put together a group of friends to hire a boat and explore the islands and beaches in your own time.
Most tours go to the park's visitor centre for lunch and kayaking. The visitor centre is visited by most tour operators, making it very crowded from 10:00 to 16:00. Before and after it's a totally secluded place with almost nobody around.

See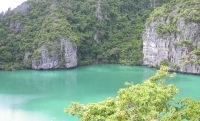 Ko Mae Ko (Mother Island) is a must visit. Here, an emerald seawater lake in the middle of the island is encircled on all sides by limestone cliffs, but linked by an underground tunnel connecting with the sea. Reaching the lake entails a strenuous climb of 40 min or so, but is rewarded with a spectacular view across the whole park.
The climb is up a series of staircases wonderfully combined into the natural landscape of the karst, threading through a narrow opening in the rock face at one point, and entailing minimum exertion if you pace yourself and are in decent physical shape. The final series of steps is a bit steep and caution should be exercised when descending the steps, but the entire trip up and down would not take 40 minutes unless you stopped and enjoyed the spectacular Emerald Lagoon, as the locals call this trapped sea-lake inside the collapsed island, for 20 minutes or so from the lookout point at the very top.
Do

Caves in many of the islands have intriguing rock formations. Visit one for an awesome experience. The beaches are surrounded with excellent coral reefs which make for perfect swimming and snorkelling. Hundreds of beaches here in the archipelago are deserted. Get a boat and find your own secret beach away from the crowds.
Other popular sites are Ko Sam Sao (Tripod Island) with an extensive coral reef and Wua Talap Island or 'sleeping cow'. It takes some effort to climb up the steep 430 m hill to a viewpoint offering great scenery of the entire archipelago and the mainland.

Eat

The main restaurant, managed by Nam, is excellent and offers a variety of cuisine. Only be careful to order early as the cook leaves by 22:00 and the lights go out by 23:00. Cheapest rice meal is vegetable fried rice from 60 baht. Delicious meals with good portions cost 100-120 baht, worth spending money, but place your order as soon as possible, because preparation is VERY slow. Expect waiting for 30-40 min for meals in the uncrowded restaurant.

Drink

The park headquarters sells beer. Take water. You'll need plenty.

Sleep

The park headquarters are located on Ko Wua Talab, which has basic bungalow accommodation.

Lodging

The park has 5 bungalows which are of different sizes. The costs are quite low, 500 baht per day, for a 2 bedroom cottage. The cottages are set against a beautiful backdrop and the park staff are very friendly, and fanatical about football. However please note that the park is not for the resort seeker. Facilities are basic, no hot water, and the park shuts off its electric supply at 23:00. So no electricity at night which only adds to the appeal of the place.

Camping

In the cottages are full, you can rent a tent for 2 for 250 baht. You can also bring your own tent and camp at the camping grounds. But you will almost always find a tent to rent.

Backcountry

Probably one of the best hikes in Thailand. From the park headquarters there is a path leading up the side of the rocks. This will take maybe 25-30 minutes to walk up, and well-worth it. But be warned, this is not a hike for the faint-hearted. Make sure you have good footwear as there are sharp limestone crags which will be your foothold, especially towards the peak. With a breathtaking view of all the Ang Thong islands, the end result of the hike is well worth it. Beware though, the hike is very steep in some sections and offer questionable ropes to hang onto. But this hike alone will justify your trip to Ang Thong.

Stay safe

Take water, hat, sunscreen, and something like an old t-shirt to cover up with when you're snorkelling.

Go next
Ko Samui - well-developed tourist beach destination