Angers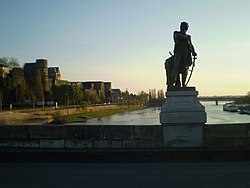 Angers
is a medium-sized
French
city which is the capital of the
Maine-et-Loire
département in the northwestern region of
Pays de la Loire
. It offers the traveller a mixture of an typical French night-life, historically rich street-scapes and great shopping opportunities.
Understand

Located in the French region which was known as Anjou in the Middle Ages, today Angers is a bustling French city, home to around 150,000 people in the city and roughly 270,000 people in the greater metropolitan area. It's a place with great appeal to historians and travelers interested in discovering France's rich medieval history.

Get in
By car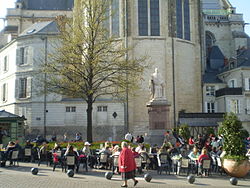 Like most French cities Angers can be easily accessed by motorway. The A11 connects Angers to the French capital
Paris
and nearby
Le Mans
. By car Angers lies roughly 295 km west of Paris and 95 km west of Le Mans.
Angers is also close to
Nantes
,
Tours
&
Rennes
, all of which are connected to Angers by motorway. Many of the motorways charge a toll which can vary from €2 up to €25.
By train
TGV offers frequent rail-links between Angers and many of France's major towns and cities. The trains are generally of a very high quality, offer very comfortable seating and have suitable storage spaces for luggage. Trains are quite regular and generally depart on time. Ticket checks take place on every journey, as a result it is very important that you are in possession of a valid ticket at all times. Smoking is not permitted anywhere on the train and the use of mobile phones in the seating area of the carriage is frowned upon by other passengers.
Angers is...
Roughly between 90 minutes and 2 hours from Paris. (The train can be found in Gare Montparnasse in Paris)
Around 45 minutes from the city of Nantes.
40 minutes from Le Mans (on the same line as the Paris-Angers route)
55 minutes from Tours.
By plane
Nantes
Paris (CDG)
Paris (Beauvais)
See more details at the airport website
Get around

Due to the plan "vigipirate", the national anti-terrorism policy, all possibilities to store luggage consignment around the train and bus station have been suspended.

By bus

Public buses are widely available in Angers. The main bus terminal, Lorraine, is located on Boulevard Foch, north of Jardin du Mail. These provide frequent access to the town;centre from the train station. Tickets, which can be purchased on the buses, cost €1.40 for a 1-hour unlimited ticket (€1260 for 10), or €4 for a whole-day pass (Apr 2019). Buy tickets from vending machines at team stations, or from some shops. Single tickets can be purchased on buses from €1.50.
Bus routes are clearly marked on the maps which are in most bus stops.

By tram
The city has a one-line tramway ("Line A") that provides access throughout the town and will cross the river. It connects two suburbs of Angers, La Roseraie and Avrillé. The tickets are integrated with the bus system and costs the same.
A second line from Beaucouzé, via the Atoll shopping centre via the Campus Belle-Beille - Université Angers, is not expected to be in service until 2022.

By taxi

Taxis cannot be hailed on the street, however there is a taxi point next to the train station. One of the main taxi companies is Allo Anjou.

By foot

One of the best ways to experience Angers is by foot and generally all of the main tourist attractions and shopping areas are located in close proximity to one another. One exception to this is the nearby lake, Lac de Maine, which is roughly 30 minutes from outside of the centre of town. It is located to the north of Parc Balzac, west of the banks of the Maine river. However, on a summer evening a walk out to the lake and back can be quite pleasant.

By bicycle

Angers has dedicated bike routes all along the town. People with local address can rent bikes for free from the two Velocite office near ESSCA and Rue Lorraine from Tuesday to Friday.

See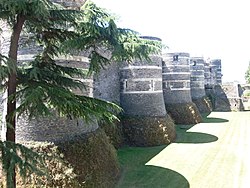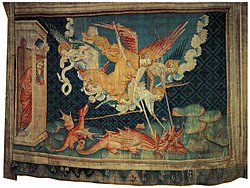 Angers castle

address: 2 Boulevard du Général de Gaulle

An impressive defence work from the 9th century, it has 17 black towers. As a bonus, it hosts an extremely large medieval Tapestry of the Apocalypse, really a spectacular set of tapestries which is one of the greatest artworks that has come down to us from the Middle Ages.
Museums
Jean Lurçat and Contemporary Tapestry Museum

phone: +33 2 41 24 18 45

address: 4 Boulevard Arago

Housed in the 12th century St. Jean's Hospital buildings. Since 1967, "Le chant du monde" (the song of the earth) by Jean Lurçat is displayed in the patients' ward. Hanging on the wall is a modern replica of the Apocalypse tapestry of Angers, which Lurçat discovered in 1937.

Museum of Fine Arts

phone: +33 2 41 05 38 00

address: 14 Rue du Musée

Since 1796 the Museum of Fine Arts has been housed in the Barrault residence, a late 15th century private home. The collection includes paintings by painters such as Chardin, Watteau, Fragonard, Boucher, David and Ingres). The collection also includes Goldsmith's work, enamel, and ivory arts.

Pincé Museum

phone: +33 2 41 05 38 00

address: 32 Rue Lenepveu

This museum is in the 16th century Pincé residence. It is a museum which primarily focuses on the classical world. In line with this Classical focus the museum includes a selection of Greek & Roman artifacts including pottery & glasswork. There are similar items also on show to commemorate Ancient Egypt, China & Japan also.

David d'Angers Gallery

phone: +33 2 41 05 38 90

address: 33B Rue Toussaints

The All Saints Abbey is one of the biggest 13th century abbeys in Angers. Since 1984 it has housed an important collection of plaster models, medallions, marble & bronze statues which were sent by Jean-Pierre David (1788-1856) to his native town's museum.

phone: +33 2 41 33 04 10

Created by some local aviation enthusiasts who were determined to safeguard in our memories the role of those great men of the great flying adventure, such as Roland Garros, René Gasnier, etc. The aim of this museum was to give the visitor an opportunity to discover the second national collection of light and winged aircraft in France. Temporary exhibitions, guided conferences, and restoration of the "vieux coucous" demonstrations are organized on an on-going basis.
Do
For being a fair-sized town, Angers has a lot to offer in terms of entertainment and night-life.
There are three cinemas: Gaumont Variétés (Blvd. Foch), Les Quatre Cent Coups (Rue Clavell) and Gaumont Multiplexe (St. Serge).
The main pedestrians strip runs along rue St. Laud. There you will find many cafés, such as Bar du Centre, and bars.
Tourists can do some shopping in "Atoll", a big mall not far (few minutes) from the city center.
phone: +33 2 41 33 50 62

address: Zone Sud, Aéroport d'Angers Loire, 49140 Marcé

Gliding club. Trial flights (Le vol d'initiation). Tuition and visiting pilots (range of options and prices).

phone: +33 2 41 73 83 00

address: Le PAVOA – Parc de loisir du lac de Maine 75 avenue du lac de maine 49000 Angers

Sailing dinghy hire, teaching, racing.
Drink
Since Angers is a university town, there are a lot of bars thronged by young people. Passing via the chateau during night one can see groups of young students going to bars. Soft, flastaff, Bolero are few notable ones and popular among students community.

Sleep
There is a campsite called Ile du Chateau to the south of the town near the river and for the camper-vanner there is an Aire de Camping-cars.

Go next