Anhui
Anhui
(安徽;
Ān​huī​
) is a province in the southern central region of
China
. Historically, it is a relatively poor agricultural province, and over the past few decades it has been one of the main suppliers of cheap migrant labour to more prosperous coastal provinces, especially in nearby
East China
. In the 21st century, Anhui has begun developing quite a bit of modern industry.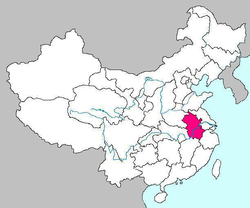 Cities
- the capital, near the center of the province
, in the North of the province
, to the Southeast, close to Nanjing
Other destinations
Understand
Anhui is less than three hours from
Shanghai
by high-speed train. With the Yangtze River and Huaihe River crossing it, it is divided into three parts: South Anhui, Middle Anhui, and North Anhui. It has a semitropical climate with four distinct seasons.
Get in
Huangshan Tunxi International Airport (TXN)

See
Huangshan
(Yellow Mountain) is a famously scenic area with an important temple.
Go next