Ann Arbor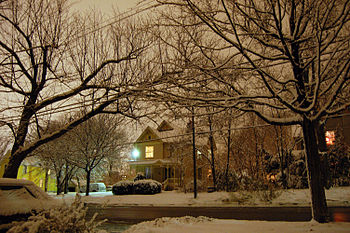 Ann Arbor
—often abbreviated as
AA
or
A 2
—is a city in
Michigan
35 miles north of the
Ohio
border and 45 miles west of
Detroit
, near where the furthest exurban fringes give way to country and small towns. It was founded in 1824 as "Annarbour", named after the two founders' wives (Ann Allen and Mary Ann Rumsey) and an arbor of burr oak trees on the village site (although some have theorized that the name arose from an arbor of roses or grapes). Today the city has a population of about 115,000 people or the thousands of visitors who come to town for football games and various festivals.
Ann Arbor is a picturesque city surrounding the University of Michigan. It has a strong bent toward the arts, and an attractive and pedestrian-friendly downtown. Visitors enjoy the city's wonderful sidewalk cafe dining, unique shops, lots of bookstores, and abundant cultural opportunities.
Understand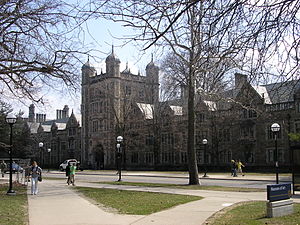 Ann Arbor is centered on the
University of Michigan
. The U of M campus intermingles with downtown, and the whole area is walkable, though day buses run between the campuses and the central business district. Toyota, General Motors, Ford, Thomson, Google, and Domino's have a major presence in the area. The university is well known for its medical school complex.
Farther out, the city fades into urban sprawl (a mall and business parks in the south), then countryside dotted with towns, and to the east,
Detroit
suburbs. Bus routes beyond the city limits, except in the direction of
Ypsilanti
, are lacking; you'll want a car or bike unless you have several hours to spare. On some autumn Saturdays, transport is difficult as 100,000-odd people pour in for university football games.
Ann Arbor, or
Tree town,
is, as one might expect, full of trees; they line the streets, and in summer from the air, or year-round in Google Earth, all that can be seen is a green swath with a few buildings sticking out. (In the early 20th century, after having leveled the forest that once occupied the area, the city instituted an aggressive tree-planting program that's since borne fruit.)
Like most of Michigan, summers can be hot and humid, with temperatures occasionally hitting , but averaging in the mid 80s. Winters are fairly normal for the lower Great Lakes region, which enjoys 4 seasons. It starts to be chilly in late October and it begins to warm up again in mid-March (but the occasional early April snowfall is not unheard of!) Average winter temperatures are generally in the range of and in January temps can dip below , or even lower if it's windy. Summers can get quite hot; in July and early-August it can hit high into the 90s with high humidity.
Downtown is a solid block of restaurants and art galleries. The university hosts cultural events, and venues such as the Michigan Theater host first-run independent films and high-profile music groups. Several good independent bookshops are located here, and the Ann Arbor Art Fair draws over half a million visitors each summer.
Get in
By car
Ann Arbor is bounded by
I-94
(between
Detroit
and
Jackson
) on the south and west,
US-23
(between
Flint
and
Toledo
,
Ohio
) on the east, and
M-14
(which leads to
Detroit
's western suburbs and
I-96
) on the north. From Toledo and other points south of Ann Arbor, take US-23 north; from Detroit, the airport, and points east, take I-94 west (or I-96 west to M-14 west); from Chicago and points west, take I-94 east; from the north, take US-23 south. There is ample paid parking downtown, but very little is on the curb (most is in parking garages). An option is to use the Ann Arbor Transportation Authority (AATA) park and ride lots, which lie on the outskirts of Ann Arbor. There are five such lots with free parking around the city, and
bus service
to each.
By plane
The nearest major airport is
Detroit Metropolitan Wayne County Airport
(
DTW
), about 25 minutes away. The best way to get to downtown Ann Arbor is the Michigan Flyer (see below), but there are also several shuttle services (also below) that offer pre-booked trips for $30-35 one-way and $55-60 round-trip, with the cost per person decreasing as the size of the group increases, that will take you to any location in Ann Arbor and the surrounding areas. Uber will also pick up and drop off between Ann Arbor and Detroit airport, and can be much cheaper than a cab, $25-30 each way. There are quite a lot of airport shuttle services, but the following will give you a place to start:


By train
phone: +1 734 994-4906

address: 325 Depot St

The station is located within walking distance of downtown, just beyond the Kerrytown district. You can also take bus route 1 to downtown, and there are usually taxis waiting outside the station. The Ann Arbor stop is situated on the Wolverine line, which travels between Pontiac (north of Detroit) and Chicago. There are three westbound and three eastbound departures daily. Detroit is about 1 hour away by train, and costs $10 – 15 one-way. The train is about 4 hr 45 min from Chicago, and usually costs between $25 and $50 one-way. The train from Chicago generally arrives 15 minutes to half an hour behind schedule.Amtrak also runs thruway bus connections to the Toledo station for connections further east on the Lake Shore Limited (Boston & New York) and the Capitol Limited (Washington DC).
By bus
phone: +1 734 662-5511

address: Blake Transit Center, 328 S Fifth Ave.

The bus station is downtown, at the main Ann Arbor Area Transit Authority hub. Detroit is a little over 1 hour away via bus; a one-way ticket costs $7–8, round-trip is $13–15. Chicago is 5 to 6.5 hours away; a one-way ticket is $34–37, round-trip is $65–70. (Tickets booked in advance are much cheaper.)

MegabusService available to Ann Arbor from Chicago and Toledo; fares start at $1. Buses arrive and depart at the University of Michigan's State Street Commuter Park & Ride lot. The lot is on the west side of South State Street about 0.5 mile north of Eisenhower Parkway. The bus stop is on the east side of the parking lot between the entrance and exit. Take AATA route 36 (weekdays only) to campus and downtown.

Michigan FlyerBus service from Detroit Metro Airport to East Lansing, MI via Ann Arbor. The main public transit connection between Michigan's two large state universities. Connects with the Ann Arbor Transit Authority 36 route at the Sheraton.
Get around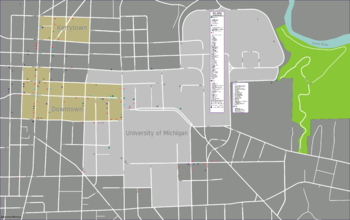 Downtown Ann Arbor is not large, so it's easy to get around just by walking. In fact, free parking is almost nonexistent, especially when the town is full of students, so you'll probably prefer to walk anyway. Occasionally you'll find an unused parking meter; you'll have to feed it money between 8AM-6PM on weekdays and Saturdays, otherwise they're free. There are parking lots and buildings scattered around downtown; they're free on Sundays, otherwise you can generally expect to pay around 80 cents to $1 per hour.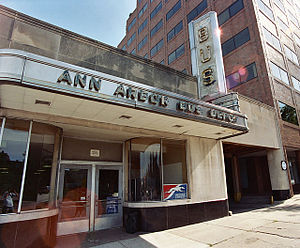 By bus
Ann Arbor Transportation Authority

phone: +1 734 973-6500 or +1 734 996-0400

address: 331 S Fourth Ave

Provides bus service in and around Ann Arbor and downtown Ypsilanti.

University of Michigan BusesMost commonly used by students traveling between the different campuses to and from classes, run on weekday (full) and weekend (reduced) schedules year-round, except for Thanksgiving day Thursday and Friday, Christmas day, and New Year's day. The routes connect the North, Central, and South campuses.
By taxi
Ann Arbor has several reliable 24-hour
taxicab
companies. You can't hail a cab from the sidewalk, although there are certain spots in town where they often hang out waiting for passengers, notably in front of the Michigan Union on State Street, and the Federal Building on Liberty Street. Uber and Lyft both have a large presence in Ann Arbor and are often far cheaper than a traditional taxi, especially off-peak
A2 Area MetroRide Taxi Service

phone: +1 734 709-1204

Airport pickup also available. Advance reservations advised.

phone: +1 734 846-0007

Also offers flat rates to destinations around Michigan and nearby major cities.

Ann Arbor Yellow Cab Company

phone: +1 734 663-3355

address: 2050 Commerce Dr

phone: +1 734 834-8294

$39 airport taxi service: Ann Arbor to Detroit Metro airport; up to 6 ride for the price of 1.

phone: +1 734 547-2222

phone: +1 734 216-5932

Serving Ann Arbor and surrounding area.
See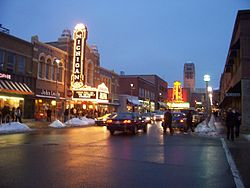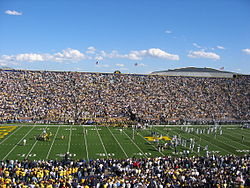 address: 1201 S Main St

Nicknamed the "Big House", the U-M stadium is the largest football stadium in America, with a seating capacity of 109,901. Home games are played in autumn on the well-known "Football Saturdays", when thousands of visitors clog the Ann Arbor streets to watch the Wolverines (or their opponents) play.

The University of Michigan Law School QuadrangleThe Law School's "Quad", nationally renowned for its serene environment and beautiful gothic-style architecture, is just south of the center of campus. Built in the early 20th century, the Quad consists of Hutchins Hall — the main law school building — the reading room and the U-shaped Lawyer's Club. The reading room (open to visitors) is an enormous cathedral-like building with stained glass windows featuring the colors of major universities in the US and around the world. The underground law library is naturally lit by enormous windowed shafts just beyond the Quad. The Quad is a grassy open space ringed by trees and seasonal flower beds. During the warmer seasons, students relax and toss the ball around, or sit and study in the Quad, making it an integral part of the Law School. Many locals consider the Law Quad to be the most beautiful part of Ann Arbor.

University of Michigan DiagThe heart of the University of Michigan's Central Campus, the Diag is the main quadrangle around which most of the key buildings on campus are arranged. Its name comes from the primary walkway that runs from the northwest to southeast corners of the Diag. In the middle of the Diag, just in front of the graduate library, is a brick courtyard with a brass M in the center; according to student legend, if you step on the M during your first semester at the university, you are doomed to fail your first exam. The Diag is often used for demonstrations, booths or student fairs, and is a popular hangout in warm weather.

The Ann and Robert H. Lurie Tower

address: at the center of the North Campus of the University of Michigan

A 165-foot tall structure which houses an operational carillon. The tower is open to visitors when the bells are being played, with two floors accessible by elevator. The top floor allows the visitors to see the carillonneur playing, while the lower floor provides a view of the carillon bells, and a skyline view of the Ann Arbor area. The current operational hours are posted at the base of the tower.

Nichols ArboretumIt's in a secluded plot just east of the University of Michigan Hospital. "The Arb" is a favorite place to enjoy peace and quiet in a setting removed from the bustle and traffic of everyday Ann Arbor. The Arb has no signage, no parking lot of its own, nor any restroom facilities. What it has is an impressive peony garden, many different species of native trees, shrubs, and grasses, and the Huron River runs through it. A gem that's worth seeking out.

phone: +1 734 930-4425

address: US-23 and Plymouth Rd

A large office park in a pastoral location, home to the world headquarters of Domino's Pizza. Visitors will go mostly for one of two attractions:
phone: +1 734 930-2514

address: 24 Frank Lloyd Wright Dr

The largest art gallery in Michigan, specializing in early 20th century and Old World art.

phone: +1 734 998-0182

address: 3001 Earhart Rd.

15 acres of land with farm animals from around the world, including rare and near-extinct species, like the French Poitou donkey (only 200 reportedly in existence), African watusi cow, Horned Dorset ram, and Tibetan yak. The barn was once part of a working 1925-era farm, but was opened as a petting zoo in 1984. Tours, hay rides and educational presentations available.
address: 1800 N Dixboro Rd

Just east of Domino's Farms, on Dixboro Road, Matthei Botanical Gardens is operated by the University of Michigan and open to the public. There are trails to stroll, a greenhouse to visit, and plantings to enjoy. Every spring, Matthei hosts a plant sale that is very popular with gardeners.".
Public art
Ann Arbor has a number of public sculptures and murals that can be viewed both on campus and downtown. Of these, several are particularly well-known:
address: Maynard Street and E Jefferson Street (Regents Plaza north of the Michigan Union)

A 15-foot-tall, 2400-lb glossy black cube created by Tony Rosenthal; there's a similar one in the East Village of New York City. The Cube spins on its axis when pushed. Although Tony Rosenthal cubes often appear identical, the late artist always varied design elements on each of his cubes. Alamo has a distinctive curve element whereas Ann Arbor is more geometric.

address: Hayward Avenue (in the courtyard outside the Francois-Xavier Bagnoud building)

Created by Maya Lin, the Wave Field is an earth sculpture, 90 feet by 90 feet square, consisting of a series of fifty grass waves in eight rows.

Alley mural

address: E Liberty Street, by the Liberty Square parking structure

The alley mural began as a one-man project in the 1980s and became a popular spot for graffiti artists. The city took the spot over in 1999 by hiring artist Katherine Tombeau Cost to paint over the original mural and graffiti with a new 5,000-square-foot mural. The graffiti artists haven't entirely relinquished their claim to it, meaning that Cost's mural has been partially defaced with large bubble lettering, but it's still an interesting (and out-of-the-way) sight. Be sure to seek out the "trippers'" bubble gum wall toward the back. During warmer weather, you'll often find musicians or dancers putting on solo performances in the alley entrance, hoping to glean donations.

Bookstore muralPainted in 1984, when the corner location was still occupied by David's Books, this mural depicts the five authorial visages of Woody Allen, Edgar Allan Poe, Herman Hesse, Franz Kafka, and Anaïs Nin.

Painted fixtures

address: throughout downtown

Fire hydrants and transformers, painted in bright colors by local artists and schoolchildren.

Fairy Doors

address: throughout downtown

Keep your eyes near the ground for fairy doors miniature colorful doors through which fairies can enter local businesses. According to Jonathan B. Wright of urban-fairies.com, the doors began appearing around town in the early 1990s.
Parks and gardens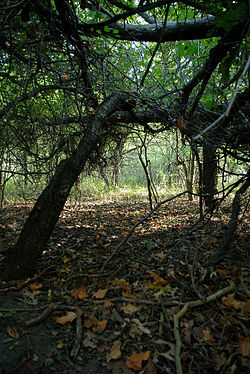 Ann Arbor has 147 city parks, ranging from less than a block wide to over 100 acres. Some of the more prominent ones include:
Museums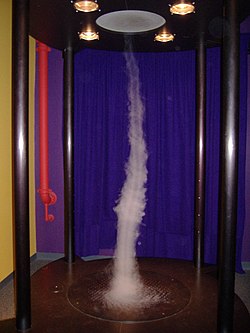 University of Michigan Museums
Open to the Public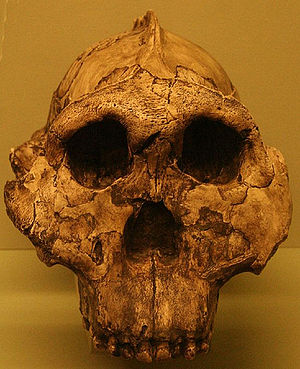 Closed to the public
Several of the university's collections are hosted by institutions that are primarily research-oriented, and so generally don't have exhibits on permanent display. However, it may be possible to arrange to view the collections through contacting the curators.
Do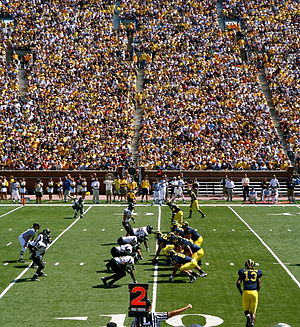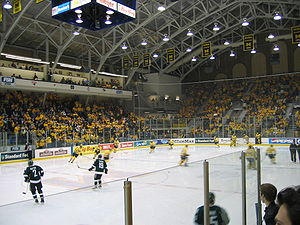 phone: +1 734 668-4044

address: 212 E Huron Street

If you want to know what's going on in town, the best guide to the entertainment scene in Washtenaw County. There's information on music, films, dance and theatre events, poetry and novel readings, lectures, art exhibits and festivals, as well as restaurant reviews and general information about the town. If you're interested in the Ann Arbor arts scene, this should be one of the first things you pick up; one easy spot to find copies is outside the Michigan Theatre on E Liberty Street.

phone: +1 734 764-0247

Ann Arbor is a college town, and this fact is perhaps no more prevalent than on game day (particularly football where the stadium fills to the largest capacity in the entire nation). UM has one of the most accomplished and competitive athletic programs in the nation. No visit is complete without taking in at least one Michigan sporting event. The football program has won more games in its history than any other Division I FBS program, and sells out every game at "The Big House", capacity 109,901. The men's ice hockey program is a national powerhouse, winning an NCAA record 9 national championships, and packing a boisterous 6,377 sellout crowd into historic Yost Ice Arena. In 2010, the hockey team took its home leg of its annual rivalry with Michigan State (located in East Lansing) to Michigan Stadium, setting up a rink in the middle of the football field. The game drew a crowd of nearly 105,000 (turnstile count), setting an all-time record for the sport. Michigan also has a strong tradition in men's basketball, swimming, baseball, softball, field hockey, gymnastics, cross country and track. Other teams include women's basketball, golf, men's and women's lacrosse, rowing, soccer, diving, tennis, volleyball, water polo, and wrestling.

phone: +1 734 302-3673

address: 404 W Liberty St

9 private, sound-proofed rooms for groups of 2-30. Over 10,000 song selections in seven different languages. Reservations encouraged, especially for larger parties and weekend nights.

phone: +1 734 213-2502

address: 1214 S University Ave

Large video arcade featuring pinball machines, air hockey, pool tables, shot clock basketball and football, ticketed games, Dance Dance Revolution, and classic arcade games from the 1980s as well as popular new fighting games.

phone: +1 734 572-0060

address: 7130 Platt Rd

Mid-July through the end of October, pick your own insecticide-free blackberries ($4/qt) then red, yellow, or amber raspberries ($3/qt). The owners also sell raspberry honey. Children welcome, no pets; working farm dogs on premises may sometimes be aggressive.

phone: +1 734 827-2680

address: 82 Aprill Dr

Over 22,000 sq ft of climbing terrain, with 50-ft walls, a motorized climbing wall, three bouldering areas and adventure racing including rappelling.

phone: +1 734 930-6670

address: 2809 Boardwalk St

Multi-level laser tag and an arcade.

CanoeingPopular in the area through the Huron-Clinton Metroparks.

Kensington Beach20 minutes north of Ann Arbor.

Play the Bells in the Tower at Kerrytown

phone: +1 734 369-3107

address: 407 N Fifth Ave

Play the charming melodies of the Kerrytown Chime — a seven ton, world class musical instrument made up of 17 bells in a tower. Choose from over 100 songs. Play by number. Kerrytown Market and Shops is one of the only places in the world where such an instrument is accessible to the public. It is easy and tons of fun for all ages.

phone: +1 734 213-1600

address: 2121 Oak Valley Dr

With three permanent indoor ice rinks under one roof, this is the perfect place to practice your hockey or figure skating skills, or just go for recreational skating.

University of Michigan Yost Ice Arena

phone: +1 734 764-4600

address: 1000 South State St

Home to the university's collegiate ice hockey teams. Also specializes in hockey and figure skating programs for the general public.

phone: +1 734 665-7801

Private yoga therapy by appointment for health and wellness. For full schedule of general classes,workshops, retreats and in-depth yoga studies visit website.

address: Downtown

Ann Arbor Bicycle Club is a weekly bike cruise that happens from the early spring until the late fall. It is made up of many 'Townies' and U of M students. Enjoy the fresh night air an see the town from a different angle. On this pleasantly paced ride you will visit local parks and other public hangouts that most overlook. Bring your bike, bring your beer, and bring your friends. But don't bring yo' kids!

phone: +1 734 720-9777

address: 220 S. Main Street, Basement level

Bring your favorite beverages and snacks to an art studio where an instructor will walk you, step-by-step, through replicating that day's featured painting. Classes run for approximately 2-3 hours with frequent sip breaks. You will leave with a painting that is uniquely yours.
Events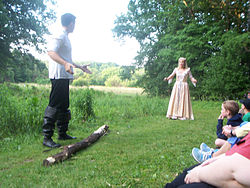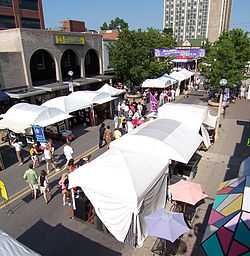 phone: +1 734 995-5356

address: 203 E Ann St

Held during six days in late March at the Michigan Theater (603 E Liberty Street). The oldest festival of its kind in North America, showcasing over 100 independent and experimental films and videos annually, since 1963. Over 20 prizes are awarded to the best films. Passes are available for single screenings, single days, weekends or the entire week.

phone: +1 734 764-2538

The University Musical Society annually presents a series of concerts by world-renowned artists at Hill Auditorium, the Power Center, the Michigan Theater, or Rackham Auditorium.

address: University of Michigan Diag near State St and N University St

Held the first Saturday in April. The Hash Bash began when poet John Sinclair was jailed for marijuana possession, leading John Lennon and Yoko Ono to headline a protest rally in Ann Arbor in 1971. Beginning in 1972, it became an annual event to commemorate the occasion and support the reform of marijuana laws. The Hash Bash is a gathering point for thousands of cannabis aficionados from all around, with guest speakers in the Diag attracting large crowds. Given the nature of the event, you probably will see people smoking marijuana; those who do light up tend to take advantage of the difference in fines between the town ($25) and the university ($100 and possible jail time), which basically means that your punishment depends on which side of State Street you stand on. Vendors sell everything from hemp bracelets to "glass art" (actually pipes and bongs, but who's quibbling?), bongo drums are played, and people-watching can be an event in itself.

Naked Mile

address: University of Michigan campus

Once held in mid-April at midnight on the last day of classes. A tradition at the University of Michigan which began in 1986, in which hundreds of students — traditionally graduating seniors, although in practice there's a broader spread — ran across campus naked, while spectators cheered them on, to celebrate the end of the school year. Although it is illegal, it was tolerated by local police until 1998, when they began attempting to strongly discourage continuation of the Naked Mile, fueled in part by concerns over outsiders videotaping the event and selling the recordings online. To avoid being arrested, students often run the Mile in body paint, underwear, or a day earlier than usual.

phone: +1 734 369-3366

address: 311-315 S State St

Held in mid-May. First organized in 2004 to promote reading, heighten awareness of literacy challenges, and showcase the rich culture of the written word in Michigan and beyond. The festival features a bookstore crawl, antiquarian book fair, author readings, symposiums and panels on literacy and writing, tours of the U-M library conservation and preservation lab, and a street festival.

African American Downtown Festival

phone: +1 734 769-0288

address: E Ann St and N Fourth Ave

Held the first Saturday in June since 1995. Crafts, merchandise, food, live music.

Taste of Ann Arbor

address: Main St

Kiosks along Main Street offer people the chance to sample menu items from over 35 local restaurants. Also includes three stages of live music, dancing and more.

phone: +1 734 647-7600

address: 1610 Washington Heights

Annual outdoor Shakespearean production since 2001, held on weekends in June. Roving performance requires the actors and audience to shift locations throughout the Arb from scene to scene. Previous productions have included A Midsummer Night's Dream, Much Ado About Nothing, As You Like It and Love's Labour's Lost.

phone: +1 734 994-5999

address: 522 S Fourth Ave, Ste B

Held from mid-June to mid-July. An annual event since 1983 with different nightly indoor cultural performances: singers, musical bands, dancers, comedians, plays, and other acts including acrobats and animal handlers.

TEDxUofMHeld annually since 2008, the student run satellite TED conference is an awesome showcase of what people associated with the University of Michigan have accomplished. Ticket prices vary and location changes every year. At TEDxUofM you'll be inspired, meet interesting people, and have great discussions. The event is generally held sometime in Spring.

address: Ingalls Mall

Held from mid-June to early July. Nightly local and regional live bands, outdoor film screenings at 10PM, and concession booths from eight local eateries. Traditionally this event was held on the upper level of the Fletcher parking structure, next to the Power Center — hence the name — but it has been temporarily moved outside the Rackham School of Graduate Studies. In inclement weather, performances and films may be cancelled.

phone: +1 734 994-5260

Held throughout downtown, four juried art fairs that display and sell art: the original Ann Arbor Street Art Fair along N University; the Ann Arbor Summer Art Fair along Main, Liberty, William and State; the State Street Area Art Fair; and the South University Art Fair. In practical terms, it's all one great big fair that takes about a full day to explore if you move quickly and don't look at every booth. Prices are generally rather high, as befitting an art show of this calibre, but there are definitely bargains to be found, as well as some less expensive non-juried booths that tag along for the ride. Loads of concessions, live entertainment, and booths with great sales from local businesses are scattered throughout. During the Art Fair, hotels are generally booked up and parking can be difficult to find, so book a room early (by February or March) and find a spot at one of the park-and-ride stops to catch a bus into downtown.
Learn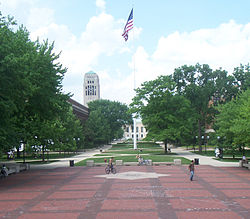 phone: +1 734 764-1817

A highly-ranked research university with a strong athletics tradition, the University of Michigan has been located in Ann Arbor since 1837 and is deeply intertwined with the town, being one of the major employers in the area. It offers both undergraduate and graduate programs in social sciences, sciences, humanities and arts, engineering, law, business and medicine. The average student population is around 40,000, with about 5,000 faculty members. There are three campuses — North, Central, and South — with downtown Ann Arbor being adjacent to, and somewhat intermingled with, Central Campus.
Work
The University of Michigan and the infrastructure and support services for it are major employers in Ann Arbor.

phone: +1 734 332-6500

address: 112 S Main Street, 2nd floor

Google opened the headquarters of AdWords, their advertising system, in the McKinley Towne Centre building in 2007.

phone: +1 734 913-3000

address: 777 E. Eisenhower

Thomson Reuters is an information business for professionals. The healthcare division is headquartered in the 777 building as it's known locally. They employee over 1500 employees with in Ann Arbor between the heathcare and tax divisions, and are the third largest employer in Washtenaw county. The Tax and Accounting division headquarters are located 10 minutes west in Dexter, MI.

address: 317 Maynard St

Barracuda Networks, Inc. is a privately held company providing security, networking and storage products based on network appliances and cloud services.
Buy
Bookstores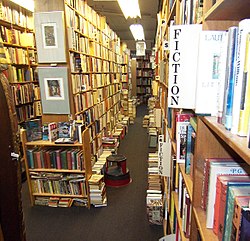 It's been said that Ann Arbor has more bookstores per capita than any other town in the US – certainly a walking tour of downtown will take you past quite a few, although the number is beginning to slowly dwindle. The flagship Borders bookstore was here from 1971 until it closed in 2011.
Music
Art and gifts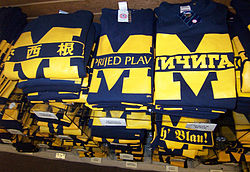 Other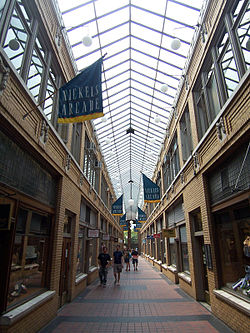 Shopping centers
Eat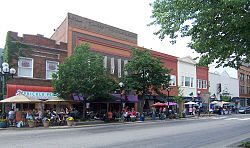 For a relatively small Great Lakes town, Ann Arbor has a large variety of cheap (and sometimes quirky) eateries (thanks in part to the large student population) such as pizza restaurants, quick Chinese food and lots of sandwich and wrap shops downtown. You'll also notice hot dog and tamale carts on many street corners, particularly in the summer, selling basic fare starting at $1 with complimentary toppings. As alternative to restaurants the regional supermarket
Busch's
have good salads and sushi.
One thing you won't see much of, however, at least on campus and in the downtown area, are popular nationwide fast-food chains. The impression is that Ann Arbor is proud enough of its small independent restaurants that it has no need for mass-produced french fries (although with rental costs rising in the downtown area, many local restaurants — and shops — are being ousted in favor of wealthier small chains, like Bruegger's and Great Wraps).
For the more refined palate, there's no shortage of fine dining. Between Ann Arbor's vibrant cultural life and its sizeable international population, there seems to be considerable demand for the fancy and the exotic. There are certainly a few restaurants in town that can empty your wallet singlehandedly, but don't let their reputations scare you away: at even the priciest restaurants, there are dishes that you can order for a more modest fee, if you just want to sample the atmosphere. During warmer weather, be sure to check out the eateries on Main Street that offer outdoor sidewalk dining. It's a popular alternative, especially for the locals who have just suffered through six months of winter, and even though you're sitting right by the street, it's more relaxing than you might expect.
If you're looking for an Ann Arbor specialty, the
fragel
— a raisin bagel that has been deep-fried and rolled in cinnamon sugar — seems to have originated here. Once available all over town, now you can only find them at the Bagel Fragel on Plymouth Rd or certain Paneras.
Budget
phone: +1 734 663-7222

address: 1104 E Catherine St

Popularly known as the best breakfast spot in town, offering eggs, omelettes, waffles, pancakes, French toast and lots of sides. They also serve soups, salads, sandwiches and burgers. Be sure to try the homemade raisin bread they're famous for.

phone: +1 734 622-0750

address: 516 E William St Ste A

Taiwanese and Szechuan cuisine, with a separate menu of over 50 traditional Taiwanese dishes. The salt-and-pepper crispy chicken wings are one of their most popular dishes.

phone: +1 734 662-1711

address: 1703 Plymouth Rd

Ann Arbor's only Turkish restaurant, offering soups, salads, pilavs, boreks, lamb, beef, chicken, and many vegetarian stews.

Bagel Fragel

phone: +1 734 332-1555

address: 1754 Plymouth Rd

The only place left in town where you can buy fragels, a delicacy that was created at the (now defunct) Bagel Factory here in Ann Arbor. It's best to go early and get them piping hot.

phone: +1 734 222-4822

address: 810 S State St

Salads, nachos, burritos, chimichangas, quesadillas and tacos, made with fresh ingredients and fresh salsa.

phone: +1 734 222-9013

address: 1220 S University Ave

Hot and cold milk tea (black or green), calpico, Thai iced tea, coffee and frozen smoothies, with black or rainbow pearls, mango stars and lychee jellies. Drinks come in a variety of cream-based and fruit-based flavors, with the cream-based taro being especially popular. They also offer snacks like chicken wings, fried foods and mochi ice cream. Students often hang out in the lounge to play board games.

phone: +1 734 662-8650

address: 204 S Main St

A French-style cafe with the best morning cappuccino in town. Food is great including the evening tapas menu and excellent wine and martini selections. Come sit and read, drink, and people watch. Breads and pastries, soups, salads, omelettes, crepes, gourmet sandwiches and entrée croissants.

phone: +1 734 302-7032

address: 214 N Fourth Ave

Next to the People's Food Coop, this is a vegetarian-friendly hot bar and salad bar and cafe featuring local, organic and fair trade items. The cafe section offers organic fair trade coffee, juice blends, chai, maté, hot cocoa and hot or iced tea; homemade cookies, cakes and pastries, and locally made sweets. The adjacent café offers soups, salads, hot entrees (by the pound), sandwiches and grilled panini.

China Gate

phone: +1 734 668-2445

address: 1201 S University Ave

Great food with fast service, and relatively inexpensive.

phone: +1 734 663-3379

address: 512 E William St

The first pizza restaurant in Ann Arbor, established in 1948. Salads, subs and pasta as well.

phone: +1 734 677-2688

address: 4037 Carpenter Rd

Japanese and Korean food. Homestyle Korean cooking, sushi roll specials.

phone: +1 734 327-9464

address: 311 S Fifth Ave

This tiny restaurant is full of flavor and the only all-vegetarian Indian restaurant in town. Family recipes may surprise. Catering.

phone: +1 734 665-4430

address: 1721 Upland Dr.

Featuring Syrian vegan, vegetarian and meat dishes, as well as cakes ($25) and traditional Middle Eastern sweets.

The Fleetwood Diner

phone: +1 734 995-5502

address: 300 S Ashley St

Because it's Ann Arbor, there are many vegetarian options. You can't miss the shiny metal exterior, and will most likely leave with a story. Try the Hippie Hash, a mixture of potatoes, vegetables and cheese. Can be an interesting adventure at night.

Jamaican Jerk Pit

phone: +1 734 995-JERK

address: 314 S Thayer St

Jamaican food including soups, salads, patties, seafood, sandwiches, jerk chicken and pork, and more.

phone: +1 734 995-5060

address: 307 S Fifth Ave

Palestinian-American owned restaurant very popular for its cheap but tasty falafel. Consistently voted the best Middle Eastern and best cheap eats in Ann Arbor for over a decade.

phone: +1 734 761-1327

address: 1327 S University Ave

A popular restaurant among Korean students, serving traditional favorites along with some Japanese food.

phone: +1 734-663-4590

address: 304 S. Ashley

Despite the official slogan ("Cheaper than food since 1953"), the food's great. Infinitely customizable within the burger-and-fries milieu (plus sandwiches, deep fried vegetables, etc.) Make sure to bring cash, as they may or may not be taking credit cards. They are also known for giving change in interesting denominations (i.e. two-dollar bills and fifty-cent pieces).

phone: +1 734 327-0091, +1 734 665-2114

address: 306 S Main St.

As the name suggests, they sell hot dogs, but the true star of the show is the rotating selection of 84 homemade soups, of which around 6 are available on any given day. Try the Tuscan squash with blue cheese, the curried winter melon, the pozole or the famous lobster bisque, which is only available on Thursdays and Fridays. Their fresh-squeezed lemon and orangeades are also delicious.

phone: +1 734 222-9006

address: 328 Maynard St

South Indian, Indo-Chinese and Moghlai dishes, with a daily lunch buffet. The Manchurian cauliflower is delicious, and they have a wide variety of dosas and uttappams. Try the rose milk.

phone: +1 734 222-8080, +1 734 213-0808

address: 1317 S University Ave, 226 N. Fourth Ave

It has quickly become one of the most popular restaurants on campus. Pad Thai is excellent, so expect crowds during lunchtime and dinnertime on the weekends.

phone: +1 734 663-8080, +1 734 213-0808

address: 1745 Plymouth Rd

Fast and simple but good food.

phone: +1 734 669-6973

address: 605 E William St

Considered by some to be the best pizza in town. Pizzas (including stuffed and Chicago-style), calzones, salads, subs, chapatis and entrées. Gets crowded 1:30AM-3AM on Th-Sa nights. The South U location is now closed.

phone: +1 734 622-8082

address: 619 E William St

Middle Eastern salads, sandwiches and traditional dishes at very reasonable prices (most sandwiches are under $6), and the owner is extremely friendly. Their vegetarian pitas are unusually diverse; try the makalee pita (cauliflower, potato, hummus, lettuce, pickles and garlic sauce) and the riz b-harr pita (spicy eggplant, potato, cilantro, garlic, rice, lettuce, tomato and pickles).

phone: +1 734 995-1545

address: 400 S Division St

Indian cuisine?

phone: +1 734-998-3647

address: 629 E University Ave

Dogs.

phone: +1 734 769-2288

address: 1313 S University Ave

Korean food in a casual diner-style setting, and the only place in town where you can get pot bing su (a dessert of ice cream, shaved ice, tropical fruits, sweet beans, rice cake and flavored syrup) in warm weather.

phone: +1 734 214-7775

address: 211 N Main St

Tacos, burritos, quesadillas, tostadas, enchiladas, tamales, and other Latin American specialties.

phone: +1 734 663-1500

address: 307 S Main St

Typically cited by locals as the city's all-around best Indian food. Authentic Indian and Tandoori dishes, Indian and domestic beer served. Full bar. Carryout and catering available.

phone: +1 734 214-6666

address: 715 N University Ave

Probably the only authentic Italian pizza in Ann Arbor; the owner is from Abruzzo, where he baked pizzas for 25 years. The pizza is made from organic flour, herbs and tomatoes, with lots of organic toppings including zucchini, potatoes, asparagus, rapini and shrimp. Stuffed pizzas, pasta, soup, salad, calzones, sandwiches, and a wide variety of Italian pastries are also available.

phone: +1 734 662-1700

address: 302 S State St., 1121 S University Ave

ice cream

phone: +1 734 213-3044

address: 715 N University Ave

Very popular among university students. Good sushi at good prices; consequently there can be a wait at lunch. Nice selection of specialty rolls, always fresh.

phone: +1 734 327-8646

address: 740 Packard St

Appetizers, soup, sushi and sashimi, with a broad selection of rolls and combos. Try the Florida Beach roll (tuna, mango and avocado wrapped with kiwi), the Dynamite roll (special california topped with cooked mixed seafood and spicy sauce), or create your own roll.

phone: +1 734 769-2331

address: 123 W Washington, also in Kerrytown Market

A fantastic collection of exotic teas and intricate coffees. Soothing atmosphere, free Wi-fi and great locations.

phone: +1 734 761-6650

address: 401 E Liberty St

Appetizers, salads, breakfast dishes, nachos, burritos, fajitas, dinners, desserts, milkshakes, and other Mexican-American favorites. Popular with students for their low prices and late-night delivery. The store also stocks 300 varieties of hot sauce.

phone: +1 734 302-3511

address: 215 S State St

Excellent downtown sushi restaurant, also serving tempura, a wide variety of udon, and bento.

phone: +1 734-369-2602

address: 505 E Liberty St, Suite 200

Korean BBQ.

University Cafe

phone: +1 734 662-7162

address: 621 Church St

Claimed, by some Korean students, to be the best Korean restaurant in town, with a wide selection of favorites like bibimbap, oh moo rice, spicy entrees, stews, noodles and ramen.

phone: +1 734 662-3244

address: 602 S Ashley St

A popular local hangout, the shop carries fresh homemade doughnuts, hand-dipped shakes, malts and ice cream sodas, and over 30 flavors of Stroh's ice cream. It's been around since 1934.

phone: +1 734-213-3350

address: 3580 Plymouth Rd

Very good Middle Eastern food and surprisingly great fries too.
Mid-range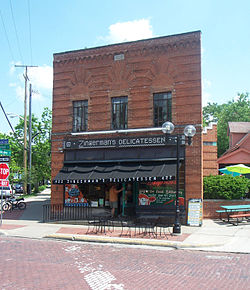 phone: +1 734 665-8767

address: 122 E Washington St

An Eastern European cafe with an emphasis on Polish and Hungarian food, and a Viennese patisserie. The pierogies and goulash are delicious, as are their homemade soups. It's best to go for lunch, when the food is practically identical but the prices are much lower.

phone: +1 734 332-1004

address: 3574 Plymouth Rd

Simple restaurant in strip mall with good Korean food.

phone: +1 734 948-4746

address: 221 E Washington St

Ethiopian cuisine, with both meat and vegetable dishes served in their all-you-can-eat feast options. All meals are served with traditional bread called injera, and Ethiopian coffee and tea are also available. Try the honey wine. If you're on budget, ask for refills, do not order extra things. This place, though reasonable, gets expensive fast.

phone: +1 734 741-0778

address: 2016 Packard St

Chinese, Taiwanese and Malaysian cuisine and dim sum, with a vast vegetarian and vegan menu. Lots of interesting dishes, like amazing sue rou (a soybean product), Shanghai-style vegetarian salad, stir-fried lima beans with mixed pickled vegetables, and laksa.

phone: +1 734 663-7758

address: 215 N Main St

American and German specialties, including sauerbraten, rouladen, sausages, spaetzle, salads, pasta, sandwiches, beef, poultry and seafood. An upstairs club features nightly entertainment.

Marnee Thai

phone: +1 734 929-9933

address: 414 S Main St

A downtown branch of Lotus Thai, featuring a nearly-identical menu. Try the grilled seafood with herbs.

phone: +1 734 332-9700

address: 2900 S State St

Specializing in the cuisines of the Mediterranean, with appetizers, soups, salads, pasta, seafood, steaks, and regional Mediterranean entrees. Try their tortilla de camarones and Moroccan seabass fufarran. The complimentary taramosalata is excellent, and they're justifiably proud of their bright green extra-virgin olive oil, which you can also buy at the restaurant.

phone: +1 734 668-8987

address: 305 N Zeeb Rd

Traditional German cuisine since 1928. Appetizers, soups, salads, seafood, chicken, American entrees, wursts and platters, sandwiches, German side dishes, desserts, beers and spirits. Traditional German entrées include sauerbraten, rouladen, schnitzel, cabbage rolls and chicken livers.

One Bowl Asian Cuisine

phone: +1 734 747-7006

address: 1220 S University Ave

Offers Chinese cuisine as well, but Vietnamese is definitely the reason to come here. Excellent dishes include the pho, grilled meat vermicelli, hot pots and the cilantro chicken. Be sure to try the Vietnamese-style coffee.

phone: +1 734 662-9303

address: 114 W Liberty St

It began as an upscale Korean restaurant called Kana, then the owners branched out into pan-Asian cuisine (largely Korean and Thai) and tweaked the name. Excellent food in a relaxing setting. Be sure to try the homemade, naturally-sweet hot ginger tea.

phone: +1 734 971-0484

address: 3411 Washtenaw Ave

Family-owned Italian restaurant featuring appetizers, salads, pasta, Italian entrées, desserts, and an award-winning selection of Italian wines. Try their rigatoni with country greens, sausage and hot peppers.

phone: +1 734 930-6100

address: 347 S Main St

Appetizers, salads, pasta, fish, meat and desserts.

Prickly Pear Southwest Cafe

phone: +1 734 930-0047

address: 328 S Main St

Southwestern food. Try the black bean rellenos and the empanadas.

phone: +1 734 994-40046

address: 316 S State St

A contender for the best burger in town, Red Hawk also features a large variety of American classics, as well as a large beer selection.

phone: +1 734 769-1212

address: 1733 Plymouth Rd

Good Japanese food.

phone: +1 734 997-2121

address: 3125 Boardwalk Dr

The only Korean place in Ann Arbor where you can have Korean-style galbi grilled at your table. Ban-chan (side dishes) are authentic Korean style, and group tables (4-60) available. Wider selection of food such as galbi, galbi-jjim, boiled mixed seafood, bulgogi, and tofu-kimchi.

phone: +1 734 662-1111

address: Westgate Shopping Center

With entirely vegetarian cuisine (and many vegan options, too), this is one of the best restaurants in Ann Arbor. Their creative dishes are inspired by Mexican, Italian, North African, Indian, Asian and American cuisine. Tons of options, some delicious offerings and generous portions, though the prices can be surprisingly high (such as $14 for grilled eggplant, steamed broccoli and brown rice with cilantro-peanut sauce). The butternut squash enchiladas are one of their best-sellers.

phone: +1 734 528-5588

address: 4896 Washtenaw Ave

Housed in an old Long John Silver's, Tuptim quickly became a local favorite for its high quality Thai cuisine.

phone: +1 734 971-5168

address: 2222 Hogback Rd

Broad menu including an array of authentic appetizers, teriyaki and tempura entrees, donburi, udon, curry rice, noodles, sushi, ochazuke, nabemono and bento.

phone: +1 734 663-DELI

address: 422 Detroit St

Vanity Fair called it "the best deli in America." The prices are higher than at a typical deli, but so is the quality of the ingredients, although some people find the serving sizes to be small. Sandwiches, hot dogs, soups, salads, traditional Jewish favorites, breakfast foods and desserts. Baked goods, ice cream and chocolates are also available on the premises, and you'll enjoy browsing their world-renowned selection of gourmet groceries with the help of their very knowledgeable staff. Sandwich # 55, Gemini Rocks the House, comes highly recommended by locals, and is vegetarian so nobody should miss out.
Splurge
Drink
Pubs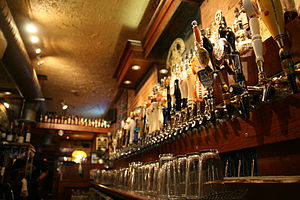 phone: +1 734 213-1393

address: 114 E Washington St

Known to the pub faithful as ABC, this establishment has outdoor seating in the warmer months and a fabulous block party Oktoberfest celebration in the fall. ABC has good food (especially the nachos) and a good variety of unique brews. They also offer a selection of Belgian-style ales brewed onsite. ABC offers monthly beer tastings ($40), with a schedule posted on their website.

phone: +1 734 222-9999

address: 203 E Washington St

Sports bar featuring pub appetizers, soups, salads, steaks, chicken, fish, pasta, sandwiches and desserts.

phone: +1 734 996-9191

address: 338 S State St

A busy establishment with good food and an excellent assortment of beers (over 60 on tap). Ashley's is always a good time and worth the wait on the weekends. Sandwiches, wraps, pub pizzas and entrées.

Babs' Underground Lounge

phone: +1 734 997-0800

address: 213 S Ashley St

A popular, low-key, secluded underground drinking establishment known for its cocktails.

phone: +1 734 761-3355

address: 1204 S University Ave

A popular hangout since 1938, the Brown Jug offers appetizers, salads, soups, sandwiches, burgers, chicken and fish dinners, and pizza. Beware however that a lot of the food has been frozen.

Casa Dominick's

phone: +1 734 662-5414

address: 812 Monroe St

A popular hangout south of campus next to the Business School and Law School, with lots of outdoor seating on the two porches or in the rear garden. Mostly Italian food, with pizza, pasta, subs and salads. The sangria, served in Mason jars, is very popular. Service can be hit-or-miss.

phone: +1 734 665-6775

address: 304 Depot St

Tavern near the Amtrak station. Soups, salads, snacks, burgers, hot dogs, sandwiches, and entrées, with beers for $3.25-4.95. Very helpful wait staff who will gladly steer you away from items they don't recommend.

phone: +1 734 665-2968

address: 318 S Main St

Serving wine, beer, Irish coffee and other hot drinks. The menu is a mixture of pub food (burgers, sandwiches, soups and salads) and traditional Irish favorites (mussels, shepherd's pie, boxty, fish and chips, and more). The strawberry and rhubarb crumble is delicious.

phone: +1 734 668-8411

address: 1140 S University

A popular undergraduate hangout with a menu featuring breadsticks, pub food, salads, pizza, sandwiches and burgers. Popular for their bombs, Long Island iced teas and specialty drinks.

phone: +1 734 741-7325

address: 120 W Washington St

Features a number of their own brews. In addition to its brews, Grizzly Peak has excellent food and friendly wait staff. In the fall, Grizzly Peak and other area breweries host an Oktoberfest block party, and last year celebrated the season with drink specials and an Oktoberfest beer glass. American cuisine featuring pizza, burgers, ribs, fresh fish, pasta, sandwiches, soups, salads and desserts. The cheddar ale soup is not to be missed!

phone: +1 734 913-2730

address: 311 S. Main St.

Belgian-style ales brewed in nearby Dexter, Michigan, are served here along with a seasonal menu. Vegan-friendly.

Melange Bistro

phone: +1 734 222-0202

address: 314 S Main St

Asian-French fusion cuisine in a subterranean bistro and wine bar, with a separate sushi menu and an extensive wine and martini selection. Live music or DJs in the lounge W-Sa 10PM-2AM. On Mondays they host a movie night featuring salad, entrée and dessert, followed by a screening of a classic or contemporary film. Try the Pasta Va-Va.

phone: +1 734 662-9291

address: 122 W Liberty St

Appetizers, soups, salads, burgers, sandwiches, Southwestern entrées, rotating weekend entrées, and a broad selection of mixed drinks. Popular but non-rowdy watering hole for townies.

Scorekeepers

phone: +1 734 995-0581

address: 320 Maynard St

Sports bar serving burgers, chicken and sandwiches.

Vinology Wine Bar and Restaurant

phone: +1 734 222-9841

address: 110 S Main St

Seasonally-rotating menu with inventive small plates, specialty artisan cheeses, traditional entrées with a twist, and housemade desserts. Extensive wine list and full bar.
Bars and nightclubs
Coffee, tea and chocolate
Comet Coffee

phone: +1 734 222-0552

address: 16 Nickels Arcade

Highest-quality coffees from around the world, from a variety of specialty coffee roasters, prepared by expertly-trained baristas. Not one to miss for coffee lovers.

phone: +1 734-665-2757

address: 114 S Main St

Local tearoom offering organic fair-trade locally-roasted coffee, chai, a wide variety of teas (black, green, white, red and herbal), and entrées from Seva. Offers periodic reading series and special events.

Espresso RoyaleChain coffeeshop offering coffees, teas and baked goods.
phone: +1 734 662-2770

address: 324 S State St

phone: +1 734 668-1838

address: 214 S Main St

phone: +1 734 327-0740

address: 1101 S University St
Kilwins Chocolate and Ice Cream

phone: +1-734 769-7759

address: 107 E. Liberty St

Great chocolate, ice cream open seasonally next door. Rather expensive, delicacy chocolate.
Mighty Good Coffee Roasting Co.Specialty coffee roasting business. Four location.
phone: +1 734 222-9202

address: 1155 Rosewood St Suite B

RoosRoast is an awesome local coffee roastery filled with art and love and home of the triple shot long pull! Specializing in Fair Trade and Organic coffees! Come try a cup of coffee or pick up some beans today!
StarbucksCoffees, teas and frappuccinos.
phone: +1 734 623-8067

address: 222 S State St

phone: +1 734 222-9046

address: 300 S Main St

phone: +1 734 994-5437

address: 1241 S University St
phone: +1 734 622-0084

address: 604 E. Liberty, 407 N Fifth Ave., 123 W. Washington

Coffees, teas, frozen drinks, hot chocolate, Italian sodas and juices, as well as soups, sandwiches, parfaits, quiche, pastries, sweets and desserts. Their ginger lemon tea is a popular choice. Also located at 123 W Washington Street, +1 734 769-2331, M-F 7AM-midnight and Sa Su 7:30AM-midnight.
phone: +1 734 622-0460

address: 204 N Fourth Ave

Over 160 classic black and green, oolong, white, rooibush, herbal, ayurveda, fruit, aroma and seasonal teas sold loose, as well as tea accessories. Tea tastings offered periodically.
Zingerman's Next Door

phone: +1 734 663-5282

address: 418 Detroit St

Coffees, teas, ice cream, chocolates and pastries from Zingerman's Bakehouse.
Sleep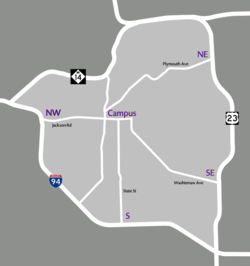 There are four main hotel districts in Ann Arbor:
near campus
; in the
southern
part of town, where State Street meets I-94 (
including Boardwalk St, Briarwood Cir and Victors Way
); in the
southeastern
part of town, near the intersection of Washtenaw Rd and US-23 (
including Carpenter Rd
); and in the
northeastern
part of town, by the intersection of Plymouth Rd and US-23 (
including Green Rd
). There are also a few in the
northwestern
part of town, near the intersection of Jackson Ave and I-94. Accommodations tend to be the most expensive in the campus area, so unless you're here for a conference or business trip that's being paid for, you'll probably want to look further out.
Hotels in the campus area are within easy walking distance of downtown Ann Arbor and most of the attractions. The southeastern area is served by two AATA bus lines, route 4 (along Washtenaw) and route 22 (along Carpenter), and the northwestern area is along route 9. The other two areas aren't quite as well linked, although route 2 does go along part of Plymouth Rd, and the commuter 36 stops at Wolverine Tower, which is a short walk from the hotels along State and Boardwalk. However, you'll most likely want to use your car to get around if you're staying outside of downtown.
Budget
Bed and breakfast
Mid-range
Bed and breakfast
Splurge
Bed and breakfast
Stay safe

Ann Arbor is generally a very safe town, though the usual rules about common sense (being aware of your surroundings after dark and knowing where you are going) apply here as they would anywhere. The only really common crimes in town are those that you find in any other university town. Theft is the biggie, as many university students who leave their bags unattended in the library or those who fail to lock their bikes can tell you. There's also the occasional mugging or sexual assault, but these tend to occur after dark, so if you're not wandering the streets at 2AM, you probably don't have anything to worry about. Having said that, wandering the streets at 2AM in downtown Ann Arbor is generally quite safe and not at all frightening; there are usually enough students out partying or hanging out with friends until the wee hours that you won't feel like a lone target, or like you're in a dangerous crowd. U of M Police, Ann Arbor Police, and the Washtenaw County Sheriff patrol regularly and are not difficult to find--indeed, alcohol violations such as drinking on the street from an open container are vigorously policed. There are emergency phones located all over campus.

Connect
Internet
Free wi-fi access is plentiful at local cafes.
phone: +1 734 994-1595

address: 3990 Varsity Dr

Internet access and multiplayer gaming facility with mostly PC video games. The atmosphere is very friendly and social.

phone: +1 734 662-2770

address: 324 S State St

This particular ERC location, across the street from the University of Michigan Diag, has a handful of desktop computers set up for customer use. (Most cafes in town, including the other ERC locations, provide only wi-fi, not computers.)

phone: +1 734 327-4200 (all branches)

address: 343 S Fifth Ave (Main Branch)

The main branch of the public library, located downtown a couple of blocks from Main Street, offers wifi and a couple dozen desktop computers for visitor use. Check in at the desk on the second floor.
Cope
Radio stations
Four good public radio stations are within listening distance.
Newspapers
phone: +1 734 763-2459

The student newspaper.
Go next
The rest of
Washtenaw County
has quite a few charming little towns and villages that you might enjoy visiting.
If you'd rather get out of the county, there are some larger cities and towns a short drive away.