Annemasse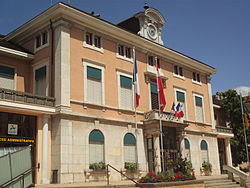 Annemasse
is a city in the
Haute-Savoie
region of France, directly across the border from
Geneva
,
Switzerland
. Many of its inhabitants work in Geneva and travel home every day. It is a useful place to stay for those who find Geneva's hotel prices too much for their pocket.
Get in
From Geneva by public transport
There are several different alternatives to get in from Geneva, but they might be difficult to find, especially if you don't speak French.
From Cornavin station you can now take bus 61 directly to Annemasse. Remember that you need to buy a ticket that is also valid in Zone 82 - a normal hour or day ticket is valid only until the border.
Chêne-Bourg station in the east of the Geneva is the terminus of Annemasse's public bus company's line number 1. This bus will take you into the city center of Annemasse.
From Moillesulaz border station, the terminus of tram 12, you can walk into France and take either that same bus or number 2.
If you feel like walking, another option is to walk from the border to the city center, a distance of about 2.5 km (1.5 miles).
If you are taking the bus you should better have a map of the bus network (the part of Annemasse's bus network you need to get in is also on Geneva's public transportation map) and preferably also a good map of the city itself. Take notice of the names of the bus stops, because the buses continue to the other side of the city... in the worst case you might end up in an industrial area in the middle of nowhere.
By car
Annemasse is easily reached from Geneva and elsewhere in the region if you have a car.
By train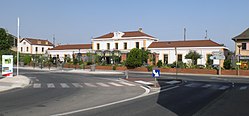 The railway station is north of the city center. Trains arrive from
Lyon
,
Chambéry
and other places in France. The line to Geneva Eaux-Vives and Chêne-Bourg is
not
operational. A new local train network connecting the cities in the region is under construction and will open in December 2019.
Get around
By foot
The city center is not very large, so you can walk around by foot.

By bus
The only form of public transportation is the bus network, although most visitors probably will use it just for transportation from Geneva and back. A single ticket costs €1.40 and is valid for one hour. Tickets are bought from the driver, and you'd better have exact change (and Swiss francs are not accepted). On Sundays and other holidays there are just two lines that run, DA and DB that are drawn on a separate map on the bus stops.

See
Frankly talking, Annemasse is for the most part just a bedroom community of Geneva, but there are still a few things to experience.
The city hallWorth taking a picture of, and there are some cafés around its square.

The market place (marché) and its war memorialIf you come before the afternoon, you can experience real French market commerce just like in French class. Buy some fresh fruit and try out your language skills!
Do
Salève ridge and cable car - well described in Geneva's article but actually on the French side. The best way to get there if you haven't got a car is via Geneva - take Geneva's bus number 8 to Veyrier-Douane.
Buy
If you're staying for a longer period in Geneva, Annemasse is a good place to buy food and other necessities cheaper than in Switzerland. The city is not a major shopping destination, though. There is a Casino food store along the main road, at about 10 minutes walk from the Moillesulaz border station, and a smaller SPAR closer to the border.

Go next
Basically you have the same options as getting in. Geneva is nearby and trains take you into France.