Antarctic Islands
Antarctic Islands
are islands that are part of the continent
Antarctica
and are at least sixty degrees south. Many of them are either in the Ross Sea or are near the
Antarctic Peninsula
.
Islands
These islands are within the Antarctic continental shelf and are governed by the Antarctic Treaty.
Settlements and bases
Chang Cheng/Great Wall (China)
McMurdo Station is a United States of America scientific station; this is the main research station in Antarctica.
Pedro Vicente Maldonaldo (Ecuador)
Port Lockroy is one of the most popular tourist destinations in Antarctica.
Presidente Eduardo Frei (Chile) - also hosts the civilian settlement Villa Las Estrellas
Professor Julio Escudero (Chile)
Scott Base is a New Zealand scientific station.
Shirreff (Chile/USA)
St.Kliment Ohridski (Bulgaria)
Villa Las Estrellas on King George Island (Chile), claimed to be one of only two permanent civilian settlements on the continent; part of President Eduardo Frei Montalva Base on King Island
Other destinations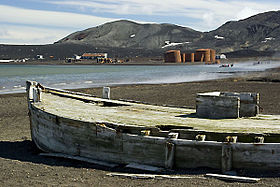 Deception Island. This is an island on the South Shetlands.
Baily Head. Home to the world's second-largest colony of chinstrap penguins, set amidst an incredible natural amphitheatre. The penguins come and go from the colony through a narrow passage, with thousands of penguins following American driving rules by always walking on the right.
Whaler's Bay. Hot springs, the remains of an old whaling station, and the remains of a British Antarctic Survey base destroyed by eruptions that lasted from 1967 through 1970 are the highlights of this stop.
Pendulum Cove. A popular spot for visitors wanting to take a swim in the hot springs and thus claim the distinction of having swum in Antarctic waters.
King George Island. This island is home to Chile's permanent Antarctic settlement, Villa Las Estrellas) and is the largest island in the South Shetlands.
Livingston Island. This is the second largest island in the South Shetlands.
Paulet Island. A volcanic island that is home to the largest adelie penguin colony in the world. The strenuous hike to the top of the island takes about three hours round trip and offers incredible views of the surrounding area. In addition, the remains of a hut used by the Nordenskjold expedition can be found on the island.
Peterman Island.
Understand
Antarctic Islands are distinct in many ways from the more hospitable
Pacific
,
Atlantic
, and
Indian Oceans
to the north.
Weather
There is practically no permanent habitation on these islands aside from the personnel on the research stations. The climate is not as rough as on the Antarctic mainland: the temperature oscillates between -10°C and +5°C.
Get in
Visiting this area of the world generally requires careful planning and preparation. There are few, if any, permanent human inhabitants on these islands. Those that do inhabit this area of the world are often scientists and weather observers. Access to these destinations generally requires mounting an expedition. You may need permission to visit these destinations as many are wildlife sanctuaries or have unique environments. Special environmental conditions may be imposed. Researchers may arrive either by military vessel or by plane.
Individual, non-governmental visitors can contact the
Antarctic Policy Unit
, Ministry of Foreign Affairs and Trade, Private Bag 18901,
Wellington
. Phone: +64 4 439 8000 Fax: +64 4 439 8103
By boat
If you are not part of a research team, the easiest way to visit the islands is by expedition ship as there are few landing strips for aircraft and most of the islands are beyond the range of helicopters. Cruises to this part of Antarctica usually start from
Ushuaia
, take one to two weeks and cost
at least
US$5,000 per person.
Islands are scattered along the coast here providing many landing sites for visitors.
By plane
Some travel agencies also offer tours by plane to the archipelago's only airport, at the Eduardo Frei Base, serving said base as well as the settlement of
Villa Las Estrellas
.
Get around
Antarctic Islands are small compared to the great continent near them but that doesn't mean that they are all small by any means. While some of the islands won't take too long to cross, some of the islands are surprisingly large and will take a couple days to hike across if you hike all day.
To get from one island to another, you may need a boat during summer or you'll have to cross the ice in winter.

See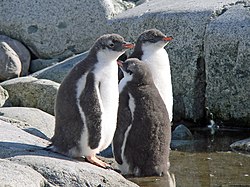 Antarctic Islands scenery is, not surprisingly, similar to the scenery of Antarctica. It consists of more ice-caps at lower elevations, more rugged terrain than in the Subantarctic Islands, and little if any plant life. However, lichen can survive on some of the more habitable islands.
Huge penguin colonies are usually found in ice-free areas such as on Paulet, Deception, and Livingston Islands. There are several notable types of penguins in Antarctica in general, and you may see some of these on the islands.
Do
Exploration and survival are the main activities unless you're going to spend your time at the bases and museums, where there are other things to do like going to museums, restaurants, or science centers.
While there are some high mountain peaks on Mainland Antarctica, there are also some mountains on the islands: many Antarctic Islands are actually just mountain peaks that begin underwater and come above sea level, like the
Hawaiian Islands
. In other words, mountain climbing is a potential activity, particularly on Ross Island, the location of
McMurdo
.
Eat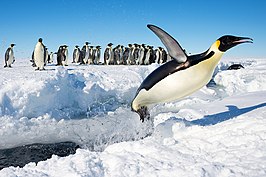 If you're going to the Antarctic Islands, bring some extra food supplies just to be safe, although some places like
Villa Las Estrellas
may have something better when it comes to eateries.
Whatever you do, unless you're facing starvation,
do not kill the native wildlife for food
. In history, many animals have died from being over-hunted and particularly in Antarctica they don't want this to happen anymore.
Drink
While there may be small lakes, you will probably be best to melt/boil some ice or snow and in doing so get the water at clean drinking status. Some bases may have a water supply of their own as well. Most of the islands will have an ice cap region somewhere, usually at the higher elevations, and these should be easy to find and will most likely be quite large.

Sleep
In Antarctica, of course finding places to sleep is a challenge. You can do a couple things: either you can stay in lodging services in
Villa Las Estrellas
or one of the other Antarctic bases, which will probably be basic accommodation at best, or you can camp out in the wilderness. The second of these options will probably need permission from the locals who are at the bases on the islands, and should not be done during any time other than summer due to the cold weather the region gets.
Stay safe

There are several countries that administer portions of the region around Antarctica, and each country's laws may apply based on the traveler's citizenship and location. In all cases, travelers must follow the rules set forth in the Antarctic Treaty and, if traveling with an International Association of Antarctic Tour Operators (IATO) sponsored group, all IATO rules.

Connect
Two of the southernmost
post offices
in the world are located in this region, from which you can send mail with a true "Antarctica" postmark—and these are (relatively speaking) the most accessible ones where you can do so, given the difficulty of getting to US Post Office at
South Pole
. There is a post office at research base-turned-museum Port Lockroy, run by Chilean Post and UK Antarctic Heritage Trust, respectively. Postage for a standard letter or card costs US$2 to anywhere in the world from either post office, part of which is directed to the upkeep of the museum when paid at Port Lockroy. There is also a post office at
Villa Las Estrellas
.
Go next